How to Create a Minimalist Home – 9 SUPER Easy Tips!
I don't love minimalist home decor. I'm just gonna say it!
Maybe you have been wanting to say it too but you are afraid you will be kicked out of the club. You won't be! You are in my club!
And I'm a colorful and eclectic minimalist on a budget!
So if enjoy the minimalist lifestyle and you want to know how to create a minimalist home that fits your style you've come to the right place.
When you think of minimalist home decor you may think of stark and cold lines. You may think of white with a side of white and a dash of natural wood. That's what you see in the ironic ads for minimalist home decor.
To some extent, that is still true but minimalist home décor is evolving to include more bright colors and different styles. That is good news.
To be honest with you I am not white on white type of person and I am not always modern. The minimalist aesthetic not for really my style. That's ok. Minimalists are making room for diverse personalities because minimalism is such a great lifestyle we want everyone to feel comfortable with it!

There are a few principles of minimalist home décor that span styles though. That is what we will discuss today. These are important principles to keep your home looking clutter-free and clean while keeping your personality and style!
These minimalist interior design tips will make an affordable and easy change to your space in no time!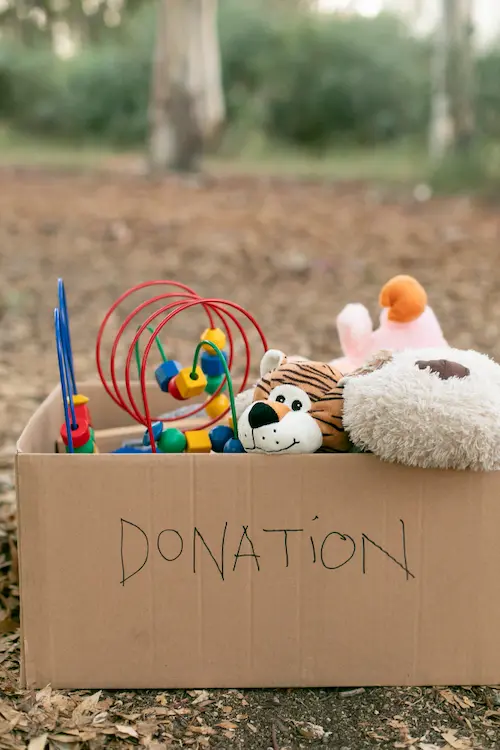 How to Create a Minimalist Home: Declutter First
The first and most obvious thing that stands out in a minimalist home is the lack of clutter. The famous minimalist Joshua Becker says;
"Minimalism is the intentional promotion of the things we most value and the removal of anything that distracts from it."

Joshua Becker
When you walk into a room full of clutter you feel distracted, weighed down, even disturbed. When you walk into a room that is clutter-free you feel calm and optimistic. You feel like that space is waiting for you to enjoy, relax, and create in.
How do you declutter your home? To put it simply, you get rid of things you do not use or love and then you find functional organizational solutions for the little that remains.
How to Create A Minimalist Home With Open Spaces
When you declutter you will naturally find some open spaces. However, many of us still feel the need to fill empty spaces. Sometimes we will put up pictures that don't mean anything to us or we get a piece of furniture we don't need and will never use just to fill that spot.
Resist the urge to fill a blank spot just for the sake of filling it. The open spaces create an open effect that gives us that feeling of air and freshness that minimalist home decor is known for.
Open spaces promote the things that are special to you so that they are what you notice in the room. Keeping open spaces actually spotlights the things you love. In that way a minimalist home actually infuses your room with your unique personality!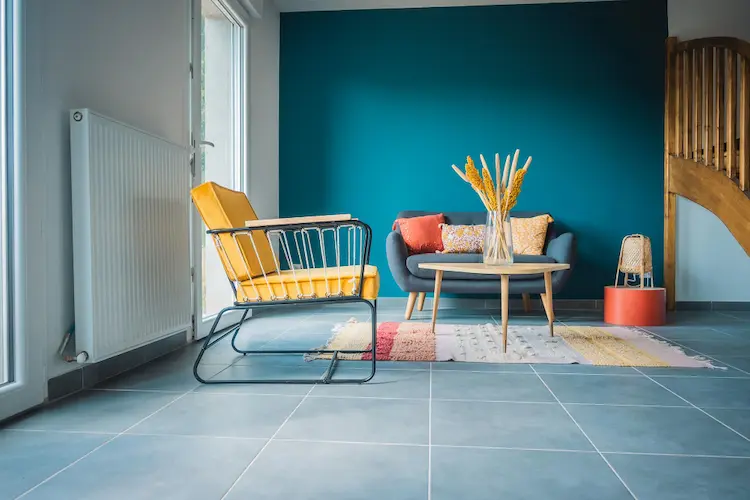 Smooth and Sleek: That's How to Create a Minimalist Home
When you think of minimalist décor you are probably automatically thinking of the sleek and smooth ultra-modern furniture made popular by Ikea. If that is your style that is perfect!
However, maybe that's not your style. Maybe a more rustic country look is for you. Also, you could be attracted to a more frilly victorian style. Or perhaps you dig the retro look.
How can you still have that minimalist look? Choose furniture and decor that fits your style but that are also simple.
Do not choose items with a bunch of extra filigree and texture. Choose a really special piece that sets the tone but doesn't overdo it.
You can clearly show your style while keeping it simple and visually uncluttered.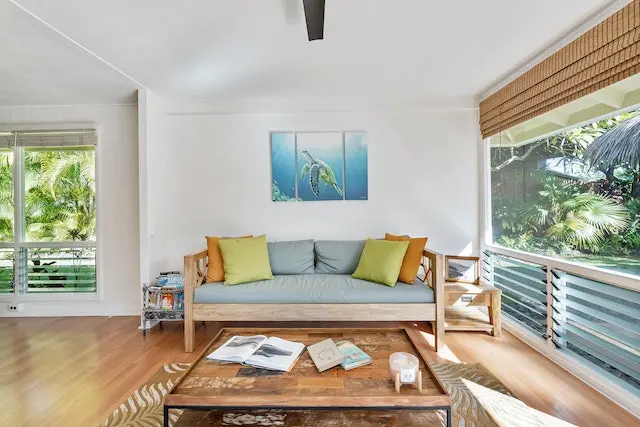 Keep Stuff Off the Ground
One of the best ways to create a minimalist home that looks clean and clutter-free is something you would never think of! Simply keep things off the ground.
That means you will choose furniture like couches, dressers, and bookcases that have legs lifting them so that it is open underneath them. It makes the whole room feel lighter and it is also easier to clean!
Apply the off the ground rule to everything that you can because the floor is not a place to decorate and is not a place to store things. The less that is sitting on the ground the less weighed down the room will be.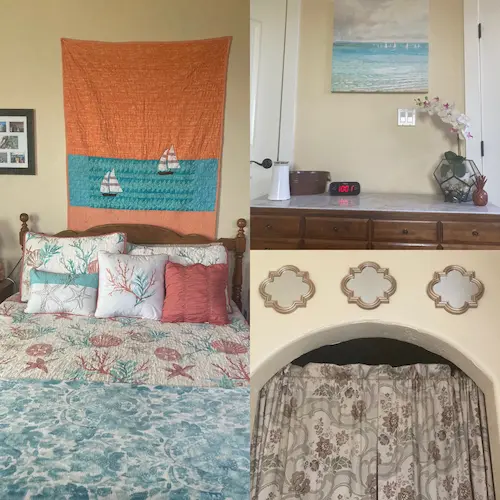 How to Create a Minimalist Home With Color
As I said, minimalist home décor has started including more and more color! That makes me so happy because I love color! My apartment had all the bright colors of a Mexican restaurant and my new space is filled with colorful accents.
How do you make color work with a minimalist aesthetic? Is there such a thing as colorful minimalism?
The best way is to pick 3-4 colors that go well together and are all the same tone. That means you will choose to use all pastels, or all jewel tones, all vivid colors, or all muted colors.
You can get away with quite a bit of color if it's all in the same general tone.
Pick the colors that you love and that match your style and go to town!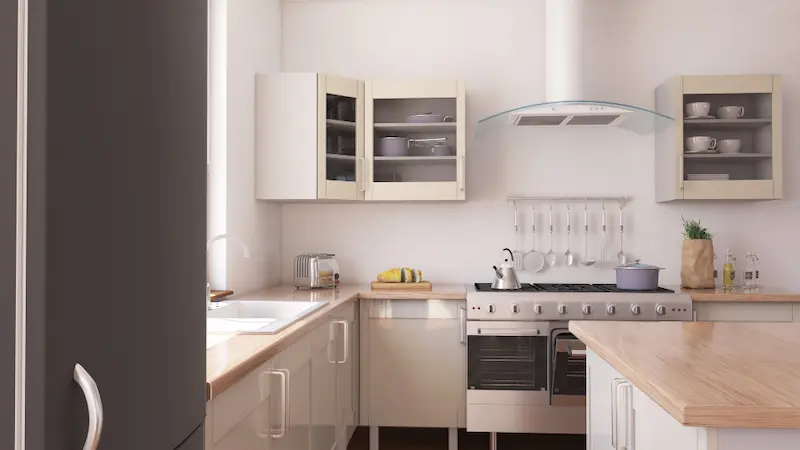 With Minimalist Home Decor White is Still Important
Don't get rid of all the white. White cues us that a space is fresh and clean. White makes things feel more open and bright. Consider leaving some of these things white or off-white.
One or two walls
Ceilings
Floors
Baseboards
Windowsills
Doors
Cabinets
Some Furniture Like Desks Or Side Tables
Appliances
Accent decor
Bring in Natural Lighting
Here is another one of the minimalist interior design tips that I promised cost no money. Throw your curtains open! Let in the natural light for that beautiful light and airy feel that the minimalist style has become the most famous for.
You can make your room feel brighter by using semi-sheer to sheer curtains instead of heavy drapes. White shades keep it feeling bright. Also, you can play with placing mirrors in places that catch the light to make the most out of your natural light. Small accent mirrors are also a fun way to create an optical illusion of more space and light.
House Plants
It seems like you can't browse minimalist home décor without seeing some house plants in every room. I'll admit that I am not the best at plants but still I have a shamrock, a succulent, and a pothos in my current living space. These plants are pretty easy to keep going. They just need light and water.
Having a house plant is good for you because it can reduce carbon dioxide levels, increase humidity, reduce levels of certain pollutants, reduce airborne dust levels, and keep air temperatures down. Also bringing a splash of living green into your room makes the room feel that much fresher!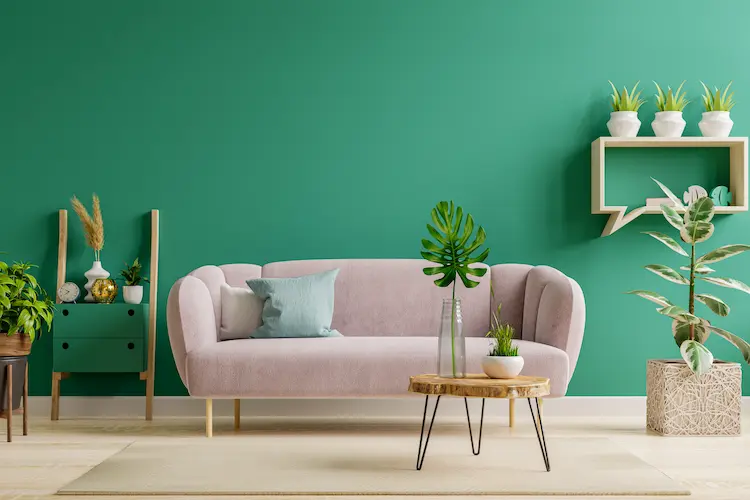 A Touch of Shimmer
Don't miss out on a little shimmer or sparkle. The minimalist home plays on every trick in the book to make things feel bright and light.
Use some brushed chrome or bronze lamps, try a coffee tray with some gold accents, and add some pretty lights like a salt lamp or a diffuser to keep your room shining and drawing the eye to the things that bring you joy!
Showcase What You Love!
When you reduce clutter and you resist the urge to overfill and overdecorate your home you will have the opportunity to showcase the things that are really important to you.
Make sure the things people see and notice are things that tell a story about your passions and interests. Put the things that spark a special memory in places where you will see them every day! This fosters an appreciation for your possessions and life and that leads to contentment!
That's How to Create a Minimalism Home That Fits Your Style!
With these little principles, you will be able to use what you have, simplify, and make your room beautiful!
You can get the feel of minimalist home decor that you have been longing for without losing your personality in the process!
What is your style? How can you decorate with the principles of minimalism and still enjoy the things that make your home feel like you? Please share in the comments below!