Living A Simple Life -How We Became Accidental Minimalists!
My husband and I didn't set out to live the minimalist lifestyle and we weren't really seeking a simple life. We were just young and broke. So how did we start living a simple life and become accidental minimalists? How can living a simple life help you?
Do You Want to Start Living a Simple Life?
Are you hoping to be a minimalist? Do you think it's just too big of a leap for you and your family to simplify to that extent? There is so much talk about simplifying, minimalism and living small these days. Some people say you have to have only 12 items of clothing. Some people say that you only need 4 dishes. Others say that it's what sparks joy that you should keep. Many people get rid of everything, live a simple life for a couple of years, and then return to a more standard American way of life.
Let me share with you our story and our approach to the minimalist lifestyle. You might just find that living a simple life is actually very doable for you!
This post contains affiliate links which means I get a small commission from purchases made after you click them at no extra cost to you.
I've Lived the Simple Life for a While Now
As I said before, there are a lot of opinions about the simple life. People go from one extreme to the other. But the problem with extremes is we can't live in them. The simple life isn't supposed to be so austere and rigid that you give up on it.
I lived in a 400-square-foot studio apartment for 10 years because I made the minimalist lifestyle flexible for my life. I was living in an unofficial tiny home before it was cool so I learned how to be happy with it. My tiny apartment became my dream home because my mindset changed. To find out how that happened, we should start at the beginning.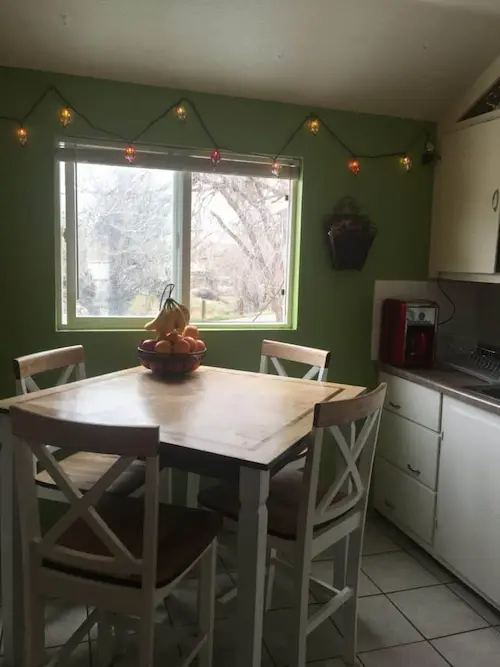 How We Start Living a Simple Life
Let me tell you how it started. It's actually kind of romantic. I met my husband 12 years ago in Southern California through one of my best friends. We were just kids hanging out but in the course of my visit a spark was kindling and it wasn't too long after I returned to my home in the northwestern corner of New Mexico that we were long-distance dating by text, calls, and Skype.
By 8 months he told me he would like to move to my area to date in person. I started to look for places that would be very cheap and easy for him to start in and I found that my friends had left their tiny apartment for the winter in Mexico and wouldn't be wanting the apartment when they got back. They were agreeable to rent and so I arranged to come to see the place.
Moving to New Mexico for Love
When I walked in I felt like I was a giant in a tiny box. A tiny box with a fridge, a stove, a sink, and a bathroom.
My mind was not that of a minimalist at the time but love pushed me forward and I ventured further in. With a positive heart moving me I could still barely imagine fitting much more than one little love seat and a twin-size bed. I realized that's all that a bachelor would need so I asked the price and contacted my man.
He gave me the thumbs up to tell the landlord he would take it and things were set in motion.
In the weeks before he moved I obtained a free couch and love seat from a friend, a super single water bed from another friend, and a few other odds and ends to make it livable for my California boy moving in the middle of winter to his first true winter experience.
He arrived in the middle of a whiteout and opened the doors to a little place painted in bright tropical colors and sprinkled with loving comforts! To his surprise he was impressed! He lived in it as the typical bachelor for a little over 6 months till our marriage.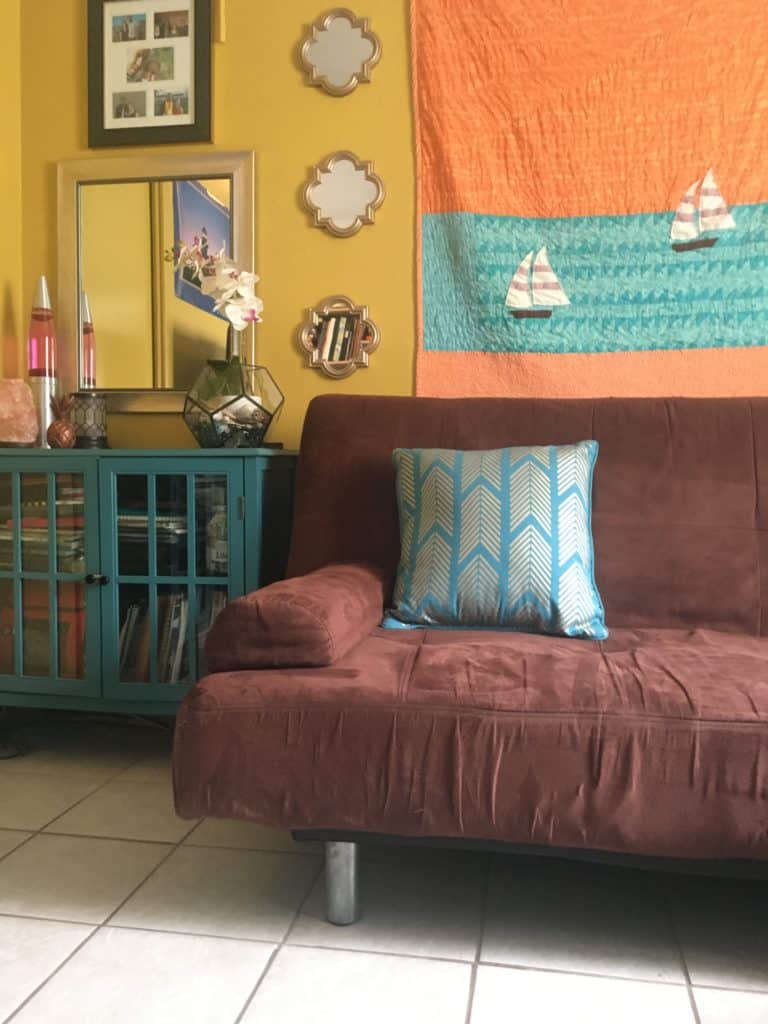 "We should find a bigger place."
Shortly after he proposed and 3 months before we wed he said we should start looking for a bigger place. I kept telling him it would be fine. My friend and her husband lived there for 2 ½ years. We surely could do it for a little while.
I wasn't thinking about the minimalist lifestyle. I was just trying to make the best out of it.
His eyes showed a lot of doubt every time I said that we could make do with the small place for a little while. Ultimately though, that is exactly what happened. We tried it out for a short time and we lived there for almost 10 years.
Was I purposefully trying to start living a simple life? Had I even heard of the minimalist lifestyle? No! I just became an accidental minimalist.
What I've Learned About Living a Simple Life
So how did we live the simple life in that little studio apartment for 10 years? How do we feel about the minimalist lifestyle now that we have found it? Has our life been small, limited, austere, and hard? No! Not at all. I'll share with you all about it here on my blog.
We have learned so much about living a simple life that is full and exciting! It has given us so much in return and we have embraced the amazing benefits of the minimalist lifestyle!
That is why I want to share them with you! To help you find the ways that the simple life can fit your life so you can enjoy everything that the minimalist lifestyle has to offer and make it just right for you!
Let's get started! Together we can simplify our life and then live the big beautiful life we have dreamed of with the help of the minimalist lifestyle!
Want to Start The Minimalist Lifestyle Today?
There is really no reason not to start enjoying simple living! Now is the time to try the minimalist lifestyle!
Learn why minimalism is good for your mental health and relationships, how it can transform your finances, so you can start having more energy and time for the things that matter!
But what if simplifying your life sounds like an overwhelming task?
If you want to simplify your life but the big bad word MINIMALISM scares you let me help! I wrote Doable Simplicity (Minimalism For Normal People) to help you get the inspiration you need to simplify your life and then take solid steps that make simple living doable for you!