10 Beautiful Minimalist House Decor Ideas That Will Fit Your Style!
I used to be the person who saved everything. After all, my things tell my story. They are gifts from friends, souvenirs from trips, and things that brought me joy when I bought them in the store. As a result, my space was always cluttered and dusting was a nightmare.
When I lived in my small studio apartment for 10 years I had to learn how to decorate my minimalist house with things that made me happy without keeping EVERYTHING.
So how can you do that? How can you enjoy the minimalist lifestyle and choose minimalist house decor that speaks to your style without cluttering up your house? Let's find out!
The Rules of Minimalist House Decor May Surprise You!
Wait a minute! Are we minimalists allowed to have decorations? Aren't they supposed to have empty houses with no personality? Isn't everything supposed to be white? Isn't minimalist house decor boring and empty all the time?
Actually, those magazine stock photos are quite misleading. Minimalists don't all fit in the black and tan mold. In fact, there are minimalists all over the world and they have different personalities and styles! How do we make minimalism work for us no matter our style?
There are some basic principles of minimalist home décor. Those include not having too much clutter, letting light into the room, keeping things off the floor, choosing open styles of furniture, and using complementary colors.
When we follow the basic guidelines we can make any style work. Once you have decluttered and chosen your furniture you can put the finishing touches on with minimalist house decor that makes your personality shine through.
In this post, I will show you some ideas for decorating minimalist. You do not have to buy these exact items but they can give you an idea of how versatile minimalist style can be. Let's dive in!
This post contains affiliate links which means I get a small commission from purchases made after you click them. This doesn't cost you any extra.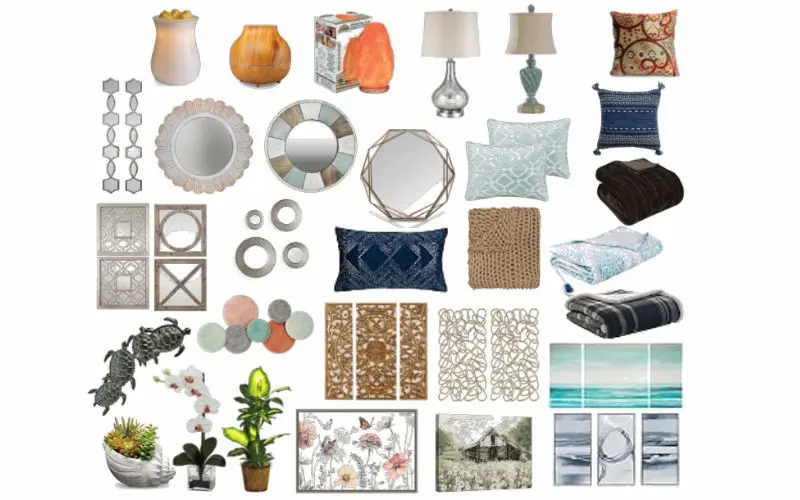 Minimalist House Decor Accents-Lamps
When it comes to minimalist house decor accents we should start with things we will already need and try to make style statements with those things.
Everyone needs lamps. There is no question about whether or not you are going to need a lamp. Remember to keep it simple and preferably matching. You don't want anything too ornate or huge or chunky.
For the beachy or modern look, I love this Glass Gourd Table Lamp because it has a little extra shimmer and beautiful clean lines! It won't weigh down your room because it is so clean and bright.
If you are looking for a more rustic look these cute lamps will match with shabby chic, beach-house, victorian, or country styles! They are simple yet interesting and lovely.
What if you are more glamorous than that? These ultra-modern Geometric lamps are very on-trend! They don't fit my room but boy would they stun in the right space.
Minimalist House Decor Accents: Soft Lighting
While you may not NEED small shimmering lights around the room it is certainly festive, cozy, and hygge! My husband actually got me appreciating small glimmers of light around the room. I feel like they make the room feel brighter and lighter. Because of that they totally fit with minimalist house decor. Not to mention, they often times serve a secondary purpose. I'll give you a few examples:
I absolutely love my salt lamp because it cleans the air and releases lovely happy ions that are good for us! Look it up. You'll be amazed. Salt lamps also have a beautiful warm glow. Grab a simple salt lamp here or a salt lamp and diffuser combo here!
Another beautiful accent for a home is a wax warmer or an essential oil diffuser! Both of these can add a beautiful glow to the corner of the room and also give your home a smell that is beautiful and inviting. I never really realized how important this was until I noticed my friend's house always smelled so lovely and inviting that I actually anticipated it as I knocked on her door.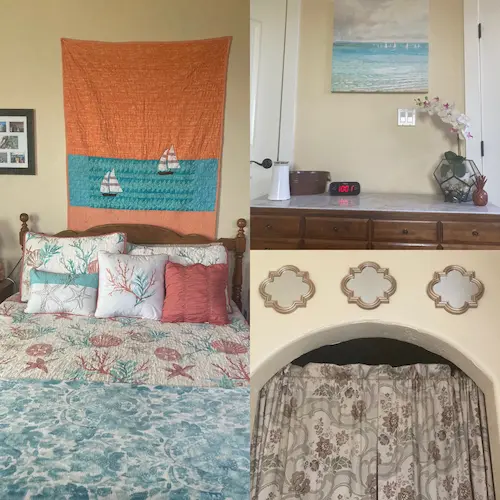 Minimalist House Decor -Mirrors
You need a mirror by the door to make sure your lipstick is on straight before you face the world. Mirrors are also a great way to catch some light and make a room look bigger and brighter! That's why they are so popular in minimalist decorating.
This beautiful round mirror would work well across many different styles including art deco and modern. If you have a rustic country-style home you might like this rustic mirror.
Small Accent Mirrors
I am a big fan of small accent mirrors! I am not saying go out and buy fifty of them. Too much of anything is going to look cluttered. I have one set of three small mirrors and they catch the light and bring interest without bringing visual clutter. They even give the impression of more space because they look like an opening into another room. They have these small mirror sets in many styles so you can find the right style for you!
This 3 Piece Set would match well with your art-deco and modern geometric look. This hammered sphere mirror set is also very modern in a more industrial way. I love this wooden mirror set for nautical or country themes. But this mirror set is exactly in line with my boho-eclectic style!
Curtains:
Minimalist house décor is all about opening up a room and making it feel like it is full of air and light! Regardless of the style of your room, this would mean that your curtains should not have a busy pattern or be too dark. I love these solid curtains because they come in lots of nice colors and have a bit of a sheen. They have the side benefit of making your room dark when you want it to be.
Remember to open your curtains though! Minimalist decorating is all about creating a very open airy feeling!
Sometimes you just want curtains for a bit of interest in which case you may consider some beautiful sheer curtains like these. There is nothing that looks light and airy like a pretty sheer shifting in a slight breeze. I also really love these semi-sheer curtains with a very light pattern to make a statement without being too busy.
Pillows:
As I mentioned before, the best way to achieve minimalist house decor is to use things that you will already need to add style.
I don't know about you but I need a couple of throw pillows on the couch to make it comfy and they are a wonderful opportunity to play up your style in a room. What kind of throw pillows will give your room lots of personality but keep it from looking busy?
Choose big bold patterns and colors that match the color palette of your room. Don't choose any tiny patterns or anything that is too muted. Use just a few pillows to make a big statement.
I love this beautiful scrolled pillow for a fancy or victorian style room. These pillows come in a very versatile geometric pattern. It comes in a couple of colors and it will really fit a beach look or a modern casual look. I would totally have them for my room! If you are more into southwestern or even the boho-eclectic style these pillows are super adorable. And last but not least, if you are glamorous and want a bit of sparkle in your modern home, grab these beautiful pillows with metallic patterns.
Throw Blankets
People, I am all about comfort! I love a soft couch and I love love love a throw blanket! Sometimes minimalists put style above comfort. That will never be me! I see some throw blankets that are gorgeous but stiff or scratchy or beaded. How can you get cozy with that?! A throw blanket should not clash with your décor but it should definitely also be something soft and comforting.
I love this chunky knit throw cause it just screams hygge to me! It's like being wrapped up in a giant winter sock! It would go really well with any rustic, country, or boho style. I also love this ruched faux fur throw because it looks like the comfiest softest most luxurious thing ever made and is totally beautiful.
This heated fuzzy blanket has a beautiful pattern that would totally match my style. It actually looks very similar to the throw blanket I have and it would go well in any kind of boho, beachy, casual, or modern room. And for you, country girls or log cabin in the woods types this sherpa and plaid throw by Eddie Bauer is ultra cozy!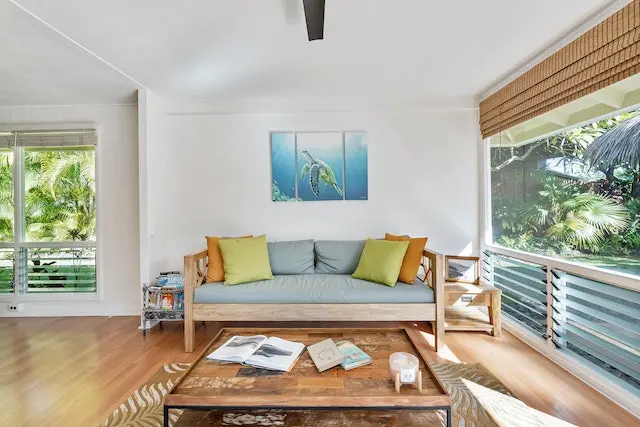 Minimalist Wall Decor:
When you think of a minimalist house the walls aren't blank are they? But that's just not true. We were all born with some level of creativity and it makes us happy and comfortable to surround ourselves with creative works. When you are decorating your walls look for BIG statements with BOLD lines. One great way to do this is to use wall sculptures. They make them in every style.
This rustic wall sculpture with distressed wood and iron scrollwork would really set the mood in a victorian, shabby chic, or country-style home. If you are looking for something more modern this gold Ginkgo leaf pannel is a stunner. What about the eclectic boho style that is so near and dear to my heart? These multi-colored metal plates make me want to pick up my fork for a spicy meal and start dancing! For that beach-house look, these shells are absolutely gorgeous.
Decorating Minimalist with Wall Art:
Again, we all love to have some art on our walls. Even minimalist house decor can include a pretty picture. Maybe you have some really personal and beautiful family pictures or artwork. Use that by all means! But if you are looking for a couple of extra art pieces to set the tone use some big canvas art.
I absolutely love this 3 piece ocean scene. It makes me feel like I'm having fun playing in the ocean waves! For a modern style, you might really like this abstract three-piece set with gold frames. And of course, if your style is more country this big beautiful barn might set exactly the right tone for your room. I love this Botanical print for a shabby chic or Victorian room. Last but not least, this 3 piece forest painting is calming and soothing for almost any room.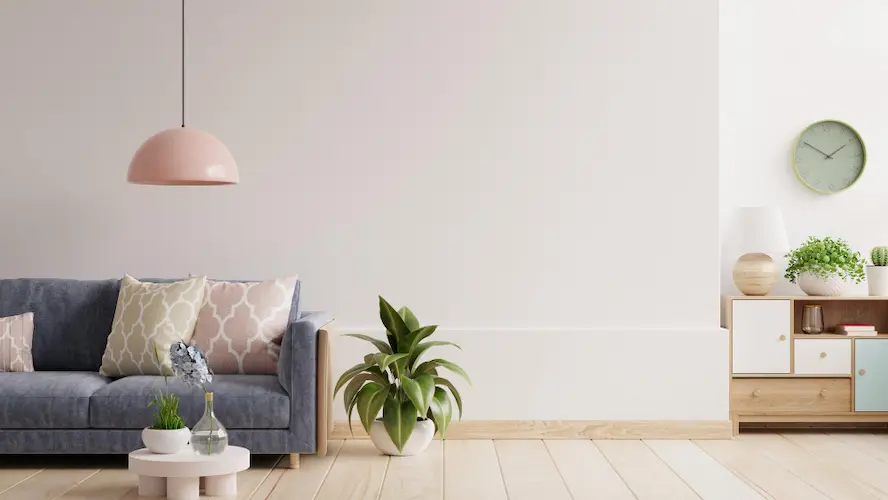 House Plants:
Another very popular part of decorating minimalist is bringing nature into your home. Adding succulents, orchids, or other house plants will always make a room feel airy and light. Maybe, however, you don't have enough natural light to keep a plant alive or your not a great green thumb. What can you do? A large artificial orchid is always a beautiful statement. This succulent arrangement has a relaxing spa-like feel. I also really like to see a large statement plant sitting in the corner or to the side of an entertainment center. There is something about plants, even if they aren't real, that makes a room feel minimalist and full of life!

Minimalist House Decor Can Fit You!
For a long time I resisted the idea of minimalist house décor cause I'm not ultra modern or super chic. I'm not into everything being white. I like colorful minimalism and patterns and personality! But now you can see, decorating minimalist isn't about taking away everything that makes you happy and comfortable. It's about making small choices here and there that reduce visual clutter and make bigger statements.
I want you to love your home and be yourself! I also want you to enjoy the beautiful lightness of not being overwhelmed by your surroundings and the feeling that a clutter-free home can bring you. Go make it your own!
How do you make minimalist decorating fit your style? Please share in the comments below!