Amazing Minimalist Furniture Ideas That Fit Your Style!
Do I have minimalist furniture? Not exactly. I have kind of a mish-mash of furniture, mostly stuff from family and friends.
But I also live a minimalist lifestyle. Even so, my style is a little bit modern and a little bit boho but what I actually own is….well, let's call it retro. It's my grandma's furniture mostly. She bought really high-quality stuff that isn't going anywhere soon.
Anyway, I still manage to make my area look minimalist in that it is open and fresh.
That is proof positive that minimalist decorating isn't restricted to a certain style. You just have to know how to create a minimalist home that fits your style!
But if you do have a chance to buy minimalist furniture for your space can it match the fresh clean look that you are longing for? How can you make your current furniture and your new furniture fit the look you are going for? Let's talk about some minimalist furniture ideas that will work for you and your style!
Are you looking for furniture for minimalist homes that has a little personality? Minimalist decorating is known for a fresh clean look but it might not appeal to you because it is also known for austerity and let's just say it, it's a little bland.
Minimalist Furniture -The Basic Rules
As I mentioned before, you can use your existing furniture, buy some new furniture, or most likely you will have a mixture of both. But if you want to have a minimalist look there are some basic principles of minimalist home decor you should think about. Read more about those principles of minimalist interior design here.
When you are looking for something that will make your home look fresh and bright after all your hard work decluttering it is super fun to buy some new minimalist furniture. Even if you are into country chic, victorian, or boho you can achieve that open look with your "minimalist" furniture by choosing things that are lifted off the ground.
The more open space you see under furniture the less it will weigh down a room. You may also want to avoid very complicated patterns or very ornate designs because they add visual clutter. You also want to avoid buying too much furniture. A room cluttered with too much "minimalist" furniture is no longer open and fresh or minimalist at all!
Now let's get down to business and look at some examples of how your minimalist furniture can still match your style!
This post contains affiliate links which means I get a small commission from purchases made after you click them. This doesn't cost you any extra but help s me to continue making great content for Doable Simplicity! Thanks for reading!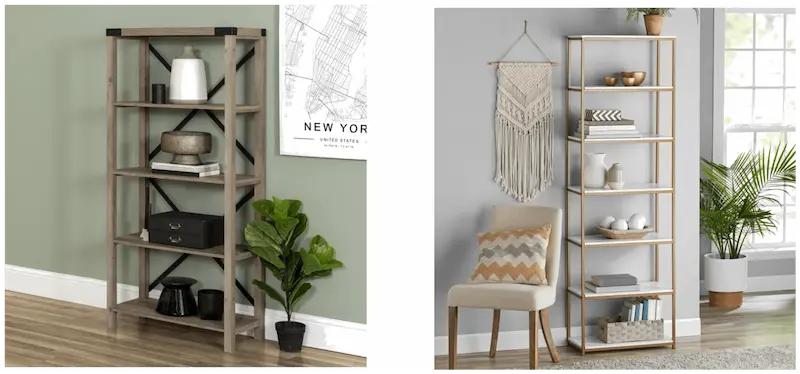 Minimalist Furniture Ideas -Bookcases
With a bookcase, the main goal is to keep it looking open. Even if your bookcase is fairly full you will still be able to get that open look if the construction is open. No closed-in backs!
This bookcase has a really modern look. This bookcase is a little more rustic but also has interesting detailing.
Minimalist Furniture Ideas -Side tables
Minimalist decorating is all about keeping things open looking. If you can keep things up off the ground the room will look less heavy and more open. This is good news because as long as you choose things that are on legs it can look like minimalist furniture.
There are so many options to achieve this in every style of home décor. You could grab this absolutely stunning art deco coffee table. You might prefer this skinny side table which could go rustic or modern-industrial. For an ultra-simple solution for small spaces try a great c-table or two!
Furniture For Minimalist Homes -Storage Cabinets
Personally, as part of my minimalist decorating, I'm a fan of hiding away small books and movies that look a bit cluttered out in the open.
Organize books and movies inside storage cabinets for a smoother, more tidy look. Low storage cabinets are nice because they leave open space above them which lends to the open spacious look you want. You can find storage cabinets to fit any room. This white storage cabinet is ultra-sleek and stylish but personally, I LOVE this carved front cabinet for my boho style!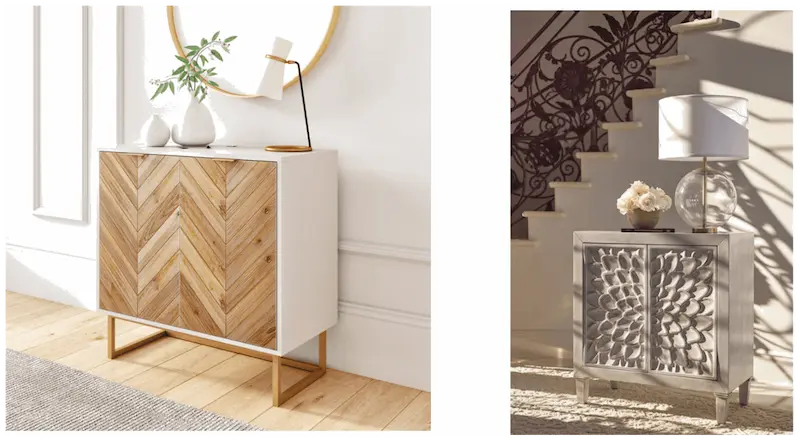 Desks and Tables
Our dining room tables are the hearts of our homes. We use them for our meals and for our projects! Tables are easy to make fit the open minimalist style because they are usually pretty simple in design. Just remember not to get something that is way bigger than you need.
Don't get something too small just because it's labeled minimalist furniture. You need your furniture to fill your actual daily needs.
This awesome table can adjust from dining to counter height! This dining set is ultra-modern and sleek!
Desks are becoming more and more needed in our homes because many of us are now doing work and school from home! Make sure you pick a desk that fits your style and your needs. Depending on what you are doing you may need a few drawers.
This classic style oak finish corner desk is very accomodating without taking up a ton of room. Maybe you need less out of your desk and are looking for a more modern look? This Scandinavian style desk is a real beauty and definitely fits into the minimalist decorating style!
Chairs
It's nice to a single chair or two for reading a book or having a friend over. You don't want a big clunky chair that takes up tons of room. Keep it to a smaller size and keep it off the ground with nice legs.
Again this can accommodate your style. This armchair fits a sophisticated classic style while this mid-century chair is so cool and so minimalist!
Couches
When you are looking for minimalist living room ideas the first thing you probably think of is the couches. Couches are the biggest item in your living room and while they do make a huge statement they are also the thing you want to be the most comfortable and the most functional.
You may find a really nice couch or love seat with legs like this one or you may find duel function futon like this one or you may opt for something like a reclining couch.
I am giving you some wiggle room on this because I understand the importance of a really comfortable couch!
Just remember, clean lines and keeping it lifted off the ground will make your whole room feel more open! Another benefit of this principle of minimalist furniture is it will make it way easier to clean under the couch!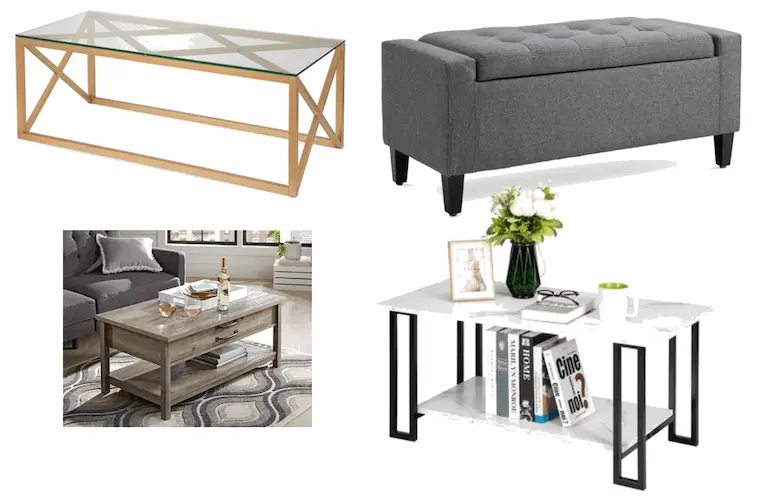 Ottomans and Coffee Tables
Coffee tables serve different people in different ways but a coffee table can really pull a minimalist living room together!
Some just want an open look like this awesome art deco coffee table provides. Some want an ultra-modern look like this beautiful white coffee table. Others want to put their feet up and have a little extra storage. This storage ottoman is perfect for them. Or if you want a more rustic look this coffee table is great!
Any one of these could easily fit in your living room without making it look cluttered because they have clean simple lines and they are open underneath.
Kitchen Carts
Do you need a little extra workspace and storage in your kitchen? I love these small kitchen carts that provide both! This one has the added feature of having two stools that nest inside of it so that you have a kitchen bar whenever you want it. This one has nice clean lines and more storage!
Beds
Now it's time for you to decorate your relaxing minimalist bedroom. When you think of minimalist bedroom ideas the first thing that comes to mind is what bed you will choose.
A bed is a simple thing but when you can see under at as with a platform bed it is cleaner and it looks more open. There is nothing like a bed that looks like it's floating on air to add to the open feel of a bedroom! This bed is gorgeous with real wood style that could fit mid-century modern or minimalist looks. If you are looking for a more sumptuous minimalist bedroom this luxurious bed looks like it stepped right out of a black and white and into the most romantic night of your life!

Minimalist Furniture Can Make a Huge Difference
As you can see there are lots of options to make your home look cleaner and lighter! You can get that minimalist home decor feeling without giving up color or style. And the best part is that you can just change out one or two items in each room and feel a huge impact.
I cannot just get rid of my furniture because it's not exactly my style. I have acquired family heirlooms for free so that's what I have. For a while, I had all the cheap furniture we started with as newlyweds. It was great but when it served its purpose to its ultimate demise, I was able to replace it with better items that are more in line with my style. Maybe you can slowly replace pieces with minimalist furniture that fits your style better!
Another option is to make some small changes to your current furniture by painting it or changing the hardware. My friend Sarah over at www.simplifythechaos.com is great at these little projects and so much more to freshen up a home! Check her blog out for some great ideas! Follow her on Instagram @simplifythechaos cause she is always running through her projects on there!
Start Living Like a Minimalist Today!
There is really no reason not to start enjoying simple living! Now is the time to try the minimalist lifestyle! Learn why minimalism is good for your mental health and relationships, how it can transform your finances, so you can start having more energy and time for the things that matter!
But what if simplifying your life sounds like an overwhelming task?
If you want to simplify your life but the big bad word MINIMALISM scares you let me help! I wrote Doable Simplicity (Minimalism For Normal People) to help you get the inspiration you need to simplify your life and then take solid steps that make simple living doable for you!