Learn How to Decorate Without Clutter! 10 Great Tips!
Are you looking for a tidy clutter-free look in your home? Do you want to stop dusting a million tiny knick-knacks? It may be time for you to declutter your home decor and learn how to decorate without clutter!
What are some things that make your house look cluttered and how can you get rid of knick-knacks without losing your personality? Here are 10 ways you can declutter your home décor and make your home reflect your unique personality without making it a cluttered mess!
This post contains affiliate links. That means that if you click on them and purchase anything I will get a small commission at no extra cost to you! That helps me keep making great content!
Learn How to Decorate Without Clutter: #1 Pair Down On Knick Knacks
Are you the souvenir shot glass collector? Do you like snow globes? What little bitty things do you have sitting on your shelves?

The thing about souvenirs and knick-knacks is they are bought to remind us of our travels and memories and then we forget to look at them. Trust me, I've been cleaning houses for over 15 years and I'm sure I look at all those things more than their owners do. And guess what? They are dusty!
Knick knacks are what will make you hate dusting. When you have a bunch of small items sitting on a shelf it does not make an impact in a room but it does make it look a little bit cluttered.
It may be hard to let go of knick-knacks because of what they represent but could you replace 5 shot glasses with a large canvas collage of your travel photos or even a photo book from Walmart?
Surely there is another way to remember your travels! Let go of most or all those little knick knacks! Your Swiffer will thank you!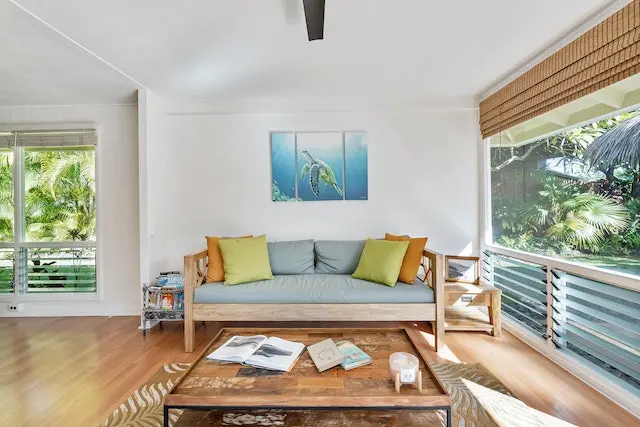 If You Want to Know How to Decorate Without Clutter: #2 Look for BIG Statements
Another way to make a big difference when you declutter your home décor is to replace tiny things with big statements. You can decorate without clutter by using fewer items that make a bigger impact in your room.
For example, instead of a million little framed photos on a shelf, you could choose one photo you really love and make it into a canvas print that will really pop on your wall!
Another thing you can do is create a statement with a large indoor plant or a piece of art that really speaks to you and the mood you want to set. Large mirrors also make spaces look brighter and bigger without adding visual clutter.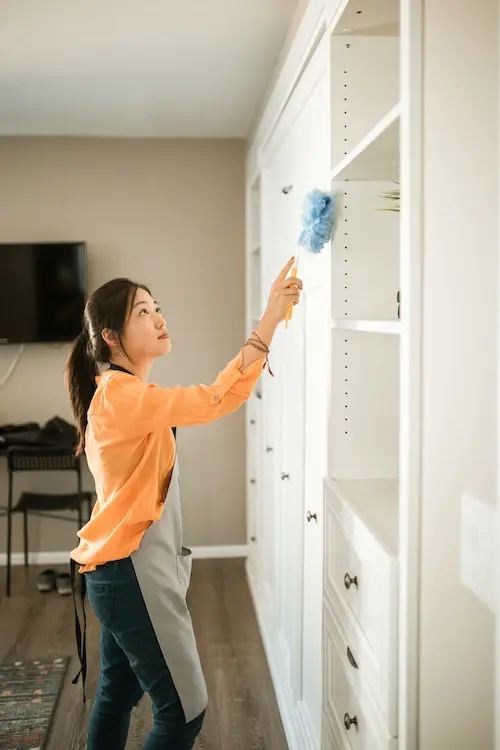 Decorate Without Clutter #3 Avoid Dust Catchers
When you are looking to decorate without clutter think about cleaning it. I mean that. Look for things that look easy to clean.
Don't pick things with tons of little bumps or textures of whatever kind. Those things are impossible to dust and they definitely make your home look cluttered and dirty.
You might also want to avoid most fake plants and if possible choose silver electronics instead of black. Choose light wood grain over dark. Dark colors always look dusty faster than light colors.
No matter how sleek your decorations are everything gets dusty and dirty so avoid having too many little things and choose a few things that actually matter to you to display.
#4 Embrace Open Space
If you want your home to look bright and airy, clean and tidy, you need to start learning to embrace open space.
It doesn't matter how meaningful, beautiful, or expensive your decorations are. If there are too many of them your home will look cluttered, your décor will look cheap, and nothing will stand out.
You may have grown up in a cluttered home and your home may have been cluttered for a long time. Maybe because of that you have some clutter blindness or you are just used to seeing lots of stuff everywhere. That can make open spaces feel uncomfortable at first.
Instead of looking for ways to fill open spaces look for ways to keep open space. It may not come naturally but when you learn to decorate without clutter and embrace an open clean look your home will look better!
Having less stuff will help the home décor you choose to keep really stand out and shine!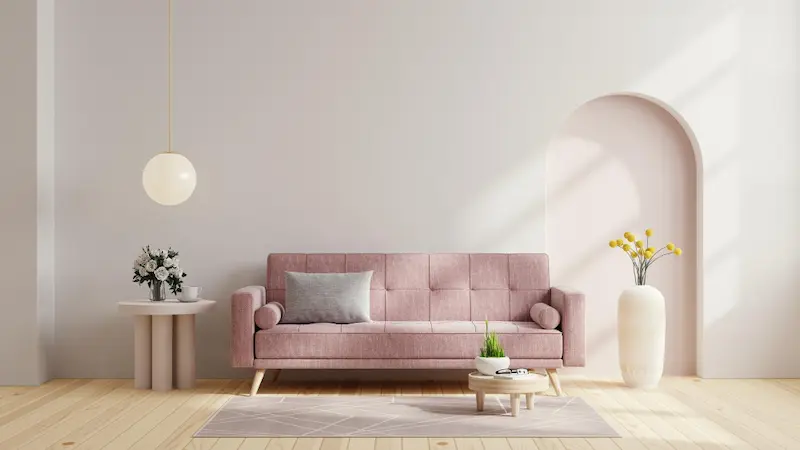 #5 Warm It Up With Light
Are you looking for ways to make your home look cozy and inviting? One of my favorite ways to warm up a space is with light.
Learn to decorate without clutter by using small warm accent lamps like a salt lamp or a diffuser. Use floor lamps or hanging pendants to create cozy reading corners. Light some candles. Strategically place mirrors. Play with light in your room for a clutter-free look that is very inviting.
#6 Decorate With Things You Use
Instead of looking for a bunch of random home décor items that just sit there confusing people, look for ways to make the things you actually use decorative. This is a great way to decorate without clutter!
For example, a soft throw blanket and pillow are always a favorite when you sit on the couch. Why not pick something that is pretty and draws attention to the style of your room.
Instead of using plastic bins to store things why not use some nice baskets instead?
Put your remotes in a nice decorative box when you aren't using them.
Or you can set a pretty tray that you can use on your ottoman or invest in a cool c-table you can set your drinks on.
Look for function and design in the items you actually use and don't buy a bunch of random junk just to fill spaces.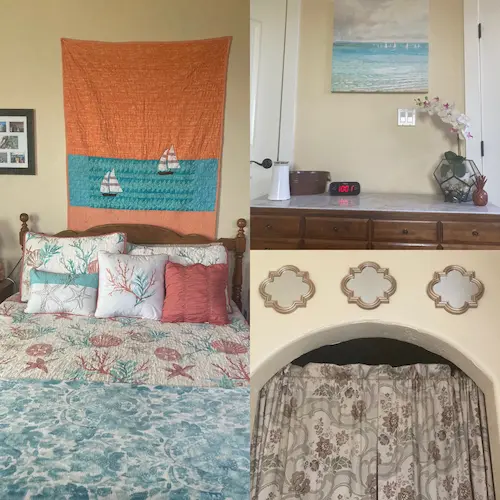 #7 Stick to a Color Scheme
I love color and I love to use color when I decorate. You can actually decorate without clutter by making color the star of the show.
That being said, I have learned it is very important to stick to a color scheme.
Try to have no more than three colors in a room. Try to make those colors the same tone. For example, don't pair a jewel tone color with a pastel color.
Also if it's all possible (which I know it sometimes isn't) keeping all the furniture in the room the same general color definitely helps keep the room from looking mismatched and cluttered.
#8 Stay True to a Style
I am a very eclectic person but I have learned that if I put all the different styles in one room it tends to look a little crazy and definitely cluttered.
When you look at a room choose a style you want to stick to for that room. Don't make your room nautical and country at the same time. Don't confuse people with a tropical Tuscan theme.
Find the theme your decorations fit and keep that style for one room at least. Change it up in different rooms if you want to!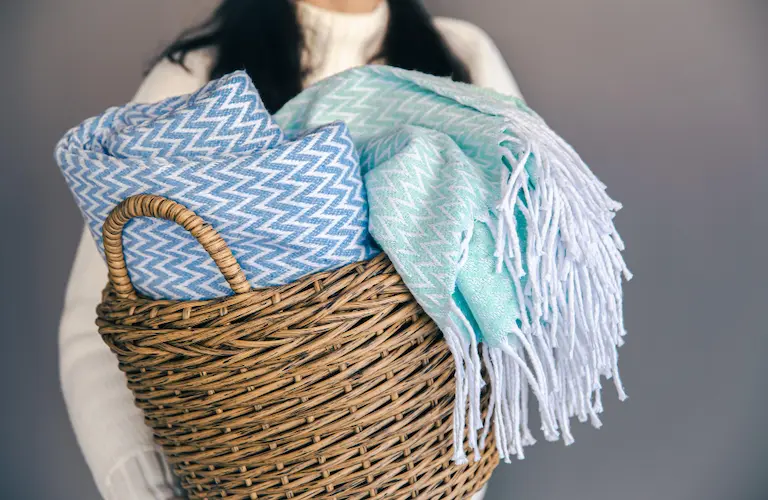 #9 Pick Up Regularly
It doesn't matter if you decorate without clutter if your home is always messy. No matter how decluttered your home is if you don't tidy up things will look cluttered and messy before long.
Get in the habit of putting things back where they go when you are done with them. Fold your throw blankets and straighten up your pillows in the evening.
Use good organizing solutions to keep everything looking nice!
If you do this your house will not only look tidy and clutter-free. It will actually be tidy and clutter-free!
#10 Get Rid of Anything That Doesn't Tell Your Story
When you are looking to decorate without clutter remember this. Your home is yours. It should reflect you. It shouldn't tell the story of Hobby Lobby or the story of this year's trends.
Your home should tell your story. Choose things that really matter to you to display and get rid of anything that doesn't reflect the style and story of your family.
Most of all, declutter your home décor so that you and your family become the stars of the show instead of the stuff that surrounds you. Keep it simple and enjoy your home!
Decorate Without Clutter and Declutter Your Home Today!
If you feel overwhelmed by decluttering I am here to help! I created a unique 3 step process that will help you know exactly how to declutter your home at a pace that is not overwhelming or scary!
You will gradually build your decluttering muscles, learn how to overcome all the reasons you keep stuff, and prevent clutter from ever coming back!