How to Be a Minimalist & Love It! -7 Ways to Make It Your Own!
When I first heard the word minimalist I understood that it meant people who have less stuff because they don't feel they need a lot to be happy or comfortable but still, I didn't know how to be a minimalist and I didn't know if I wanted to.
And guess what? I lived in a 300-square-foot studio apartment at the time!
So why did I think I couldn't be a minimalist? Because I have more than I strictly need and I like colorful clothes and home decor.
Maybe you think that you could never be a minimalist because it's not your style but you might be wrong. You just need to learn how to be a minimalist and make it your own!
The reason that people say that they could never be a minimalist is that they put too much pressure on the word minimalist. Let's talk about some great reasons minimalism may be for you even if it isn't your style.
How To Be A Minimalist When You Like Your Stuff
"I could never be a minimalist cause I like my stuff."
Guess what? Everyone likes their stuff. I'm a minimalist and I like my stuff. I have things that make me happy just because they are pretty and other things that make me happy because they make my life easier.
Minimalists aren't people who don't like stuff. They are people who don't keep stuff they don't like and don't get stuff they don't need.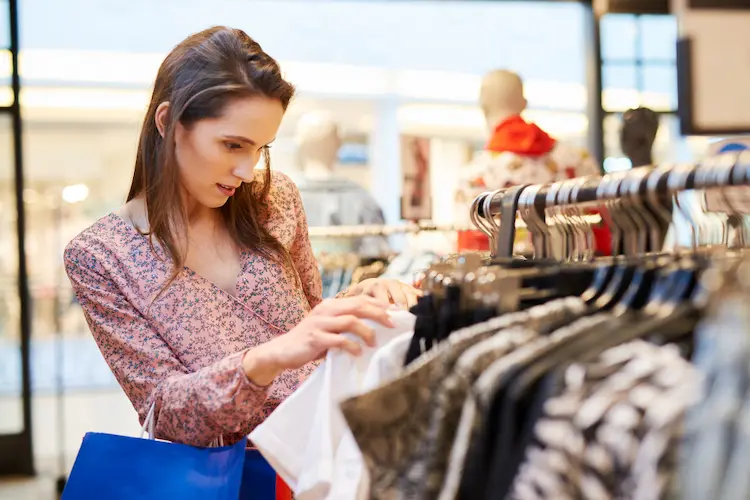 How to Be a Minimalist When You Love Shopping
Another reason you may think that you can't be a minimalist is that you love shopping. But think about it. Do you like to shop or do you shop because you have nothing else to do? Most people like to look at new things. They look so pretty in the store and the atmosphere that the store creates.

Maybe you are a minimalist that would make really good purchasing choices. If you like to shop you will like to research before buying things you don't need. Minimalists are really good shoppers cause they shop with intention.
If you're wondering how to be a minimalist who likes to shop, well here's a secret for you. Most minimalists like to shop. They just don't buy all the things!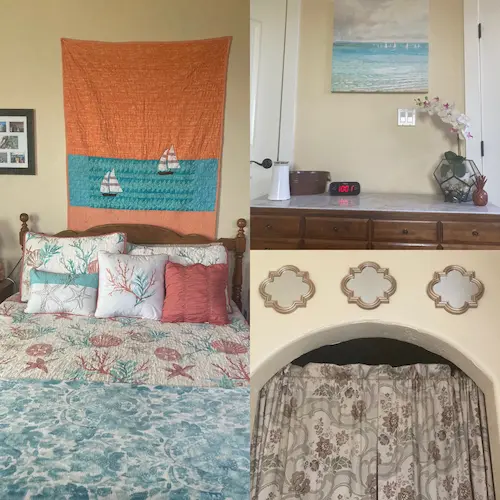 How to Be a Minimalist When You Don't Like The Modern Look
But now you don't want to be a minimalist cause you aren't into the modern look. You might not even want to know how to be a minimalist cause you like different styles of home decor.
I get ya. I have never been ultra-sleek in my tastes either. Would you be surprised if I told you that most of my furniture is actually heirlooms from my grandmother? While that's not exactly my taste either it's beautiful, functional, quality stuff and I realize that is just fine.
Whatever your style and whatever you own is just fine. You don't have to have an ultra-sleek ultra-modern house. Decorating modern is not actually what living as a minimalist is all about. The marketing world has simply convinced people that there is a "minimalist look" so that they can sell more stuff.
Don't let minimalism be an excuse to buy a bunch of stuff. That is definately not how to be a minimalist!
True minimalists find contentment with what they have, they don't collect more than they need, and they can have whatever style of stuff they want.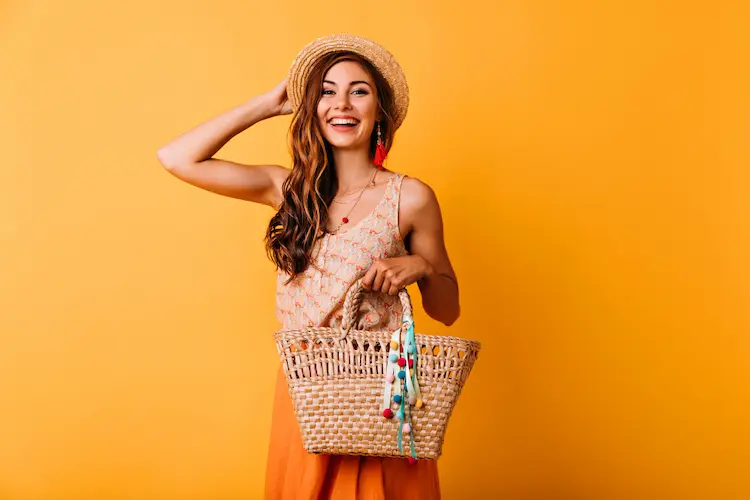 Can You Love Colorful Clothes?
Do you feel like you couldn't be a minimalist because you love bright colors and hate bland neutrals? I feel the same way! I love wearing bright colors and crazy prints. My style is retro and boho and I love accessorizing too! I even have my own Etsy Jewelry business. For a long time, I felt like this excluded me from the minimalist community.
But then I found out that the minimalist community isn't a bunch of mean girls. You can have a colorful minimalist wardrobe and still sit at the table. The key is to keep only what you love and use and look amazing in! If you love it and wear it, it will naturally make a great capsule wardrobe.
If you want to be a minimalist but you love colorful clothes just make sure you don't have too many clothes!
Do You Have Lots of Hobbies?
Are you the artsy-fartsy type? Do you like to play music, sew, paint, and kayak? Do you sometimes do all those things in the same day?
I've got your back! I love being creative and writing is the only hobby I have that doesn't require a lot of stuff. But it's ok.
If you are a person with lots of hobbies you love you will be a happy minimalist. Why? Because you value the experience. You enjoy the journey. Your hobbies will actually help you to enjoy the simple life more.
Just remember not to hoard supplies! Try to only buy supplies for one project at a time and try to move your projects out into the world when you are done with them. Sell them online or give them to your friends. You had the journey! You don't have to keep all of your creations.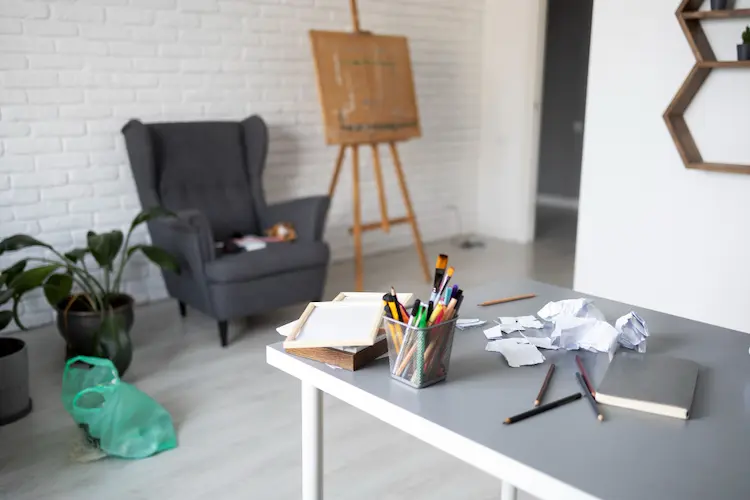 Are You Messy?
If you are not a very organized person then minimalism is exactly what you need! You are scratching your head right now. You are saying; "Every picture of minimalist homes I have seen looks super organized."
Those homes are not organized because the people that own them are good at hiding massive amounts of stuff. They are organized because when you don't have a bunch of stuff you don't need it is easy to organize the few things you do have. When you have the right amount of clothes they fit in a dresser and when you have a reasonable amount of dishes they fit in the cabinets.
Having less means you don't have to organize as much! If you aren't a very tidy person then minimalism is just right for you!
How to Be a Minimalist Who Keeps More Stuff Than You Need
Let me tell you a secret. Almost every minimalist out there feels like they will never get rid of enough stuff to be a "true minimalist."
But it's not really about the stuff. I mean, yes, the ideal is to have way less stuff but odds are if you are working on minimalism you already have way less stuff than the average American anyway.
Minimalism isn't really about the stuff because it's actually about the mentality. It's about consciously fighting the consumer thinking that surrounds us and working hard to be content and happy with what we really need and love instead of always trying to get more more more.
Do I have more stuff than the "perfect minimalist"? Sure! But I am still happier because I have less, I want less, I take care of less and I worry about less.
Stop worrying about reaching the perfect amount of stuff and work on having the minimalist mentality instead.

Stop Saying You'll Never Be a Minimalist and Start Owning It!
So you are the person who said you'd never be a minimalist. What do you think now?

I hope you see that you are probably already a minimalist and you didn't even know it. If you like to declutter and you don't want to buy more stuff than you need you are already well on your way!
Maybe you are the one person in your family that doesn't have to have the latest gadget and you have some clothes you've loved and worn for years. If that's the case you are probably just honing your minimalist super-powers!
Stop putting too much pressure on yourself and the idea of minimalism. You can enjoy minimalism and still wear colorful boho clothes, have more than you absolutely need, and decorate with antique furniture. It's just fine to be a minimalist who loves arts and crafts or a person who isn't super organized. Just learn to be the person that you are and enjoy the simple life!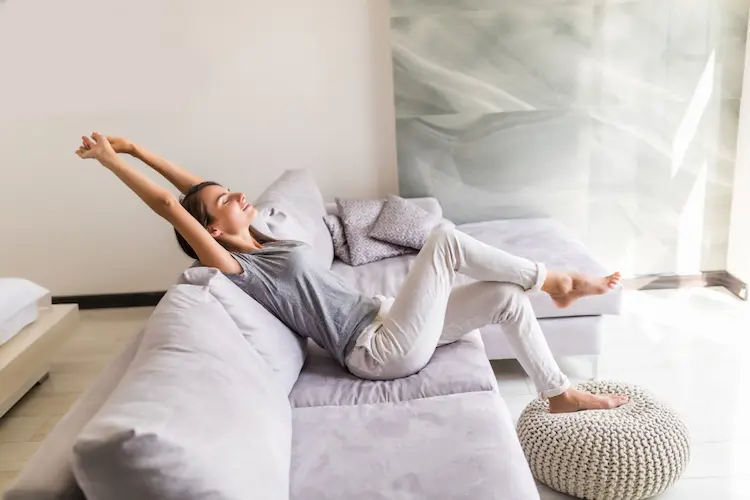 Start Enjoy the Minimalist Lifestyle!
There is really no reason not to start enjoying simple living! Now is the time to try the minimalist lifestyle! Learn how to be a minimalist and a normal person at the same time! Find out why minimalism is good for your mental health and relationships, how it can transform your finances, so you can start having more energy and time for the things that matter!
But what if simplifying your life sounds like an overwhelming task?
If you want to simplify your life but the big bad word MINIMALISM scares you let me help! I wrote Doable Simplicity (Minimalism For Normal People) to help you get the inspiration you need to simplify your life and then take solid steps that make simple living doable for you!
GET YOUR DOABLE SIMPLICITY E-BOOK and Minimalist Journey Workbook NOW!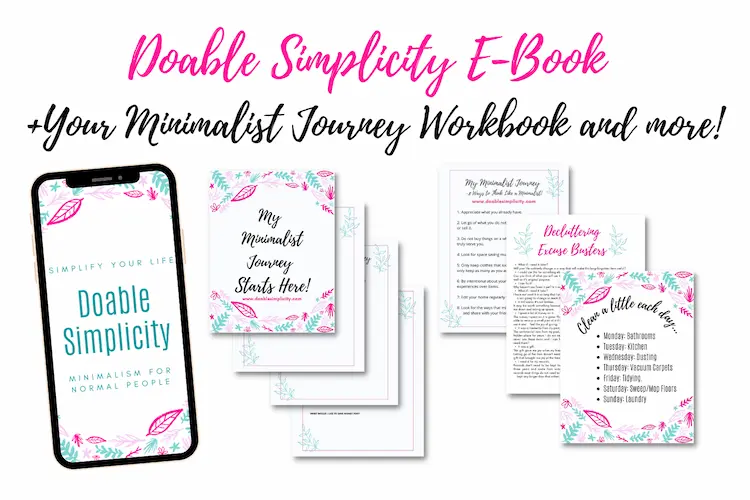 Do you want to learn more about the Minimalism?
Read: Why Live the Minimalist Lifestyle?
You may also enjoy these articles:
Please share this article on Social Media and Pin the image below to your Pinterest Board!