Beautiful Fall Capsule Wardrobe Ideas for 2020 and Beyond!
Fall fashion is the best! The first day that the air becomes crisp I am thinking about how much I miss my sweaters and boots. I love when it's time to pull out my fall capsule wardrobe!
That warm yellow autumn light makes me want to dress like Rory Gilmore and drink coffee like Lorelie. I wanna throw my hair up in a ponytail and grab my denim jacket to go meet Pacey Witter and paint a mural. The best idea I can think of is to throw on my fingerless gloves and put my lace-up boots on and read a book in the park as the leaves fall around me!
I grew up on a street called Lovers Lane. It was lined with Victorian houses and tall cottonwoods and maples. That's where my love of fall began. I remember I would shuffle my feet through the orange and yellow leaves on the way to and from the school bus every day. To say I am a fan of fall is an understatement. I'm in love with fall and every year it makes me so happy to see my old friend coming back to visit!
So let's get dressed up for fall! Let's use warm earthy colors and comfy textures with casual basics that never go out of style. My fall fashion staples are pretty casual and basic so they blend well into my winter wardrobe. What are they?
FOR MY 2021 FALL FASHION PICKS CLICK HERE!
This post contains affiliate links which means I get a small commission from purchases made after you click them. This doesn't cost you any extra but helps me to continue making great content for Doable Simplicity! Thanks for reading!
Fall Capsule Wardrobe Ideas- The List of Must Haves
Before we get started here is my list of fall fashion must-haves and where to get them!
Now that you have seen the list let's talk about why these items are so great and how they can be used for the perfect fall wardrobe and into winter!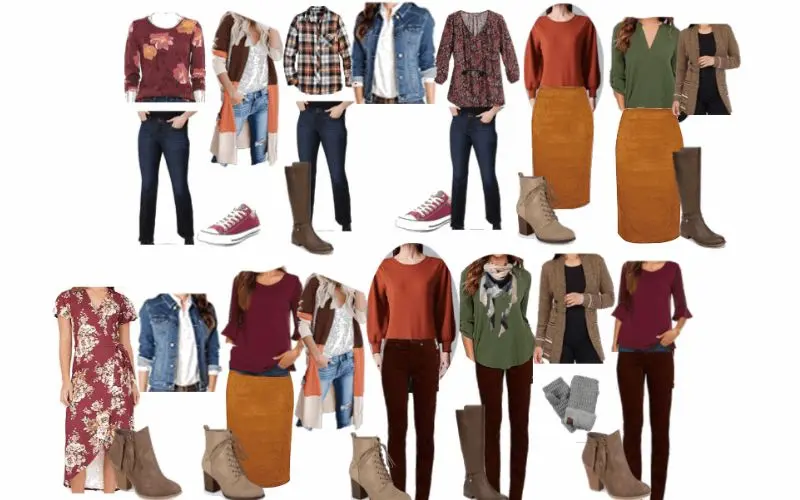 Fall Capsule Wardrobe Ideas: Jeans and Cords
You can pull out your jeans again in the fall! Jeans are just a bit too thick for the heat of summer but they are perfect for your fall capsule wardrobe! You can finally bring them back and enjoy the comfortable classic look they provide.
I like to have a nice pair of dark wash boot cut jeans and another pair of lighter wash skinny jeans. These two will pair great with your other fall pieces.
Jeans aside, another classic must-have for fall fashion is a pair of brown corduroy pants. Some great brown corduroy jeggings can be dressed up or down and will keep you nice and warm and cozy!
Fall Capsule Wardrobe Ideas for Blouses and Shirts
I am pretty casual in the fall. I will find myself wearing a nice long sleeve shirt with a pattern like this burgundy shirt with flowers on it most of the time. My go-to outfit is a shirt like that with some jeans and a good old pair of chucks.
If I want to look a little more country I need the classic flannel shirt. This one comes in lots of nice patterns. I really like the brown and blue plaid pattern.
I also love to have a beautiful orange sweater like this one that I can pair with jeans, cords, or a skirt and some really cute boots.
My style stays pretty much the same and doesn't change with current trends much. I feel like a timeless must-have for my fall wardrobe is an olive green blouse with three-quarter length sleeves. It is very versatile and can be dressed up or down. You can pair it with almost anything and is a great piece for layering.
My favorite color to wear in the fall is burgundy. This nice blouse with lace and peplums on the sleeves is just the right mix of simple and dressy.
The last blouse I love to have around in my fall capsule wardrobe is a floral peasant blouse with a pretty pattern. It provides a nice light layer for changing fall days. If the day starts out cold you can wear it with a sweater and when the day becomes warm you can take that sweater off and still look great!
Fall Capsule Wardrobe -Skirts and Dresses
I don't know about you but for me, fall is generally a pretty casual time of year. There aren't many reasons to get too dressed up. When I do dress up in the fall I generally want it to feel more casual and fun.
It's amazing how versatile a nice suede skirt can be! Well, not real suede of course! I have a stretchy faux suede skirt in camel exactly like this one. It goes with every single blouse I mentioned above. No matter what it always looks sharp!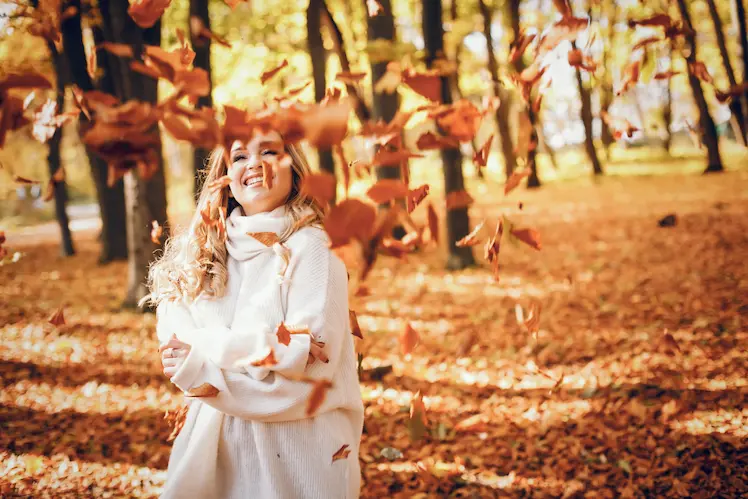 Sweaters and Jackets
We aren't into the really cold weather yet. At least where I live fall is usually full of pleasantly crisp to warm days. You still need something though.
That's when the classic Levi jacket comes in as a classic for your fall capsule wardrobe. You will buy a Levi Jacket once. I mean that. I have had my Levi jacket since I was 15 and it still fits and feels spunky, fun, and timeless every time I put it on. In fact, this Levi Jacket has such a classic look that it fits most occasions, except of course the really fancy stuff.
Another great option is a nice long sweater. I am in love with these long color-blocked cardigans from Amazon. The color options are all so versatile and will go great with the fall pieces I have mentioned!
If you don't want your sweater to be quite so long and you like a more classic look, this long hooded cardigan from Khol's will never go out of style!
The Right Shoes for Your Fall Capsule Wardrobe
Now let's be honest with ourselves. We are still trying to be minimalists. The purpose of this article is not to tempt you into shopping more or collecting trends or having way more than you need. The purpose of this post is to help you see what kinds of things will build a good fall capsule wardrobe.
Everything we have talked about so far will go with you into winter and become a staple of your wardrobe for years to come. That has to include shoes too because shoes have a habit of multiplying like very pretty bunny rabbits.
The shoes I love for autumn fit the same casual style I have for the rest of fall fashion. If I could pick 3 pairs of shoes for fall they would be these classic tall riding boots from Lifestride (always comfortable), these block heel lace-up ankle boots, and a good old pair of Converse Chucks in Burgundy!
If I let myself splurge, I would grab these really classy-looking ankle booties to match my wrap dress and skirt!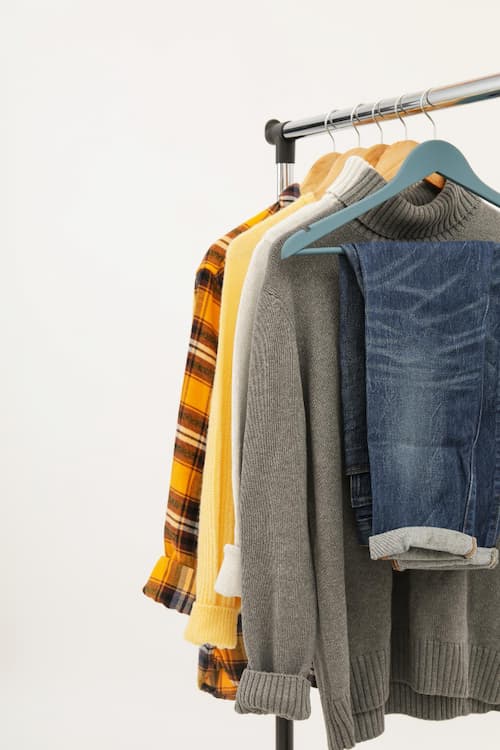 Accessories for Your Fall Capsule Wardrobe!
Fall fashion would not be complete in it's comfy cozy glory without the beautiful accessories it brings! Let's keep it simple though. You are building a simple fall capsule wardrobe after all.
I absolutely love a nice plaid scarf for your fall capsule wardrobe because it's classic and matches almost everything. It will carry you right into winter and it will never seem outdated. This one comes in tons of colors and isn't super heavy.
My other MUST-have for fall and winter is an adorable pair of knit fingerless gloves that my friend made for me! You never have to take them off to flip the page of your book whether it's a paper book or a cell phone screen! Unfortunately, my friend can't knit fingerless gloves for all of you but these fleece-lined knit fingerless gloves look divine and come in lots of colors. I think I would pick grey for the most versatility!
Fall Capsule Wardrobe Basics That Never Goes out of Style
I think one of my favorite things about fall fashion is it feels like I never want anything but my perfect staples!
The fall is so beautiful and perfect on its own that no matter what I am wearing I feel happy and content.
Like I said these fall wardrobe basics are mostly casual and they are all very versatile. If you buy these pieces you will find they blend perfectly into your winter wardrobe and they will be standbys for years to come.
Being a minimalist who loves clothes can be really hard and being a frugal (broke) minimalist who loves clothes can be even harder. But when fall rolls around I know that my fall clothes will be just right every time.
My next post will be all about how I change my closet from spring/summer to fall/winter clothes and pair down in the process because after all, you have to pair down if you are going to enjoy the minimalist lifestyle!
Do you need help decluttering your closet?
If your closet is a disaster zone Closet Simplicity can help! Hone in on your personal style, learn cheap or free organizational hacks, and stop keeping clothes you don't wear!