Learn How to Declutter Faster With 3 SUPER EASY Steps!
Its spring! It's time to freshen up and start new after a dark, cold winter! You may look around and wonder;
Why is my house so cluttered?
How do you really declutter your home?
How can I declutter my house quickly?
If you have been wondering how to declutter your home faster I am going to help you do just that! And it will be easier than ever before too!
I call it the declutter burst and it helps you declutter quickly! It also removes a lot of the stress you might normally feel about decluttering.
We will start with the easy stuff (like actual trash) and move our way up till your house is the clean and shiny place you have been dreaming of! I promise that if you take these 3 simple steps you will declutter faster than ever before!
How to Declutter Faster
If you want to know how to declutter quickly following these 3 simple steps is the key!
Walk through your home looking for trash to declutter.
Go through each room looking for things you never use to declutter.
Tackle sentimental items and paperwork last!
Declutter Faster with Gradual Bursts!
Let me first admit that I am just a little bit addicted to decluttering so it is easy for me!
I have been known to go into a "blind rage". That's where I am declutter quickly and mindlessly. Later I wonder where certain items have gone to.
I realize that not everyone feels that way. In fact, for many people decluttering is very overwhelming. And sometimes we have to declutter at less than ideal times like when we declutter before moving, after a death, or because of another big life change.
Some of us are experts at coming up with excuses to keep the clutter. And all of those excuses are like speed bumps. It's impossible to declutter quickly, if at all, with excuses always in the way.
That is why we are going to learn how to declutter faster but in a gradual way that doesn't freak you out!
Let me guide the way and help you declutter fast without the fearful excuses.
We are going to do decluttering bursts in gradual phases starting with the easiest stuff you can get rid of and working up to things that are harder to let go of. In this way you can declutter quickly AND confidently!
What is a Declutter Burst & How Will It Help You Declutter FAST?
What is a declutter burst and why should you try it? A declutter burst is a burst of energy focused on letting go of stuff without overthinking it. Just like a burst of energy it's short and highly effective!
It will help you declutter fast quickly. You are also likely to do a better job than you have before because it doesn't leave you time to agonize over every decision.
It's the best solution for people who are really overwhelmed by decluttering or organizing. It helps you learn how to declutter faster without getting overwhelmed. You will see results that will motivate you to declutter more! Are you ready?
Let's dig in and learn how to declutter faster!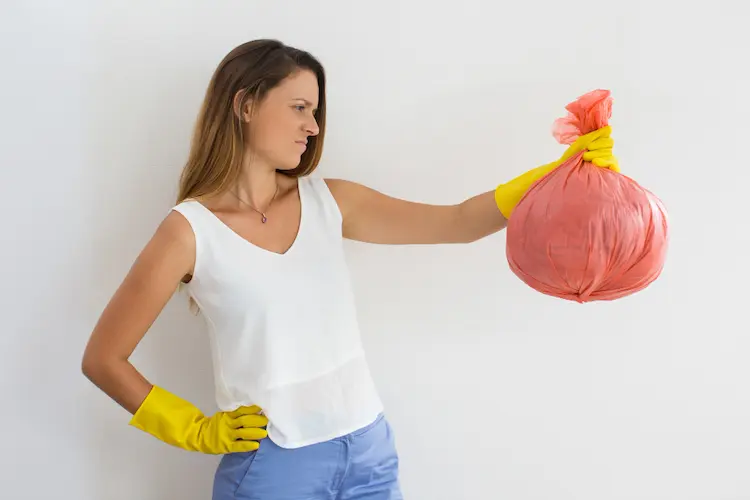 Declutter Faster: Start EASY!
Right now you are wondering if you will accidentally get rid of stuff you need during your declutter burst. If you declutter quickly aren't you going to make mistakes?
I know you are thinking that! Don't worry. We are going to start you off with finding things to declutter you really do need to get rid of anyway. That's how you declutter quickly without getting scared.
Look for TRASH
Trust me, I'm a cleaning lady. I know that people have tons of broken junk and empty shampoo bottles lying around and it is usually lying in the exact same spot week after week. They aren't using it but they just can't let go.
For the first declutter burst, you are going to focus on empty shampoo bottles, old mail, broken toys, out-of-date food, beauty products that didn't work out, dried-up nail polish, and more!
The comprehensive declutter your home checklist is in my FEARLESS DECLUTTERING E-Book!
This burst of decluttering the easy stuff shouldn't take you more than 10-20 minutes in each room! Will it make a difference? Absolutely! When you have cleared out this stuff look around each room in your home and notice how much tidier and open it looks.
Doesn't it feel good?
The awesome difference that clearing out junk you didn't need made in your home will motivate you to work on the next level of decluttering!
And better yet, you got to practice. Now you know how to declutter quickly without putting your overthinking cap on! And now you be a lot less afraid to declutter fast! Who knew? You can actually trust your decision making skills!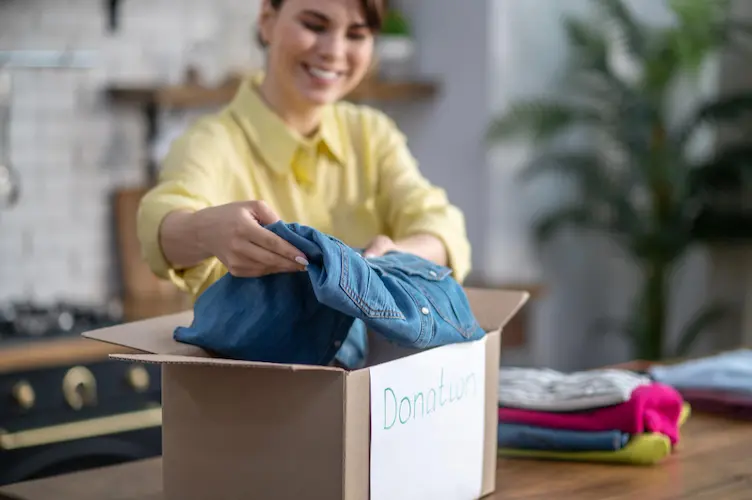 Declutter Fast: Phase 2
If you want to you can take a day or a week or a month to enjoy the beauty of your home after the first declutter burst where you removed all the easy stuff! Just make sure you don't let any of those types of things creep back in.
When you are ready to make your home even better it is time to enter your second declutter burst! This time we are going to take it up a notch!
It is time to tackle the stuff that is a little more difficult to get rid of. This is the "medium" stuff. What kind of stuff are you going to get rid of in this phase of fast decluttering?
Look For Stuff You Don't Use, Need, or Love
Look for things like clothes that are nice but that you never wear because they don't fit, they fit weird, or they aren't your style.
This is also the time to look for and declutter duplicate and triplicates of everything from kitchen items to towels.
Take some time to look around and let go of decorations that you don't absolutely love and items that are useful but not used by you at any time during recent history.
Be honest with yourself!
As you learn how to declutter faster part of making those decisions is honesty. Do you need to stop living in the past?
It's time to be honest with yourself and start letting go of some of the excuses you've been making to keep clutter like old VHS tapes and the giant Bowflex that you never touch.
What about the second insta-pot you were gifted last year or the old bike that noone touches cause you got new ones? How about that nice camera you never use?
Declutter faster and don't overthink it. If you never use it you probably won't suddenly dig it out of the deep dark cave it's been hiding in and find that it's actually the best thing you own. It just isn't so don't let overthinking hold you back or slow you down!
Learn how to declutter faster by learning to rip the band aid off!
The complete declutter your home checklist and more tips are in my Fearless Decluttering E-book! Learn how to declutter faster and overcome all your excuses!
How Amazing Does It Feel?!
Once you finish your decluttering these types of items in each room of your house you will see a huge difference! It will make the first phase look like nothing at all.
Your house will look clean without having to pick it up. When it's time to get dressed your closet will be a happy place for you to put together perfect outfits! Your kitchen will be streamlined for easy cooking. You will start truly enjoying your home!
Take a while to really soak it in and notice the benefits before you move to the next phase. You're going to need to really appreciate the benefits of a decluttered house to move on to the final phase of fearless decluttering.
You already know how to declutter faster and you have already decluttered the bulk of your junk so if you don't do phase 3 for awhile it is probably just fine. Your house is looking amazing anyway.
Declutter Your Home Faster with The Final Phase!
Now that you have felt the amazing joy and endless benefits of more space and a more efficient home you are ready to let go of the hard stuff!
You have built up your decluttering muscles so that you will be less afraid to declutter fast, even when it comes to harder items. You have behind you a lot of experience with letting go of things and finding that you don't regret it.
What are the hard things to get rid of?
Most people list their children's clothes and drawings, family heirlooms, and personal mementos from their younger days as being the hardest things for them to let go of.
That is totally understandable. It can be hard to declutter things that are tied to important memories. But here's how to let go of sentimental items. Ask questions.
Questions to ask when decluttering sentimental items:
Where has this sentimental item been kept? In a place of honor or a hidden place?
When was the last time you remembered the person or time this item represents without having the item present in front of you?
Will you be able to use or feature this item in your home or will it return to a dark corner?
Are you going to lose your memories without this item?
After really thinking about these questions you may find that the item that holds so much sentiment to you is not something that you need to keep in order to keep the beautiful memories it represents. If you let it go you are not betraying your memories.
You can declutter quickly when you remember that your memories are in your head, not the thing.
If you can't remember something without a physical token it may not be a truly meaningful memory.
Maybe right now you are going to look at this item and keep it because of sentiment but then hide it away again. If that's the case, then maybe it's time to let go of the item and keep the memory.
I Just Can't Let Go!
One thing that has helped some people to let go of sentimental items is to take a picture of them before letting them go.
If however, the item which is sentimental is something that means so much to you that you will find a place to use or feature it in your home then keep it! Don't feel bad about holding on to truly meaningful parts of your history. Just give them the honor they deserve.
Take your time as you go through your spare room, garage, closet, or wherever you keep your sentimental items. Just because you are trying to declutter faster doesn't mean you have to rush through while decluttering these items. You have come farther than you ever have before and you deserve to take your time on this part.
Don't push yourself to do it all at once. It can be an emotional experience. But don't overthink everything either. It's ok to let go. Those things won't miss you.
More tips and a list of things that you may find harder to declutter can be found in my Fearless Decluttering E-book!
I Can Declutter Quickly But Now It's All In The Garage!
Great! My house is decluttered but my garage is full of stuff!
When you want to know how to declutter faster, the key is to not think too hard about where the stuff will go till you get to this part.
Still it is very important to get rid of stuff very soon after you have decided to let go of it. No take-backs!
When you are in your first decluttering burst odds are that most of that stuff will need to be thrown away. Broken stuff, worn-out clothes, grubby towels, or empty bottles do not belong anywhere but the trash.
In the second and third phases of decluttering you will probably be dealing with nicer items that could still be of use to others. I encourage you NOT to throw these things away. Being a minimalist shouldn't mean being wasteful. You can donate stuff and bring joy to others. Or sell it!
Make Money Decluttering!
My favorite way to get rid of things is Facebook Marketplace. I was able to make almost $1,500 dollars last summer when we moved into my parent's house and decluttered both our stuff!
I like to sell on Facebook because I am a broke minimalist so money is not frowned on, and also because I make the people who buy the stuff pick it up so I never have to go anywhere!
It's amazing that most stuff under $20 can sell within the day and the more expensive stuff will take a little longer but it's totally worth it!
And the best part is, when you learn how to make money selling your junk, you will be motivated to declutter faster and declutter more!
A step-by-step guide to selling your clutter on Facebook is available here and there is a printable version in my Fearless Decluttering E-book!
…Or you can donate it!
If you don't feel like dealing with selling your stuff you can definitely declutter faster by taking it to the thrift store or a local charity. If you are so inclined you can even get a receipt for your taxes.
On rare occasions, I ask a friend if they need something I am getting rid of. I want to help them and not burden them with more of my junk so I don't offer unless I really think that they would like what I am getting rid of.
It's amazing how you can bring joy to others by giving them your stuff! I've even been thrilled to receive things I've admired from friends!
The important thing is to get rid of the stuff ASAP. Don't let it pile up into a big overwhelming mess of stuff your "going to get rid of one day."
You read this article to learn how to declutter faster, not to fill your garage! Declutter the garage by getting rid of that stuff ASAP!
But its still so hard!
Each decluttering burst is designed to help you stop overthinking and start decluttering quickly!
We take it in stages from easy to hard stuff to get rid of so that you can see the benefits of letting go of stuff and grow stronger at decluttering.
But maybe you still find it difficult to let go. Maybe it just doesn't come naturally to you. That is totally understandable. You are not alone!
That is why I created the Fearless Decluttering E-book and Printable Pack!
Declutter Faster and Better than Ever!
Have you tried to declutter your home before but you got overwhelmed and gave up? Did your yard sale flop and the stuff started to creep back into your home? Maybe you did a great job but now it seems like you just have to declutter again?
Don't worry! You can learn how to declutter faster and better than ever! How?
Wouldn't it be great if I could walk you through the process and help you stay motivated? Do you want to me be your cheer leader, coach, and overly honest best friend so that you can declutter faste?!
That is why I created the Fearless Decluttering E-book and Printable Pack. If you have been overwhelmed by the decluttering process before or you decluttered but found it coming back the Fearless Decluttering E-book is exactly what you need to succeed!
It will help you learn how to declutter quickly with tips on letting go, checklists of exactly what you can get rid of, and all the benefits of getting rid of your stuff that will motivate you to finally declutter your home!
You are bound to declutter faster with clear directions, lots of motivation, and a comprehensive decluttering checklist!