30+ Simple Organizing Solutions That Don't Create More Clutter!
Now that you have decluttered your home thoroughly you can organize what is left!
Are there any SIMPLE organizing solutions that really work?
It's important to find the right organizing solutions so that you do not create more clutter with organizing tools that don't really work or encourage you to keep more than you should.
Before You Use Organizing Solutions You Need to Declutter!
A lot of people get inspired by TV shows that encourage you to buy a whole bunch of plastic bins and jars and baskets before you even start going through your stuff. They think these things will help them find a place for everything.
That is a fatal mistake! Why? Because not only are you bringing in more stuff when you should be getting rid of stuff but you will also keep more stuff because you want to put it in your pretty organizing containers.
It is very important that you do not buy organizing solutions until you know how to declutter your home! You need to go through your stuff and get rid of everything you don't use, need, or love BEFORE you buy anything!
I created a unique 3 step process to help you declutter your stuff and not get overwhelmed doing it! Check it out in my FEARLESS Decluttering E-Book!
Once you have decluttered your entire home you may just find that all your clothes fit in your dresser and all your dishes fit in the cabinet and you don't need any organizing solutions you don't already have.

But you may also find that certain things will be easier to keep organized with some simple organizing tools! But how do you pick the right ones?
I've done the hard work for you and I have some organizing solutions that WORK!
I love organizing and I have totally fallen for all the gimmicks. The problem is that a lot of them are just that, gimmicks! They actually make your stuff take up more room than they would without the "organizing tools"!
On the other hand, some simple organizing solutions are totally worth it and have changed my life! The good news is I have done all the testing for you! I have tried way too many different organizing tools and I don't want you to make the same mistakes I did.
Let's take a look at what really works so that you buy the right organizing solutions the first time!
This post contains affiliate links which means that if you click on them or purchase through them I get a small commission at no extra charge to you.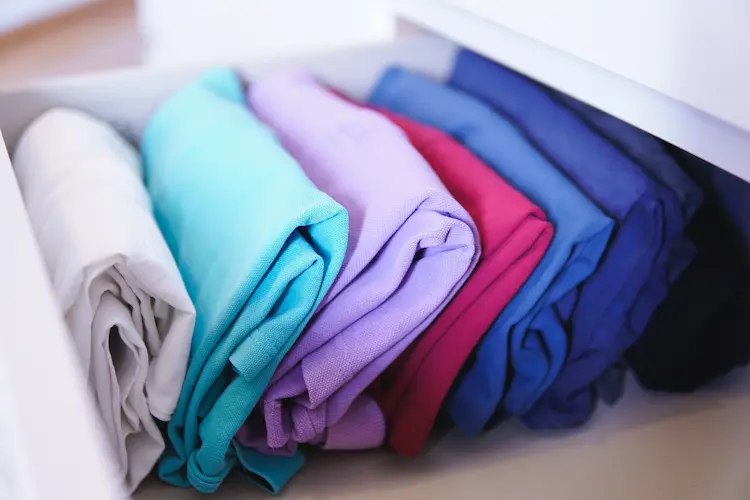 Simple Organizing Solutions for The Closet
The best organizing solution I have ever found for the closet is something you cannot buy! What is it? It's Marie Kondo's method of folding clothes in rectangles that stand up. This creates a file effect in your drawers and you can always see every shirt and every pair of pants without digging around. You can take something out and put it back without disturbing the rest of your clothes!
This helps me keep my closet tidy. I can also easily identify things I'm not wearing so that I can regularly declutter my closet too!
Once you start using the Kondo method of folding your clothes you will find it easy to keep your dresser drawers in order. What if you don't have a dresser but shelves instead? I recommend getting shallow bins that mimic drawers and help you to see all your clothes easily on the shelves while maintaining the file folding method.
For shoes, I highly recommend a hanging shoe pocket organizer or a shoe rack. It's a simple solution but it helps resist the urge to have more shoes than fit in the organizer. Yes, I said it. You are going to have to limit your shoe collection if you want a tidy closet.
Simple Organizing Solutions for The Bathroom!
When you are organizing your bathroom there are two goals you should focus on.
Keeping your toiletries upright so that it doesn't leak everywhere.
Having everything in the most logical place for you to use it and put it back easily.
When you strive for these goals you will find that you can keep your bathroom counters clean and clear!
So how can you do that? This is the time for those little plastic baskets. Get little plastic baskets for your drawers or shelves that fit the types of things you need to put in them.
I have a big basket for our hair and shaving stuff in a drawer. Then I use a tiny basket for my essential oils. I also like to keep my spare contacts, travel toiletries, and my makeup in clear pencil boxes!
Another absolute necessity for the bathroom is a good shower caddy. If your shower is awkward and you can't figure out how to hang one you can use a curtain rod across the back wall of the shower and hang your shower caddy on that!
Last but not least, I LOVE my cabinet-door-hanging trash can! No more naughty puppy chewing up my trash! It's one of those simple organizing solutions that actually improves your every day life!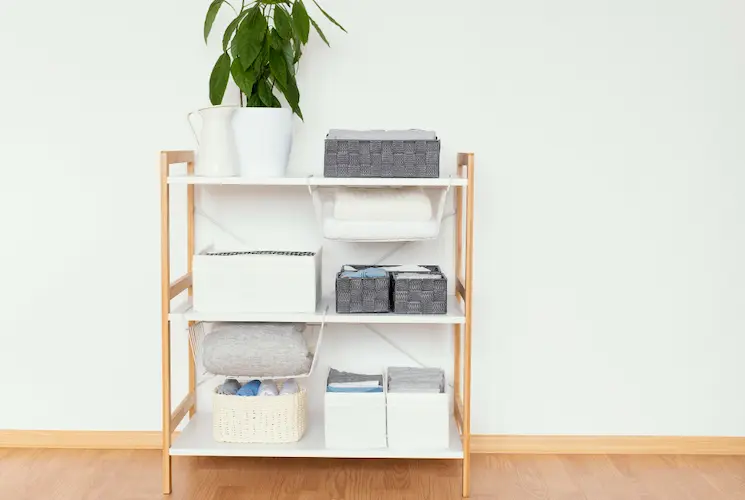 Simple Organizing Solutions for the Living Room
When it comes to the living room you may not have a lot to organize. That being said you will want your organizing solutions to look really nice.
Get some pretty baskets for your extra throw pillow and blankets. You can also store kids' toys and dog toys in these baskets. You might consider having these baskets on a cube shelf or just on a bookcase.
Another great way to hide away some extra blankets or all your gaming controls is a storage ottoman. They look great and serve two purposes!
I recommend putting all your DVDs and CDs in a CD Binder and dropping the cases. They will take up so much less room and be easier to look through when you want to use them!
I think that every house benefits from a coat wrack. If you don't have a coat closet you can create a drop zone. Just use a narrow entry table with a basket or a small shoe bench with some key hooks above.
Simple Organizing Solutions for the Kitchen
Sometimes the oldies are the goodies. That is the case for some of the simple organizing solutions that have worked in kitchens for years.
I have tried the bamboo drying wrack and the two-tier drying wrack. In the end, the classic dish drying wrack takes up the least space and creates the least hassle.
I also think that having a utensil container for your spatulas is a great way to keep them at hand! It also helps you resist getting too many of them! If you have a drawer by your stove you can put utensils in that is great too!
I have tried a few kitchen hacks that work very well though. A two-tier lazy suzan is great for spices. If you don't have space in your cabinet for spices I absolutely loved this wall-hanging spice rack when I was in my tiny apartment.
This expanding lid rack can organize your pans and small serving dishes as well as your lids! And last but not least I loved this verticle silverware organizer when I didn't have space to waste a whole drawer on silverware!
Simple Organizing Solutions for Your Home Office:
These days we all have some sort of home, even if it's on our dining room table.
We all need to keep mail, bills, and other paperwork sorted so I have found that a nice desk organizer can keep me from piling things up. I use my desk organizer to hold my pens, planner, journal, and any mail I have to take care of like bills and coupons I will definitely use.
It is important that you don't stuff all your mail in there. Sort your mail each day as it comes. Most of it can be thrown away. Some of it will need your attention. Handle that as soon as you can by putting it front and center in your desk organizer.
What about all those programs you have for the computer? Most of them may be obsolete at this point since a lot of laptops don't even come with drives anymore so sort through those and put the remaining programs (if there are any) in a small CD Binder.
You can keep chords and batteries in a plastic tub and use another one for stationary and random office supplies like paper clips, scissors, and glue sticks.
What about your really important papers? If you have lots of them (remember tax records only need kept for 5 years) you may need a file box or to file them in a drawer.
However, I would recommend keeping your wedding certificate, birth certificates, social security cards, passports, and homeownership papers in a fireproof document bag that you can grab in a hurry in case of fire or flood.
With all these tips you organizing paperwork will change from a nightmare to a dream!
Organizational Tools for Your Garage or Shed:
I am all about not buying more organizing tools than you need but when it comes to the garage or shed it may be time to buy some big storage tubs.
I like to keep our tent, air mattress, and blankets in one and all our camping kitchen stuff in another. We have our inflatable kayak and all its accessories in a tub. It's best to figure out what the activity is and keep the stuff for it in 1-3 tubs that are clearly marked so that you can grab what you need and go!
Aside from that try to keep only garden tools that are not broken and store them in a bucket or a garden tool caddy. Don't keep a bunch of scraps from DIY projects that aren't usable and sell or donate all the things that you have decluttered promptly!
Last but not least a bike rack, and ski or snowboard racks will make a huge difference in your garage freeing up space for crazy things like cars!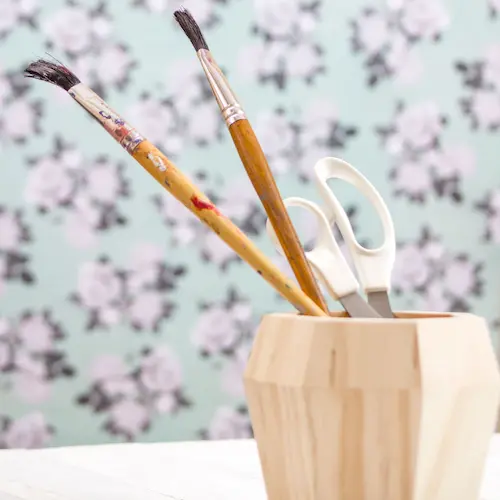 Organizing Craft Supplies in Small Spaces
If you love crafts you know how messy they can get. Organizing craft supplies can be a real trick!
The key to keeping craft supplies under control is to not buy more supplies than you need. Try to buy with one project in mind at a time.
As for organizing craft supplies, one of the most versatile things I have found for my different crafts is collapsible storage cubes. You can keep fabric, patterns, jewelry-making supplies, painting supplies, and much more in them.
The best part is that you can grab them and take them to wherever you are going to craft.
If you are into jewelry making you definitely need a plastic storage container or two and any craft can be easily organized in a rolling cart.
The key thing is to have your craft supplies contained, mobile, and easy to clean up so that you can pull them out and put them back easily! That way you won't put off being creative because it's too hard to get to your stuff.
Simple Organizing Solutions That REALLY Work!
There you have it! These simple organizing solutions really work and you won't have to experiment with a whole bunch of gimmicks. For a complete list of my recommended resources and products check out my resource page!
Are you still having trouble organizing? Do you think you need more organizing tools? Let me tell you a secret. If these things don't organize your house and you are looking for a magic fix, you have too much stuff. When you outgrow your storage you need to let go of stuff! Don't buy more storage!
Do you feel overwhelmed by the idea of decluttering and much more capable of filling boxes of stuff you will never see again?
Let me help you! I have created a unique decluttering process. It will take you through three EASY decluttering phases that will help you declutter without overwhelm, at a pace that is comfortable for you!