Why Is Decluttering So Hard? Find Out How to Break the Vicious Cycle!
Are you overwhelmed with clutter? Are you struggling to declutter? Do you want to know how to declutter your home but you feel overwhelmed or unmotivated? Or have you gotten rid of clutter before but it just keeps coming back?
You are not alone! Everyone is feeling overwhelmed and struggling to declutter their homes and most people have made attempts at decluttering that didn't pay off in lasting results. Why do you think there are always Yard Sales going on?
So why is decluttering so hard? Is there a vicious cycle at play here?
Why is Decluttering So Hard? Where Does Clutter Come From?
It seems like we are drowning in stuff. All of us are struggling to declutter over and over and sometimes, often times, it feels like we can't keep up. We give up because it feels like decluttering is exhausting and never ending.
But, why is that? Can we do something about it?
A lot of the problem comes way before it's time to declutter. It starts with our shopping habits. Regardless of our income, we shop and shop and shop.
Did you know that the average Amazon Prime member spent $1,800 in 2018? And even those who are not Prime members spend an average of $600 in a year. I can only imagine that number skyrocketed during the Pandemic.
Amazon is not the only place we spend money though.
In the town where I live there is not a day that the Target and Walmart parking lots aren't full and the mall is packed out every weekend.
People are spending every spare moment shopping, even though when I talk to people, they are always telling me they can barely make ends meet.
We live in a consumer society that bases happiness on possessions. We are constantly convinced that we need something new to fix our problems.
It's estimated that the average person will encounter 6,000 to 10,000 ads each day. Every single ad is designed to make you feel that you need to buy more!
So like squirrels, we frantically store more and more stuff into our homes and then one day we look around and realize we have way more than we could ever use and no room to live!
And with a project that big it's no wonder most of us are struggling to declutter and feel like decluttering is hard and even pointless so we just give up!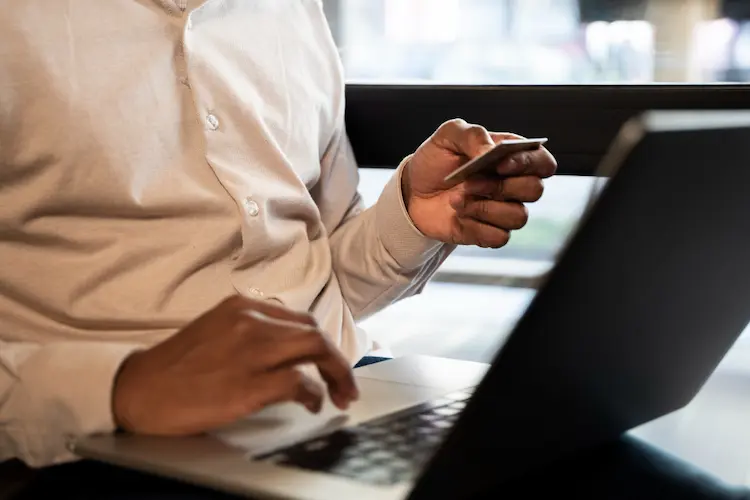 Decluttering is Hard Because Clutter is Stressful
So are you a happy squirrel? Have you stored away enough nuts for this winter and the rest of time? Have you bought things that will make you safe and happy forever?
Not really…the truth is, you look around and your house isn't full of nuts that you can eat. It's not full of useful things that will really help you when times get hard. Your house is full of junk and you're the squirrel who doesn't know what a real nut looks like.
Why is decluttering so hard? Because at one time we thought we truly needed every item we own!
The truth is most of our problems don't need a special gadget. Most of the stuff we NEEDED doesn't get used and most of our problems require bigger solutions than anything at the store can give us.
The TRUTH about clutter is that it doesn't actually make us happy. In the end, it leaves us overwhelmed, stressed, BROKE, and struggling to declutter things we don't want to admit we wasted money on.
Decluttering is exhausting because we tie a lot of negative emotions to our stuff.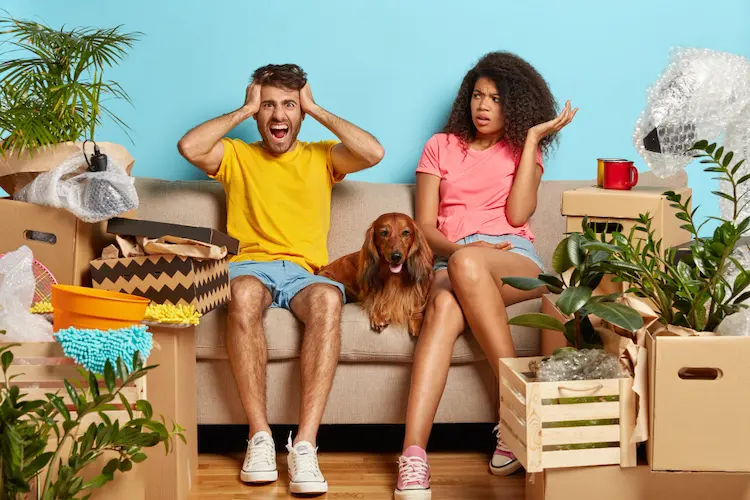 What Is Clutter?
So why is decluttering so hard? Because it's hard to see what you need and what you don't. Now is the time to learn the difference between a real nut (what you really need) and clutter.
What is clutter? As a verb, Miriam-Webster Dictionary describes it as "to fill or cover with scattered or disordered things that impede movement or reduce effectiveness."
Do you ever feel that your home fits that definition? Do you feel like your stuff is impeding movement or slowing you down? Does it ever feel like you could be more effective or productive without it?
If you feel that way it's because of clutter!
Another way to define clutter is that it is anything you keep even though you don't need, use, or want it.
Do you have anything in your house that you don't need, use, or want? I bet you do!
We all have stuff we want to get rid of but it's just too overwhelming to start! We are struggling to declutter because we are so weighed down by the weight of it! And the mental weight we attach to it is why decluttering is exhausting.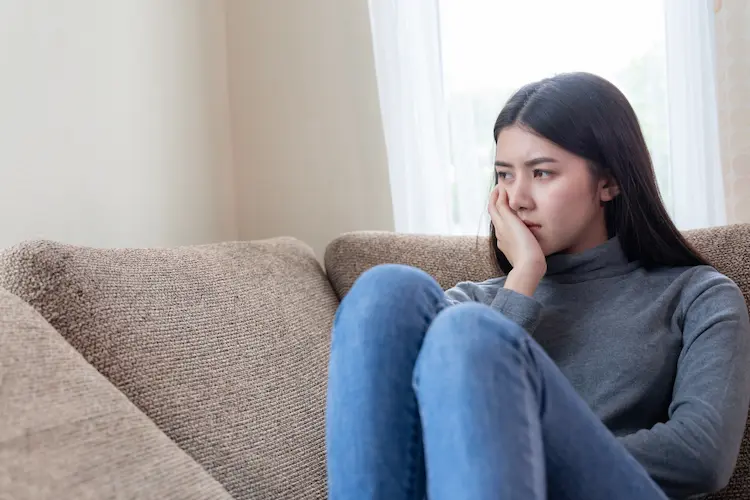 How Does Clutter Make You FEEL?
Look at all the things that you own. Every single thing you have you at one time felt you needed or wanted.
But there are a lot of items you may still own that you now know that you don't need or want. How does that make you feel?
You look at the things you spend money on and brought into your home and you remember the reason you bought them and you know you don't use them and then you feel guilty.
Those things aren't just fake nuts, they are stickers and thorns that poke you with guilt every time you look at them. You wish you hadn't bought them and you promise to start using them.
Here's my question to you: Why would you fill your home with stickers and thorns? Why would you keep things that make you feel bad in the place that is supposed to be your haven?
You may laugh at me but the psychological effects of clutter are scientifically proven!
Clutter forces our brains to think about too much at once and we become overloaded with all the decisions in front of us.
That stress leads our brain to release heightened levels of cortisol, the stress hormone, and then we resort to self-destructive avoidance behaviors like overeating, oversleeping, and binge-watching Netflix!
In short, struggling to declutter is no fun. So why do we do it to ourselves? Why is decluttering so hard? Basically, it's because we make it that way.
Decluttering is Exhausting Because It Is SCARY
So why do you keep clutter if it makes you feel so bad? Why would you let your home continue to be a place that causes you guilt and stress?
I'll tell you right now. The REAL reason you are struggling to declutter your home is that you got and keep all of those things for one big emotional reason. FEAR.
Fear? I am not afraid! My life is fine. I am living the American dream! That's what you tell yourself but really you have accumulated all this stuff because of fear. Here are a few examples.
We live in a consumer society that thrives on the FOMO, the fear of missing out. You may have bought something to "keep up with the Joneses".
Many people say that they don't want their kids to grow up lacking things like they did not have as a child. You have a fear of having too little because of having too little in the past. (You lived through it btw.)
Most people find it difficult to let go of sentimental items because of a fear of losing their good memories that are in the past.
Almost everyone keeps things in case they need them later. That is a fear of the future.
Sometimes we want to get rid of something but we fear that we are being wasteful and we fear that getting rid of it is the same as pouring money down the drain.
Do you see it now? All these things, all these fake nuts you squirreled away for winter, you collected out of fear and now you are struggling to declutter because of that very same fear.
Decluttering is hard because you are afraid that without this stuff you won't be safe.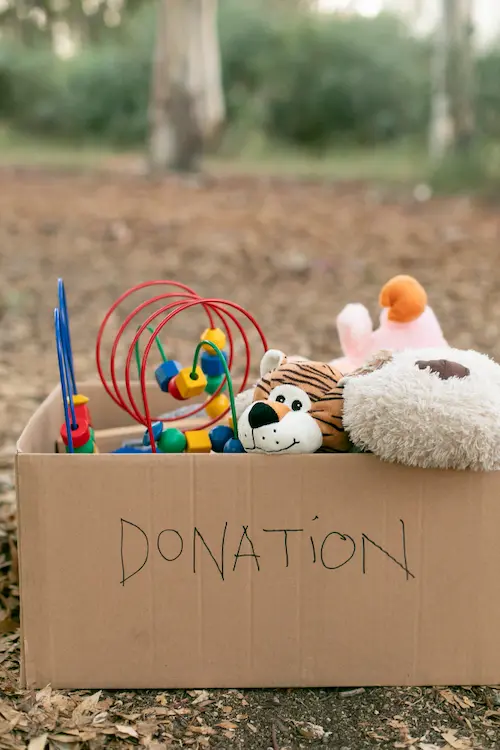 Decluttering is Hard But It Doesn't Have To Be!
If you are keeping things because of fear of the past or fear of the future that's an easy fix right? Just stop being afraid!
That, however, is easier said than done. That fear has a way of creeping back in because it is built into our minds and the world around us.
What can you do? You can ease yourself away from that fear. You can start fighting all your excuses for clutter with simple answers and you can start with things that are easy to get rid of.
We are talking about fear right? One of the most terrifying things I can think of doing is walking a tight rope but guess what? When you research learning to tight-rope-walk they don't start you on the high wire. They start you on the ground. Then they move you to a wire that's about a foot off the ground and so on.
If you are struggling to declutter and decluttering is hard cause you are afraid start with the easy stuff. Start squirreling out the things you squirreled in with the stuff that is closest to the door! What is that? Broken stuff and trash.
Then as you see that you don't need or miss that stuff it will be easier for you to grow less afraid and start getting rid of more and more stuff until you have finally decluttered in the meaningful way that you have wanted to declutter your home for years!
And what's better is this: you will be free! Free of all that fear! And you won't be struggling to declutter anymore! Decluttering is hard but you can do hard things!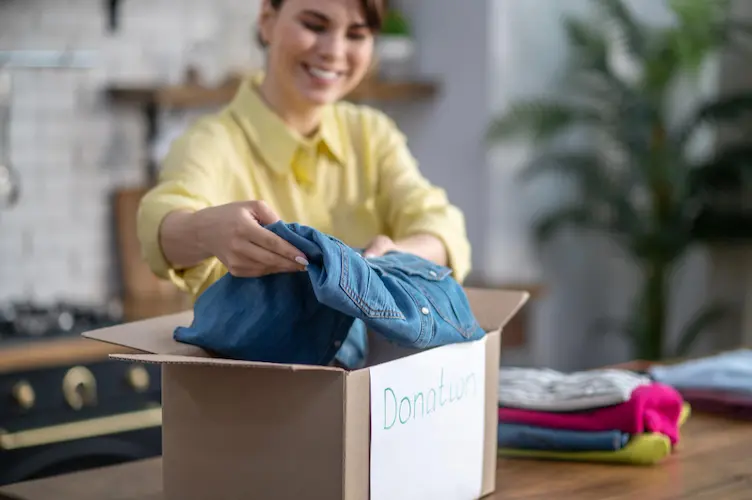 Decluttering is Exhausting So Let Me Help You Break the Vicious Cycle!
I have seen it over and over again. People want to declutter their home but decluttering is hard so they give up.
Or they manage to declutter but the stuff just fills their garage with junk for a garage sale that never comes and they take half the stuff back. Decluttering is exhausting and they sabotage themselves by changing their mind.
But it doesn't have to be that way! Decluttering can be easy and fun!
Let me help you stop struggling to declutter and instead fearlessly declutter your home and find the space you need to be the best version of yourself!
I can help you start to declutter with the easiest stuff first and then slowly build up to a completely decluttered home!
I can take you step-by-step with thorough decluttering checklists and great tips so that your decluttering process not only gets done, but gets done well, and fast! You can even make decluttering fun and get your family on board!
Everything you need to declutter your home, stop wasting money buying stuff you don't need, and break free of fear is in the Fearless Decluttering e-book and printable pages!