Declutter Before Moving -10 Easy Decluttering Tips for Moving!
I haven't moved a lot but I have moved in unusual circumstances.
The first time I moved it was from the bedroom in my parent's home where I had grown up to the 300 square foot studio apartment my new husband lived in.
The second time I moved was in the middle of a Pandemic. And where was I moving? Back into a bedroom (albeit a much larger one) in my parent's new house.
In both cases I had to declutter before moving.
10 Steps To Take To Declutter Before Moving:
Give yourself plenty of time. Start early.
Consider the size of the home you are moving to.
Define the use of each room in your new home.
Declutter things you don't use that are in dark corners. (closets, garage, attic, etc)
Pack or declutter things you have duplicates of.
Get rid of burdensome sentimental clutter and large pieces.
Trash stuff that is broken, stained, unusable.
Sell things you want money back from.
Donate everything else.
Keep looking for things you can declutter while packing.

Life is Changing When You Move
As I said, I have always had to declutter before moving. Why?
Not only was the size of the space I was moving into changing, my life was changing too. What I would need and not need was going to change with those changes.
Really, any time you are moving your life is changing and you should declutter. It's a great time to let go of the things that are hiding in the corners and are no longer useful in your life!
Moving as a Newlywed:
Let me explain the circumstances of my moves more fully so you can get an idea of the types of life changes I am talking about.
The first time I had to move I had a lot of useless stuff. I had not grown up a minimalist and staying in one bedroom for 23 years can lead to a lot of accumulation.
I was moving in with a 6'4" man who had his own stuff. We were living in a house not a bedroom so we were going to have to fit dishes and a table and a couch and all that practical stuff in there too! And it was only 300 square feet!
I had to declutter a lot of girly decorations, a ridiculous amount of clothing, lots of books, old school work, and more.
It was not easy cause it all represented a lovely childhood and lots of great memories.
It also wasn't easy because it was a busy and emotional time between getting married, being a newlywed, and losing my grandfather within a month.
Moving During The Pandemic
The second time I had to move was in the middle of the Pandemic lock downs.
I was moving from a house to bedroom which meant that a lot of my housewares and furniture were not going to be useful anymore.
I knew I need to get rid of stuff but all the thrift stores were closed so I couldn't donate anything. The used bookstore was closed. Our friends couldn't help much. And we didn't have a lot of time either.
We were making this move so that we could help my parents and they could help us with the initial financial and emotional fallout of the Pandemic.
Oh and did I mention that my parent's house was also full of their stuff and a bunch of my recently deceased gramma's stuff?
We were in essence combining 3 households and it wasn't very pretty…at first.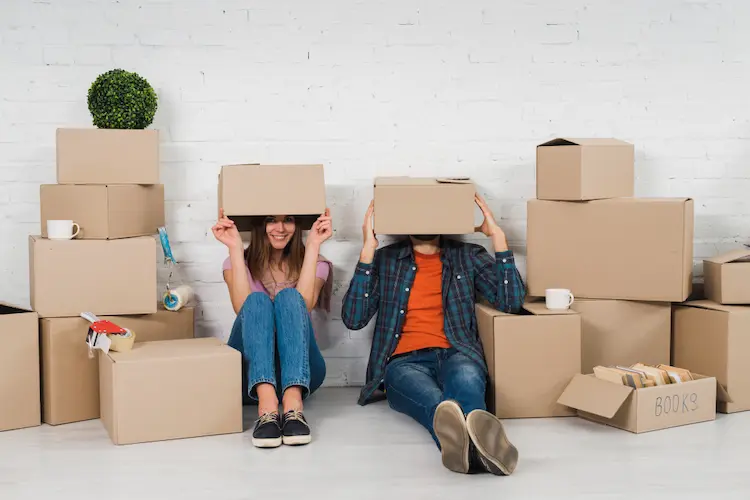 Why Do You Need Declutter Before Moving?
So your moving story probably doesn't sound anything like mine. In a lot of ways your move may be a lot harder.
You might have a house full of stuff and a few kids and dogs and cats and a garage bursting at the seams with junk! You might be moving across the country or even across the world! Your moving checklist might include a lot more than just moving your stuff.
The good news is I don't just have my own experience to draw from. I am a cleaning lady and I have (just today) cleaned for a (mostly) moved out of house.
I have done that a few times and every time it's interesting to see what gets left.
I also have helped tons of my friends move and unpack in new houses. Let's just say I have seem my fair share of frustration and overwhelm and I want to save you the trouble.
So why do you need to declutter for a move?
Because even if you don't think so, you have a lot of junk you don't want to put the time and energy into packing, hauling, unpacking, and then decluttering after all!
If you declutter before moving it will save you tons of time, energy, money, sanity, and fights with your husband!
So let's get into how to declutter to move! These decluttering tips for moving really work. I PROMISE!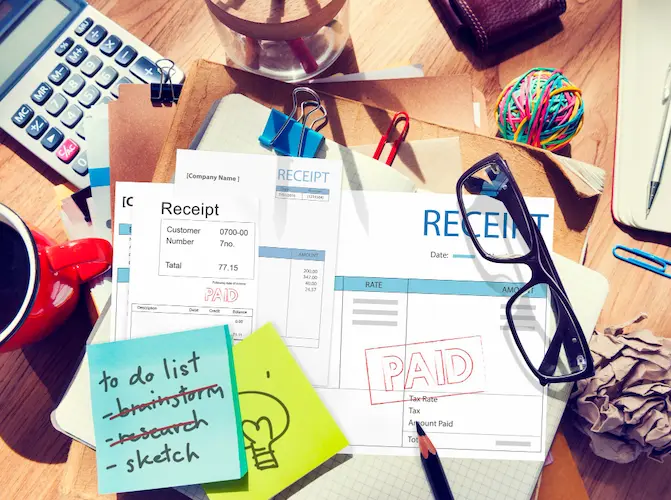 1: Give Yourself Time to Declutter Before Moving
The most important of all the decluttering tips for moving you will ever hear is this. Give yourself plenty of time! By that I mean, act fast. That sounds like a contradiction but it's not.
As soon as you even have an idea that you might be moving it is time to act.
Start looking around your house for things to declutter before moving. Go to each room and declutter all the trash and broken things immediately. On the next pass look for stuff you don't use.
Just keep looking all the way up until moving day but start right away.
Why is this so important? Because it can take a little time to look through stuff and get rid of stuff.
If you are doing it all at the very last minute you will either find yourself getting rid of things out of desperation or even worse, packing them out of desperation!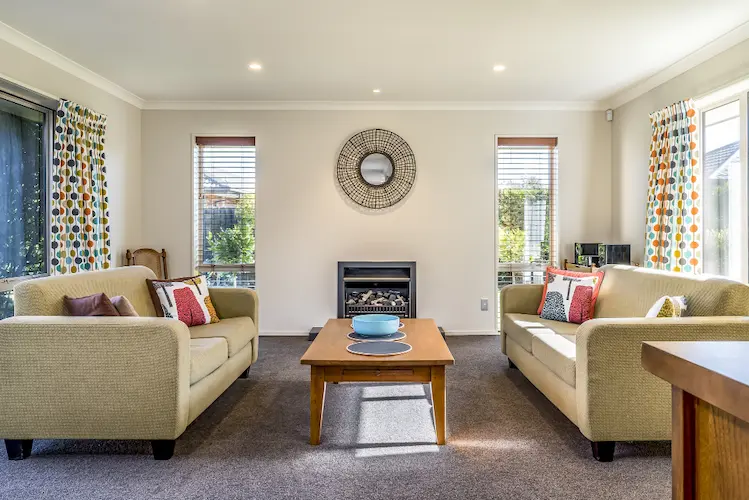 2: Size Matters, But Not As Much As You Think When You Declutter to Move
So are you moving to a smaller home or a bigger home? If you are moving to a bigger home it may be tempting to skip decluttering all together! After all, if you can fit all your stuff in the house you live in now and you are moving to a bigger house…
But that's a slippery slope for two reasons.
First of all, you may already have too much stuff in your house. It may not really fit at all. You're just used to the cluttered mess. And when you take that cluttered mess to your new house you will be very disappointed that your new big beautiful house doesn't look so great once you get all your junk inside of it.
Second, it's a bad idea not to declutter before moving because it's going to waste a bunch of time, energy, and money to move stuff that you don't even want.
So regardless of where you are moving you need to declutter. If you are moving to a smaller place you are obviously going to have to declutter more.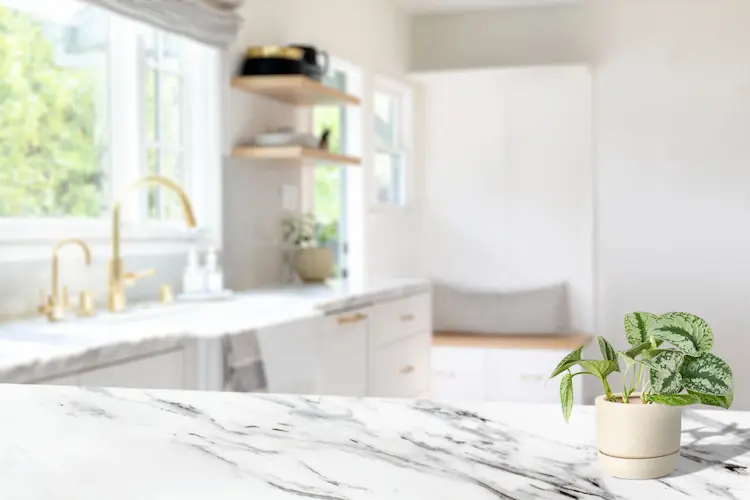 3: Declutter Before Moving by Defining Your Rooms
I know that you have dreams of how you will live in your new home. You picture having coffee in that lovely breakfast nook and having cozy movie nights in that living room. Maybe you dream of having a play room for the kids, a sewing room for you, a man cave for your husband, and more!
That is so exciting isn't it!?
But what would ruin all of that is a bunch of rooms filled with unpacked boxes of clutter you don't want to unpack cause you don't want it at all.
So let's avoid that! How?
You avoid bringing clutter you don't even want to unpack to your new house when you declutter before moving. In order to effectively declutter before moving you need to use your beautiful imagination about your new home and define the purpose of each room.
For example imagine your kitchen. You want to have cooking tools that are consistently useful to you, serving dishes that you enjoy using when company comes over, and plates and cups that are functional as well as beautiful.
Your definition of your kitchen and how you dream of using it will help you find the things you don't want in your new kitchen. Imagine your new kitchen without mismatched tupperware and piles of your kids' schoolwork and your mail. Get rid of everything that doesn't fit the purpose of your new kitchen.
Apply that idea to every part of your new home.
If you want a sewing room do you want it full of the unusable scraps you have sitting around now? Does the man cave double as the play room? Is the play room really just for storage? Is your living room going to be one giant puddle of shoes and coats?
If you want to declutter before moving it's VITAL that you imagine yourself living in your new house and define the purpose of the room. If something you own doesn't fit the definition of any of those rooms maybe it doesn't fit in your life either!
4: When you Declutter Before A Move Start With Stuff You Don't Use
One of the biggest reasons people procrastinate packing for a move is that there are a lot of things they know they will need in the meantime. After all you can't pack away your pillow, your toothbrush, or your favorite coffee mug so why get started at all?
But that way of thinking will set you up for PANIC later when it is finally time to move and you have to go through everything.
Instead, as you start to declutter before moving well ahead of your move date, look for the things you don't need or use regularly.
Start in the dark corners of the closet, garage, attic, basement, or where ever else you cram stuff that you don't use. You know where that stuff is. Pick one small area and look for stuff you can get rid of.
Here's a hint. If it's in a place like that in the first place you probably don't need it. You have probably just landed on a gold-mine of declutterable junk and it's time to let go before it takes up space in the moving truck. Get it in the trash or a donate/sell box right now!
If you find things you do want to keep, like skis for next winter, your tent for next summer, your clothes for seasons after your move date, or otherwise useful items you know you won't use before your move you have struck gold again! You have found stuff you can pack right now! Don't put it off. Get that stuff in boxes.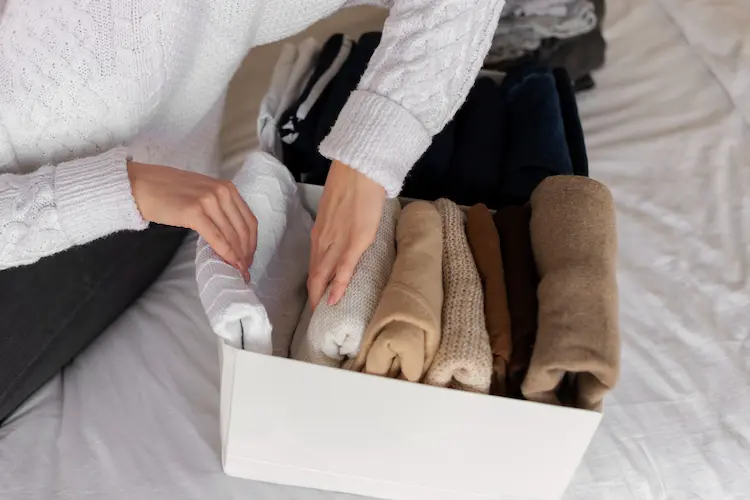 5: Look for Duplicates to Declutter Before Moving
When you declutter to move the idea that you will have to put each and every item in a box which you put in a moving truck you are paying for and then hauling into your new house should be extremely motivating. Decluttering before a move is actually one of the best time to declutter for that reason.
So if you have already looked through the deep dark corners of your home and decluttered or packed off season items you rarely use what can you look for next? Won't you need the rest of your stuff until closer to your move? Not necessarily.
Now is the time to look for for duplicates of everything and get them decluttered or packed! If you have two or more of anything you can easily pack one of them. But you might also be able to declutter some of these extraneous items too.
If you have a second Instapot you got as a gift maybe you can put it in the donate/sell box.
What about those old towells you never grab to use any more? Could you just declutter them?
How about that kids bike that has been replaced by a more grown up bike now that your child is older? Could it be decluttered?
Perhaps you could pack or declutter one of your three gaming systems?
Or could you pack away HALF you dishes?
You get the point! As you look through your house it's easy to feel like you need everything but you could easily do without half of it for a short time.
You might even be able to do without some of that forever!
And wouldn't it be cool not to bring that junk into your new house?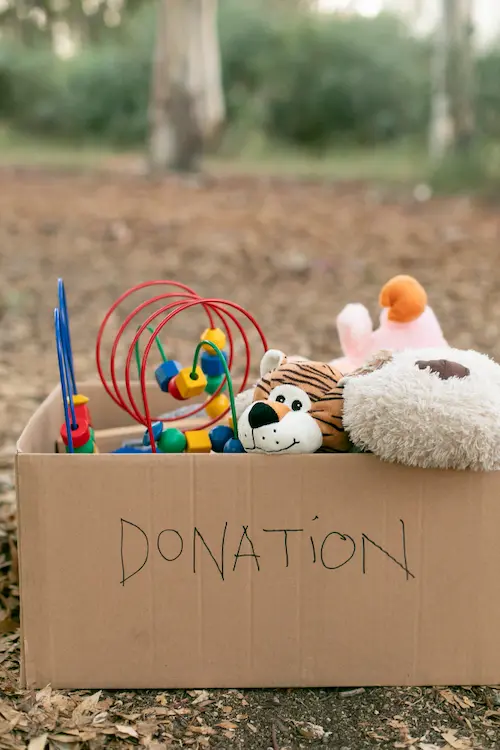 6: Give Yourself Permission to Declutter Burdensome Clutter Before Moving
Last but not least, before we talk about how your actually going to get rid of all of this stuff, we need to talk about one more category of clutter.
Sentimental clutter or otherwise heirloom-like stuff you are keeping cause you feel like you should. And yes, that is a type of clutter.
When you declutter for moving you are looking for ways to get rid of all the excess baggage, or boxes literally. It's the perfect time to unburden yourself of things that you keep because they are sentimental, expensive, or something you thought you would use some day.
This is the time to ask your family if they want gramma's china or grampa's fishing tack. It's a great time to let go of the fancy wedding china you never use. In fact, it's a wonderful time to get rid of big pieces of furniture you inherited but are less than functional in your real life. Your 15 year old doesn't really need to hold onto the giant basket of teddy bears either.
You get the point. It's time to put that in the declutter zone. Don't worry. We won't give it away for a song unless you want to.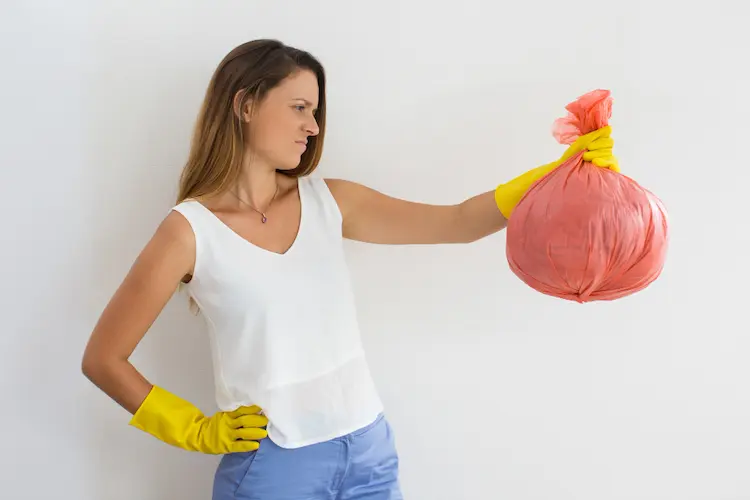 7: Declutter Before Moving and Trash Some Stuff!
So I promised I would explain how you will get rid of all of this stuff you are decluttering and here we are! Start with trash. You will know it as you see it (I hope).
There are a lot of things you will find as you dig into the deep recesses of your home that just need thrown away, or recycled if that's an option.
Start by looking around for empty boxes. Some of those Amazon boxes that you have thrown in the garage might actually be useful. Grab the big ones and set them aside for packing. Get rid of the rest!
Get rid of the mailing envelopes and the old mail and the kids graded papers and last month's grocery list too! Toss the empty Kleenex boxes too!
Now that you have gotten rid of all that obvious trash look for broken things. Go on the hunt for chipped mugs, old sippy cups, dried up nail polish, unmatched socks, old towels, and old underwear. Trust me nobody wants you donate that stuff!
You will find more stuff in your house that you need to trash than you expect. Start there. It's so easy and freeing to put something in the garbage bin and know that it is no longer your problem!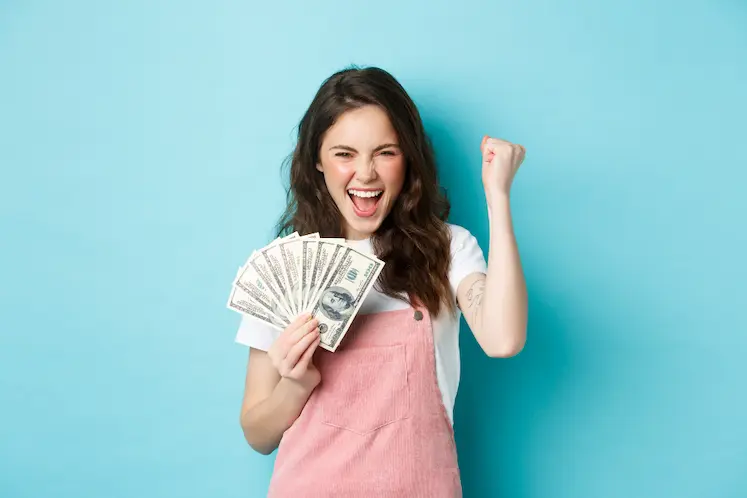 8: Sell Stuff
Now you are going to go to the other end of the spectrum. You are going to look around in your donate pile for things that you want to sell. Enter Gramma's china (if your family didn't want it.)
2 years ago, when we moved in with my parents in the middle of the pandemic lock downs we had to get rid of lot of stuff in a pretty short amount of time. And all the thrift stores were closed.
Plus we aren't rich and we don't hate extra cash.
So what did we do? We sold stuff on Facebook Marketplace. By the end of the summer we had sold almost $2000 worth of stuff and most of it wasn't even fancy.
Some of it was though. We sold (you guessed it) gramma's china, some nice cameras, a bike, some furniture, and even some housewares like a rice steamer, curtains, pots & pans, and mixing bowls.
One awesome aspect of selling stuff on Facebook Marketplace is that you can make the buyer pick it up. That's how we got rid of tons of furniture without owning a truck! AND you don't have to waste a whole weekend doing a yard sale. You can make it fit your schedule instead.
Selling your stuff is a great option but I will warn you about something. It takes time. Sometimes things go fast and sometimes they don't.
That's why you need to start decluttering before you move as soon as possible if you want to sell stuff!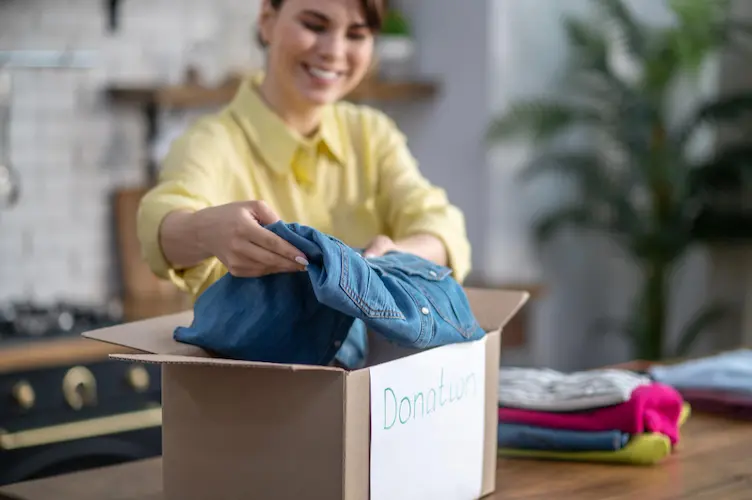 9: Donate Stuff
And now you are down to everything else. Stuff that isn't trash and isn't worth spending your time selling. It's time to donate!
And that's great news because donating your stuff is WAY FASTER than selling it. That's why I recommend you donate much more than you sell especially if time is getting short.
If you have decent furniture or housewares or clothes you think your family or friends could use offer it to them. Maybe they will even come haul it off for you!
Once you have checked around with friends (if you want to) you can just haul the rest down to your preferred donation center. You can even schedule pickups with some of these donation and thrift stores if you have a lot of stuff.
And voila! You dreading it but you did it! You decluttered before moving and doesn't it feel great?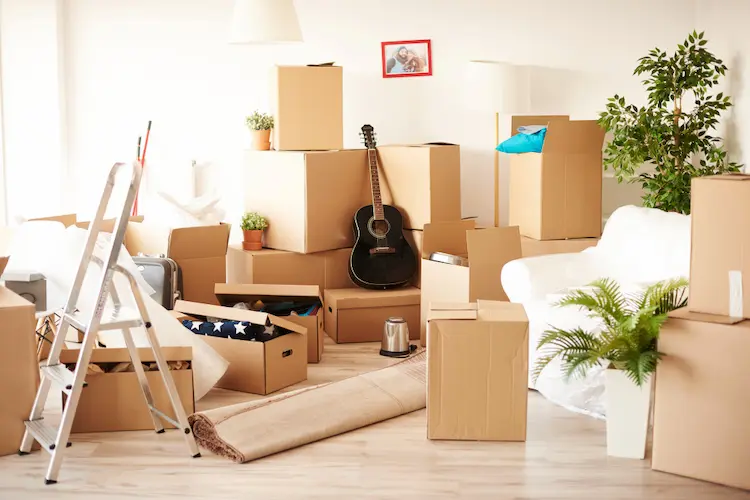 10: Pack and Move!
Why should you declutter before moving? Because it will actually make moving a lot easier!
Now that you have decluttered to move you don't have trash and broken junk. You've let go of stuff that's become obsolete and then got crammed in a corner.
You might even have packed quite a bit of stuff you know you won't need before you move.
Now it's time to the actually packing. As you pack room by room, category by category, keep decluttering in mind. You might just find more things that aren't worth moving.
Now that you know how to get rid of this stuff it's a lot easier to declutter before moving! Don't put anything in a box that you don't truly want in your new home.

One final idea you might employ is to use a moving box calculator online and follow the recommendations for boxes. Plug in the size of your new home or your old home, whichever one is SMALLER, and stick to that.
If you can't fit everything you have the choice to get rid of stuff or get more boxes. Remember though, you don't want to pack stuff you don't actually want in your new life and home!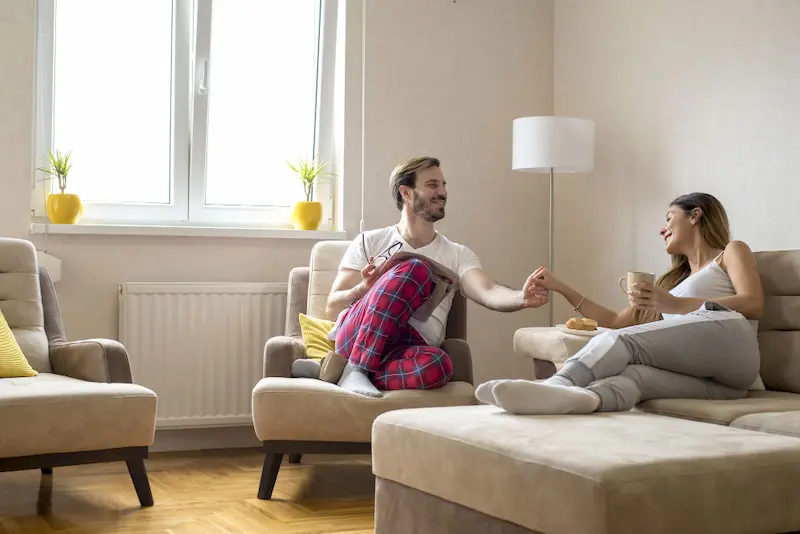 Declutter Before Moving and Enjoy the After!
I know that moving can be really really overwhelming. And I know that you do not want to add the extra step decluttering to move. But I promise that when you declutter BEFORE moving you will save yourself a lot of energy in the long run!
You will not only avoid moving around junk you don't even want, you will also give yourself a great fresh start!
When moving day comes you will be ready for it.
As you unpack into your new home it will be easier to find places to put everything. You will feel settled much faster and you will be thrilled with how your new home looks without all the clutter!
If you still feel overwhelmed and scared about how to declutter your home try Fearless Decluttering! It's a special three step program I created to help you move passed all your fear.
It includes comprehensive checklists of the kinds of things you might look for to declutter so that you don't have to think.
Best of all, this decluttering program will not force you to get rid of anything you are not ready to get rid of and it can be done at your own pace whether that be fast or slow!