Donate Stuff! The Great Way to Declutter and Spread Joy
It is just too hard to donate stuff. We come up with all sorts of reasons to keep it.
"I don't want to let go of my children's books. They were my favorites."
"This camera cost me a lot of money so I have to keep it."
"I love all my books even though I always read digital books now."
I used to feel the same way. In fact, all of these sentences are straight from my own personal experience. But then I shifted my viewpoint.
Why Should You Donate Stuff?
I used to really struggle with clutter and how to let go of it but I started to make progress with decluttering when I started looking at my stuff in a different way.
Instead of thinking about the joy my stuff could bring me I started thinking about the joy my stuff could bring others.
After all, it doesn't bring me much joy sitting in a drawer or a box for years. Keeping it and living in the past was just burdening me. But someone else could really want, need, and use my stuff!
This change in viewpoint completely changes how it feels to get rid of and donate stuff.
Instead of feeling guilty that you didn't use something and are just getting rid of it you start to see opportunities. You start to see your privilege of abundance as a million little chances to fill the lack of others.
There are lots of ways to donate stuff to others. Let's talk about a few of them.
Donate Stuff to Donation Centers & Charities
The most straightforward way you can donate stuff to others who might need it is obvious. Take it to a donation center. This could include large thrift shops that accept all sorts of things.
These places where you can donate lots of stuff pretty indiscriminately are going to be your best friend when you declutter before moving or any other emergency decluttering situation.
When you do this remember that you are letting go of your stuff so that others who maybe cannot buy these types of things brand new can benefit. You are making those people very happy.
But just dropping stuff at the thrift store is not the only way you can donate stuff and bring joy to others. You can also identify specific charities with specific needs before you start decluttering.
When you know that there is a women's shelter looking for nice clothes and unused personal care items you will be happier to let that stuff go!
If you find out that the dog shelter is always looking for old shirts, towels, and linens to use as rags it's easy to get that stuff to them.
Also, centers for the disabled and nursing homes are often looking for craft supplies and magazines. When you are decluttering books you might also call local libraries, and schools.
Some places need old tech devices. The local food bank might accept your unexpired but unwanted dry and canned food. The list goes on and on.
Before you start decluttering look around for what charities in your area might need. Call them and ask! When you have specific recipients in mind you can picture the joy you will bring them. That will make it a lot easier to let go!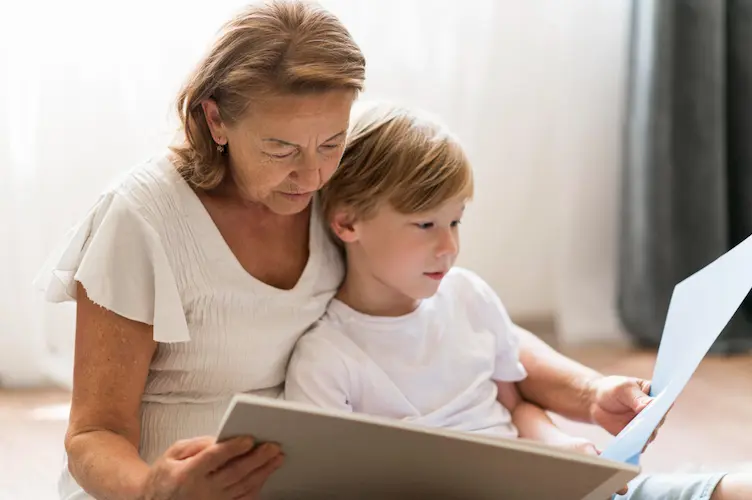 Give Stuff to Friends and Family
Another great way to bring joy to others is to think of your friends and family when you declutter. You can donate stuff to them IF you really think that they would like and use it.
For example, when I came down to my favorite children's books for the 10th time in my decluttering process I looked at them and thought about how I hadn't looked at them since the last time I decluttered. I thought about the joy they brought to me when I was young and I wanted to hoard that joy.
But then I thought about the joy itself. That joy was stagnantly sitting with those books in the drawer.
I decided to quit hoarding all that joy in a dark unused place. Instead, I called the mother of an adorable little girl I know who loves to read. She was tickled pink to get the books and I got the cutest little thank you card in return!
A little while later it was time to let go of some of my prettiest handmade dresses. It was easy for me to think of some young girls I know that could use them. They were excited to have them and when I see them wearing one of them from time to time it makes me so happy I shared the joy.
The rule of thumb when you donate stuff to friends and family is that they must actually want it. Call and ask the person you are thinking of if they would like some clothes, or books, or housewares. If they say yes, get it to them right away. If not donate that stuff to charity.
Transform Stuff into a Gift
Sometimes our stuff isn't something that could easily be used by our friends or family. Can we still find a way to create a gift with it? Absolutely!
For example, I have a favorite book series. I have read it like four times and I had all 18 of the books. The catch was, that I never read the books. Every time I want to reread the series I rent the digital copies from the library so I can read them on my kindle.
Now my best friend loves to read physical books so I could have just given her those books but she also has a favorite used book store. I took those books and a few others down to her favorite store and put the credit in her name.
Another time, I was able to use the credit I had accrued at a consignment shop to buy my mom a shirt that reminded me of her.
There are countless ways you can transform your clothes into credit you can share with your friends. Your abundance can bring joy to others with a little creativity! This is a super fun way to "donate stuff" and make others happy at the same time.
Sell Stuff For a Steal!
Now we come to the part where you might want to sell stuff. I mean it's great to donate stuff and you should definitely consider that your first option. The ideas above will help you get past the painful part and donating stuff is way faster than selling it. But there are always gonna be a few things you aren't ready to part with for free and that's ok.
Before you plan a yard sale you should definitely try selling stuff on Facebook Marketplace. You can even join a "Buy Nothing" group on Facebook if you want to give stuff away. But even if you are selling stuff you can bring joy to others by helping them find just what they've been looking for at a great bargain.
Through Facebook Marketplace I have found a young woman who desperately needed some pots and pans to set up a house, a hippy who was dying to have my mom's old harpsichord, a woman who wanted a soft rug for her autistic son to play on outside, and a man who needed the battery from my old camcorder to retrieve precious family video from his old camcorder.
Every one of them got a bargain because, in the end, it made me happy to know that my stuff could make them happy!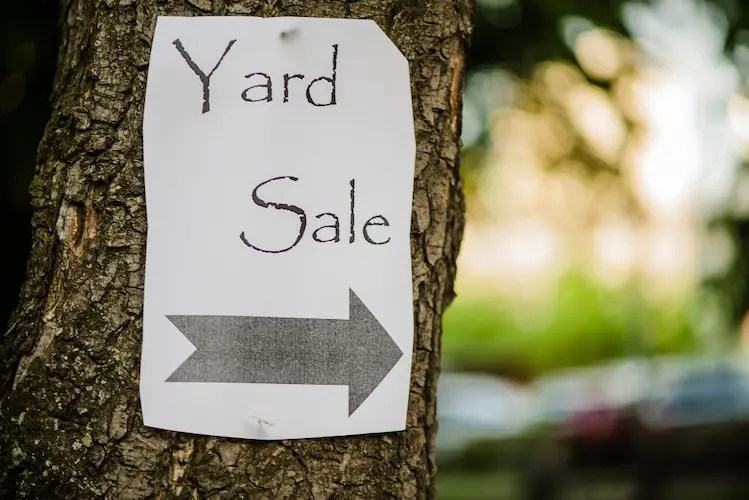 Donate Stuff, Gift It, Transform It, Sell It and Bring Others JOY!
Decluttering is hard. Even for pros like me, some things are hard to let go of because they were expensive or have sentimental ties. But when you change the way you look at your clutter it becomes a lot easier to let go.
Imagine your stuff is like the toys in Toy Story. They are just sitting there in Andy's closet while he is away at college. They miss Andy and they can't imagine anything better than being his toys. But what they really need are new kids to love them and use them!
It's the same with your stuff. It is just sitting there sad and lonely. You can't say it's still bringing you joy if it's just sitting in your closet. So let go. Stop hoarding the joy. Donate stuff, gift it, transform it, or even sell it. Whatever you do, let your stuff have a new life because it can bring joy to others!
How have you brought joy to others with stuff you have decluttered? Share your story in the comments below!
Do You Need Help Decluttering?
Do you get overwhelmed when decluttering? Are you afraid to let go of stuff? Do you make excuses to keep everything? Does the clutter always come back?
I can help! The Fearless Decluttering e-book and printable pages lay out a unique 3 step decluttering program that will help you overcome everything that has been holding you back! Learn how to declutter your home better than ever before!