Declutter Paperwork Fast! 6 Easy Ways To Reduce Paper Clutter
I run three businesses and I volunteer online but I don't find it hard to organize and declutter paperwork and I am not drowning in paper clutter.
I am working here at my clean desk. Because my desk is tidy I am able to focus because there is nothing but my current task in front of me. I have even done a lovely digital declutter on my computer. I have my cup of tea and I am happy to be writing this afternoon.
So how do I organize and declutter paperwork and prevent paper clutter? I have some good habits. Let me share them with you!
Why Is It Hard To Declutter Paperwork?
In my Facebook Group, many people have said that they struggle the most with paper clutter. I clean houses for work and I see piles of paper clutter in many parts of most of those homes. In general, it seems very hard to organize and declutter paperwork.
Why is it hard to declutter paperwork? Why do so many people seem to be drowning in clutter? I have observed three reasons for keeping paperwork around the house.
You could have thrown it away immediately but you didn't. (Junk mail)
It is something you want to keep. (Cards, kid's schoolwork)
You need to remember to take care of it. (Bills, appointments, taxes, etc.)
From those three reasons we keep paperwork I can see that the main problem we face with organizing paperwork is procrastination. Either we are busy or overwhelmed or it's just too boring to deal with the paperwork so we procrastinate and the piles get bigger and bigger. That leads to another big problem. OVERWHELM!
But it doesn't really have to be that overwhelming. In fact, in most situations, you can tackle a large pile of paper clutter and have it all cleared up within half an hour! And then, if you practice good habits you can avoid paper clutter from coming back! Let's start talking about how to declutter paperwork!
Declutter Paperwork By Having Less of It!
As I was thinking of why I don't struggle with a great deal of paper clutter I realized that most of our important bills and records are online. We have gone paperless with almost everything.
If you hate to organize paperwork maybe going paperless is something you should consider. What has prevented you from doing so up until now? Not tech-savvy? Afraid you will forget an important bill? There are solutions for that.
When I have an important bill I need to pay I write it down in my paper planner so I won't forget but I keep my bills online to avoid countless pieces of mail and paper clutter. You will also usually receive e-mail reminders to pay your bills.
Just make sure you keep your e-mail and computer files organized by deleting stuff you don't need anymore and creating a simple and clear filing system.
Going paperless with your bills and records will help you to prevent tons of mail from coming into your home. Occasionally you will get the same records mailed to you but you can probably just toss them since you have all of the information you need in your online accounts.
PS: When you create an account ANYWHERE always write down your login information!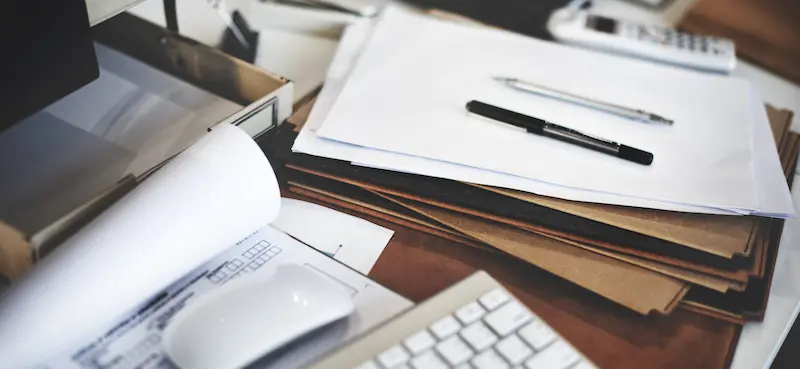 Declutter Paperwork As Soon As You Get It!
Another reason paper clutter doesn't stack up in my house is that I sort the mail as soon as it comes in. (Unless I'm really busy and then I sort it later in the same day.)
Does that sound like an impossible feat? It really isn't. If you have gone paperless with your bills you won't get much important mail. You will get lots of junk mail though. And I've seen junk mail pile higher and higher by the week. But it doesn't have to be that way. Just trash it right away!

"But what about that sale at my favorite store? I better keep the mailer!"
Trash it. If you need something you will go to the store and see the sale. If you don't need anything looking at that mailer and going to the store because of it will do the opposite of save you money!
When you do get something in the mail that is important put it in the desk organizer on your desk or a prominent place where you can deal with it.
Basically, my rule with mail is: "Touch it once." If you don't need it get rid of it right away. If you do put it where it goes.
Set a Deadline and Declutter Paperwork Before It!
Now, you have these papers sitting on your desk or in your desk organizer. If can handle the phone call you need to make or the bill you need to pay right away do it. If not choose a day of the week you want them done by.
Since paperwork is mind-numbingly boring I would recommend you make a plan to do it in the morning. Once you eat that frog you can move on to better tasks.
Some of the things you have to do to fulfill paperwork will require you to make phone calls during business hours. For that reason, I recommend your weekly deadline for paperwork is Friday evening. If you can get it done by Thursday even better!
Remember, if you automate your bills by going paperless you might not have ANY paperwork to take care of in the course of the week.
Other papers, very specific papers like business receipts, tax paperwork, home deeds, and important statements or warranties will need filed. Only file things that you REALLY need to keep and file them clearly. Do not put off filing them. If you handle everything as it comes you will never have a big overwhelming project on your hands.
Let it Go!
This is the biggest and most important way to organize and declutter paperwork! You will not have paper clutter if you use my very very special file. It's generally about hip height and lined with a plastic bag.
I mean it! Remember the touch it once rule? If you don't NEED mail don't keep it. If you handle a bill and you don't need the envelope and the notice anymore trash it. Your tax files that are older than 3 years can go!
Even your darling children's artwork has a shelf life. Trust me, they aren't going to want it when they grow up so pick out a few favorites and let the rest go.
Some people hold onto cards forever. I may seem cruel but I keep them for maybe a month and then I let them go because when I write cards I don't expect them to become souvenirs. I want them to warm the heart of the reader in that moment. Don't keep cards forever. If you have a hard time letting them go, sit down and read them all one last time.
Make a Reminder!
Another reason people tend to have a mess of paper clutter on their desk is that they have millions of little memos to themselves about things to remember.
First of all, if you have a weekly deadline for your paperwork you don't need to have that stuff piling up. You can let it go or file it when you are done.
Second, if you need to remember something, putting it in a pile of paper will not help you. You need a paper planner where you can write down appointments months in advance. Seriously, using a planner is the single best way to keep yourself on track without holding onto a million loose pieces of paper you're going to lose anyway!
Another thing you can do to help you remember something is to make a note on your phone. Just make sure you periodically declutter your digital notes so the important ones don't get lost.
Declutter Paperwork with Good Storage Solutions
Now that you don't have a bunch of paper clutter you can identify the paperwork that is really important. This paperwork includes the following:
Birth Certificates
Marriage Licences
Warranties and User Manuals (if you can't just Google it)
Home Ownership Paperwork
Investment Paperwork
Social Security Cards
Passports/Visas
Tax Paperwork under 3 Years Old
Business Receipts for THE CURRENT YEAR
EXTRA Special Artwork by your Children
Insurance Information
Obviously, some of this stuff is more important than your Children's art. So what are some paper storage ideas that actually work? What are some truly great organizing solutions that will actually keep the clutter monster from coming back?
For the really important certificates, I recommend getting a fire-proof binder.
For the rest, you should be able to use one or two file drawers or portable boxes. We only have one portable file box and honestly, we don't have that much in it.
I also really like expanding files for instruction manuals or current projects. You could use them for children's art with a slot for each year.
Once in a while, when you find your storage solutions becoming cramped go through your files for the category you are the most cramped in and let go of stuff that you no longer need. Let your storage solutions be your boundary. When they are full it's not time to get more storage. It's time to get rid of something.
When Your Declutter Paperwork Right It Takes a LOT of Stress Out of Life!
It may take you a while to implement these steps to organize the paperwork you have been piling up for a while now but I promise it won't take as long as you think. Sit down and sort your paperwork. Declutter books you aren't going to read again too!
Remember that MOST of it goes in the very special file bin called the trash. Set up some online billing. Get a planner. And get in the habit of deciding on the paperwork that comes your way as soon as possible.
When you have good paperwork habits you might not even think about organizing paperwork. I know I don't. It just happens.
Paper clutter can be very stressful. It constantly reminds you of boring, no fun, expensive, hard, mathy jobs you don't want to do. That's why you don't want it on your kitchen counter. That's why taking some time to handle the mess you have and applying these simple paperwork habits will help you keep your paperwork organized and your life stress-free!
Need More Tips for Decluttering Everything Else?
Now that you know how to organize paperwork you may be wondering how to declutter your home too!
That's great! I have lots of wonderful tips for you and I have put them all together in an easy three-step program called Fearless Decluttering! I explain it all in my e-book so learn more about it here!