Organize Your Small Space -10 Creative Solutions That Work!
Have you ever felt like you just don't have enough space? Perhaps you felt like there is nowhere to put the thing you need and use every day? Maybe you just hate things feeling cluttered?
I know I hate that feeling. I faced it a lot at the beginning of my life in our tiny studio apartment. That's why I thought it was time for me to share the best small apartment storage hacks I've found!
These cheap storage solutions took years to find but once I found them I was thrilled with life in my 300 square food studio apartment! It turns out when you have a place for everything it's not so hard to live in a small space!
And the best part was that once I figured the right things I didn't have to buy the wrong organizing solutions anymore.
These awesome small apartment storage hacks will help you organize your small space whether it's an apartment, a small house, a tiny home or a van!
This post contains affiliate links which means I get a small commission from purchases made after you click them. This doesn't cost you any extra but helps me to continue making great content for Doable Simplicity.
1: Organize Your Small Space and Your Shower
I don't know if you have ever wanted to pull your hair out over a shower caddy. I know I have!
First I tried the floor-to-ceiling suspension rod with shelves and it just rusted and got nasty. I tried hanging one on the showerhead but, because I have a removable head it just did not work. It was always crooked or slipping down.
Then I got real fancy and tried one with suction cups. That resulted in cleaning up a ton of spilled shampoo every time it fell off the side of the wall.
I couldn't screw a hook into the tile because we were renting. I didn't have a shower door so the over-the-door option was out. I thought I had tried all the cheap storage solutions out there but then I got creative!
I simply put up a suspension shower curtain rod across the back of my standing shower. Then I hung the over-the-door shower caddy with the hooks facing in. Make sure you get one with hooks that swivel!
Now you have a shower caddy with towel hooks for your washcloths. The best part? It is securely fastened as high up as you want it to be!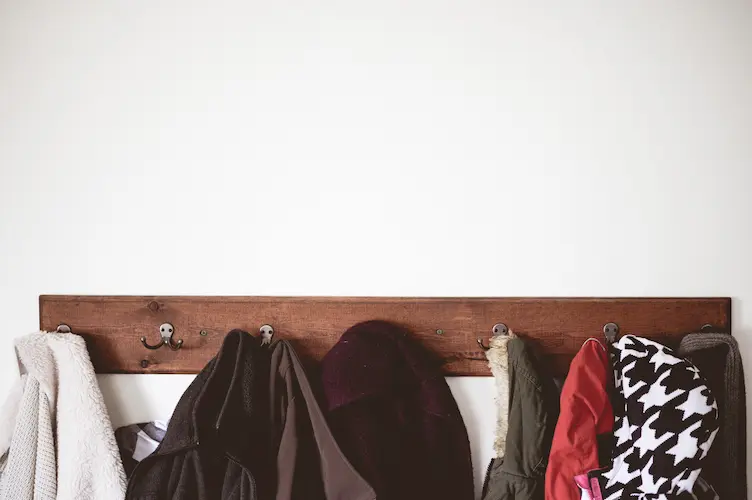 2: Organize Your Small Space and BIG Shoes
Now it was time to organize shoes. Oh boy. This was a challenge. Hubby and I were sharing one small walk-in closet. Where will I put my cute heels and my hiking shoes and my sandals? Not to mention my husbands size 13 trip hazard shoes!
I tried throwing them all in a bin. That resulted in dirty scuffed-up shoes and tons of wasted time looking for matches.
Then I tried a little shelf but they were always buried or knocked off by the bottoms of my skirts. I could not use an over-the-door shoe organizer because I had a pocket door.
OR COULD I? You can probably guess what I did!
I used a shower curtain rod at the back of the closet. It rested nicely on the rod brackets. I hung the over-the-door shoe organizer with the hooks backward on the back of the closet.
Seriously the use of suspension rod for this has got to be of the best small apartment storage hacks that no one is telling you about! No holes in the walls, no floor space taken up! It's perfect!
The only problem now was not acquiring too many shoes but I'm a minimalist. I could tuck my sandals and Chucks in one pocket so it worked for each half a year season.
3: Organize Your Small Space and Paper Towels
When I say we had a small bathroom, I mean we had a tiny bathroom! We had to sit sideways on the toilet and we had next to no counter space.
And boy did it take me a long time to find the right small space organization solutions in this miniature bathroom! That bathroom required cheap storage solutions that could pull off nothing short of a miracle!
I also, unbeknownst to me, married a dolphin. Every time my husband uses the sink there is water EVERYWHERE!
I don't think I am the only wife with this problem. I think dolphins/husbands are probably more common than you would expect. I'll just accept mine for his other good qualities.
Still, I wanted some paper towels in my bathroom for quick clean up but where could I put them? I couldn't put them on a hook in a cabinet and I couldn't put them on the counter.
You guessed it! I used a curtain rod! This will only work if your bathroom is narrow enough to hang a suspension curtain rod across it.
Actually, now that I think of it, I suppose you could also install a small curtain rod with brackets.
Just put your paper towel roll on the curtain rod and suspend it up and out of the way but convenient for when you need it.
4: Small Apartment Storage Hacks & The Bathroom Trash
It might not seem like the bathroom trash can should cause a problem. However, if hate a cluttered look or if you have a very tiny bathroom the trash can may become an issue.
For me, it was both. I had a little floor spot for my trash can but my dog kept getting into it and it was always in the way when I was cleaning.
I wanted to put it in the cabinet but it was difficult because of the limited space.
Finally, I found the solution and it might be the best small space hack yet. I found this cabinet door hanging trash can. It went inside the cabinet but took up half the space because it was hung on the door.
An added perk was that, because the trash is out of sight, my dog no longer gets into the bathroom trash and leaves the floor littered with yucky trash.
Once I had the trash can conundrum the rest of the bathroom organization was a breeze!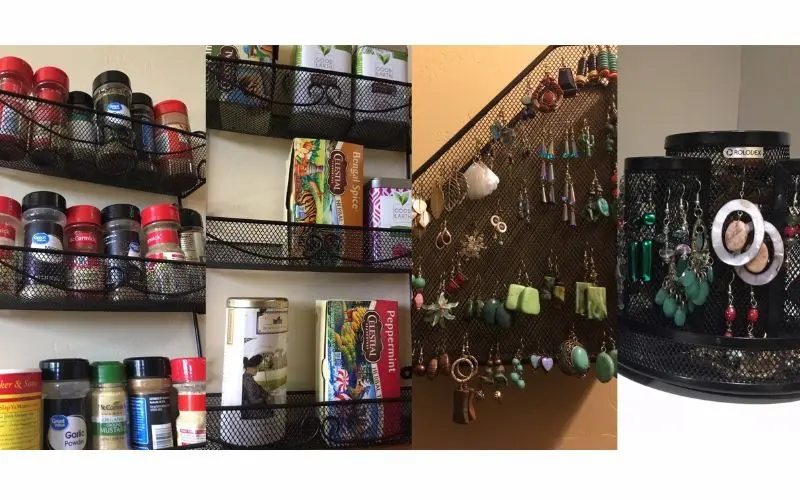 5: Storage Solutions for Small Spaces and Spices
When you are organizing small spaces or any spaces for that matter, spices can be difficult to keep organized.
This is one of those situations where I kept trying to come up with creative small space hacks when I should have gone for the original solution.
The name says it all, I should have grabbed a hanging spice rack sooner but I just wasn't sure if I wanted one. I kept my spices in the cabinet over the stove which led to stained shirts, warm bellies, and spice accidents aka "interesting" dinners.
Finally, I went ahead and found a spice rack that was attractive and kept almost all of my spices in it! It even fit a little cup of garlic.
I'm telling you a spice rack on the wall is worth the little visual clutter it provides because it makes your cooking so much easier.
The way I look at it, it looks like you are a good cook when you see it on the wall. That can't be a bad thing!
Another great use for the spice rack is for tea! You can fit most tea boxes in the spice rack and if you are a tea drinker like me, you probably have a few varieties on hand at any given time!
6: The Silverware
If you only have big deep drawers and you only have a few of them using that space for silverware can be annoying.
After all, silverware is small and the drawer is deep. You could store larger items in those drawers. Maybe you also don't have a drawer in a convenient place. Really, something as small as silverware can make it really hard to organize your kitchen!
That's how I felt. The drawers were around the table, on the other side of the kitchen. They were deep and it was a waste of space to put silverware in them.
So I kept hunting for small apartment storage hacks that addressed my silverware conundrum. Let me tell you, not many people seemed as annoyed by this as I was.
Eventually I found this great upright silverware holder and put it in the cabinet with my plates right by my stove! It might just be one of my favorite storage hacks for small spaces yet!
If you are looking for a way to organize your small space free up a drawer with this easy solution!
7: The Desk Organizer
Many of you may already have a desk organizer but for a long time, we would just try to put our pencils in random cups and our paperwork and chords and sticky notes were all over the desk.
I found that every time I was at my desk I became frustrated and easily gave up on the tasks I needed to achieve.
If you are like me, you may find that all that clutter definitely doesn't help you be productive or creative so find a cute desk organizer and have the perfect place for all of the things you use the most but need out of the way!
It may seem like too simple a solution but a desk organizer will really help you organize paperwork!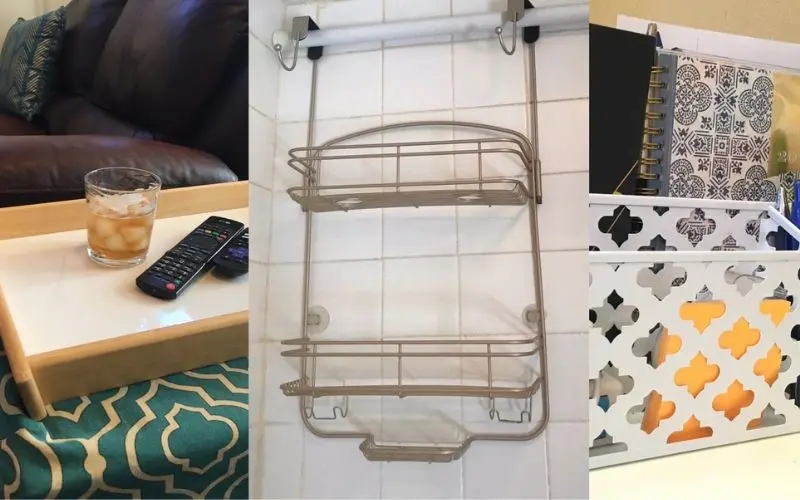 8: Jewelry Organization:
When it comes to small apartment storage hacks you wouldn't think jewelry would be a big problem but for me it definitely was because it is one of the things I'm not so minimalist about.
After all, I do run my own handmade jewelry Etsy business, Vintage Columbine.
So what small space organization epiphany did I come up with for al my jewelry?
This is when office supplies come in handy! Seriously, my life has not been the same since I put my earrings on the Rolodex Mesh Desk Sorter! It also has little pockets for my pins and rings.
My mom made a great spin on this and used a Mesh Magazine File that she mounted on the wall of her closet to hold her earrings!
For necklaces, I just use a spare towel rod in the bathroom but if you don't have one you always have the good old suspension rod.
9: Dog Crate Side Table:
So do you live in a small apartment and have a dog? I do, and I love him so much.
What I didn't love was his crate taking up so much room. Are there any ways your can organize your small space around an ugly dog crate?
It took me some time but in the end, I slapped a nice little tray on top and it became a nice little side table for the remotes and a glass of water or cup of tea that you need close by for any good Netflix session!
Suddenly the dog crate was a small space hack instead of a massive waste of space. Give it a try if your dog crate is in your way.
10: A Storage Ottoman is A Great Way to Organize Your Small Space
If you live in a small apartment or tiny home one of the most irritating things can be spare blankets and sheets. They just take a lot of room but there is no way around the necessity of having a few extras.
That's where a storage ottoman can be a very valuable organizing solution.
You have a lovely accent for your living room that doubles as a little bench and also stores those bulky blankets.
I have also seen them used to store video game equipment, movies, and even shoes!
You really can't go wrong with a great storage ottoman. Its one of the best small apartment storage hacks out there!
For a complete list of my recommended resources and products check out my resource page!
Have you found any cool ways to organize your small space? Please share in the comments below!
You Can Declutter Your WHOLE HOUSE!
Did you like these easy and cheap storage solutions?
Wouldn't it be nice if you knew exactly how to declutter your home and make it perfectly organized?
You can do it! And I can help!
I created a unique 3 phase decluttering process that will help you declutter your whole house without feeling overwhelmed!
My FEARLESS DECLUTTERING E-Book and Printable Pack have comprehensive checklists, guides, and tips that will help you finally declutter your home the way you have always wanted to!