How to Let go of Sentimental Items -5 Simple Steps to Make it Easier!
My gramma's china was very beautiful. She collected bone china tea cups and saucers, sugar bowls, milk pitchers, and platters.
Some of it had beautiful Japanese designs and most of it had beautiful painted flowers and some gilding.
It was delicate and tiny but it was not being used for just those reasons. She kept in in a cupboard with a glass front and then we kept it safe in the back of our cupboard for years.
It just wasn't useful but decluttering sentimental things is the hardest thing to do. It took us quite awhile to figure out how to let go of sentimental items like that china.
Why Is Decluttering Sentimental Items Hard?
Why is decluttering sentimental items so hard? How can letting go of a physical item cause us so much heartache and guilt?
I lay at least part of the blame at Disney's door for personifying items in movies like Toy Story and Beauty and the Beast. Because of that we imbue objects with so much more personality and meaning than they really have.
But seriously, it doesn't seem natural that our things should last longer than we do. At the very least they last longer than the changing seasons of our lives.
On top of that we have a lot of love to give so we hold our memories dearly, and we attach those memories to items in fear of losing them. That is how sentimental things are born.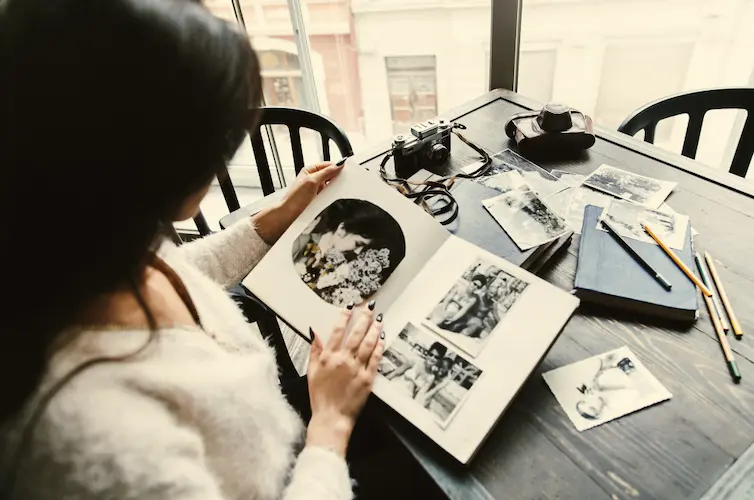 Is Decluttering Sentimental Items Really Necessary?
Because it's so hard to declutter sentimental items it may be something you want to avoid entirely. You may want to know how to declutter your home but completely ignore the sentimental things.
You may reason that one gramma's china is fine in the cupboard and the other gramma's broken vintage costume jewelry is fine in the other closet.
I'm going to tell you something that is going to surprise you. If you don't want to declutter sentimental items yet, it's ok. If the idea of letting go of those things still fills you with guilt and dread you are not ready and that is ok. Feel your feelings.
On the other hand, if you are running out of space, getting older, needing to move, or feeling burdened it might be time to go ahead and figure out how to declutter sentimental items.
In fact, if you really really appreciate your sentimental items now is the time to look through them. Why? Because they are not helping you have happy memories or honor your loved ones while the sit in the attic. They are just rotting away and losing all meaning to future generations.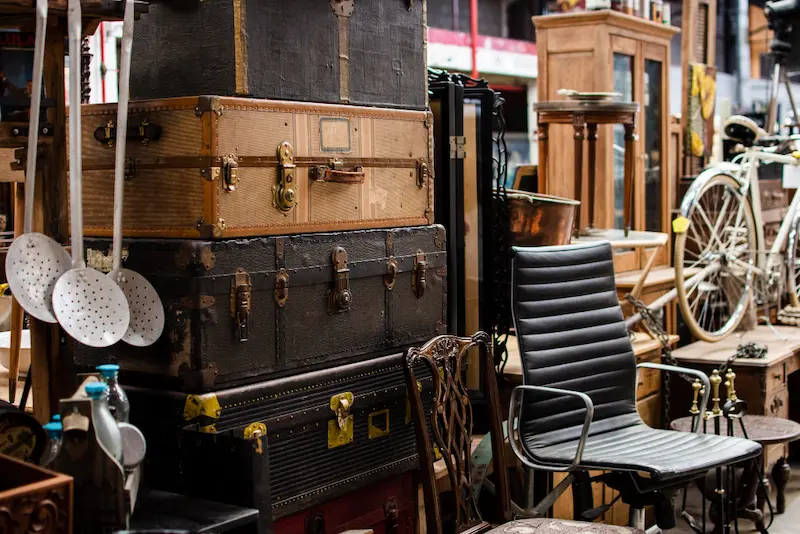 This post contains affiliate links. As an Amazon Associate, I receive a small commission when you purchase through these links at no extra cost to you.
How to Let Go of Sentimental Items Step 1: Find The Best of the Best!
Around the time we were finally letting go of my grandmother teacups (and still having feelings of guilt about it) I read this great book call Let It Go by Peter Walsh. In it he focuses on decluttering for your older years and especially decluttering sentimental items.
He had a lot of great tips in that book but the one that really shone to me was the idea to look for the best of the best first. This is especially important when looking at sentimental items which you are keeping essentially as tokens of memories and people.
He explained that if you want a sentimental token of your father, for example, you would look for the thing that best represents him and the memories you want to cherish.
Maybe you would choose a couple of things that represent different parts of his life like a trophy he won in his favorite sport and the fishing pole that he taught you to fish with.
Once you have found the best of the best, the things that hold the most meaning to you, you know that you are in a safe place. It then becomes easy to let go of the rest.
This is a key step to decluttering sentimental items because it honors the memories that are so precious to you.
Step 2: Document It
So what if everything you look at tells an amazing story? What do you then?
First of all, count yourself lucky. It is an incredible gift to know that much about your family history and to have that many good memories. Not everyone has a heritage like that.
But then, when you are ready to do the work of decluttering sentimental items, you can keep all the wonderful memories without keeping all the stuff.
How?
By documenting it.
Here's another great tip from Peter Walsh. Take pictures of your mementos and write the story that belongs to these items. Create a photo album of memories with these pictures and stories. Or you could even make a video!
In this way, your precious history is preserved but you are no longer burdened with tons of physical items. Remember, you've already kept the best of the best. You can document the rest! This can be a really fun family project and an awesome gift!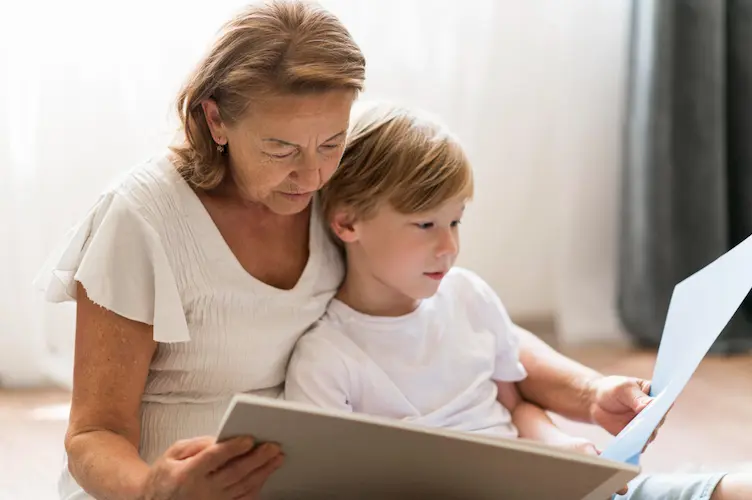 Step 3: Share Your Story
What is the most important thing about any sentimental item? Is it the monetary value? Probably not. Is it the function it serves? Unlikely. It's the memories it holds for you.
But those memories may stop with you if you don't share them with your family. Even if you choose not to go to all the work of documenting things you can still share your story with your family. Sometimes it doesn't seem important but it is.
The other day I saw a wine bottle with a name that reminded me of something my grandfather used to say in Italian. But I couldn't remember exactly what it was or what it meant. I wished I could but I couldn't.
On another day my mother boxed up a bunch of broken costume jewelry that belonged to her grandmother. I wanted to know something about her but I haven't heard her story so that jewelry meant little to me.
If you don't take the time to share your memories, your sentimental items will be meaningless to those who own them next. But if you share those beautiful family stories by word if not documenting them, you will give a gift that is otherwise impossible for future generations to acquire.
In his book Keep the Memories, Lose the Stuff Matt Paxton explains that having someone to listen to your stories will help you relive your beautiful memories while letting go of the all the sentimental things. Don't skip this step!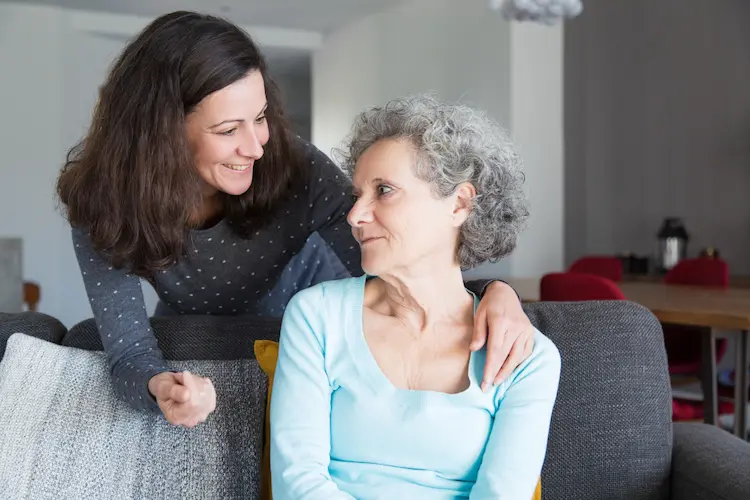 Step 4: Take Your Time.
What does the word "sentimental" mean? The dictionary defines it as:
"of or prompted by feelings of tenderness, sadness, or nostalgia"
Something sentimental is something that brings up a lot of feelings for you. It may bring back happy memories and even losses you may still be grieving. You may feel happy and sad all at once while looking at even one sentimental item.
That's why it's important to take your time. You are not going to be able to go about decluttering sentimental items at the same pace you might declutter everything else. It will simply be too emotionally exhausting.
Instead take it one small box at a time. Enjoy having your memories, smiling and crying, and looking at these things.
If you find yourself deciding to keep everything it's just because you are overwhelmed with feelings. That means it is time to stop for the day.
When your mind is fresh again you will be able to tackle another small batch of sentimental things.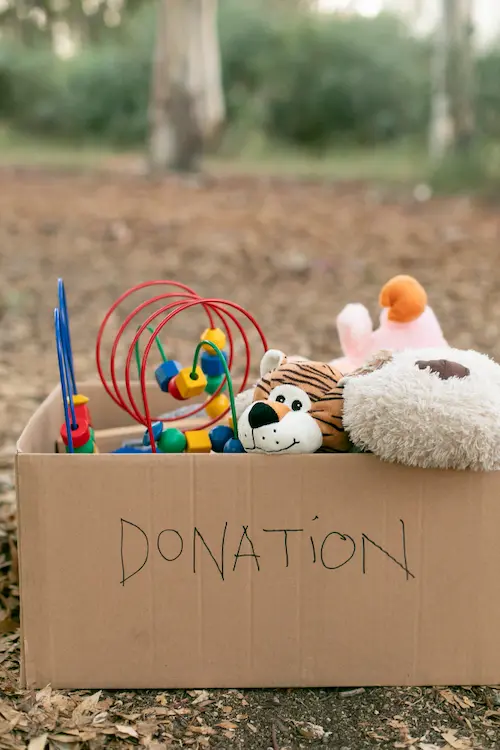 Step 5: Check With Family and Let Go
You've reached the last step of decluttering sentimental items. You are no longer living in the past and you are ready to let go of some or hopefully most of the dusty items that have been hiding in the attic or the back of the closet.
These items may have had sentimental ties but you have chosen the best, documented the rest, shared your story, and taken time to feel your feelings.
Now it's time to be free.
But first, you may want to check with your family. If you have family members who are also interested in these sentimental items they may become angry if they find out you have gotten rid of them without first consulting them so call them up.
Ask your family members if they would like to look through these sentimental items but tell them it needs to be done within a certain time period so that all that stuff doesn't end up sitting in your attic again.
You could be lucky. They could take it all and you will have nothing else to do. In that case you might want to share the above steps for decluttering sentimental items with the person who takes them.
Or you could be even luckier and have no family fighting you on this. In that case you can dispose of your sentimental items in whatever way you desire.
You can throw away some stuff and take other stuff to a donation center.
If you have valuables you may explore selling them at local antique stores or you can even make money decluttering by selling them on Facebook Marketplace. That's how I sold my grandmother's china. It took awhile but it was well worth the effort.
Decluttering Sentimental Items Will Give You Freedom
So how did I feel when I finally sold all my grandmother's china? Did I feel guilty or treacherous to her memory? Was there regret?
Absolutely not! I actually didn't feel all that much. The stuff was gone but the memories were still with me so, in my heart, nothing had changed.
Isn't that amazing? While we possess these sentimental items part of us feels guilt about not using them, shame for wanting to get rid of them, and a whole bunch of overwhelm and conflict about how to let of sentimental items.
But once those items are gone, how do you feel? You just feel free.
I still have some things that my grandmother gave me to mark big occasions in my life. Those things, a watch and a ring, represent moments when I know she was proud of me and I use them.
But I don't have the cups I was afraid of breaking. And you know who does have those cups? Someone who is thrilled to use them! So everyone wins.
If you follow the steps above and choose the best of best to keep you won't feel regret.
You will feel joy when you have curated the sentimental things in your life.
You can then display or use the best of the best of your sentimental items and bring your memories back to life!
What better way to give them the honor that they deserve?
Decluttering Can Be Easier!
Whether you are decluttering sentimental items, paperwork, clothing, or just the junk in the garage it can be really overwhelming.
If you need help decluttering your home I can help! I wrote an e-book called Fearless Decluttering that can help you overcome all the excuses you have made to keep the clutter. In it I outline an easy three step process to decluttering your house at a pace that works for you.