11 Free Closet Decluttering Tips That Will Save Your Budget!
I was watching this show on Netflix and they organized some crazy closets but I had a problem with what I saw.
Their version of closet decluttering would cost a normal person an arm and a leg! I mean, all those bins, tubs, and baskets add up to a huge chunk of change! Not to mention all the other custom work they did.
As far as I could see, they weren't really doing any closet decluttering. They were just organizing too much stuff in too many bins!
If you are watching a show like this to learn how to declutter your home or closet you might be wondering if you really have to buy a bunch of stuff first.
If you are a normal person, like me, you might be wondering how you can make your closet pretty with diy closet organizers instead. You might ask: How do I maximize a small closet? Can I organize my closet with no money? How can I make my closet look better?
Let me share with you some free (or cheap) closet decluttering tips that will save you tons of money!
This post contains affiliate links which means I get paid a small commission if you purchase something through those links, at no extra cost to you!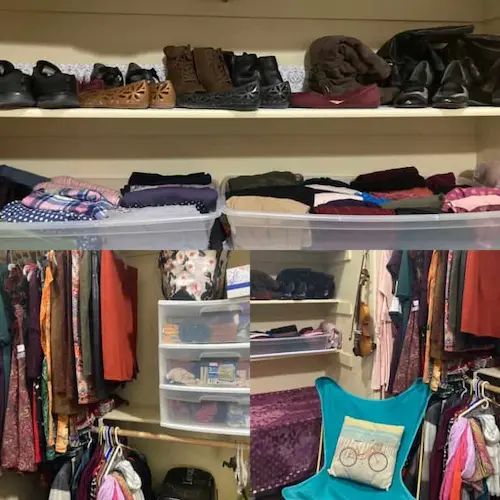 My Closet Woes:
First of all, it's time for me to confess that clothing is the hardest thing for me to be minimalist about. I love clothes and I have a flare for the dramatic. My life has me involved in many varying activities and I need clothes for those. I also like to sew dresses for fun!
Needless to say, I have had a struggle keeping my closet organized! And I have had to deal with some pretty small closets too! Let me share what I learned that helps not just organize my closet but keep it that way.
Closet Decluttering Tip #1: ALWAYS Put Your Clothes and Shoes Away
The first and most important closet decluttering hack is to always put your clothes and shoes away. I learned this the hard way. I used to create piles of clothes I needed to put away all around my room which in turn created an overwhelming project that I didn't want to tackle.
When I lived in a 400 square foot studio apartment I didn't really have that choice so I learned to ALWAYS put my clothes and shoes away.
Take the extra 30 seconds to decide if the clothes you just wore are dirty and need to be washed or if they are clean enough to put back away. If you feel you want to wear it again then fold it up or hang it up right away. The same applies to shoes!
Closet organization is impossible if your clothes aren't even in the closet.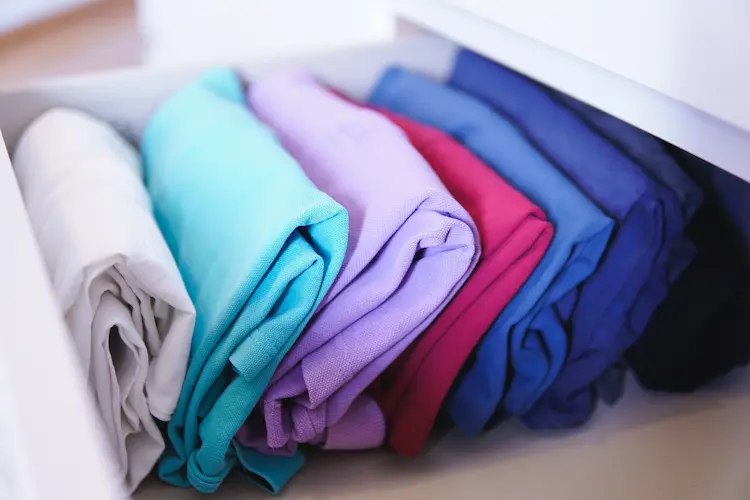 Closet Declutter Tip #2 Fold You Clothes the Kondo Way
I have tried every possible way of folding my clothes! I even rolled them for a while. But when I learned the Kondo style of file folding clothes it changed my life! It is definitely the best way to organize your clothes.
How do you do it? You fold your clothes into a rectangle that can stand up on its own and you file them in your drawer.
This way you can see everything you have and take it in and out without moving anything else. This style of folding will keep your drawers tidy and help you find the clothes you want to wear easily. It will also help you to do you closet decluttering because it will be easy to see what you don't use and let it go!
Seriously, if you only learn one thing from The Life-Changing Magic of Tidying Up by Marie Kondo, let it be how to file fold your clothes! I even use this in my suitcase on trips!
#3: Put Your Washed Clothes in the Back
If you really want to declutter your closet and start downsizing your closet the best way to do it painlessly is hack #3!
What you need to do is to always put the clothes you just washed at the back of your drawer. That will push the clothes you didn't wear forward.
Try to wear those clothes before you go back to the ones you just washed. If it comes time to wear something and you don't want to wear it, it is time to consider getting rid of it! Within just a couple of weeks, you will only have clothes you actually like to wear in your closet!
#4: Hang Your Clothes Backwards
Another great trick for closet decluttering is the hang your clothes backward. Whenever you wear something hang it backward. That means the back of the hook will face the back of the closet. That will remind you that you already wore that item.
Try to wear everything in your closet before you turn them back around and start wearing the same things again. This will help you see what you don't wear and let it go!
Mini-tip: When you take out hanging clothes never just pull them off the hanger. Always take the hanger down so that it's ready to hang something back on.
#5: Hang Scarves on a Hanger
Do you have a drawer or basket full of scarves? Here is a great closet decluttering tip! Save some room and loop all your scarves on one hanger. This will help you see all your scarves so you can grab the one you want to wear quickly!
Also, remember to always put your scarves back on the hanger nicely. If you get too many scarves to fit on one hanger it might be time to pair down.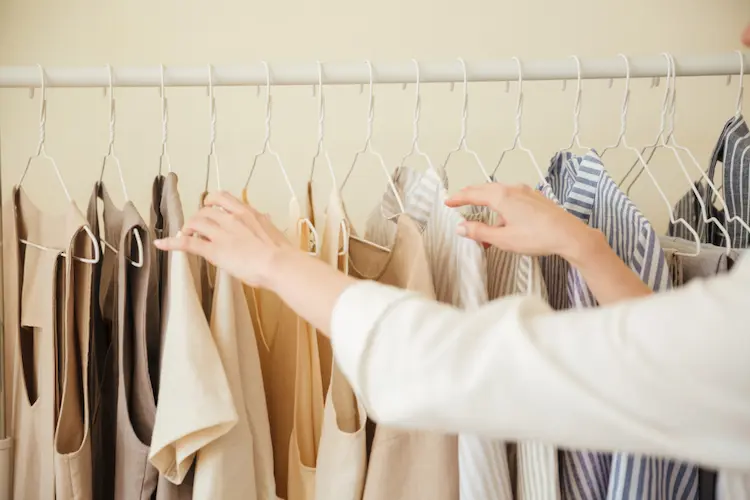 #6 Don't Get too Uptight with Undies
I love to keep things nicely folded and hung up but when it comes to underwear, socks, and swimwear I don't bother.
Pair your socks of course but other than that it is perfectly suitable to throw your undies, socks, and swimwear in categorized boxes for each without folding them and keeping them perfect.
Trust me I've tried to keep them all folded. It just doesn't happen. Knowing that you can just throw this stuff in a drawer will give you the time for more important closet organization tasks like folding your pants.
#7 Wear It One Last Time
Have you ever put on a shirt and found that it had a hole or a big stain? You wondered how you washed it, folded it, and put it away without noticing.
The next time that happens to you please either take it off and throw it in the trash or wear it one last time (if the stain or hole isn't too noticeable) and then throw it away! Do not put it in the wash again! That is just a waste of water, soap, time, energy, and closet space.
Letting go of damaged worn out items is the easiest part of closet decluttering so don't miss your chance to let go.
#8 Change Out Your Clothes Twice a Year
What do I mean when I say change out your clothes twice a year? Do I mean you get to buy all new clothes? No! I mean that you will switch out your closet for the seasons (if you have seasons where you live).
I like to have either my Fall and Winter clothes or my Spring and Summer Clothes out. That helps me to keep my closet tidy because I am not pushing sweaters out of the way to get my tank tops and I'm not dealing with flip flops when I need boots!
It also helps me resist the urge to buy new clothes because every time I change my closet over I feel like I get a whole new wardrobe, of my own clothes that I already love!
Read this article about seasonal closet organization for more tips!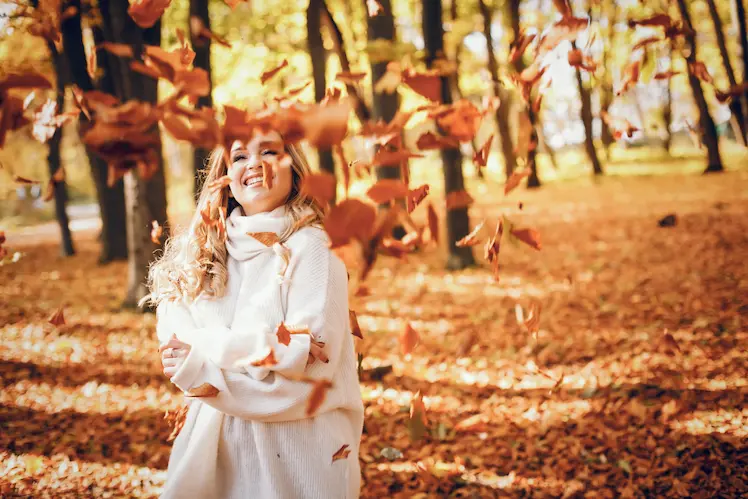 Closet Decluttering Tip #9: Get Rid of Stuff You Don't Wear
The single most important thing you can do to keep your closet organized is to go through your closet once in awhile and get rid of stuff you don't wear, things that are worn out, and things that you no longer fit in. When you are consistent with closet decluttering it never gets out of hand!
It can be really hard to let go of clothes sometimes so read this article to help you declutter your closet like a minimalist!
Closet Decluttering Tip #10: Laundry Day
It seems like everyone hates doing laundry but procrastinating will only make the problem worse. The best way to organize your clothes and keep them that way is to do your laundry regularly and put it away.
Always put your laundry away right away! Don't procrastinate folding it.
Put on some good music or a tv show and plan on folding laundry till you are done and put it away right away.
If you have kids help them get in the habit of doing laundry by having a "fold off" with them and then making sure they put their clothes away quickly and neatly.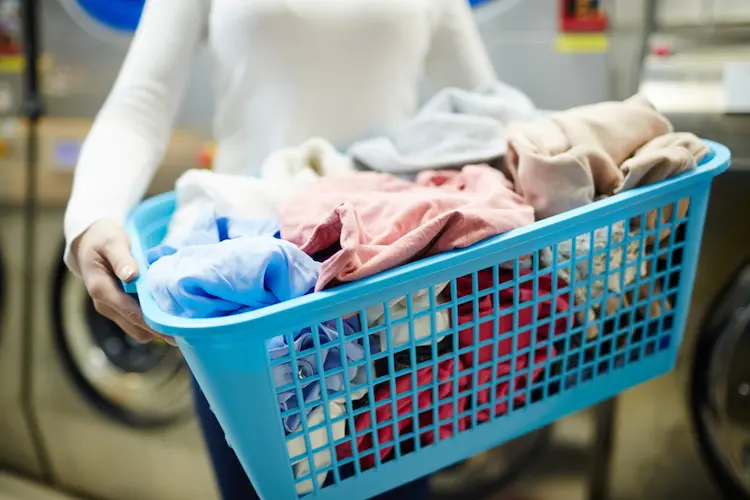 Closet Decluttering Tip #11: Don't Buy a Bunch Of Organizational Solutions!
Right now you are scratching your head. Did I really just tell you not to buy a bunch of organizational solutions? Yes!
The commercial world around us has us buying too many boxes and gadgets for closet organization. A lot of times these organizational solutions take up more room than they save.
These things you "have to have" to organize your closet also tend to cost a crazy amount of money! I am here to tell you sometimes the old ways are the easiest ways! They stuck around for a reason.
Most of your clothes can be organized in a good dresser, hanging on a plain rod, or using very simple solutions.
If you have shelves in your closet instead of drawers I would recommend some shallow storage bins for your folded clothes. I also like a hanging shoe organizer because it saves space and keeps you from getting too many shoes.
Basically, keep it simple. When you outgrow your storage solutions it is not time to buy more storage solutions. When your drawers are busting out and hard to close and your closet doors won't slide it's time for some closet decluttering!
Trust me, it's better to declutter your closet than to spend a bunch of money on closet organization tools. As long as you have too much it won't stay organized no matter how fancy the box you put it in!
Do you have any cool closet organization hacks? Please share in the comments below!
Do you need help decluttering your closet?
If your closet is a disaster zone Closet Simplicity can help! Hone in on your personal style, learn cheap or free organizational hacks, and stop keeping clothes you don't wear!