Every Hygge Home Needs These 8 Cozy Elements!

I love hygge. I've been a fan of hygge all my life without even knowing it.
Cups of tea, fluffy blankets, low lighting, nice background music are all hygge elements. These things are not just part of my life, there are part of every single day of my life!
What about you? Are you a naturally hygge person or are you more of the overhead light type?
Stick around to find out what makes a hygge home you will love to come come to.
This post contains affiliate links. As an Amazon Associate, I receive a small commission when you purchase through these links at no extra cost to you.
What is Hygge?
Hygge is a Danish word encompassing the idea of coziness and connection. It's all about slowing down and enjoying the little moments with friends, family, a yummy treat or all of the above.
Who wouldn't want to hygge?
But for the Danes, it's especially important as their winters are long and dark. Because of that they have taken the art of being happy and cozy to a new level and they have a very special word for it.
Hygge (pronounced hoo-ga)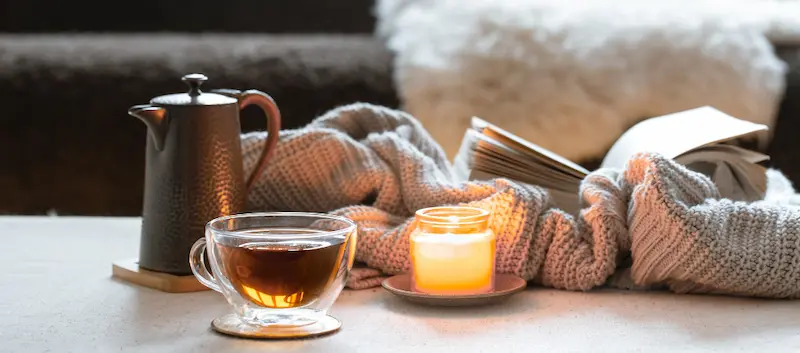 Why Hygge?
Hygge may seem like a good idea on a cold wintery day when you don't have to go to work. It's easy to wear big fluffy socks, drink hot chocolate, and sit by the fireplace on a day like that.
But in our busy lives hygge can feel like a luxury we just don't have time for.
That's exactly why we need it though! We need this cozy comfort and the benefits of slowing down and truly connecting with people more than ever. It might just mean our sanity.
Enter Meik Wiking and his wonderful books on hygge. He didn't stop there though. He runs The Happiness Institute in Copenhagen which researches what makes people happy and how to include these elements in home design, city planning, and even the structure of society.
In his latest book, My Hygge Home he talks about the major hygge elements that will cozy up your home and life. What are they? Let's find out!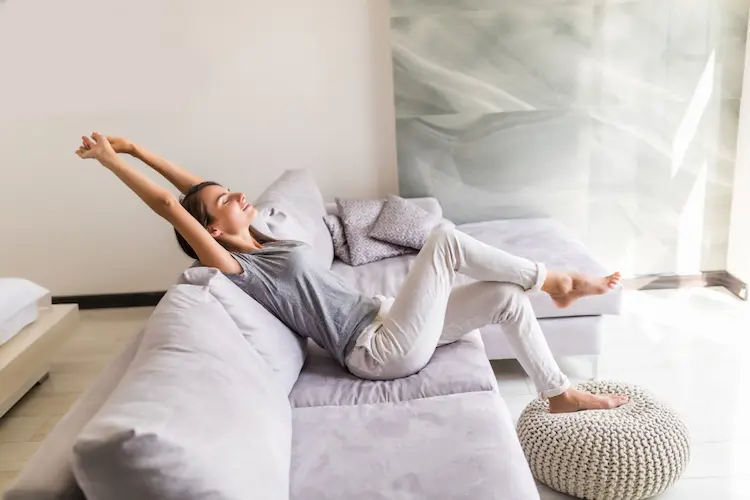 1: Your Hygge Home is a Refuge
What do we need to be happy? A lot of things. But one of the most important things is a feeling of security.
On a cold dark night you want to be in a warm safe place. In a cold hard world you need a refuge from it all. After a long work week you need a place that you can relax and let down your guard. If you are me, you live for that moment you change into your jammies.
Of course, the safer you feel at home the happier you will be.
But how can you enhance that feeling of refuge and safety? With a little hygge at home!
Here are some ways to make a more hygge home that feels like your refuge. These are great hygge ideas for fall or winter.
First of all, create cozy corners. Studies show we feel the safest when we are in a place that is against a wall so no one can sneak up on us. On the other hand we like to be able to see what's going on all around us. Do you have a cozy reading nook with a soft fuzzy blanket?
Another way to make your home more hygge, more of a refuge is to have things in your home that you love and that serve you well. Even minimalists have items just because they make them happy! If they represent precious memories even better!
Last but not least a hygge home should have a full pantry. There is nothing so desolate as an empty refrigerator. Make sure you stock up on some good foods. Imagine a big snow storm is about to hit and you will be stuck at home for a few days. Do you have your favorite comfort foods on hand?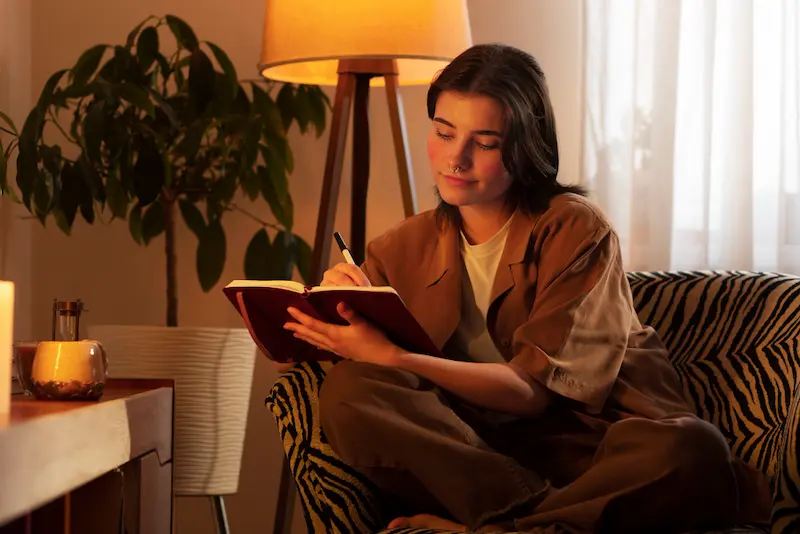 2: A Hygge Home Has Light
When you think of a romantic evening what do you think of? Wine and candles.
When you wake up in the morning and are ready to start your day what do you do? Open the curtains and let in the sunshine!
And when you think about reading a book with a cup of tea what kind of light do you have? A small lamp by your chair.
Light has so much to do with our moods. Natural light is vital to our health and we all need to get our sunshine to feel happy. A bright light is necessary for most work. And soft lights make us feel calm, cozy, and warm.
Create a hygge home by considering your lighting options more carefully. No one ever felt cozy under the big overhead light but a few candles, or twinkle lights, a salt lamp, or a reading lamp in a corner can make anyone feel at home.
During the day there is nothing more sumptuous than feeling sunshine warm your face or watching dust motes float through halcyon sunbeams.
Hygge lighting can be found throughout your day and it can set the mood in a powerful way!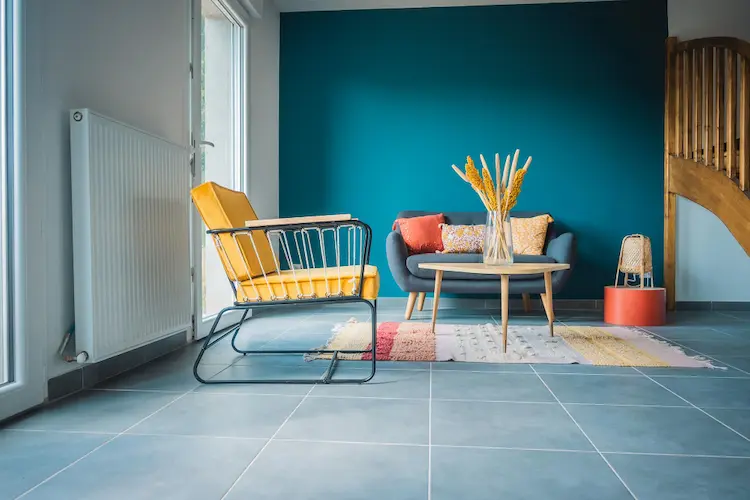 3: A Hygge Home Has Space
Did you know that clutter isn't hygge?
In fact, according to a study done by The Happiness Institute people were significantly less happy with their homes the more cluttered and crowded they felt.
Now that doesn't mean you can kick your family out. But what it does mean is that you need space to feel happy in your home.
So how can you make space if you don't have a big home? The answer is simple. Have less stuff. Declutter things you don't use and don't buy random junk you don't need. By doing that you can have a more spacious feel in your home, even if it's not very big.
I can honestly attest to the truth of this. When I lived in my 300 square foot studio apartment I was very happy because I kept it clutter-free and minimalist. Whenever things got cluttered my happiness plummeted.
Using clever vertical storage solutions, selecting practical furniture for how you want to use each room, and letting in plenty of sunlight and decorating with light colors can also improve the spacious feel of your home.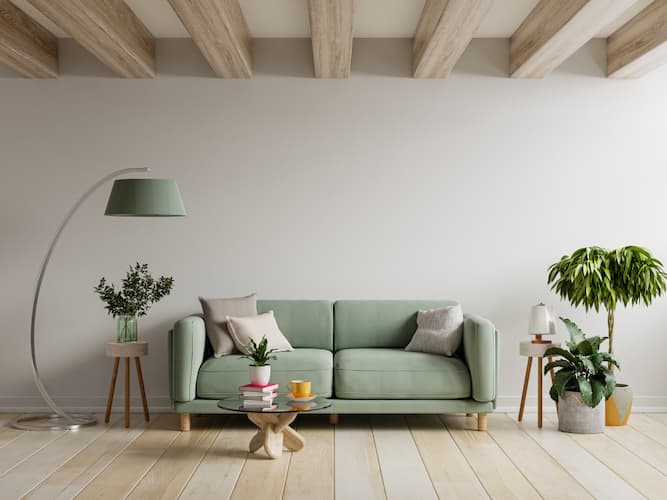 4: Green Hygge
A hygge home isn't just about blankets and candles. That's what we think of because we associate hygge with the wintertime.
But think about the places that make you the happiest. Are at least a few of them outdoors?
Humans love green spaces and according to studies cited in My Hygge Home people in hospitals even heal faster when they can look out the window at trees. Even looking at pictures of nature helped people feel less anxious and have an improved outlook.
Taking that into consideration, having a few houseplants is very hygge. Caring for plants can be very soothing, we find them very attractive, and they even clean the air in your home!
When the weather is nice make sure to enjoy green spaces outside too! Cultivate a yard or a little patio garden or go to a park.
5: A Hygge Home is Welcoming
One of the most important parts of hygge is the focus on strong connections with family and friends. That's what really makes us feel happy and safe isn't it?
So how can you make a hygge home that encourages good relationships with your family and friends!
Start learning how to focus on people with having them over to your hygge house more often! Add some great food! Have your friends bring something too.
In My Hygge Home Meik Wiking recommends lengthening dinners with family and friends by making them more interactive. For example, artichokes take a long time to eat, spring rolls and tacos are created at the table, and fondue is the definition of cozy party food.
Last but not least what will you talk about? Try coming up with good questions that stimulate conversation. Did you know there is a Hygge game full of conversation starting questions? Or just play a board game to break the ice and get to know your guests better!
What about your neighbors? Do you know them well? Meik Wiking recommends reaching out because feeling comfortable with your neighbors is another contributor to happiness.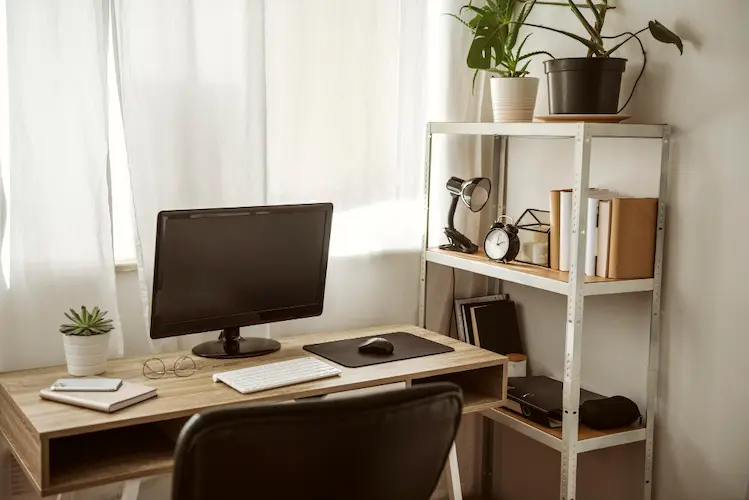 6: Work Life Balance is Important
One of the biggest struggles we face when designing a cozy relaxing home in the modern age is the fact that a lot of us work, or can work, from home. With the boundaries of work and home blurred it can be really hard to relax.
What can we do?
First of all, make a boundary! If you work from home keep your work in a specific room or at least a corner that has a barrier like a curtain or a screen around it. That will help you step away from work, stick to a schedule and be less tempted to return.
Next, make sure you make time for play! If you have kids play with them! But if you don't have kids you should still play. Make time to just be goofy and have fun. When was the last time you danced around in the living room singing into your hair brush?
Lastly, it has to be said. We are looking at screens all the time! And when you work on screens and play on screens it can seriously cut into your ability to have real conversations and meaningful connections in real life.
To break the cycle play a board game, read a book, do a puzzle, or just have a real conversation with someone you love! Hygge homes include analog fun.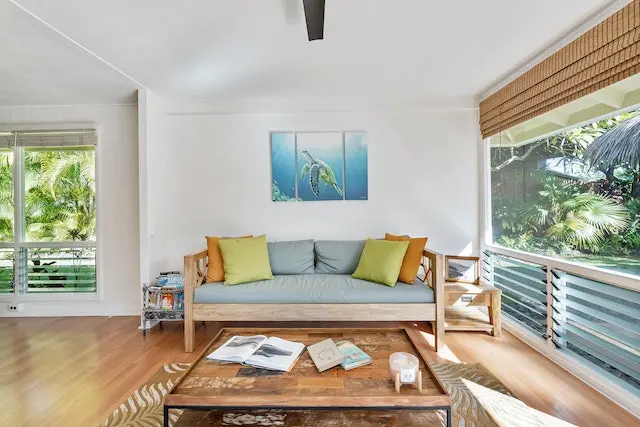 7: A Hygge Home Tells Your Story & Inspires You
There is a lot of hygge-washing going on out there in the world of retail. They would have you believe you can buy Hygge. But while you can buy blankets and candles can you really buy coziness?
Not really. Because let's face it. If your house isn't your style you won't feel at home.
Instead create a home that is a reflection of yourself and the life that you want to lead.
In the book, Meik explains Maslow's Heirarchy of needs. The basic safety and comfort we need are addressed with the things we have already talked about but there is something else we need. It's called self-actualization.
What is self-actualization? It's not as weird as it sounds. It is "the realization or fulfillment of one's talents and potential and can be considered as a drive or need present in everyone."
That makes sense! We can't be happy if we feel like we aren't living up to our potential. And that isn't just selfish pursuit of what we want but also our potential to help other people and society as a whole!
To that end we want to make our hygge minimalist homes serve our goals in the best way they can.
That means we create rooms not based on the standard expectation for the room but based on what we want to be able to do in them. (For example I have a big closet that I made double as my sewing room.)
We also want to fill our homes with things that help us become the person we want to become. If we want to be a cook we have things for cooking. We put books on shelves to help us improve the literacy of our whole family. Or we make room for painting or dancing or writing if we want to pursue those things!
What about if you want to help others more? Make a home that you can welcome people over too! Keep things simple so you will have time to serve others as a volunteer! Let go of things and donate them to those who actually need them.
Last but not least we need to let our home reflect our story and personality. Embrace your culture and preferences instead of accepting some cookie cutter store bought version of Hygge. There is nothing more hygge than displaying a well loved family heirloom.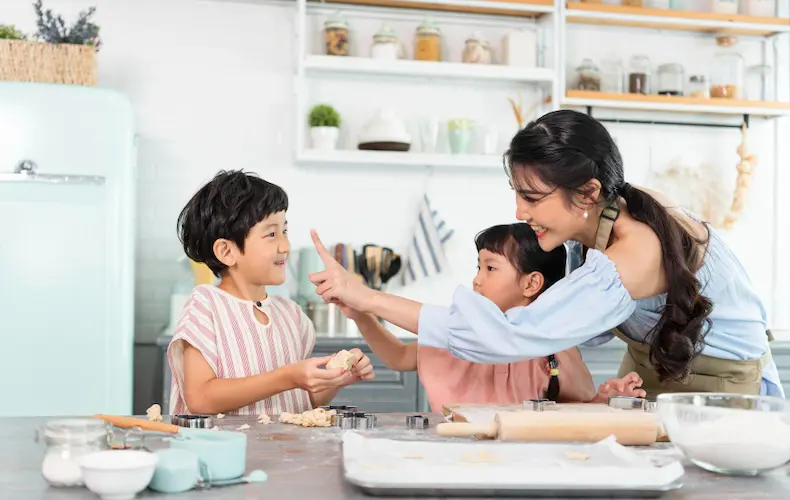 8: A Hygge Home is Homemade
There is one more step to creating a hygge home and I think you will agree it is an important one.
When you think of being cozy at home what do you think of? The smell of cookies in the oven. Hot soup that has been simmering for hours? A cup of tea? Tomatoes straight from the garden?
That's what I think of when I think of hygge. And what do all of those things have in common? They are all home made.
If you want a hygge home make it! Learn how to cook one of your favorite dishes and make time to make it often. Learn how to garden even if it's just a herbs in the window. Take time to make cookies (or my husbands favorite cinnamon rolls) with your loved ones.
You can take this to another level by learning how to make "slow food". Slow food is something that takes time to make. Meik likes to make preserved lemon and IPA beer. My family and I enjoy minimalist hobbies like making homemade bread, kombucha, wine, and cheese.
One of my favorite hygge ideas for fall is to chop up a whole bunch of apples at put them in a crock pot with spices all day. You get caramelized apple sauce and a great smelling house!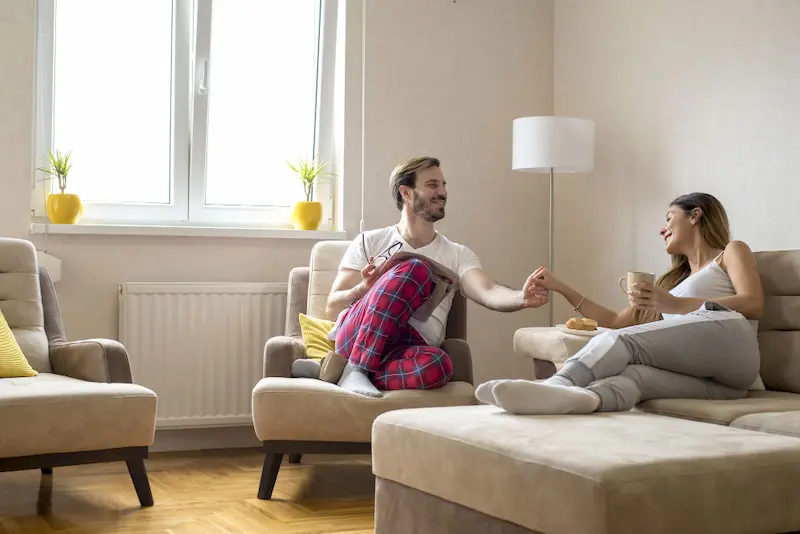 Enjoy Your Hygge Home!
I hope that these tips can help you turn your house into a hygge home! This is just a tidbit of all the beautiful hygge Meik Wiking's books have to offer!
I highly recommend you grab The Little Book of Hygge to introduce you to the concept of hygge. Then read The Little Book of Lykke to get better aquainted with happiness. Read The Art of Making Memories and My Hygge Home and put it all to work in your life!
I especially love listening to the audio books as Meik Wiking has a very hygge voice (in my opinion).
And last but not least, a simple home and a simple life is a cozy one that is focused on the most important things. That's why I have chosen to live the minimalist lifestyle. Like Hygge, it puts the focus back on the things a meaningful life is made of. Both hygge and minimalism put the emphasis on family, experiences and love.
Your Minimalist Hygge Home
We all want to enjoy the simple things in life but it can be hard to pair down. That's what the minimalist lifestyle is all about!
If you would like to learn more about minimalism I wrote an e-book called Doable Simplicity (minimalism for normal people). It will help you simplify your home, your chores, and your schedule so that you can focus on the things that make you happy and the people you love!