Experiment With An Easy Minimalist Wardrobe! Try Project 333
I can honestly say that I love clothes.
From my serious sewing addiction to my adoration of styles throughout the decades I love clothes and I don't even have to shop for them. They seem to magically find me.
That is why decluttering my closet has been the hardest part of my journey into the minimalist lifestyle.
Don't get me wrong. I have simplified my closet significantly but I still don't have a minimalist wardrobe. I think the last step I need to take is to try Project 333.
Are you ready to experiment with a minimalist wardrobe by trying project 333? Join me in the challenge!
How Will Project 333 Help You Experiment With a Minimalist Wardrobe?
Have you ever heard of Project 333? It's an awesome minimalist wardrobe challenge designed by Courtney Carver. You can try it for 3 months or as long as you like after that. Here are the basic principles:
You chose 33 items to wear for 3 months.
Your 33 items do include jewelry, coats, shoes, and belts.
It does not include gym clothes you wear to the gym, underwear, pajamas, or loungewear.
IF you desperately need to change something up midway you can!
You need to hide away all the rest of your clothes. You don't have to get rid of them YET.
If you need a uniform for work count all the uniforms you need for a week as just 1 item.
Now that you know the rules you can see that it is a pretty simple, straightforward, challenge. It is designed to teach you what you already know. That you basically wear the same things that you like over and over and never wear the rest. The goal is to help you find the minimalist wardrobe you are already wearing all the time.
Project 333 was also designed by Courtney Carver to reduce decision fatigue and stress. The idea is if you are not worried about what you have to wear you can channel that energy and creativity into more meaningful things! Sounds great right?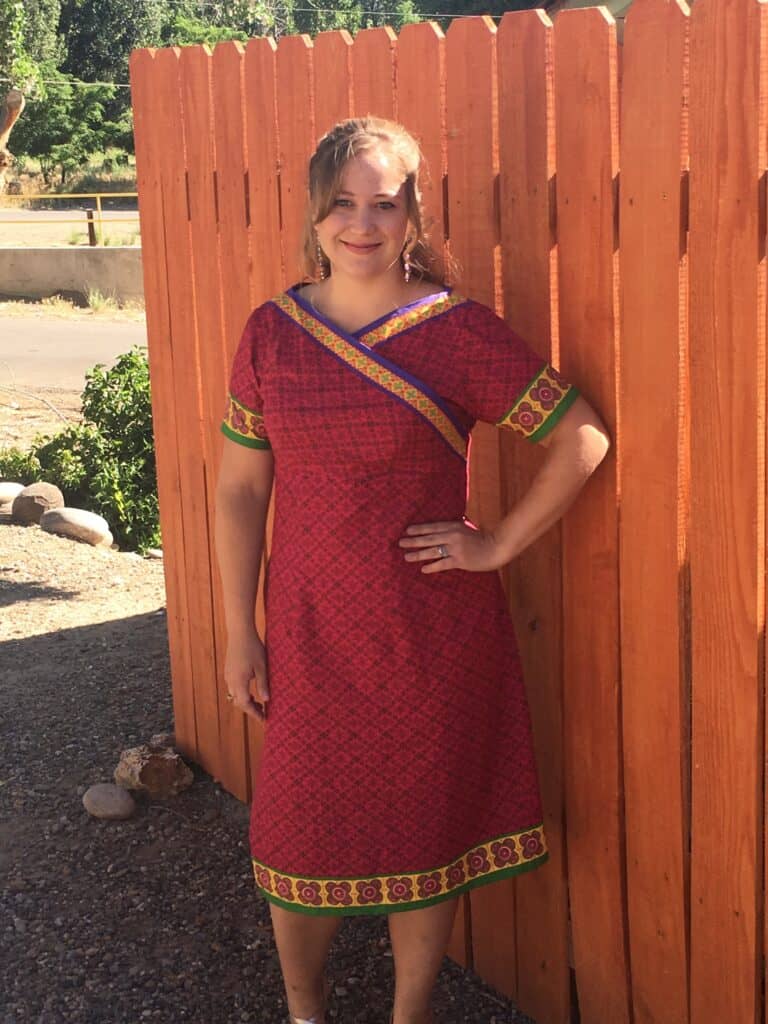 Am I Ready for Project 333 & a Minimalist Wardrobe?
I'll be absolutely honest with you when I tell you that I heard of Project 333 years ago, I read the book last summer, and I put it off until now! I don't know why, but every time I think about it I get nervous and maybe a little clammy. I want to do it so badly and yet it makes me scared. What am I scared of?

Let me share my fears with you, not to discourage, but to document the journey I am about to go on with full transparency so that if you are scared too you can be encouraged to try it anyway! Here are the things that have held me back in all their ridiculous excuse style glory:
I don't want to get rid of clothes that are in perfectly good condition and fit me well.
Isn't it wasteful throwing away clothes in this age of fast fashion when I want to make the best use of what I already have?
I like to have lots of styles and colors to choose from because I enjoy being creative.
Maybe I won't have enough jewelry (I make jewelry) and shoes…
I have room in my closet for my clothes so what does it matter?!
What if I suck at putting together new combinations of minimalist outfits?
Does this mean I can't sew anything? I love sewing!
My life is really weird and it requires a lot of exercise clothes (for work) and a lot of dressy clothes for my church volunteering. What if I can't meet all my needs with 33 items?
Ok, now that you see the struggle is real you are probably wanting to tell me not to do it. But don't do that!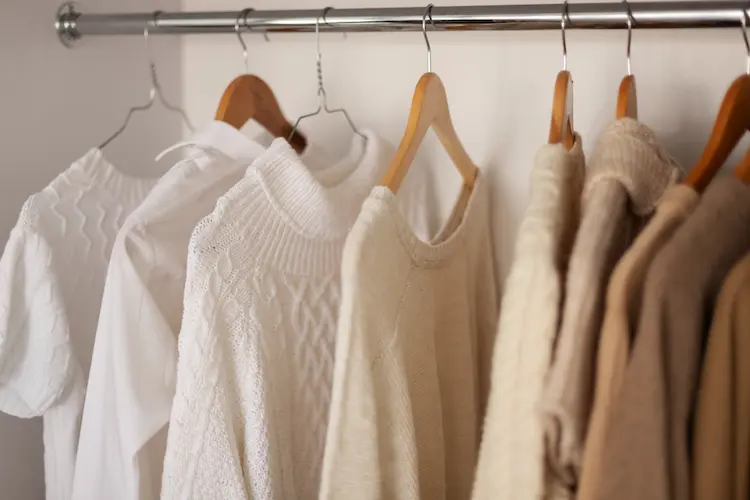 I REALLY DO Want to Try a Minimalist Wardrobe with Project 333
My excuses are awesome, aren't they? My debating skills are on point. The problem is they are just excuses and I know that. Project 333 isn't going to force me to throw away any perfectly good clothes.
The challenge only asks me to put them out of sight. You only have to dress like a minimalist for three months. I probably don't wear most of the clothes I'm whining about anyway!
To be honest with you, I'm tired of my excuses and I really want to try Project 333. For half a year I have been excited to start, when I got the nerve to start, for these reasons:
I want to have a better grasp of my personal style and what flatters me and what doesn't.
Getting dressed in the morning will be easier.
I'll stop putting on clothes that don't fit anymore just to feel guilty and take them off again.
Simplifying my wardrobe will help me focus my creativity on other things like this blog!
I want to learn how to enjoy a smaller wardrobe so that I buy fewer clothing items and stop contributing to the fast fashion problem.
Having a really nice, versatile, minimalist wardrobe will make it easier to move, travel, and be flexible in life!
I need a fresh start as my style transitions towards a more classic (adult) style.
See! There are lots of reasons I think that Project 333 is worth the effort! I am actually really excited to finally be starting it!
And Now I Have to Simplify My Wardrobe…
Ok, today's the day! I am going to declutter my closet and simplify my wardrobe by creating a 33-item minimalist wardrobe for the next three months!
First, let's consider the weather. The three months ahead are January, February, and March. Those are mostly winter months where I live so I am pretty safe selecting mostly warm clothing.
Second, I want to consider my color scheme and style. I tend towards pastel tops with black leggings or jeans in the wintertime. That means I can drop fall colors since we are heading towards spring. I will feel happier knowing that my fall clothes are not gone, just waiting for me.
Third, I want to make sure that all of my items make me feel fantastic. I don't need anything that is too tight, too short, or too weird. I only want to keep clothing that I genuinely love. Because of that, I need to try on a couple of pieces to make sure they fit the way I want them to.
Now I could make an excuse for all the dress clothes I need and call them my "uniform". According to Courtney Carver, if you wear a uniform for work, like scrubs, you can keep 5 sets for your workweek and count it as one. But I want to do this right the first time so I am not going to count my dress clothes that way. I will count them individually.
I'm not going to count my workout clothes though, because Courtney says I don't have to. But I will make a concerted effort not to wear them when I am not working out or cleaning houses.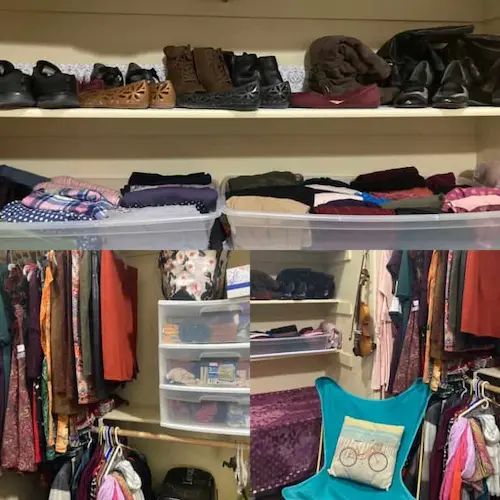 Just like that, I have a simple, minimalist wardrobe!
After all this time being worried about this process, it hasn't been that bad! I actually started with what I considered a paired-down closet as I only had fall and winter clothes out and had gotten rid of about 5 bags of clothing this year.
That being said, I still had a lot more than 33 items but the process wasn't too bad. It was actually fun. I followed Courtney Carver's suggestion to put on some good music, have some tea, and take some breaks and it turned it into a party!
Below you will find my winter Project 333 list. Now I am ready for the big adventure! I get to wear my favorite winter clothes for the next three months! Stay with me as I chronicle my journey in upcoming blog posts!
Black Puffer Coat
Black Sketchers
Red Flats
Black Boots
Pink Pearl Jewelry Set
Heart Jewerly Set
Purple Crystal Jewelry Set
Black Jeggings
Bootcut Jeans
Skinny Jeans
Purple Suede Dress
Green Velvet Dress
Black & White Dress
Green Paisley Dress
Grey Dress
Black Turtleneck
Raspberry Velvet Top
Light Pink Wrap Top
Black Wrap Top
Teal Shirt
Light Pink Fluffy Sweater
Teal Tunic Sweater
Black, Grey, and White Stripe Sweater
Maroon Sequin Sweater
Maroon Lace Top
Grey Sweater
Maroon Tie Top
Grey Pencil Skirt
Black Leather Pencil Skirt
Black & Tan Suede Skirt
Long Grey Trumpet Skirt
Black and White Cardigan
Light Pink Cardigan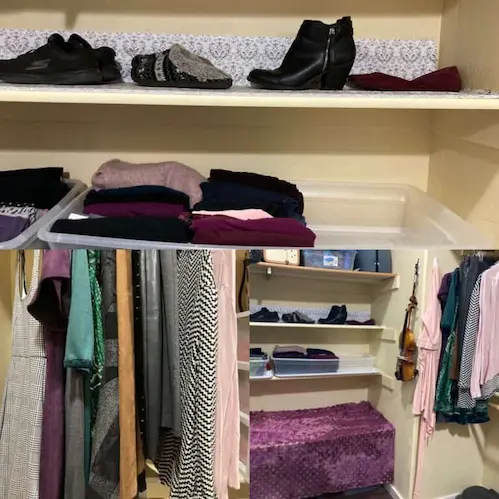 Are You Ready To Try A Minimalist Wardrobe With Project 333?
Now, ask yourself, do you want to simplify your wardrobe with Project 333?
Do you want to declutter your closet and reduce all the decision fatigue that comes from being a wanna-be fashionista? Do you want to go from an exploding funnel of chaos to a minimalist closet?
If you want to refine your style, simplify your life, and try something new come along with me on this journey!
What do you find hardest about simplifying your wardrobe? Please share in the comments below!
Where Can You Find Closet Simplicity?
My journey to a simplified minimalist wardrobe has been full of ups and downs. Project 333 is just part of what helped me finally find a colorful minimalist wardrobe I love.
If your closet is a disaster zone I can help! I love clothes and if I can find closet simplicity ANYBODY can. Let me share all my best tips for cleaning out your closet, finding your style and building a colorful minimalist wardrobe that fits your style and your life! It's all in the Closet Simplicity e-Book!