Declutter The Kitchen In These 4 SUPER EASY Steps!
There is nothing worse than a messy cluttered kitchen.
You get started but soon melt in a puddle of frustration because you can't find anything or an entire cabinet spills out when you open it!
Might as well call for take-out instead!
But wait! What if I told you that you can declutter the kitchen in 4 SUPER EASY STEPS?
It's Time to Declutter The Kitchen!
I lived in a 300 square foot studio apartment for almost 10 years and the kitchen was pretty small. Needless to say, I had to declutter everything including the kitchen on occasion.
About a year ago we moved in with my parents and though they have a nice big home the kitchen is strangely small. My mom loves to bake and we both love to cook and things were getting a little bit crazy in there!
I just couldn't take it anymore so I recently reorganized her kitchen while she was stuck in an online seminar and couldn't stop me.
Let me share with you how I did it so that you can declutter the kitchen too. When you are done your kitchen will work for you instead of against you.
This post may contain affiliate links which means that if you click on those links and buy something I get a small commission and no extra cost to you! This helps me continue to make more great content!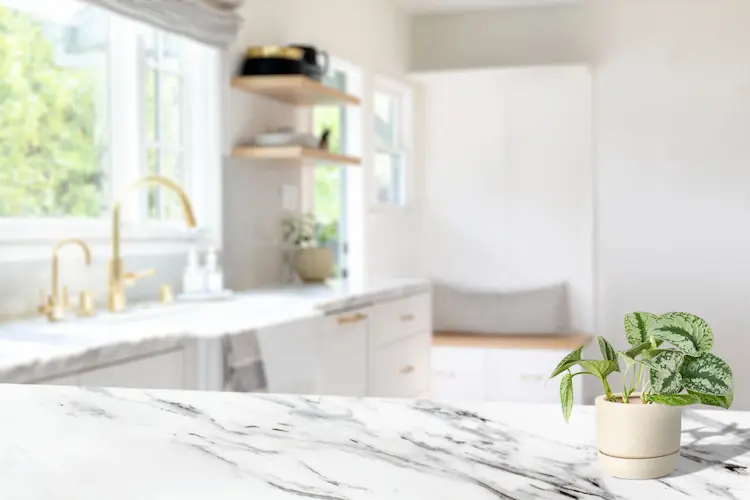 Declutter the Kitchen by Creating Zones
I knew I wanted to declutter the kitchen in a way that made it easier to work in. That's why before I even got started I looked at the kitchen and tried to split it into specific zones for different types of things.
I wanted everything for each type of thing in its proper zone instead of spread throughout different parts of the kitchen. The zones I had in mind were:
Cooking
Baking
Gadgets
Serving
I noticed that our baking items were really spread out. We had pie pans and cooking dishes on the opposite side of the kitchen as the measuring cups and the mixer was halfway between. All of it was nowhere near the pantry where we kept the flour, sugar, and other ingredients.
I decided to put the giant Kitchenaide mixer on a counter-top to one side of the kitchen (I thought about putting it away but it's super heavy and my mom uses it every other day) and then I put the measuring cups and all the other baking accouterments in drawers and cabinets by the mixer. That became the baking zone.
Next, I set up the cooking zone. I organized the kitchen cabinets and drawers around to stove to contain all the ladles, spatulas, pots, pans, and spices.
After that, I created a zone for serving dishes and a zone for small kitchen appliances and gadgets.
Creating zones will help declutter the kitchen in the way that best makes sense for the way you cook. You will create a state of flow in your kitchen that will help you make cooking easier. Instead of wasting time looking for stuff, you will start to enjoy cooking!
Declutter the Kitchen By Using EASY Storage
Have you ever dreaded putting the dishes away? In the middle of cooking, have you ever needed something quickly, but it was buried under or behind so many other things that you just gave up?
That is why you need to declutter the kitchen and organize with your cooking habits in your mind. Try to make everything easy to get.
Don't put dishes you use everyday way in the back of the cabinet. To the extent possible try not to stack your pots more than two deep. Put your ladles in a drawer or a counter-top container that will be quick and easy to get things out of.
We had a problem with stacking our pans and small serving dishes which I solved with these great little extending pan and lid racks!
The easier things are to get out and put back away the easier it will be to cook and keep your kitchen tidy!
For a complete list of my recommended resources and products check out my resource page!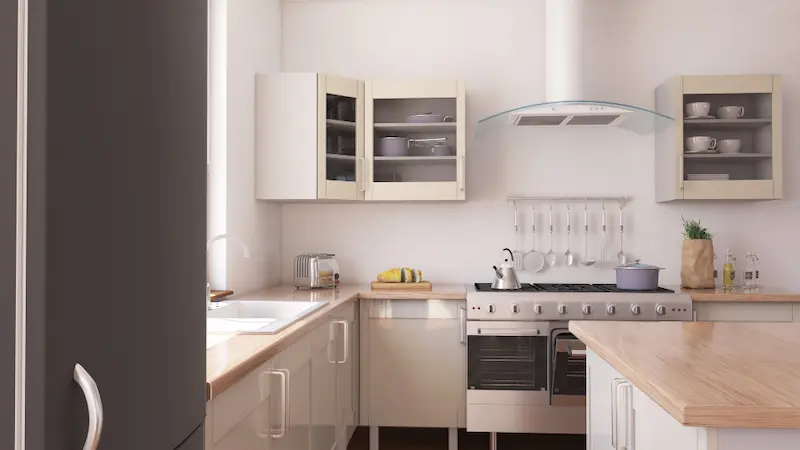 Put Things You Don't Use Often Up High
Have you noticed that almost half the kitchen cabinets are way too high up to reach? Well, I'm short, but I think it's still a common problem. What can you do with all that beautiful cabinet space in the Himalayas of your kitchen?
As you declutter your kitchen, use the high up spaces for things you don't use very often. Here are a few things you might consider putting up there:
crockpot
waffle maker
yogurt maker
water bottles
Just don't put anything super heavy up there because it will be too hard to get down.
If you plan to store lots of little things like all your travel mugs and water bottles up high put them in a tub so that you can pull the whole thing down and look through it instead of losing lids and bottles to the back of the cabinet.
And FINALLY, You Do Have to Actually DECLUTTER The Kitchen
Now that you have everything sorted by zones and you know what you use and don't use it will be easy to let go of a few things. After all if you are going to declutter the kitchen you are going to have to actually let go of some things.
Look through your kitchen cabinet, drawers, and pantry and let go of some of those extra spatulas, any single-use items you never use (think "as seen on tv" items that didn't work out), scratched up pans, broken mugs, excess travel mugs, and serving dishes you never use.
Once you remove all the excess (sell it on Facebook instead of having a yard sale) you will find that you have the right amount of space for the things you use regularly and your kitchen will function much better!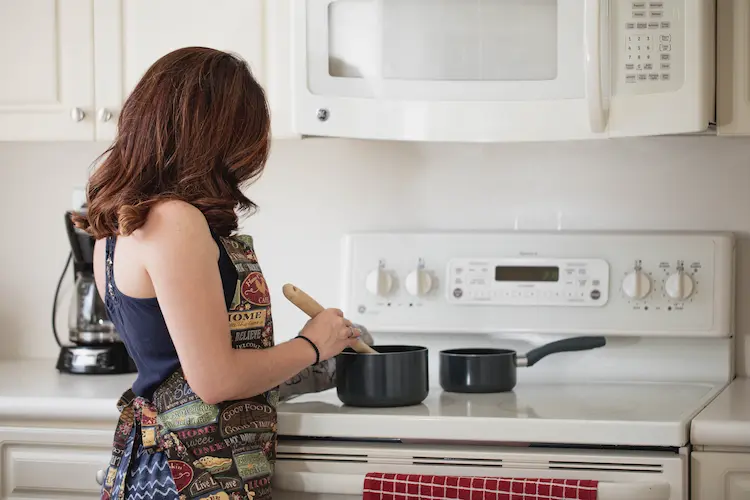 Why Stop at the Kitchen!
I know you can declutter the kitchen with these great tips. And once you have a beautiful clutter-free kitchen you will start really enjoying cooking! It will so be so much easier and your kitchen will look so much better.
But why stop at the kitchen? Wouldn't it be great if you knew how to declutter your home so that every room could help you be more productive while looking tidy and beautiful?
Let me help you declutter your home with easily actionable steps that won't overwhelm you! Grab my Fearless Decluttering workbook to help you overcome the reasons you have been holding on to too much junk and finally declutter your entire home once and for all!