Always Broke? 5 Reasons Minimalism is Great For You!
"I would love to be a minimalist but I can't afford it. I'm always broke." I hear a lot of people say that but you can be a minimalist even if you have no money!
There is an idea out there that minimalism is expensive. Is minimalism only for the rich? Some people think that minimalism is a fad for the rich or a luxury for those that can afford it.
I am here to prove that idea completely wrong! I became a minimalist out of necessity and I think that's what starts a lot of people on their minimalist journey. Let me prove to you that you can be a minimalist even if you are always broke.
Always Broke and Living in A Small Space? Here's Why Minimalism is Good for You!
There is this huge movement to live in tiny houses and vans. Images from influencers in these tiny homes and vans are inspiring and they show off creative solutions to living in an ultra-tiny space. The problem is they don't portray reality for most people. (Don't get me wrong, they are fun to watch!)
A huge number of people live in tiny spaces that aren't so glamorous. They live in small studio apartments in the city, travel trailers, single-wides, and even rooms in their family's house. The cost of living is always going up and people are living in small spaces because they have to.
That is how I started the minimalist lifestyle! As newlyweds, we moved into a 400 square foot studio apartment and had one mission. To make the best of it! I learned to love my small space and we lived there for almost 10 years! Why? Because I realized that just because I didn't have much didn't mean I couldn't appreciate and take care of what I had.
Sometimes I would pray for a bigger place and then I realized that it wasn't God's fault I had too much junk so I got to work decluttering.
That's why, for me, minimalism is not for the rich. (They could learn from it.) That's why you can be a minimalist even if you're always broke! Minimalism is for all the people who think they don't have enough in this bigger and better rate race of a consumer society we live in.
Just think! The minimalist lifestyle could actually be a way to give dignity to the millions who are living in small spaces cause they have to! Minimalism is a fancy word for what a lot of us have been doing all along. Living with less and being happy with it!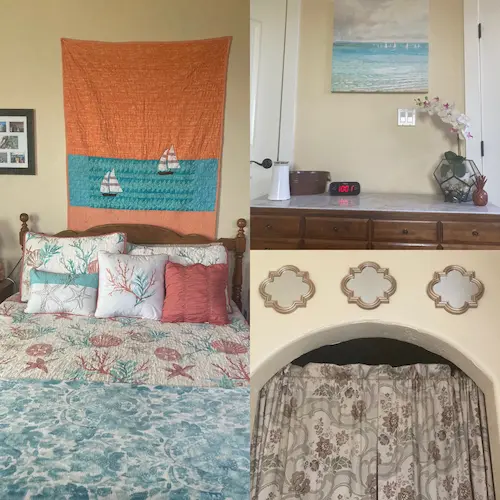 Here's Why Minimalism Is Good If You're Always Broke & Can't Buy New Furniture
Ironically, advertisers make minimalism into an opportunity to shop! They make you think that you need to have a certain look to be a minimalist. They make you think that you can't be a minimalist unless you can afford to buy new high-quality Scandinavian furniture that isn't even comfortable anyway!
Learn this now: There is a difference between the minimalist aesthetic and the minimalist lifestyle.
The only piece of furniture I have that's even remotely "minimalist" is a bookcase we bought at Target. Everything else I own was given to me by family. Most of it is actually Early-American. It was my grandma's furniture and it is such good quality that it's not going anywhere soon. (Like it or not.)
Minimalism is about not giving material things a higher place than they should have so if it's not broke don't fix it! If what you have works then appreciate that it's serving you as it should and don't worry about the perfect look!
PS: You don't have to paint all your walls white either! (Eye-roll) For some tips on how you can make your home look a little more minimalist without buying all new stuff check out this article: Minimalist Home Decor For Everyone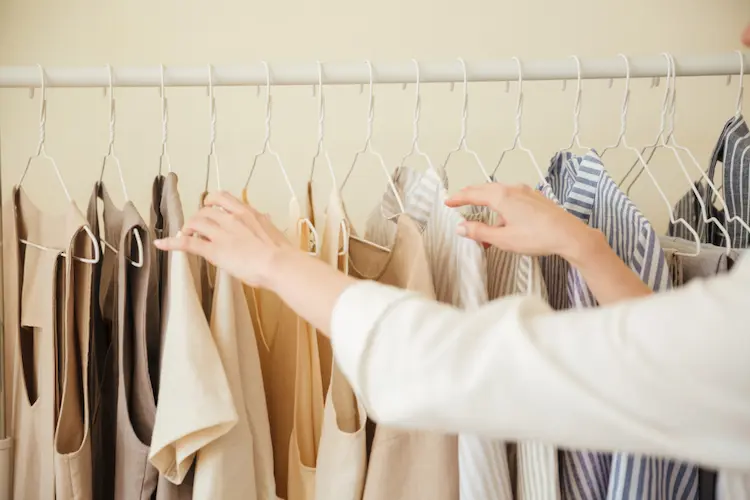 Always Broke and Can't Buy New Clothes
So you typed "Minimalist Capsule Wardrobe" into Pinterest and you saw tons of cute seasonal clothing collections in complementary colors from super nice stores. Now you're thinking: "I can't afford all new clothes! I can't be a minimalist. I have to use the clothes I own."
Great! Use the clothes you own. Rich or broke, most of us have lots of clothes! If you want a minimalist capsule wardrobe or even just a smaller better wardrobe shop your own closet. Pick out all the clothes that fit you well, are in good shape, and make you feel amazing. Declutter clothes that don't fit, are worn out, are not useful, or make you feel weird.
When you do this you will find your minimalist capsule wardrobe for free and you will find getting dressed each morning is so much easier! You will also feel more confident because you are wearing clothes that truly complement you!
To make you feel better I have never ever bought a whole new wardrobe for a season. I still don't have a capsule wardrobe per se but I have clothing that I love and clothing that I need for my work and hobbies and it's slowly getting better and better as I replace things when needed. (But I still can't buy high-end clothing. Even cheap stuff lasts longer than I love it anyway!)
For a step-by-step guide to finding your Colorful Minimalist Wardrobe for free read this article and grab your free printable guide!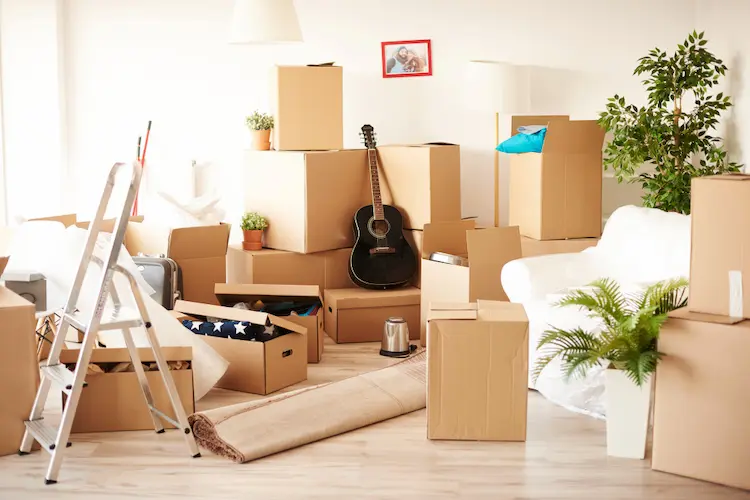 Always Broke but Living In Clutter?
When we started out in that little studio apartment we had a lot of childhood mementos and wedding presents but we lacked some real and useful tools, like a mop. We had to weed through a lot of stuff that was no longer useful but sentimental and find a happy balance of necessity and enjoyment in our belongings.
Maybe you are a wanta-be minimalist with a lot of clutter and you feel like it would be wasteful or unwise to let go of things you are going to need later.
When you are always broke or used to being tight on funds that is a very real struggle. The world around us ties security to owning lots of stuff. If you never had much but you do now it may feel like a safety net, even if that stuff isn't valuable at all.
Being a minimalist should never force you to get rid of things you really will need later or use regularly now. However, did you know you could make some extra cash by selling stuff you really don't need? Sell a bag of clothes for $5 and a little decoration for $10. You will be surprised how much stuff you have that you do not need at all. I made over $1,500 selling $5-100 items on Facebook last summer! For a step-by-step guide on how to do that read this article: Turn Clutter into Money! Use Facebook Marketplace!
If you feel overwhelmed by clutter and need help to get through the process check out the FEARLESS DECLUTTERING E-Book!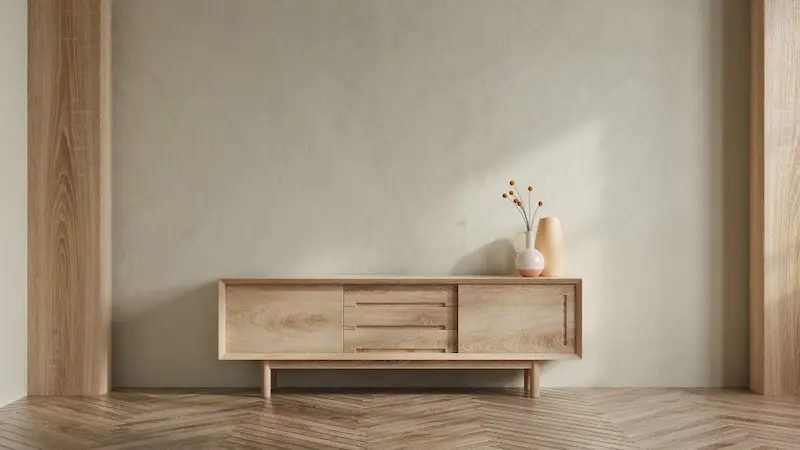 Always Broke and Not Into The Minimalist Style?
Maybe you just feel like minimalists are snooty elitists, like skinny girls who are always bragging about only eating lettuce! I get it! Even though I am a minimalist, some other minimalists make me feel that way.
I don't fit the minimalist mold in many ways. My home and wardrobe are full of vibrant colors. I like funky boho styles and costume jewelry. I have lots of hobbies and all the stuff to do them with. And probably, to be honest, I keep a little more stuff than I probably need.
That doesn't mean I'm not a minimalist! I still highly value having less, buying less, and working less for material things!
You Can Be a Minimalist Even If You Are a Normal Person!
When you think of minimalism don't exclude yourself because you're always broke or just never rich! Minimalism was made and perfected by normal people trying to make the best of what they have. It's an effort to return to a balanced perspective on the need for material possessions.
For me, minimalism is about honestly examining what I need and what is being forced on me by the consumer society around me. It's about putting material possessions back in their proper place. Minimalism is not about spending a ton of money to buy the right look and throwing away perfectly useful items I already have.
I pursue minimalism because it makes life simple. If minimalism ever makes life harder then you aren't doing it right. Minimalism is about making the best of what you have and learning to love and grow where you're planted. That's why you can be a minimalist even if you're always broke! That's why minimalism is perfect for normal people like me and you!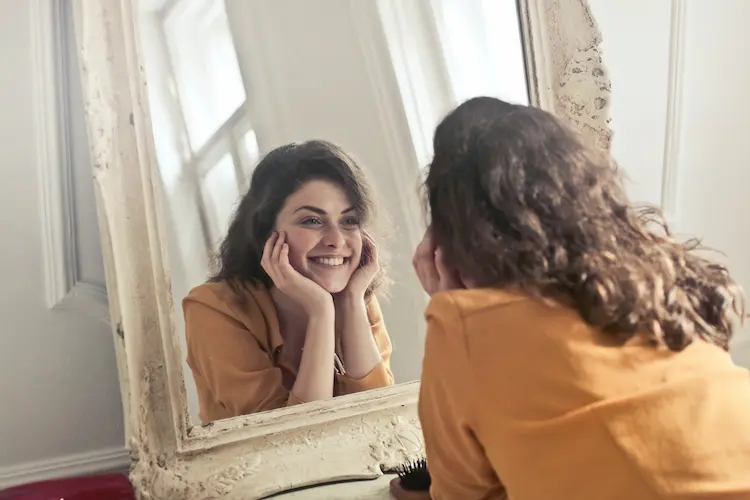 Start Living as A Minimalist Today!
There is really no reason not to start enjoying simple living! Now is the time to try the minimalist lifestyle! Learn why minimalism is good for your mental health and relationships, how it can transform your finances, so you can start having more energy and time for the things that matter!
But what if simplifying your life sounds like an overwhelming task?
If you want to simplify your life but the big bad word MINIMALISM scares you let me help! I wrote Doable Simplicity (Minimalism For Normal People) to help you get the inspiration you need to simplify your life and then take solid steps that make simple living doable for you!
GET YOUR DOABLE SIMPLICITY E-BOOK and Minimalist Journey Workbook NOW!
Want to learn more about minimalism?
Read: Why Live a Minimalist Lifestyle?
You might also enjoy these articles: