Slow Down and Enjoy Life! 4 EASY Ways to Slow Life Down
I am not going to lie. When we were stuck at home during 2020 I was living my best life. I am such a home body and I can findless endless things to keep me busy at home. I think I really needed to slow down and enjoy life. The rest was much needed.
But now, "normal" life is picking up and it's tempting to go back to the rat race. Still, I think I need to have more balance in my life than I did before.
If you feel the same how can you slow down and enjoy life? Can we continue to have a happy simple life as things go back to normal?
How do you even start to slow life down? Does it mean you have to get rid of everything and live in the country? How can you organize your life in a way that simplifies your life?
Maybe you are a go go go personality and you are wondering; "Why do I even want to know how to slow life down? That's not who I am at all!"
How to Slow Down Your Life In 4 Steps:
Identify what is ESSENTIAL in your life.
Remember what you love to do.
Keep what matters most.
Let go of everything that isn't essential, truly enjoyable, or meaningful.
Why Do I Want to Slow Down and Enjoy Life?
Does it seem like you do nothing but work and run errands and you never have time to do the things you actually want to do? Do you wish you had more time for hobbies, family, or just relaxing?
Maybe you don't even realize how busy you are. I know how that feels. I am an A-type personality and I'm always coming up with new things I have to do.
But I learned something from the pandemic. I had to drop a lot of what I was doing for a while and guess what? Life didn't end. Everything was fine. I looked backed and wondered; "Was I really just spinning my wheels?"
If you want to slow down and enjoy life instead of letting days turn into weeks that turn into years that disappeared without you knowing it then it is time to simplify your life and start learning how to take things slow.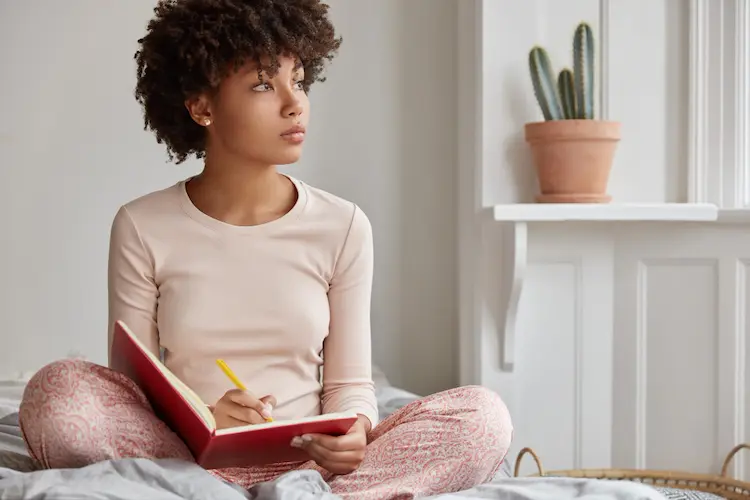 How Do I Slow Down and Enjoy Life?
How do you slow down and enjoy life? What is slow living? It is a trend? I want to know how to slow life down but where do I even start?
Let's start with one simple truth.
What is keeping your life so busy and hectic? It's all your stuff! You have too much to keep up with and you can't slow down if you have don't get rid of some things in your house and some things in your schedule.
You would be surprised that some of the smallest tweaks in your daily life can bring the biggest changes. Let's discuss 4 steps you need to take to simplify and slow down. These slow living tips will will help to start making life simple so you can slow down the rat race you've been running.
And if you're that go go go extrovert type, don't worry. It doesn't have to be boring! When you simplify and slow life down you can fill that extra space with all the fun stuff you actually like to do instead of the busy work you've been doing.
To Slow Down and Enjoy Life You Have to Ask Yourself What's ESSENTIAL?
The first step you need to take to slow down and enjoy life is to identify what is truly essential.
Essential is a word I didn't think about much until 2020. What is essential? The word is defined as absolutely necessary or extremely important.
The thing is we oftentimes deceive ourselves into putting everything at this high priority level. Is your morning Starbucks and your regular manicure really essential? You know the answer. No one will die without those things. The pandemic was pretty good at teaching us what we really need.
So now that you want to slow life down you need to stop and think about all the things you are giving your time, energy, and money too. Ask yourself these questions:
Do you really need to work so much?
Can you replace some of your luxeries with simpler pleasures?
What would life be like if you didn't have so many obligations?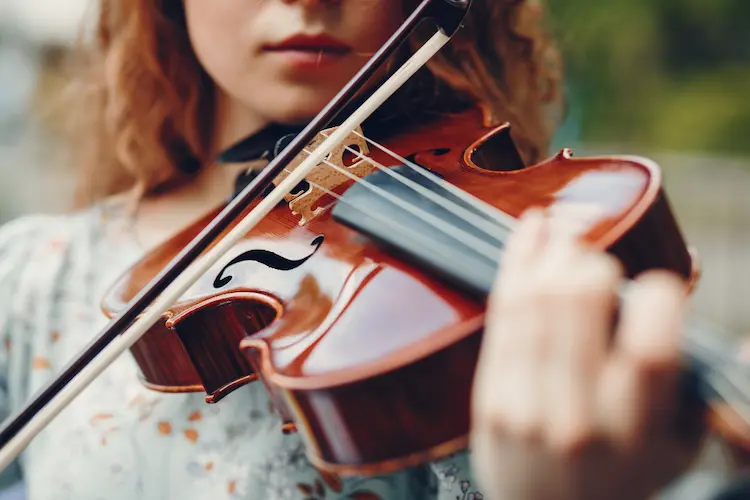 To Slow Down and Enjoy Life Ask Yourself What You Love
Life isn't supposed to be completely without pleasure. You don't have to get rid of everything that isn't strictly essential to slow down and enjoy life. I want you to look at what's essential because I realized that I was doing a lot of stuff I didn't actually have to do. The thing is I thought I had to do all of those things. And guess what? I was wrong.
When you are done examining what you actually need in your life start examining what you love in your life. Start thinking about what you actually want in your life. What do you want to enjoy more of once you learn how to slow down? Ask yourself these questions:
What do I really enjoy doing in my free time?
Does this move my life in the direction I want it to go?
What do I enjoy doing with my family?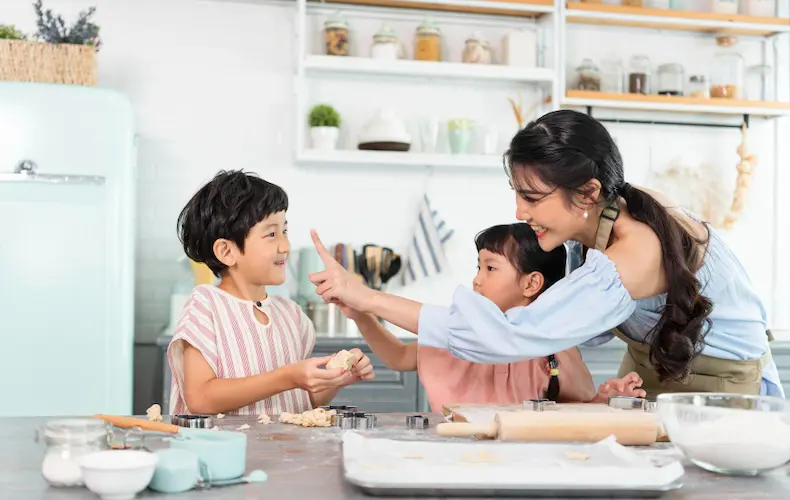 Slow Down and Enjoy Life By Keeping What Matters Most
So now you know what you need and you know what you love. Most likely you have realized that the things that matter most in life have nothing to do with money and things and everything to do with people and experiences.
It might sound overly simplified but the secret to slowing down and enjoying your life is this:
Do what matters most MORE. Stop wasting time on things that don't really matter and start making time for the things that matter most. Try to do these things:
Stop and enjoy a good home cooked dinner with your family.
Start doing your favorite hobby again.
Take some time to start working towards your big picture goals.
Make time each day for some self-care.
Let Go of the Rest!
Honestly, if you want to slow down and enjoy life you need to invest a little extra time up front. Your life will never start to slow down until you step out of "obligations" that aren't necessary, stop working so hard for stuff you don't need, and let go of all the stuff you don't use!
When you find products that simplify your life those are worth keeping. Don't feel like you have to declutter them.
On the other hand, to know how to slow down you will need to know how to say no to the things that get in the way of the life you really want.
The good news is taking the time to simplify your life pays off! Once you have done it you will have so much more time for the things you actually want in your life. Take these steps to slow down and enjoy life.
Say no to things you don't need and/or want to do.
Declutter your home.
Consider working less if possible.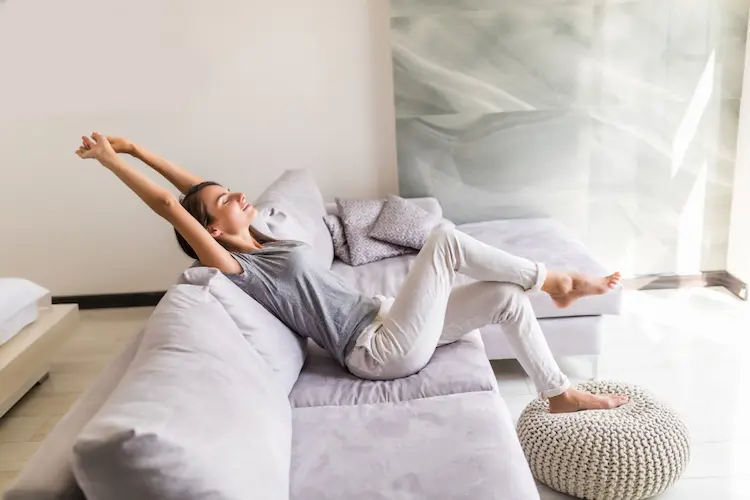 Start Enjoying the Benefits of Simple Slow Living
I was sitting in my parent's hot tub in the middle of the day looking out at the beautiful desert behind the house (I know, I'm a brat.) and I was thinking about the trip we were supposed to take to Italy for our 10th anniversary last year.
I've always wanted to go to Italy. I was thinking about all the things I love about the idea of Italy and I realized that it was basically the simplicity and beauty of a life focused on family, food, and enjoyment that made Italy so ideal in my head.
Then I realized, I can have Italy right here. I can enjoy slow living and the beauty of life every day if I focus on the things I need, the things I love, and what matters most. What kind of things will help you start to enjoy slow living? Here are some activities you will enjoy as you slow life down!
Slow Living Activities To Try:
Take a break from electronic entertainment and communication.
Go for a walk or hike or another favorite outdoor activity.
Make a nice dinner and sit down with your family to enjoy it.
Have a cup of tea and read a book.
Learn a new hobby or skill.
Sit and enjoy some silence or chill with your favorite music.
Treat yourself to a bouquet of flowers.
Dance to your jams while cleaning house.
Write in a journal.
Enjoy a long hot bath.
Play a board game with your family.
Watch the sunset.
Bake something yummy and share it!
Make time to chat with a friend over coffee. (on Zoom it doesn't matter how far away they live.)
Do something nice for a friend or family member.
Don't wait! Slow Down and Enjoy Life Now!
It may sound cliché but really, it's important. Stop and smell the roses. Slow down and enjoy life. Learn how to slow down and notice the beauty in the everyday.
There are lots of slow living quotes that can inspire you to slow down in all the different parts of your life. Keep them handy to remind yourself when life gets too busy!
Don't put it off. Simplify your life, declutter your home, drop the stuff that you don't need or want to do. Find fun summer activities for adults or a creative hobby you enjoy and start spending your life enjoying what matters most!
When you simplify and learn how to slow down you will not look back with regret but with many many happy memories.
What do you like to do when you slow down? What are the moments that you enjoy most in life? Please share in the comments below!
Are You Ready to Simplify Your Life with Minimalism?
There is really no reason not to start enjoying simple living! Now is the time to try the minimalist lifestyle! It is good for your mental health and relationships, it can transform your finances, and help you have more energy and time for the things that matter! But what if simplifying your life sounds like an overwhelming task?
If you want to simplify your life but the big bad word MINIMALISM scares you let me help! I wrote Doable Simplicity (Minimalism For Normal People) to help you get the inspiration you need to simplify your life and then take solid steps that make simple living doable for you!