Is This Change in Circumstances Really A New Adventure?
The world we live in is crazy right now.
I wanted to let my readers know that we are in the middle of a change in circumstances right now. I am writing this personal post because it does have a bearing on the blog and my message of simplicity.
As you may know, we have lived in our little 300 square foot studio apartment for almost 10 years and we love it.
Because of a Change of Circumstances, We Must Say Goodbye to Our Little Home
When I started this blog in February we had no plans to move out of my tiny studio apartment. Over the almost 10 years we have lived here we have truly made it home. We have trained ourselves to keep life simple and our possessions limited.
My husband and I have truly loved our little bitty home and we love our landlords too. They have taken such good care of us that we felt as if we had another father looking after us. He was always ready to help us to feel more comfortable. That is really something special to say about a landlord. This little apartment and the lovely people who have allowed us to live in it have meant the world to us.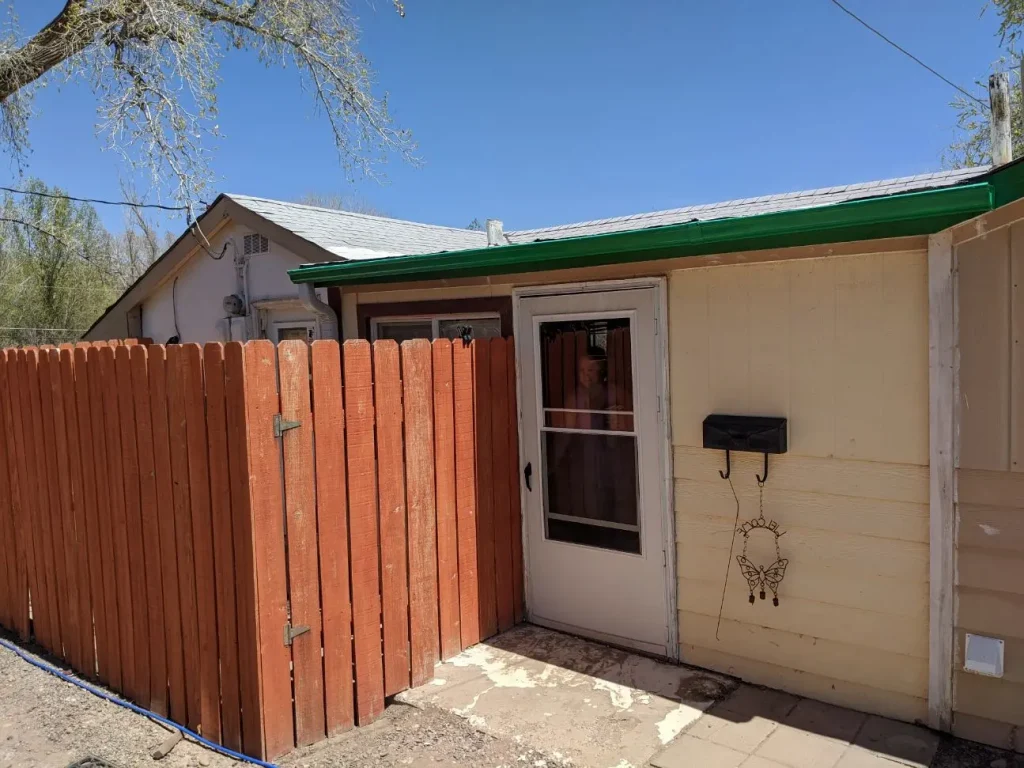 Adjusting to a Change in Circumstances
But as you know the world has changed very fast in the last couple of months. We are living in a world that is much harder than it was in February. I'm sure that there are many of you who are facing a change in circumstances.
Both my father and I are self-employed small business owners who have been completely crippled by the Pandemic and connected lockdowns. My husband, however, is an essential worker as an IT guy at a bank. That being said, my parents have a large home and we have a tiny one. It just made sense for us to pool our resources and move in with them.
I am leaving my tiny little home and I can't emphasize the word home enough. This little place has given us so many memories from the very first day we came home as newlyweds. We built a little life and a comfy routine. We have had so many friends come for dinner and games. It is truly sad to let it go and I am crying as I write this post.
But, to pull myself out of it, I must remember that family and experiences come first. And it's good to remember that a change of circumstances isn't necessarily a bad thing. It's just a change. And things are just things, and a home is just a house where your heart resides until it must move forward.
Our New Place Is Bigger
So what's the deal with our new home? We are moving from a small studio apartment to a lovely big home. Does that mean I am finished with small living and minimalism?
By no means! It is true that we will enjoy the amenities of a larger home. We will enjoy a beautiful backyard, a nice big bathroom, and a dishwasher! My parents have lovingly given us the master suite with a luxurious bathroom and a large closet. I am not going to lie, we are excited about those things.

But Our Change in Circumstances Have Us Simplifying More
We will, however, be in another studio apartment of sorts. Pretty much all our personal possessions are in the master suite. That master suite needs to include our office where we do all our zoom meetings and blog work and more. It also needs to include a love seat and TV so that we can enjoy time to ourselves.
Because of the new space constraints and needs, we have had to get rid of many things we do not need during this change in circumstances. That includes our couch, some cabinets, and lots of other smaller things like almost all my kitchen wares and other things that were just hidden in my tiny apartment. We have also accepted some of my parent's furniture in our new space so that is another reason we had to let go of some of our own.
I have learned even more about simplicity and minimizing in this move. I cannot believe how many things you can accumulate that you didn't know you were keeping, even in a tiny home that you edit regularly. I'm just glad it wasn't even worse because I do go through things often.
Decluttering and Making Extra Dough!
As I mentioned I have let go of some furniture and kitchen things that I do use but will not be needed in our new home. The problem with minimizing in the middle of lockdown was that none of the thrift stores were open.
What was the solution? Selling stuff on Facebook Marketplace! Using Facebook Marketplace has allowed me to put things outside and have them replaced with money in the mailbox by my door. It's great! I don't have to haul anything and I can social distance while making money! I have actually made more money on Facebook Marketplace this week than I did in an average week of house cleaning so I definitely recommend it. What better time than this to declutter your home and make a little extra dough?
Happy to Be a Minimalist During this Change in Circumstances
All of this has just driven home to me even more how valuable a minimalist lifestyle really is. When we face a change in circumstances it can be hard. For me, this was because of sentimentality and not because of clutter.
It makes me very thankful for the simplicity of our life. We were able to feel more secure and flexible during these changing times. Even as I've gotten rid of more, I've felt more and more freedom and the possibility for my new life and the ways I want to achieve my goals. We are looking at a new adventure and we are opening up even more possibilities for the future!
So you can call me a sell-out if you want but I think it's just the opposite. I am going to the next level with the minimalist lifestyle and I am actually very excited about what I will learn from these changing circumstances!
I am looking at it as a new adventure! Where will this happy simple life take us next?
Do You Want to Become a Minimalist?
There is really no reason not to start enjoying simple living! Now is the time to try the minimalist lifestyle! Learn why minimalism is good for your mental health and relationships, how it can transform your finances, so you can start having more energy and time for the things that matter!
But what if simplifying your life sounds like an overwhelming task?
If you want to simplify your life but the big bad word MINIMALISM scares you let me help! I wrote Doable Simplicity (Minimalism For Normal People) to help you get the inspiration you need to simplify your life and then take solid steps that make simple living doable for you!