How to Declutter Your Bathroom -7 Great Tips To Transform It!
This may sound funny but when we lived in our small studio apartment (for almost 10 years) we had to sit kind of sideways on the toilet because the bathroom was so narrow.
There was one cabinet over the toilet and one under the sink as well as a vanity cabinet. Obviously, we weren't swimming in storage space or any space for that matter.
Needless to say, we had to organize bathroom spaces carefully and declutter often. Let me share what I learned about how to declutter your bathroom and make it beautiful!
Why Should I Declutter Bathroom Spaces?
You may not realize it, but the bathroom is one of the most important rooms you can declutter and organize! Why is that?
Because the bathroom is where you get ready to face the world! And most of the time you are getting ready on a time crunch. The last thing you need is to be running late for work when you can't find your deodorant!
It's important to know how to declutter your bathroom and make it beautiful because your experience getting ready can set the tone for the whole day. If it's frustrating to get ready in the morning you will be frustrated for at least a while after that. On the other hand, if you have an organized bathroom you will have a lovely time getting ready for the day!
So let's find out how to declutter your bathroom by categories and find storage solutions that work!
This post contains affiliate links. That means that if you click on those links and buy a product through them I will get a small commission at no extra cost to you! As an Amazon Associate, I earn from qualifying purchases.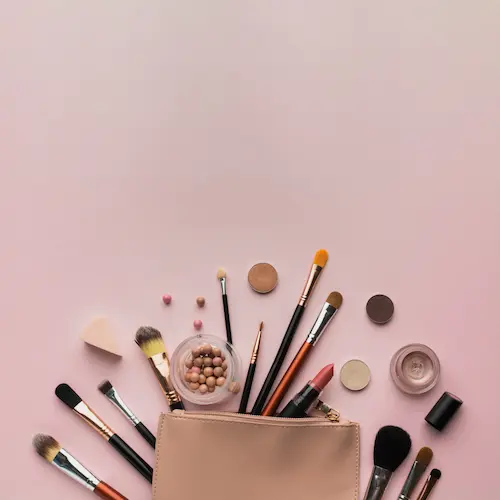 How to Declutter Your Bathroom and All Your Makeup!
Most women do their makeup standing at their bathroom mirror. That means they keep their makeup somewhere in the bathroom. A lot of times that means that they keep their makeup all over the bathroom. That just slows you down and makes a mess.
Instead, to organize makeup in the bathroom, try using the top drawer of your vanity for makeup. If you don't have a lot of makeup or you don't have a drawer you can use a pencil case! I love to use a pencil case because it keeps all my makeup together and makes it easy to grab if I need to go somewhere.
You can also keep your extra contact lenses, travel toiletries, or your retainer in pencil boxes!
Nail polish, files, and clippers can be kept in a makeup bag in a drawer or you can put it under the bathroom sink. Don't keep old dried-up nail polish and don't compulsively buy nail polish you won't actually wear.
How to Declutter Your Bathroom and All Your Jewelry
Jewelry is often kept in the closet or the bedroom but it usually ends up in the bathroom. That is because that is where you get ready! How can you keep earrings and necklaces from covering the countertops?
I make jewelry and I have a lot of jewelry. The best solution for storing earrings I have ever found is the mesh Rolodex spinning desk sorter. It holds all my earrings, rings, and pins in an easy-to-see way! The best part is that it's super easy to put my earrings away so I always put them away and never lay them around in the bathroom.
Another thing you can do with your jewelry, especially if you live in a small space, is to hang your necklaces on a towel bar you aren't using. That keeps them from getting tangled and makes them easy to see and a snap to put away.
If you have an organized bathroom closet or cabinet you can keep your jewelry out of sight in there. If not you can put your Rolodex sorter on a shelf! You could even spray paint it your favorite color so it matches your bathroom.
Toilettries Cover Every Surface!
One thing I have noticed in my years of cleaning houses is that people have way more shampoo and lotion than they will ever use! I can't tell you how many times I have moved the same almost empty bottle of shampoo around week after week while I see the new shampoo being used instead.
Don't do that! Use your shampoo till you are ready to throw it away and bring in the new bottle! Look through your bathroom and get rid of any almost empty or unused and unliked products.
Ever since I have started the curly girl method I use a lot more hair products than I ever did before but I still don't buy new stuff till I've used the old stuff. It can be tempting to change up your lineup but pretty soon you will be drowning in bottles.
Get rid of everything that you don't like and don't use! You will be amazed how much space it frees up in your bathroom! Instead of having stuff all over the counters and busting out of the cabinets you will have organized bathroom closets and cabinets.
Once you have decluttered your toiletries try to put them away in cabinets or drawers that are easy to reach quickly. That way they can be handy without being all over the counter. One of the best ways to organize bathroom cabinets is to use various sizes of plastic baskets. They keep things easy to access and prevent them from leaking all over your bathroom cabinet shelves or drawers.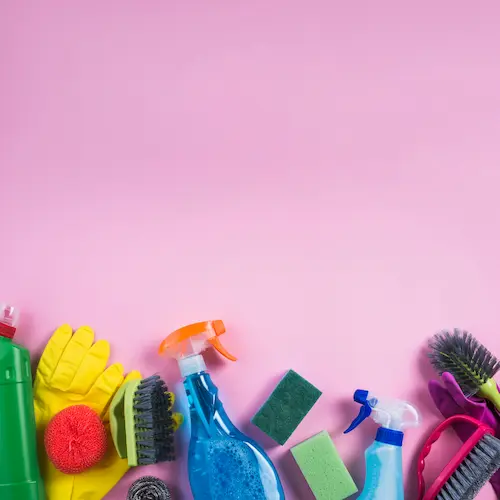 Organize Under the Bathroom Sink
Now it's time to organize under the bathroom sink. Is the space under your sink overflowing with half-used toiletries and tons of cleaning products?
Well you already got rid of all those lotions and shampoos you don't use but what about the cleaning products?
I am always surprised at the chemical labs that people store under their sinks. But there is one thing in common with every cleaning product you have. All of them promise to do the work for you.
I am here to tell you, as the cleaning lady, the only ingredient that really works is elbow grease. Some simple products like bleach will whiten things and paste will help you scrub, but in the end, no cleaning product will do the work for you. Keep it simple!
For most cleaning tasks I use one bottle of dish soap, hydrogen peroxide, and water, one bottle of vinegar for windows and mirrors, one toilet bowl cleaner, and scrubbies. All you really need is a multi-surface cleaner and a window and mirror cleaner. Let go of the rest and reclaim the space under your sink!
PS: Please stop using Windex with ammonia and shower cleaner with bleach at the same time! It could kill you!
More Tips on How to Organize Your Bathroom Cabinet and Have a Organized Bathroom Closet:
There are just tons of different little things we store in the bathroom and they all add up but if you want to have an organized bathroom closet or you don't know how to organize your bathroom cabinets there are just a few simple solutions that might work for most of it!
Feminine hygiene products can take up a lot of room and be kind of embarrassing. Instead of dealing with the boxes taking up a bunch of room, you can put all that in a makeup bag that is easy to grab and very discreet! If you want to take up even less space and use less paper try a menstrual cup!
What about all those teeny tiny bottles of essential oils and travel toiletries. A great way to keep in your organized bathroom closet is to grab some of these cute little plastic baskets so they are easy to see and easy to put away and don't leak in the drawer.
Another thing we normally keep in the bathroom might be our medicines and first aid supplies. The last thing you want is to feel lousy and have a hard time finding what you need. That's why it's important to find good ways to organize medicine cabinet supplies in your bathroom. Again I recommend small baskets. You may want to have two or three of these baskets for the different categories like vitamins, medicines, and bandages.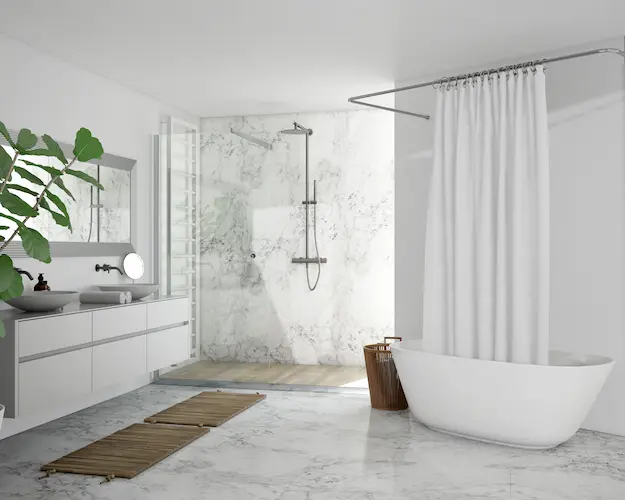 Declutter and Organize Your Bathroom: Say Goodbye to Old Towels!
Last but certainly not least, if you want an organized bathroom closet you are going to have to let go of some old towels!
How many old towels do you have in your bathroom? I bet you have way more towels than you need.
Honestly appraise how often you change towels and washcloths vs. how often you wash them and go ahead and keep that many towels and get rid of the rest! You will free up a lot of space and have a more organized bathroom closet when you do.
Now You Know How to Declutter Your Bathroom and Make it Beautiful!
How does it feel to know exactly where all your makeup and jewelry are? Is it easier to clean up when you only have the products you actually use taking up space in your cabinet? Aren't you glad you stopped poisoning yourself with a million cleaning products?
When you know how to declutter your bathroom, and you have an organized bathroom closet and cabinets, getting ready in the morning can change from a rushed and stressful time to a moment of self-care and peaceful preparation for the day!
I love to ask my Alexa to play my favorite Pandora station while I enjoy my morning ritual.
For a complete list of my recommended resources and products check out my resource page!
Why Stop At the Bathroom?
Wouldn't it be nice if your whole house helped you to be productive and relaxed at the same time?
That is the beauty of living in decluttered spaces! If you want to reduce stress and enjoy your home more grab my Fearless Decluttering E-book and learn how to declutter your home without feeling overwhelmed!