A Place for Everything – 3 Steps to Give Your Stuff GREAT Homes!
I've been cleaning houses for over 16 years now. I love my job because I get to help people spend more time with their families. Over the years I am convinced that I have worked for some of the most beautiful and kind families ever! It's amazing how much they have come to mean to me.
I also love my job because I get to listen to music and books, I don't have annoying coworkers, and I am my own boss.
All of that being said, I also have developed a semi-contentious relationship with clutter because when you don't organize with a place for everything, and I mean everything, your stuff will find its own home.
Stuff Stays Where You Put It
Let me explain the nature of your stuff. As a cleaning lady, I am uniquely qualified to tell you what your stuff does when you aren't looking. I know how it spends its days and weeks and years. And it's actually kind of surprising.
About two months ago I picked up a couple of kids' books at the bottom of a staircase and took them to the ledge at the top of that staircase. I didn't know which of the kid's rooms they belonged in so I just brought them upstairs. The next week those books were still where I put them. In fact, they were there for a full month and a half. The house is pretty neat in general. I'm not citing negligence. But those books found a home and they settled in and loved it.
What's the point of my little story? Why did I tell on my sweet family? Because they are in no way unique. Every family I've ever cleaned for has a similar story. And therein lies the lesson.
Stuff stays where you put it. Your stuff does not grow legs and go to where it belongs and it does not go rogue and show up where you don't want it. Stuff stays where you put it. It's very good about it.
If you don't give your stuff a home it will stay exactly where you put it. Soon your stuff will invite its friends and you will have lots of semi-organized piles in your home. Stuff doesn't care if your house looks good. It could care less that your mother-in-law is about to drop by. It just sits there making your house a mess.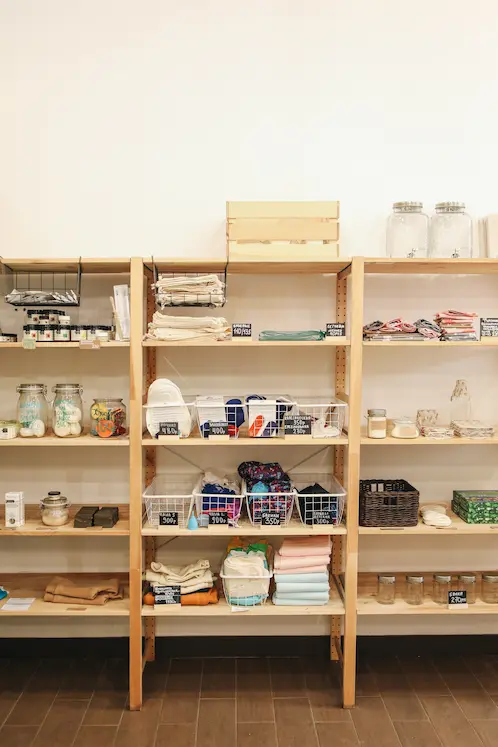 When You Have a Place For Everything It Stays There
The good news about this simple truth is that stuff stays where you put it so if you put it where it belongs it will stay there too. And that's why all the top organizers say that everything in your house must have a home.
It might sound overwhelming and complicated to have a place for everything but it really isn't.
Think about what you call home. It's a place that you go to where you can rest. You go out into the world and do all the things but then you go back home to recharge.
Your requirements for a home are that it is in a convenient location for work and other activities, it is a suitable size for you and your family, and it is decent looking.
We are going to follow those same basic guidelines as we create a home for your stuff.
But first, is it possible that some of the stuff you have right now doesn't deserve a home anymore?
Before You Find a Home For Everything You Need to Declutter
One of my favorite quotes about clutter is by the Japanese minimalist Fumio Sasaki. He said:
"Your things are like roommates, except you pay their rent."
I think that is a super powerful statement. I mean think about it. Nobody likes freeloaders. But we let a bunch of them crash at our house all the time. In fact, we buy bigger homes because we have to store all that stuff.
So if you have stuff that you don't use, need, or love, it's time to get rid of it! Evict those lousy roommates that are stealing your room! They don't need a home in your house. They need to go out and find a home somewhere else. In fact, maybe the right person will find them and use them and they will have a job again.
Keeping stuff you don't use, need, or love will weigh you down and take up space. You need to get rid of this stuff because buying tons of storage containers and organizational solutions is never the answer. Too much stuff will always be too much stuff. Once you have decluttered it will be easy to find a home for everything!
Have a Place For Everything That Is Convenient
Remember what you want in a home? You want it to be conveniently located so that you don't have to travel too far for work, shopping, school, and so on, right? Well, you're stuff also wants a home like that.
It can be tempting to store things in categories or even in the places where you should use them but that doesn't always work. For example, your coats should hypothetically go in your coat closet and your shoes should make it all the way to your real closet but if that's not happening in your house maybe it's time to get a nice shoe bench or an over-the-door coat rack.
It's important to be realistic about how and where you use your stuff if you want to find a perfect home for it.
First, identify the natural home that your items are finding for themselves. Then create a home that is near that. That way your stuff gets to live near where it works but it also isn't lying out all the time.
Everything Needs a Home That's EASY and Roomy
Now imagine you lived in a house where you had to squeeze through the front door to get inside. Then you had to go and sit in the one chair you were allowed to sit in and you couldn't go anywhere else in your home because every other spot was packed with junk. How would you feel about that situation? You probably wouldn't like it and you would probably start to avoid going home.
Well, your stuff is like that too. If you make your organizing solution too difficult or specific you won't use it. Your stuff will hang out in limbo waiting for when you have time to put it away in the special, proper, overly complicated way you have devised to store it.
To give your stuff a home that is easy to use you need to avoid being overly specific. Unless you are a person who just loves the rainbow you don't need to sort your closet by color. If you are the type of person who cooks in a hurry on a regular basis you don't need a separate specific slot for every single cooking utensil.
This might sound crazy but every home is a little bit messy. Just throw that wooden spoon in a porcelain container with the spatulas. Pick a box for your undies and throw them in unfolded! It's okay. They have a home. They can have a little wiggle room and so can you!

Another thing you need to avoid to keep your homes for stuff nice is to avoid overcrowding inside your organizing solutions. Back before minimalism, I used to cram my drawers with clothes. It's a wonder my dresser didn't explode. And as a result, I never wanted to put my laundry away! When your storage solutions start getting full it's time to get more storage solutions. WRONG! It's time to declutter!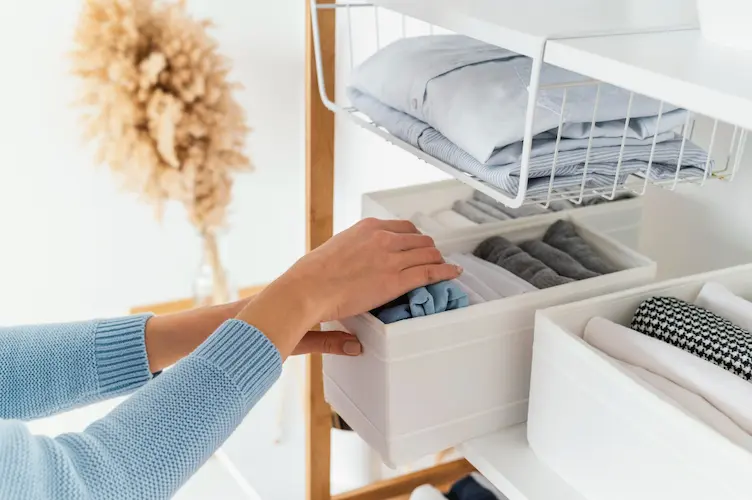 A Place for Everything That Looks Nice
Last but not least you want your own home to look nice. It should be the same when you choose a home for each item. You want your storage solutions to look nice as they provide a home for everything in them. So how can you have a place for everything that actually looks good?
First of all, if you have really decluttered everything you don't need, use, and love, you should be able to fit most of your stuff into all the standard organizing solutions you might already have like the kitchen cabinets, a dresser, closet shelves, bathroom cabinets, linen closets, and so forth.
Within these solutions, you can use nice plastic baskets or shallow bins to keep order. For anything that doesn't go inside of a cabinet, a drawer, or a closet look for nice organizing solutions that are a little bit decorative like a storage ottoman, a rolling cart, a desk organizer, or a pretty basket. That way you can keep your things in their pretty homes instead of creating piles around the house.
For a list of my favorite resources and organizational tools check out my resource page!
Everything Goes Home Regularly
How often do you go home? Every single day? You mean you don't just stop and lie on your desk at the end of the work day? You don't get tired of driving and just pull over for the night since you will have to return tomorrow anyway? Of course not! Every day you take the extra effort to return home, rest and reset.
It should be the same with your stuff. Once you have a place for everything you will still need to get in the habit of putting your stuff away.
There are a lot of excuses we make to keep stuff out. We are going to use it later. It doesn't look that bad. I'm too busy to put it away right now.
But none of those excuses matter. Your house will always look better and operate smoother if stuff is put back in its home when you are done using it.
If you get in the habit of putting things away as you go it usually takes mere seconds. Have a "touch it once" rule. Instead of doing something halfway now finish it so you don't have to deal with it again later.
If you get a little bit behind a simple habit of resetting your home every morning or evening will set things back to rights in no time.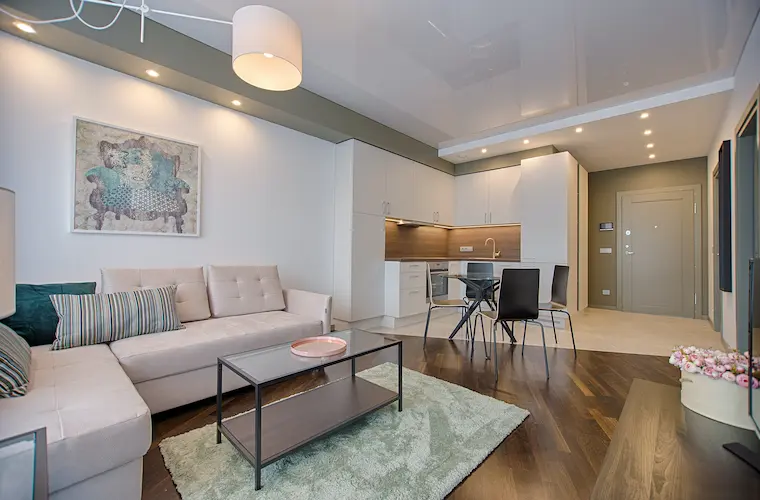 You Will Love Having A Place for Everything
Now that you know why you need to make a place for everything and how to give your stuff a home that works for it, all that's left is to see it in action!
Take your time and find the right solutions for each space in your home. If something doesn't work try something else. Always test new storage solutions out right away so you can return them if they don't work.
You may also want to take these steps on your phone and computer! A digital declutter can really help you be more productive!
Eventually, every part of your home will be organized and there will be a place for everything.
When that happens you will find that your home becomes a much calmer place. You will no longer be late for work because you can't find your keys. The kids won't have to dig around to find their favorite toy. Even your husband will know where to put stuff when he is done with it!
I know it sounds too good to be true but it's not. My home has a place for everything and it really works! Once in a while I get lazy and don't put things away but it's easy to tidy up.
I'm one of those annoying people whose home always looks tidy. But let me tell you a secret. You can be too, if you give your stuff a home!
Don't Have a Place for Everything?
As I mentioned before, the first step to finding a place for everything is to give your stuff a home. But sometimes that home isn't in your home and you need to declutter. In fact, there's a chance you need to declutter A LOT! And you are not alone!
If you are totally overwhelmed by the decluttering project (tornado) that you are picturing in your head let me help! It doesn't have to be that scary.
I developed a unique 3 phase process to help you declutter your home in a way that will not force your hand or destroy your house.
With the Fearless Decluttering program, you will take decluttering step by step in a way that helps you really sort through what you want and don't want.
You will build your decluttering muscles, let go of stuff you have taken back from your last 3 yard sales, and find all your favorite things hidden among the junk!
You will learn how to keep clutter from ever returning! And you will do it at your own pace, whether that takes a month or a year!