Minimalist Winter Capsule Staples! 22 Beautiful Must-Haves
Are you wondering how to build a minimalist winter capsule? Are you guessing at what items would be versatile and cute enough to become your winter capsule staples?
You have come to the right place! Let me tell you about some awesome winter capsule staples that are versatile but not boring! You will be able to combine these pieces into countless adorable outfits for any occasion.
Stick around and grab your free minimalist closet cleanout guide!
What are Minimalist Winter Capsule Staples Like?
Winter is all about being warm and cozy. Winter capsule staples should be classy and timeless while being luxurious and soft!
Choosing just 3 or 4 colors you want to work with makes it easier to keep your clothing items versatile.
This year, I am in love with Old Navy's classy comfortable clothing and I found a few great pieces from Amazon too! Let's get started on your awesome winter capsule wardrobe!
This post contains affiliate links which means I get a small commission from purchases made after you click them. This doesn't cost you any extra but helps me to continue making great content for Doable Simplicity! Thanks for reading!
Your Winter Capsule List:
IF YOU WANT TO CHECK OUT MY TIPS FOR THE WINTER OF 2021/2022 CHECK OUT THIS ARTICLE:
Build a Better Winter Capsule Wardrobe With Ethical and Sustainable Fashion!
Darling Tops for Your Minimalist Winter Capsule
You want to look nice for your Zoom events don't you? That is why you need some nice tops for the winter season. You need to have something for every possible occasion so start with a great tunic tee and a striped long sleeve shirt. Then bring it up a level with a classic black turtleneck, a floral wrap blouse, and a really stunning shirred velvet top!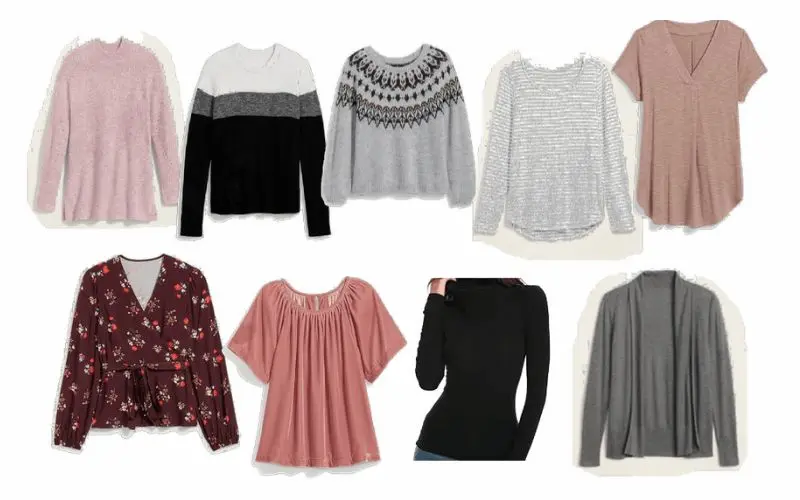 Cozy Sweaters for a Minimalist Winter Wardrobe
I think we all like to feel cozy and warm in the winter. A cozy sweater can be a classy investment that you will love for a long time. I love to wear a nice crew neck sweater with a black skirt or a long tunic sweater with some black leggings. A fair isle sweater is a classic and a open shawl collar sweater is my go to for any outfit! Last but not least you might want to add a ballerina wrap sweater to your leggings or pencil skirt for a lovely slender look that never goes out of style!
Versatile Bottoms for Any Minimalist Outfit
Keeping your pants and skirts basic in the winter makes it easy to mix and match with all your adorable tops and sweaters! Use classics like black leggings and a pencil skirt with any top you have. Grab some skinny jeans and some brown corduroy leggings that will tuck into your boots easily. That's all you need for a classy, comfy, and simple winter wardrobe!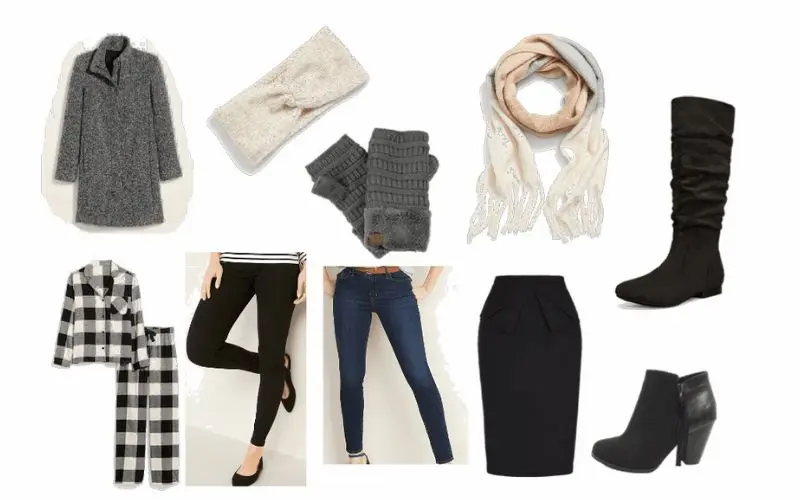 Everyone Loves Boots!
Minimalists who love shoes have a challenge when it comes to boots! There are just so cute! I have found that some black high heeled booties serve well for all my nicer occasions and these low-heeled knee-high boots are super comfortable! I have a pair just like them!
Don't Forget to Stay Warm With Some Outerwear Staples!
You need to stay warm when you do get to go out this winter! Coats can add up when you try to have one for every occasion! If you are trying to keep things simple for your minimalist winter capsule I have found that a nice dress coat and a black or solid color puffer coat is all you need! I am in love with the textured funnel neck coat that Old Navy is offering this year!
You will also need some nice warm fingerless gloves, a scarf, and a ear warmer to stay cute and warm outside!
Stay Well, Warm, and Cute This Winter!
Let's be honest, you'll probably be in these great flannel jammies most of the winter! But it is nice to dream of going somewhere! Spiffy up for your own sake and enjoy a warm and stylish winter! Stay warm and cute and most of all stay healthy!
Enjoy Your Winter Capsule Wardrobe!
There you have it! A beautiful cozy capsule wardrobe for winter build with awesome timeless pieces that are fun too! I legit have the exact things or very similar items in my closet and I love them!
It may seem like too few options but trust me, of of the best parts of the minimalist lifestyle is learning how to rock a capsule wardrobe!
Have you simplified your wardrobe and created season capsule wardrobes? Do you want to? Or do you not want to? Why? Please share in the comments below!
Do you need help decluttering your closet?
If your closet is a disaster zone Closet Simplicity can help! Hone in on your personal style, learn cheap or free organizational hacks, and stop keeping clothes you don't wear! Find out more about Closet Simplicity here.