8+ Easy Planner Tips That Will Simplify Life and Your Busy Schedule!
I was driving along one day when I saw a billboard for a dentist. As I drove I thought to myself: "I should go get my teeth cleaned, it's been a while." and that's when it dawned on me that I had completely forgotten my teeth cleaning the week before! I was mortified and embarrassed so I put off making a new appointment for about 6 months.
Why did I forget my appointment? Because I couldn't keep track of my changing schedule and I was forgetting lots of important things.
Soon after I saw one of my best friends using a paper planner and I started using one too. At first, I didn't know how to use a paper planner to my advantage but now I've got it down and I want to share some planner tips that will simplify life and your busy schedule!
How can you use a planner to simplify your life? Why does having a paper planner still make sense in the age of smartphones? What do you plan?
Let me tell you all the reasons using paper planners has changed my life and how it can simplify your life! I promise these are planner tips that will simplify life so you can enjoy it more!
Planner Tips That Will Simplify Life MORE Than Your Phone!
I started using a planner when I was running a business in which I made a lot of appointments that could change at the last minute. It was becoming frustrating to plan using just my phone. My phone was chiming for appointments that had been canceled and I was forgetting to add new appointments.
Without seeing the week as a whole and being able to move things quickly I just wasn't keeping up with my schedule.
A paper planner changed all that. Suddenly I could jot down everything that I planned for the week and change it easily. I could see everything I needed to do and take note of anything I wanted to do. I could see what blocks of time I had available and what blocks of time were set.
The more I planned, the more it simplified life. Let's talk about all the things that you can plan! These are planner tips that will simplify your life! In fact I guarantee they will change your life and help you consolidate your busy schedule so you can stop running around like a chicken with it's head cut off.
This post contains affiliate links which means I get a small commission from purchases made after you click them. This doesn't cost you any extra but helps me to continue making great content for Doable Simplicity! Thanks for reading!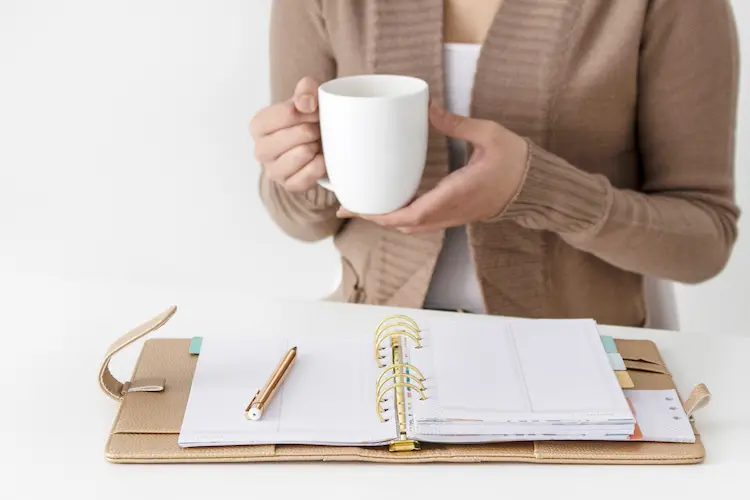 Use a planner tips that will simplify life -What to plan.
Daily chores
Work
Budget
Income
Daily Goals & Habits
Groceries
Cleaning schedule
Menus
Exercise
Diet Progress
Spiritual Habits
Fun Things
Appointments
Anniversaries, etc.
Trips
and so much more…
Plan EVERYTHING in Your Daily Schedule:
What can you put in your planner? One of the best planner tips I can give you is to plan everything. Even the things that are perfunctory. Of course, you are going to work today. Write it down. Of course, you are doing the laundry. Don't leave it out.
I have found that writing down the things I need to accomplish in a day motivates me to get them done completely so that I can check them off!
No unfolded laundry lies around because I can't check it off in my planner if I don't finish it.
I can create sub-tasks for my workday so that I actually accomplish something instead of staring at the computer screen. I make the dinner I wrote down in my planner instead of grabbing unhealthy take-out.
A lot of things get done because they were planned in the first place.
Planner tips for meals, money, and more:
As you learn how to use a planner you will find the many ways a planner can help you schedule and keep track of things like your bills, meal plans, and more. Here are some planner tips you can use to help you simplify life and your busy schedule.
Create a master list of meals you can make so that it is easy to make your weekly menu and grocery list.
Write down your pay on the day you are payed. I clean houses so this helps me keep track of what I make each month.
Write down how much you spend on groceries each time you go to the store.
Put a star on "no-spend days". Try for 10 "no-spend days" each month.
Draw a heart on days you exercise to stay motivated.
Writing down all of these things in my planner has really helped me keep my schedule on track. These planner tips have also helped me to save money, exercise regularly, develope good habits.
Plan your goals:
What about all the thing you wish you had time for? Do you have habits and goals you want to achieve? Would you like to learn how to use a planner to achieve your goals?
My planner has been helping me achieve my goals for years now! It has helped me develope healthy habits, save money, and learn new skills. This is how I use my planner to schedule my goals into my life.
My planner has been the key to my daily spiritual development habits. I write a little something I learned from what I read each day and I don't want to miss a day cause it would look funny in my planner.
I also use my planner to keep track of any exercise I do. Every day I exercise I get a sticker! Sometimes I exercise even though I don't want to just so I can get my sticker for the day. (Yes I am a five-year-old) Mostly though, planning my exercise has helped me to make it a habit I enjoy.
In the last year I had new goals of playing my violin every day and learning Spanish and Hindi on Duolingo every day and I was able to get both of those things into my daily schedule by writing them into my planner so that I remember and stay motivated! I am happy to say I'm not "wishing" I would learn those things anymore. I'm actually learning them!
You can also write monthly goals on your Monthly Calendar page. You can write down big-picture goals in the back of your planner and chart your progress each month. These are planner tips that will simplify life enough to do more of what will take your towards your goals!
Plan to remember:
Another one of the planner tips I love to recommend is to make your planner fun. Your planner can be a place to keep memories.
For example, last night we watched the 2020 Little Women. I remembered I had gone to the theater to watch it and then driven home on icy roads. I also remembered it inspired to take my writing to this blog. When I looked back at my old planner and found out that was January 1st. I officially launched my blog on February 2cnd during the Superbowl.
Your planner is a good place to write down things that you need to, or want to, remember.
Plan what you need to remember:
Every time I get a new planner I write down all the anniversaries and special events I want to remember. I make note of the day my dog needs his heart-worm medicine and when I should do my sales tax.
If you write all this down in your planner you will remember what you need to remember when you need to remember it and it will simplify your life and keep things running smoothly.
Plan what you want to remember:
I also like to make special note of all the fun things we do and who we did them with! That way if I am wondering when it was that we had those friends over to play Ticket to Ride I can look back and find it in my planner. If I am trying to remember what year we took that weekend trip to Carlsbad Caverns I will be able to find it quickly.
This has created a benefit I never expected from using a planner. Because I have been keeping a planner for the last five years I now have a simple, organized journal of all the important and beautiful moments in my life. Planning in this way helps me to stay motivated each day and also count my blessings.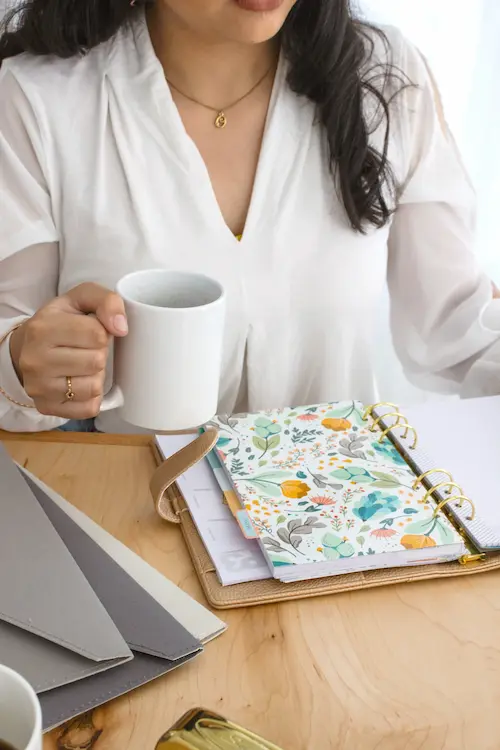 Planner Tips That Will Simplify Life and Help You Stay Motivated!
I have already talked about the small ways that using a planner keeps me motivated. Using a planner helps me exercise and fold my laundry. It helps me get things done because I have written them down. But it does more than that….
When you use these planner tips to simplify life you have more time and drive to accomplish your bigger personal goals.
Why do I say that? Because before the pandemic I had plenty to put in my planner. But when being stuck at home became my new norm I felt a little lost. But I kept my planner anyway. I wrote down every little thing I wanted to accomplish each day and then I did those things. My days became full been full and I have accomplished a lot.
Using my planner helped me finish small tasks and build a sense of self-worth and accomplishment that made me feel confident enough to work for some really big goals, like creating a new career in blogging!
I want you to build your self worth and your sense of accomplishment too! Get a planner and you will find your productivity and confidence growing every day!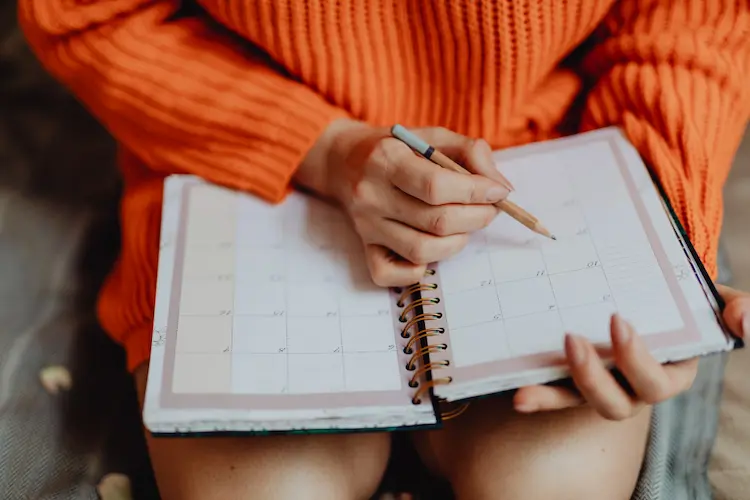 The most important of all planner tips that will simplify life: Choose the right planner for you!
I started planning with a really basic scholastic calendar planner. The planner that has served me well for the past 5 years is the Day Designer by Blue Sky and I still use it for my basic planner.
I really like it because it is small enough to take with me anywhere and it is also really well laid out with a two-page spread of each month and two page spreads for each week. If you are looking for a simple way to keep track of everything quickly the Day Designer by Blue Sky is what you need!
This summer, however, my best friend introduced me to Happy Planners! Happy Planners come in several styles with several different layouts but the fun thing about Happy Planners is they are very customizable and fun to play with!
They have tons of cute stickers and you can rearrange the pages however you like! You can even add custom pages for your grocery lists and budgets. Just be careful not to get sucked down the rabbit hole. Pick a pretty planner, a matching sticker book, some appointment sticky pads, and some nice pens, and then don't buy anymore!
My best friend bought me the Planners Gotta Plan 18 Month Vertical Spread and the Squad Life sticker book and I love it! It's pretty much the most adorable, fun, and practical gift I have ever gotten! I use it to plan everything for my blog!
My other good friend is also a huge fan of Goal Planners by cultivatewhatmatters.com! They might be just what you need if you are looking for inspiration and motivation to achieve your goals!
Use these planner tips that will simplify life and never look back!
You may have had a rough year in 2021. It was hard for all of us in one way or another. But now is the time to start fresh and hope for the best for the world and for your personal goals. Grab a planner and be more productive this year!
Use these planner tips to make your goals happen and create a happy simple life! Last but not least, don't forget to count your blessings!
Have you ever used a planner? What do you like or dislike about using a planner? Please share in the comments below!