Fall Wardrobe Essentials 2021 -You Can Look Amazing this Fall!
You know you love fall when you have your own fall playlist. You might love fall if you are already getting Pumpkin Spice Lattes and trying to wear your fall clothes when it's still 90 degrees out! Ok so I might be telling on myself a little bit but I LOVE fall so much!
And fall fashion for minimalists is so amazing that I can't wait to get out my casual fall wardrobe essentials every single year!
So how do you make a fall capsule wardrobe? What are some fall wardrobe essentials? Let me share my top fall fashion for minimalists! I picked these casual fall capsule wardrobe essentials from Walmart (yes, Walmart!) so that you can create a beautiful, affordable, and timeless capsule wardrobe that makes you feel fabulous this fall!
This post contains affiliate links which means that when you click on and purchase through those links I get a small commission at no extra cost to you!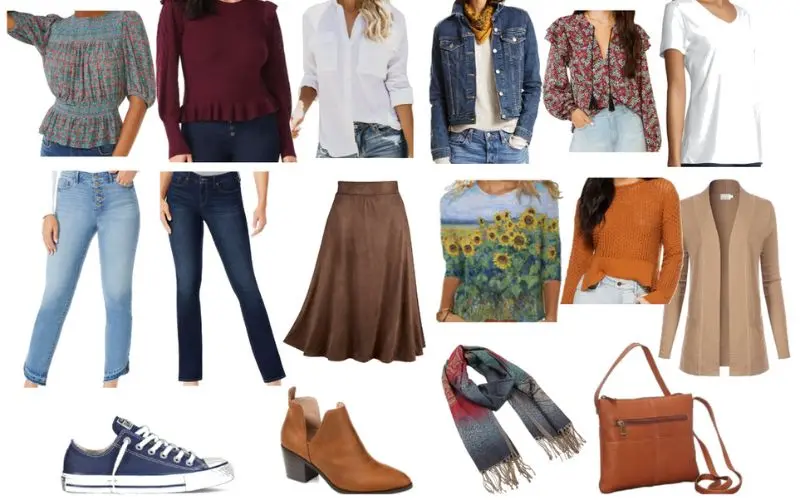 Start With Wardrobe Essentials That Blend Into Other Seasons
The thing about fall is it is always changing. It is the season of change. One day may feel a lot like summer while another day may feel a lot like winter.
That is why you need to start your fall capsule wardrobe with items that can be used in other parts of the year too. It's also a great time to do a seasonal closet organization and get rid of the things you never wore in the summer.
Your closet should definitely have a couple of good pairs of jeans in it. For me, the most essential pair of jeans you can own is a good dark wash boot cut. They work well with most shoes and can easily be dressed up or down.
After that, any minimalist fall capsule wardrobe starts with basic layers so you need a couple of white or grey tees. White is probably the most versatile but if you are nervous about keeping a white shirt looking nice (like I am) grey is definitely a good option too. The reason a simple tee like this v-neck Hanes t-shirt is so great is that it can layer really well with lots of different things. And fall is all about layering!
Now let's dress it up with another great essential that you can use all year round. What is it? A nice button-up white shirt! This one is breezy and casual while still looking classy and elevated. You can wear it loose, half-tucked, tucked in, or even tied to match whatever look you are going for!
There are two more essentials I think everyone should have that really go well with a fall capsule wardrobe. What are they? Your Levi jeans jacket which will serve you for years and a cute pair of chucks. These converse will elongate your legs because they match your jeans!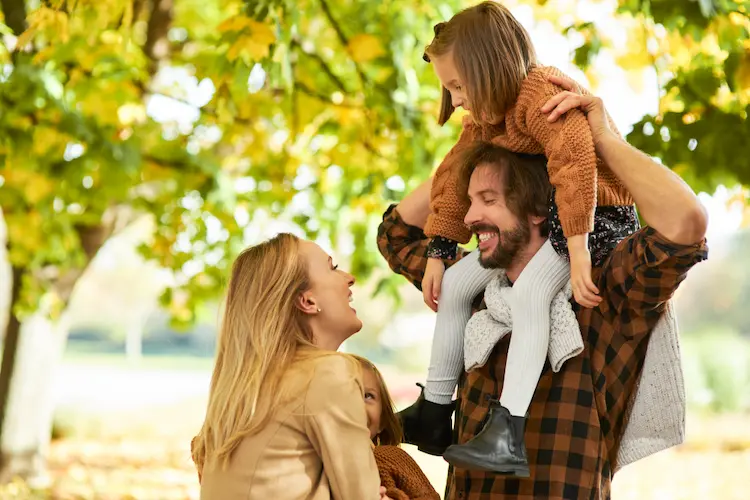 Add Some Fun To Your Fall Wardrobe Essentials
In the fall, I feel pretty casual. All I want to do is go to the river walk or the mountains in Colorado and take a walk under the falling leaves. That's why you need a pretty printed t-shirt with three-quarter length sleeves. I love this one with the sunflower print that reminds me of Van Gogh.
Because fall makes me feel casual and artsy pretty peasant blouses are also considered part of my fall wardrobe essentials list. They are lightweight and great to layer. A loose long sleeve peasant blouse can be very versatile and I can't resist and this peplum peasant blouse for a more form-fitted look.
But tops aren't the only things that can add fun to your fall capsule wardrobe! Try some cute straight-legged jeans with a little bit of personality that will pair adorably with some cute brown booties! I just love a good pair of booties in my fall capsule wardrobe.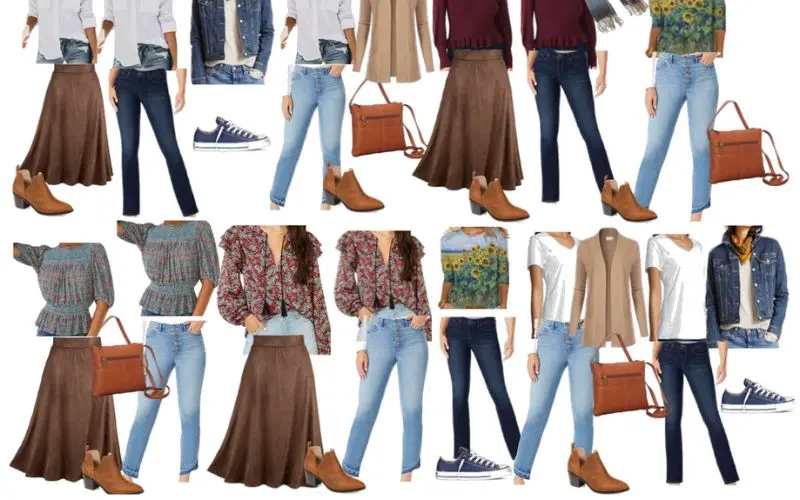 Get Cozy With Casual Fall Wardrobe Essentials That Warm You Up
I love to feel cozy in the fall when the crispness comes into the air. I usually don't pull out my fall capsule wardrobe until I feel that beautiful crip breeze. There is nothing like a nice walk through the pinon tree desert in my backyard or a lovely bonfire to make it feel like fall.
Make sure to include some cozy fall wardrobe essentials to keep you warm. Try a comfy open stitch hoodie sweater or a long cardigan! You will look adorable while warming up just enough. A nice pashmina scarf is also a flexible way to stay warm. Sometimes you need a coat, sometimes you only need a scarf, and sometimes you need both!
Dress Up Your Fall Wardrobe!
Fall is so beautiful! It makes you feel beautiful in your fall capsule wardrobe! If you need to dress up your look for fall what will you need? Are there any fall wardrobe essentials that are a little more dressed up?
The beautiful peasant blouses and the sassy brown booties I mentioned before will pair really well with this faux suede skirt!
If you want to look really classy there is nothing like a nice sweater. This pointelle puff-sleeved sweater is a beauty in burgundy! Pair it with that suede skirt, a pashmina scarf, or some nice jewelry, and your booties for a dressy fall look that can take you all sorts of places!
You could also wear that burgundy sweater with your dark wash jeans and booties for a really nice yet casual look. The key to a fall capsule wardrobe is having great items that can mix and match!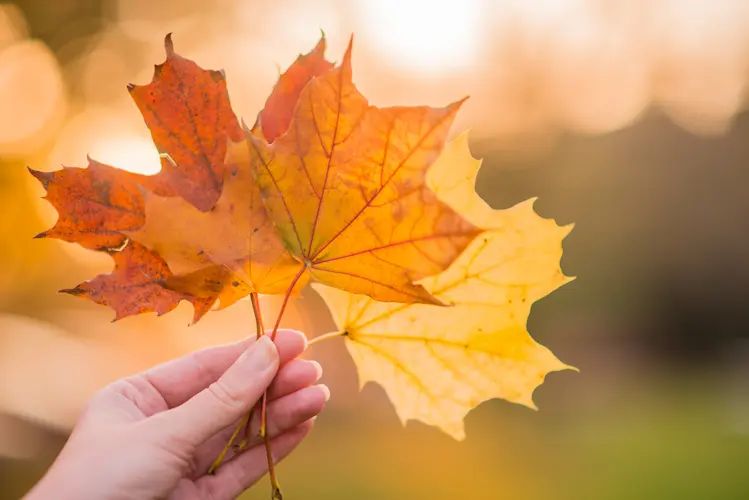 Fall Wardrobe Essentials Include Fun Accessories!
Fall is the time to enjoy the outdoors in all its glorious beauty! Grab a nice leather cross-body purse, add a little whimsical jewelry, and head out the door.
Take a nice walk under the trees, meet a friend for coffee, go on a hike, or have a bonfire. If you have some great fall wardrobe essentials and an adorable fall capsule wardrobe you will look awesome every day! Enjoy your fall!
What are your favorite fall activities? What kinds of things do you love to wear in the fall? Do you have a fall playlist? Share it all in the comments below!
Do you need help decluttering your closet?
If your closet is a disaster zone Closet Simplicity can help!
Hone in on your personal style, learn cheap or free organizational hacks, and stop keeping clothes you don't wear! Enjoy one of the best parts of the minimalist lifestyle, capsule wardrobes!