6 EASY Craft and Art Supplies Organization Tips For Small Spaces
Growing up I was very crafty! Because I was homeschooled I had extra time to learn how to sew, make jewelry, crochet, draw, paint, you name it.
Then I got married and moved into a 300 square foot studio apartment and I was learning a lot about keeping life simple to fit into it. I didn't feel that I could be crafty anymore because I had no room for it so I put creativity out of my life for a while.
But after about 6 months it felt like a part of me had died. I knew that I had to become creative again. So I had to figure out craft and art supplies organization for my small space!
Can You Organize Craft Supplies in a Small Space?
Art supplies organization is one of the trickiest types of organization in my book. So many tiny and random pieces!
So what is the key to organizing craft supplies in a small space?
How can you keep your craft supply stash under control?
Where will you make space to do your craft?
How will you organize your craft supplies in a way that keeps them out of the way but at the same time easily accessible?
We are going to discuss all of that in this article!
Overview:
Only buy what inspires you.
Buy one project at a time.
Find a dedicated work space.
Use the right organizational solutions.
Plan for easy clean-up.
Enjoy your craft!
This post contains affiliate links which means I get a small commission from purchases made after you click them. This doesn't cost you any extra but helps me to continue making great content for Doable Simplicity! Thanks for reading!
Craft and Art Supplies Organization Tip #1: Only Buy What Inspires You
I am very familiar with the crafting world and the thinking patterns of all you crafty ladies! I even own my own jewelry business on Etsy! So I know the temptation to buy pretty beads and fabric and scrapbook supplies as the whim arises.
As a minimalist living in a small space, I didn't have a craft room so craft room storage ideas didn't help. I didn't much room for craft storage at all. Fitting in a craft cabinet would have been a squeeze.
So learned that it is very important to not buy anything unless, at that very moment, you can envision the project you want to do with that item!
If you see something in the store and it sparks your imagination to the extent that you can see the finished product in your mind's eye, go for it!
But if you can't quite see what you will do with it, it's best to hold off. We don't want that kind of stuff piling up because it's not inspiring.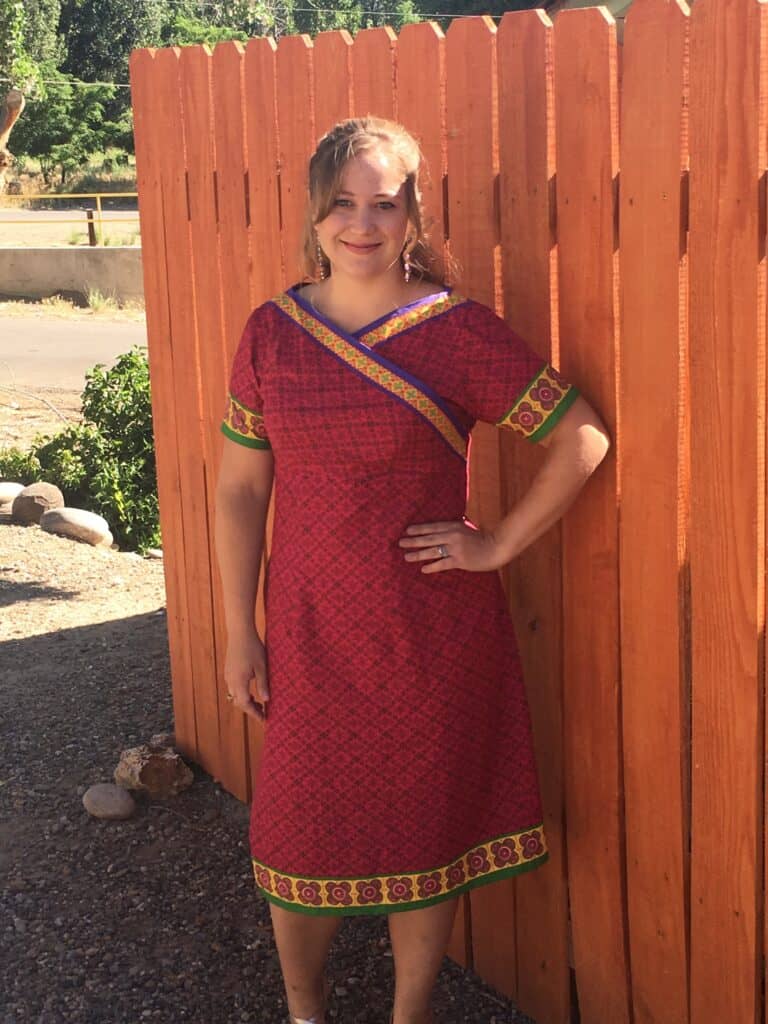 Art Supplies Organization Tip #2: Only Buy For One to Three Projects At a Time
Maybe you can always envision the perfect thing to do with things you see in the store. I'm impressed with your beautiful creative mind!
But likely you do not have time for your craft every single day. Probably your crafty hobby is a treat that you only find time for after work and all your other responsibilities. Since it is a treat, make it special and not overwhelming.
Only buy materials for one to three projects at a time. Do not buy tons of fabric or beads all at once because you don't know how long it will be before you can actually tackle those projects and by the time you get to those supplies you may have lost your inspiration.
I speak from personal experience with the fickle nature of the creative mind. There have been many times when I have lost the inspiration that drove me to buy materials and then they never get used.
When you only buy materials for the projects you are about to work on organizing craft supplies becomes a lot easier! It also saves you a lot of money…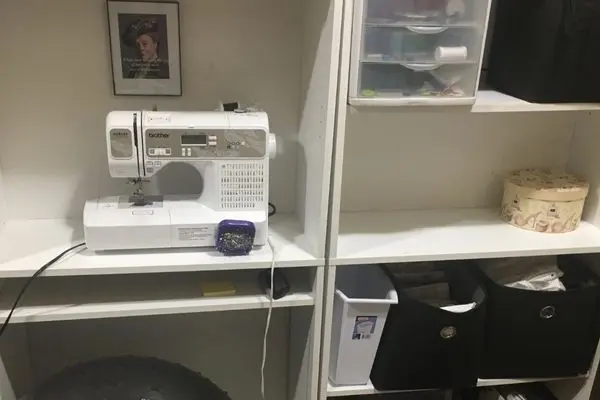 Art Supplies Organization is Easier When You Tip #3: Find a Dedicated Space
Now it is time to find a space in your home where you can store and organize your craft supplies. Unless you have a craft room, all the craft room ideas on Pinterest might not help much.
The first thing to think about when finding your space is how you like to do your craft. If you are like me, you may have a few different crafts you like to do. You may engage in these crafts in different manners.
For example, I like to make my jewelry while watching TV and not completely isolated from my family. Sewing, on the other hand, I really prefer to do in a private place where I can try things on easily.
Pick the spot for your art supplies organization and storage based on where you would like to do it.
Art Supplies Organization Tip #4: Creating Work Spaces You Didn't Know You Had
Sometimes you have space to make your workspace where you are storing your items and sometimes you do not.
I would encourage looking for creative ways to find a workspace in the place where you would like to engage in your craft. This is especially important if your craft is painting, sewing, or another more intensive and messy craft.
For example, I did not have space to keep my sewing machine on my desk. I am too busy with other things on my desk. When we moved to the Master Suite of my parent's house I actually wanted it in the large walk-in closet.
However, I could not figure out how to put a desk in there. Mom had left two bookcases in there. I took out the middle top and middle bottom shelves and then put them very close to the top and the middle to create a sewing nook with narrow shelves for things I needed on hand at any moment.
The bookshelf next to it holds all my supplies close by and also stores my jewelry supplies as well. It has turned into the perfect solution!
Look for something that you can do to make your hobby accessible like that!
No craft room, area, or workspace?
Maybe you can't find a permanent workspace for your craft but you have found a good craft storage area.
Try to find a space that you normally use for other activities but is easy to bring your hobby to. For example, all my jewelry-making stuff is in little plastic organizers that I can pull out easily. I can just take them to my love seat and lift-top coffee table and get to work with a tv show on!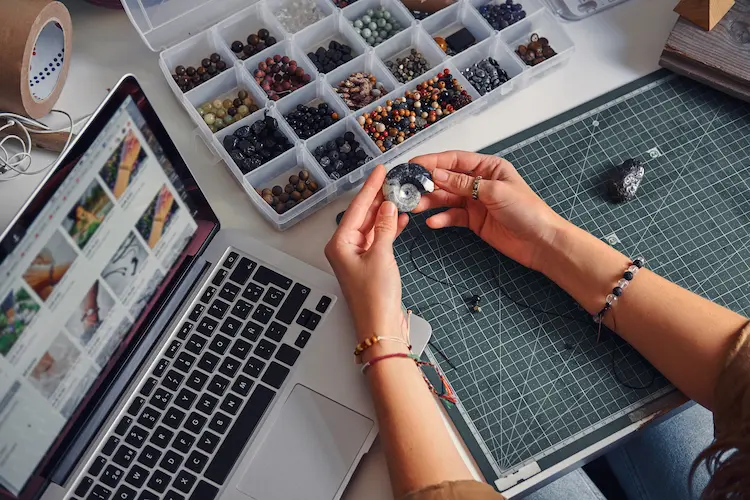 Tip #5 Find the Right Craft Supply Storage Solutions
When you started reading this article you thought I was going to tell you about a bunch of things that are perfect for organizing craft supplies but instead I'm talking about craft storage and organization IDEAS and GUIDELINES.
I am not the person who buys plastic bins and storage baskets for every single thing. Often times storage solutions take up more room than they save.
However, there are some things that will help you organize craft supplies and some craft storage ideas that are worth your time! You need to find the right way to store your craft supplies to keep them neat and keep things from spreading out of bounds. This is especially true if you live in a small space.
Some great storage ideas:
For my sewing, collapsible storage cubes have been indispensable for storing patterns and fabric. I also think using this hanging shelf organizer would be awesome for fabric in a closet! A small 3 drawer plastic organizer is perfect for organizing thread, buttons, ribbon, elastic, and so forth.
If you are a quilter or something that requires a larger stash of supplies you may consider a narrow cabinet or one or more of the hanging organizers.
Organizing jewelry-making supplies is tricky cause of all the small pieces. I could never live without my plastic container with many small compartments, my stackable storage trays, and the basket I keep it all in.
For painting supplies that my mom and I both use plastic drawers are perfect because they keep the mess contained and you can grab the whole thing and be ready to go!
For some spaces, a rolling cart is a perfect craft storage idea because it makes your craft storage portable! You can just roll all your craft supplies to your workspace. I love this Storage Cart for its functionality and small drawers for small things! The classic three-tier rolling cart is also an adorable and convenient way to organize and transport your craft supplies and it's available in many colors to match your room!
Usually, the best way to organize craft supplies is to buy organizers specific to each craft but sometimes you have to get creative. The main thing is to store these in a well-organized way that is space-saving, right by your workstation, or in a way that is very easy to pick up and take to your workstation.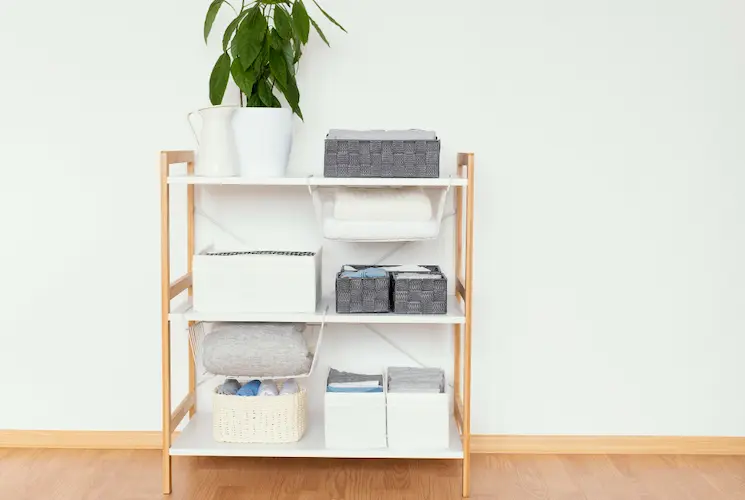 Tip #6: Make Your Craft Easy to Clean Up
Now that you have all your beads and baubles organized and you maybe even have a beautiful workstation, you may be tempted to get to your project and make a big mess! That's great! That's what us creative types do!
But before you are up to your eyeballs in fabric, paint, or beads, on the kitchen table, at dinner time, think about how you can make this craft easy to clean up and set aside.
When you have a dedicated workspace you have a little more wiggle room but if you're working at your desk, kitchen table or other multi-purpose location make sure you have some plastic table cloth that you can pick up and throw away after your painting, that you have a small trash can nearby, and that you are working out of your organizational containers as you go instead of tearing everything out at once.
If you are painting on an easel find a corner where your easel can sit till your painting drys. If you are sewing have a bag that your half-finished project can safely be set aside in.
Basically think ahead about how you will clean up because if you can set up and take down quickly you will not put off doing your craft for this reason and you will be able to enjoy it more often!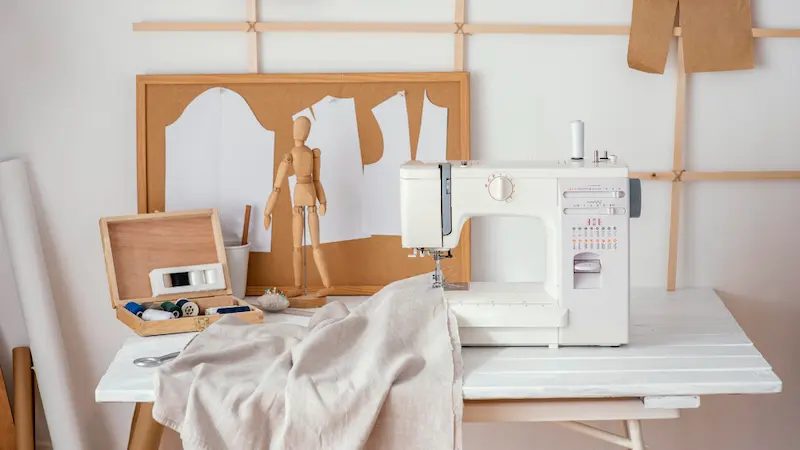 Enjoy Your Craft!
Now that you know how to organize craft supplies and have art supplies organization ideas for you small space you will no longer be paralyzed.
With your craft organization on point, you can be more creative! Maybe you too will open an Etsy shop or maybe you will do tailoring for all your friends!
My 400-square-foot apartment never stopped me and neither will life in the Master Suite! Don't let your craft-loving creative side hide away. Get your craft supplies organized and then enjoy your craft!
I would love to hear from you about the crafts you enjoy doing! Let me know what your challenges are and we can brainstorm together! Comment below!
Also check out my little Jewelry Shop on Etsy: Vintage Columbine
Do You Need to Declutter Your Whole House?
If you want to learn how to declutter your home I have created a unique 3 step process that helps you declutter your home completely without being overwhelmed!
I have included 10 chapters of helpful tips, step-by-step guides, and comprehensive checklists so that you will have everything you need to make your home into your dream home!