20 Classic Minimalist Summer Wardrobe Essentials You Need In Your Closet!
Leading a minimalist lifestyle is easy until it comes to clothes. Most of us have way too many clothes and it can be hard to let go.
However, if you create a minimalist summer wardrobe with a few great standbys it's a lot easier to let go of all the stuff you never wear!
Here are some of my favorite summer classics that are comfortable, flattering, and never go out of style! And the best thing is you can find your entire minimalist summer wardrobe at the Khol's website for great prices!
This post contains affiliate links which means I get a small commission from purchases made after you click them. This doesn't cost you any extra but helps me to continue making great content for Doable Simplicity! Thanks for reading!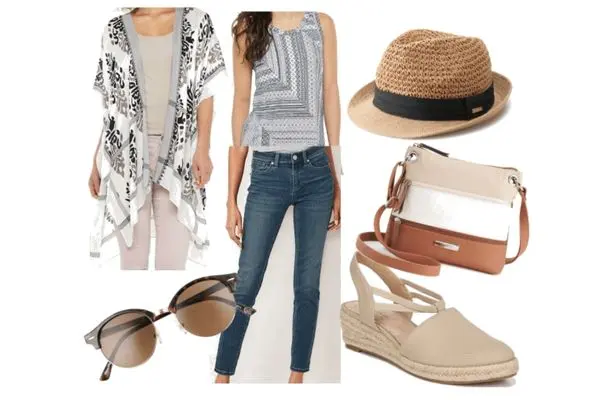 Minimalist Summer Wardrobe Shirts and Blouses:
1: Striped Shirt
I can't even imagine a minimalist wardrobe without the classic black or navy and white striped shirt! It's sleek and classy. It can be dressed up with a red skirt or down with some jeans. This one at Khol's is fun and flattering!
2: Casual Colorful Tanks
When you just want to relax and enjoy the summertime nothing does the trick like a loose cotton tank in a cute pattern! You get to be casual without being frumpy and you can pair a cute pattern with jeans or shorts or even a skirt! This awesome little v-neck tank is loose, modest, and comes in the coolest patterns! You can easily incorporate your favorite color into your minimalist summer wardrobe.
3: The Classy Flowing Tunic
To class it up try a flowy tunic top! I love a tank because it can be paired with a blazer or sweater or it can be worn without in warmer weather. This tunic top is flowy and feminine for a fun date night or even a business meeting! Pick a bright color or pattern that will mix well with your other clothes!
4: The Peasant Blouse
There is nothing as classic, relaxed, and versatile as a white peasant blouse! You can do anything with a good peasant blouse. You can wear it with jeans or a broomstick skirt for the boho look or you can tuck it into a sleek black pencil skirt for a voluptuously classy look! The best part is it protects you from the sun and mosquitoes without being hot or frumpy! This Croft and Barrow Embroidered Peasant Top comes in two lovely options!
Minimalist Summer Wardrobe Pants, Jeans, and Shorts!
I have always found it hard to find the right pants but I've come down to these key items to have maximum flexibility in my minimalist wardrobe!
5: The only Four Pants You Really Need
If you have some great fitting dark wash boot cut jeans, a pair of red skinny pants, and of course a pair of black skinny jeans you can make a million outfits fast and easy! All of them are available at Khols for great prices!
6: Just a Few Shorts for Summer!
For the summertime, you have got to have cute and comfortable shorts that are easy to pair with anything casual to semi-dressy! If you grab up these adorable shorts in Khaki, green, and denim you are set for the summer!
No Minimalist Summer Wardrobe is Complete without Shoes! Who doesn't love shoes?!
It's always a challenge to not get a mountain of shoes! They are so cute and I need them! I'm sure you probably feel the same way.
But as a minimalist living in tiny spaces, I always look for ultimate function and flexibility so that my shoes are not only cute but perfect for many occasions! Here are some of my favorite styles to ALWAYS have around.
7: The Comfortable Sandal
I never thought I would be a Crocs fan but they have come out with really cute sandals that are so comfortable that I don't want to wear anything else!
When I'm wearing my Crocs sandals my feet never hurt and when my feet hurt from other shoes I put my Crocs on and they feel amazing! These Crocs Tulum Sandals from Khol's are so cute they can go straight from the lake to a dinner date!
8: Black Flats
If you want class and flexibility there is nothing like some black flats! You can wear them with just about anything and look like Audrey Hepburn! They go great with pants, skirts, and dresses. Perfect for work or any dressy occasion you can be comfortable while looking dressed up no matter what you are doing.
Pair them with that great striped shirt and red pants and you've got an outfit that stuns! These Croft and Barrow Baritone Ballet Flats are adorable with a breathable perforated design!
9: Khaki Espidrils Are A Must for Your Minimalist Summer Wardrobe
Do you need a little height and a lot of cute factor out of your shoes? There is nothing like some classic espadrilles! Khaki is the most flexible look for my capsule wardrobe!
This is the most adorable summer shoe out there and it can pair with anything! When you feel like a lift and a fun time try these Lifestride Katrina wedges for the ultimate comfort that Lifestride always offers!
10: Red High Heels
While we are talking about Lifestride here is a beautiful pair of red heels that will be there waiting for your date night! Sure they aren't as flexible as the other shoes I've listed but every girl has to have some sexy red heels to perk up that little black dress!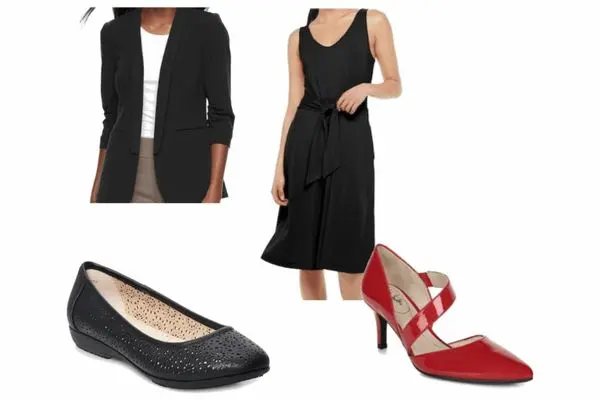 The Perfect Dresses Complete Your Minimalist Summer Wardrobe!
11: The Little Black Dress:
This simple black dress is so beautiful! It is flattering, classy, and a little bit sexy at the same time so that you can feel and look amazing! That is why it is considered a staple for your minimalist summer wardrobe. You can add a sweater or a blazer for business and switch from your ballet flats to your red heels to shift from day to night!
12: Floral and Flirty Midi Dress for Your Minimalist Summer Wardrobe
Another little floral dress is fun to have for weddings and fun outings. Nothing is more summery and romantic than this floral dress that looks comfy and beautiful!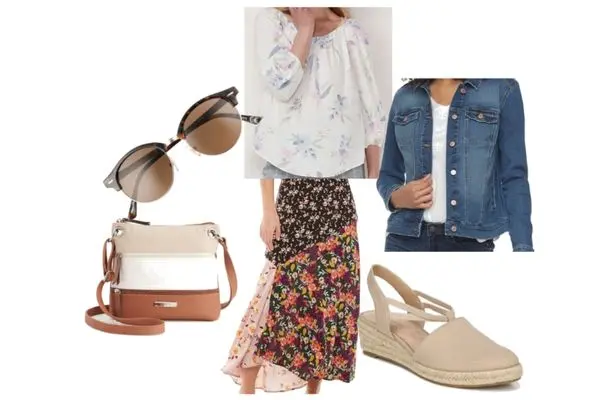 If you only buy two skirts make them these…
13: Black Pencil Skirt
I've mentioned the black pencil skirt because it is an essential piece for any minimalist. You will bring your professional sexy self to the table when you pair almost any blouse with this classic black pencil skirt!
14: A Minimalist Summer Wardrobe Must Have a Festival Skirt
On the opposite end of the spectrum, you can add fun to your minimalist capsule wardrobe! Grab a funky flowy skirt that can turn any top into a music festival and any dinner on the patio into an evening in a vineyard!
Who says having clothes that fit your many facets and interests means having tons of clothes? With this Ruffled Midi Skirt, you have the perfect piece to show off your more fun-loving side!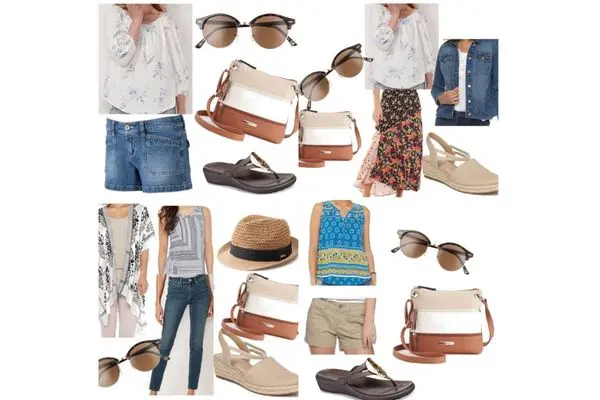 Must-Have Accessories for Your Minimalist Summer Wardrobe!
15: Black Blazer:
I have mentioned the blazer a few times. Some of us are very professional women and some of us only once in a while enter an office but all of us need a black blazer to take a beautiful blouse and pants to a professional look in two seconds flat. You are women, hear you roar with this awesome blazer!
16: The Jeans Jacket
For your more casual side, you can never go wrong with a jeans jacket in your minimalist closet. The perfect, classic, solution to a lightweight jacket that will make any outfit look fun and jaunty while making you look like the unforgettable girl next door.
17: Ruana, Kimono, Topper? Whatever you call it, it's great!
For your more whimsical trendy side the kimono, or this new word, the ruana??? Well, whatever you call it it's a fun way to make an outfit look artistic and make you feel regal. This ruana topper available in beautiful colors for an elegant solution to protecting your lovely skin against the sun and the mosquitoes this summer!
18: Cross Body Bag
Your minimalist capsule wardrobe isn't complete without a purse. All you need to hit the town is a cute crossbody bag! I love cross-body bags because they are good for activity and small.
Who has time to keep pulling up their purse strap? Who needs a bag that doubles as a suitcase?
All your essentials can fit in this adorable Rosetti Demi Mini Cross Body Bag and it comes in four great color options!
19: A Straw Fedora
I know hats are not always everyone's cup of tea but I also know something else. When I see a woman in a nice hat I know she has confidence!
A hat just pulls together your summer look and takes a nice outfit up to a fashion statement.
Once I saw a friend of mine wearing shorts, a simple tank top, a kimono, and a straw fedora and I knew that was a look I had to have! And it's practical too because we all need sun protection and a way to hide our greasy hair sometimes. The Packable Fedora kills it in three great color options!
20: Sunglasses That Stand the Test of Time
And last but not least, if you are gonna look styling and not squinting this summer you must-have sunglasses. I love the big round kind and I definitely favor the tortoiseshell look! My husband actually thinks I always get the same sunglasses but that's not true. These women's round sunglasses are just my style! Check them out and start looking at your summer with rose-colored glasses!
Your Minimalist Summer Wardrobe Must Fit You! Dress For Yourself!
These classics have helped me to build a minimalist summer wardrobe I know I'll love and be able to replenish as needed. You will probably find a few things you want to change and make your classic pieces. That is great! Find what makes you feel amazing.
Build your minimalist closet with cuts and colors that flatter your complexion. When you find that perfect set of clothing it will be a snap to keep your minimalist wardrobe simple and stop hanging on to things that just don't work for you!
Most importantly dress for yourself. If your clothes don't give you confidence then you shouldn't wear them. I want you to find your best capsule wardrobe and feel AMAZING this SUMMER!
What do you love to wear? What is a classic FOR YOU? Please share in the comments below!
Do you need help decluttering your closet?
If your closet is a disaster zone Closet Simplicity can help! Hone in on your personal style, learn cheap or free organizational hacks, and stop keeping clothes you don't wear!