Create a Colorful Minimalist Wardrobe in 7 EASY Steps!
When I heard of capsule wardrobes I thought they sounded fun! So what did I do?
I took to Pinterest for ideas! I wanted to know how to build a capsule wardrobe but as I scrolled the collages of capsule wardrobes I felt like giving up.
After all, those clothes were all so boring and colorless. I didn't feel excited about them and I certainly couldn't afford them.
I needed to use the clothes I already had and my clothes were anything but drab. After looking at all those tan and white collages I wondered if it was possible to create a colorful minimalist wardrobe that didn't put me to sleep.
So I went to my closet and slowly designed a colorful capsule wardrobe that worked for me!
Do you want to start building a capsule wardrobe? Do you find it difficult to invest money into a whole new set of clothing and find the capsule clothing options drab and cookie-cutter? Would you like to have a colorful minimalist wardrobe that is as vibrant and fun as you are?
This post contains affiliate links which means I get a small commission from purchases made after you click them. This doesn't cost you any extra but helps me to continue making great content for Doable Simplicity! Thanks for reading!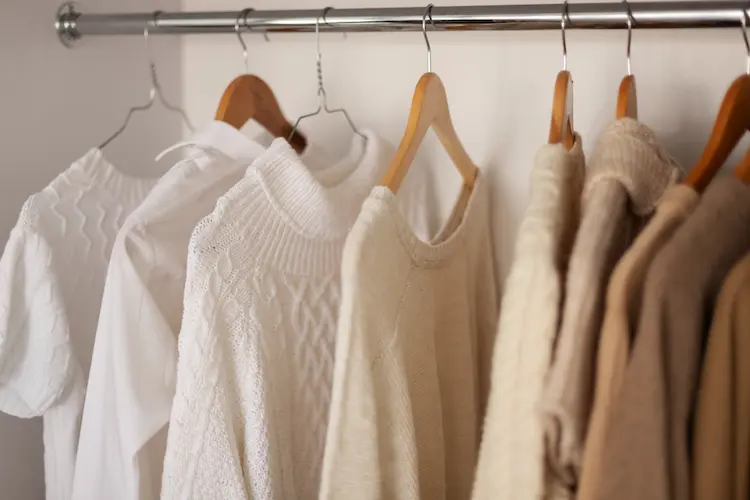 Minimalist Wardrobes are Not my Style
I honestly love classic styles but often I find capsule wardrobes uninspiring. They are so drab! They are too simple and too tan! I am not a person who can pull off a white t-shirt and keep it clean all day never-the-less make it work in fifteen different ways.
I also have to confess that I don't exactly have a capsule wardrobe. Despite my best efforts to not keep anything I don't LOVE to wear, I still love more clothes than I really need.
What you wear matters so how can you make this concept of paring down your wardrobe work for you?
How can you create a colorful capsule wardrobe, or an almost capsule wardrobe, that will simplify your life?
Can you create a colorful minimalist wardrobe that doesn't delete your individuality and throw you into a never-ending pit of tan, grey, and black?
What do you do if you can't invest in a whole new batch of high-quality clothing?
I'm here to help you follow the steps I took to make a colorful capsule wardrobe! If you follow these steps you will be able to create a colorful capsule wardrobe that matches your awsome personal style!
How Do I Add Color to My Minimalist Wardrobe?
Choose a color palette of 4-5 colors you love. Add a couple versatile neutrals like black and denim.
Pick 1 or 2 styles you are personally drawn to. (i.e. boho, retro, country, classic, preppy, etc.)
Take your work and hobbies into account and include practical items.
Do not include ANYTHING that doesn't fit well, isn't comfortable, or doesn't really fit your style.
Declutter your closet and only keep the things that you love and that work for you!
Have fun mixing and matching the items in your colorful capsule wardrobe!
Organize your colorful minimalist wardrobe to create your dream closet!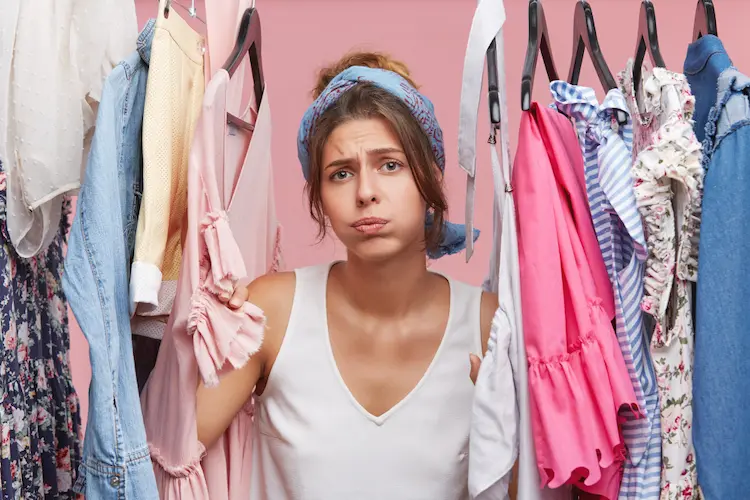 1: Create Your Best Color Palette for Your Colorful Capsule Wardrobe!
If you love color like I do you probably already have a lot of beautiful bright blouses and maybe dresses and skirts.
To start building your colorful wardrobe look at what already you have. Choose four or five colors that you always seem to gravitate toward.
It won't take long for you to pick them out because you have probably bought those colors over and over again. These are colors you like because they look good on you and they make you happy!
I would say my favorite colors are raspberry pink, turquoise, royal blue, orange, and sage.
Obviously, some of those colors are complementary to each other and some are not. If your colors don't all go together it's ok. You don't have to wear them all at the same time.
Now your pants and skirts are probably more versatile. You might have a couple of colors of denim and some other pants in neutral colors like black, brown, tan, or grey.
Having at least some basic neutral minimalist wardrobe essentials will help you build the rest of your colorful minimalist wardrobe because they are versatile!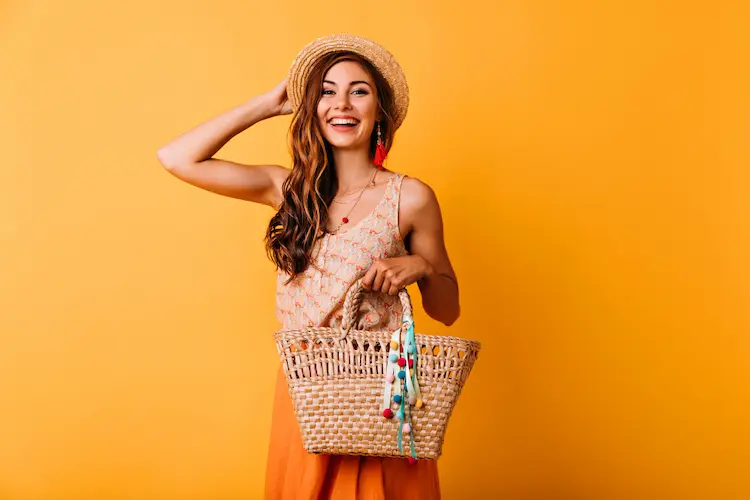 2: Think about Your Personal Style
The minimalist style that I see everywhere is kind of cookie cutter. I mean, we can't all have the same personality. But when you are browsing minimalist wardrobes on Pinterest sometimes it feels like if you want to be a "real" minimalist you have to wear these certain styles. Is that true?
I, personally, swing from boho traveler to vintage movie star in the course of a day! I don't want to give that up. Our clothes should reflect our personality! We should have fun with our clothing and let it be a creative outlet if we want to.
Sit down and think about what 2 styles you are most attracted to. What two styles do most of the clothing you already own fit into? Think about what style you want people to think of when they think of you.
Also, think about what style makes you feel the most yourself. Are you a bohemian, a retro gal, a rock star, a cowgirl, a professional, or something else?
Now you are ready to start building a colorful capsule wardrobe that reflects your personal style!
3: Make Your Colorful Minimalist Wardrobe Functional
This is where we have to get practical! I would love for everything in my colorful capsule wardrobe to either take me to the Italian Riviera or a Music Festival but unfortunately I have a need for some professional wear, some dirty workwear, and some activewear.
Think about what you really need for your work and other necessary activities. Now think about how many days a week you need those types of clothes. Make sure the clothes you have for those activities still encompass your color scheme and style.
Try to make your favorite clothing items work with the needs of your everyday life. For example, my career requires semi-formal attire. I would never be able to wear a graphic tee to work so I really don't own any besides pajamas.
What do you need to wear for work?
How many days a week do you work?
What do you need to wear for casual days, hobbies, and working out?
How many times a week do you dress casually, engage in your hobby, or work out?
Make sure to include all these types of items in your colorful capsule wardrobe.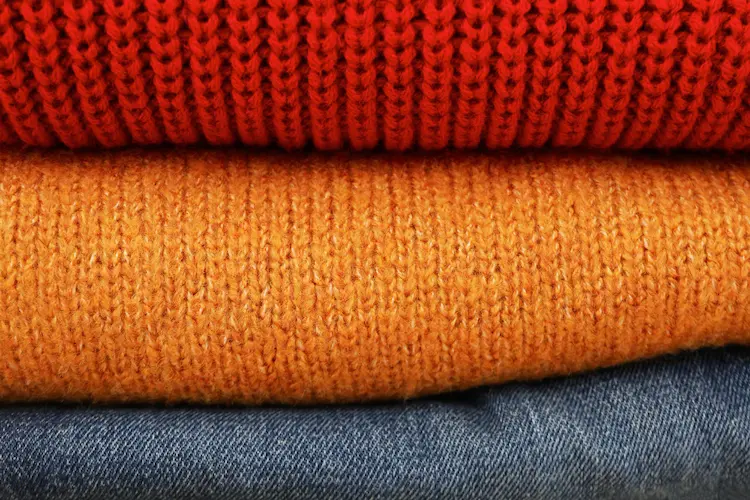 4: Make Your Colorful Minimalist Wardrobe Comfortable!
When you look at clothes in your closet you naturally start to think of why you do and do not want to wear certain things today. The number one reason you may skip over an item of clothing is that you do not feel comfortable in it.
You want to wear something that looks great and feels great all day long. Those are the items you will choose to wear over and over again. And those are the items that totally belong in your colorful capsule wardrobe!
Sometimes things are not comfortable because they are too tight or too revealing. It's a no-brainer to get rid of those items. Do it right now!
Other times we feel uncomfortable about an item of clothing because it's a bad texture that makes you too hot or too scratchy. Get rid of those items and remember not to buy anything made with those materials again.
For example, I can't stand all the synthetic seal skin and crepe materials that are popular right now. I have learned I highly favor good old t-shirt material, cotton, or rayon for breathability and comfort!
The last thing that can make us uncomfortable about an item is style. You thought it could fit your style when you bought it and it's still in really nice condition and it fits really well but there's just one problem. Every time you put it on you just don't feel like yourself. LET IT GO!
There is no room in your colorful minimalist wardrobe for things that make you uncomfortable. You don't want to waste slots in your colorful capsule wardrobe on items that do not portray your personal style!
Get rid of anything that is not comfortable.
Ditch stuff that is worn out.
Let go of anything that doesn't fit your style or color scheme.
Build a colorful capsule wardrobe with clothes that make you feel amazing!
5: Pair Down and Find Your Colorful Minimalist Wardrobe!
Now that you have taken the time to get acquainted with your personal style and your favored color palette you will be ready to let go of everything that doesn't fit in and create a colorful minimalist wardrobe with the styles that you love!
As you declutter your closet let go of colors that are not flattering on you, cuts that make you look fat or frumpy, fabrics that are smothering, and styles that are just not in line with your personality.
Do not keep things just because they are versatile. You do not have to have boring clothes to build a seasonal capsule wardrobe!
Keep a couple of the best blouses in each of your favorite colors. Keep one pair of jeans in each wash and style and a dress or skirt in each of your favorite colors.
Make sure to have your work clothes among these items and enough of them for each week. Allow yourself two to four items you only wear once in a while for fun or special occasions.
What to Keep:
2 Blouses in each of your colors.
1 pair of jeans in each wash and style. Preferably no more than 4 pairs of jeans.
One dress and/or skirt in each of your favorite colors if you wear dresses/skirts often.
One week's worth of work clothes.
PJS, swimsuits, underwear, and workout clothes as needed.
2-4 Special Occasion Items
Do Not Keep:
Anything that makes you feel frumpy.
Things that no longer fit the life you lead.
Styles that aren't your style anymore.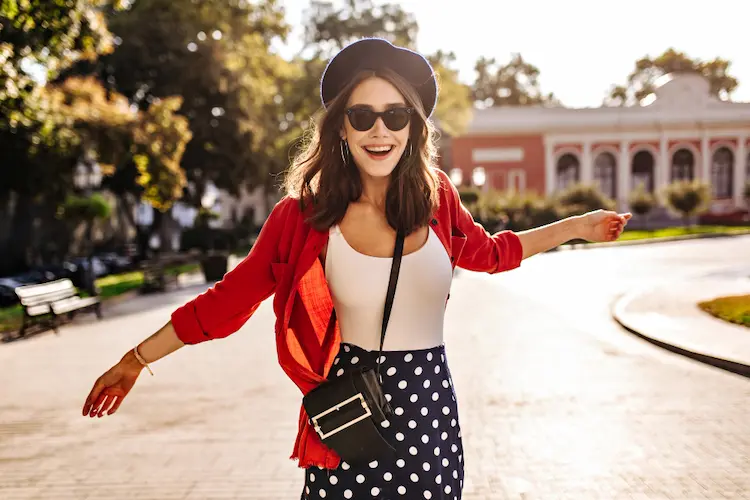 6: Mix and Match Your Colorful Minimalist Wardrobe!
Now you have a colorful minimalist wardrobe that fits your personal style and didn't cost a dime! That's a lot better than the cookie-cutter tan and black vortex you thought you had to have to build a capsule wardrobe.
Sure you might have a couple more pieces than is strictly allowed in a capsule wardrobe but you have a much smaller wardrobe than you started with! Life will already be a lot easier! And better than that, you have a colorful capsule wardrobe you actually want to wear!
What about all these colors? What will you do with them? Guess what? Colors go well together! I love orange and turquoise together! Raspberry pink and royal blue is a stunning combo. Sage green is perfect for my more neutral looks and makes me look SOOOO tan!
Mix and match your favorite colors Have fun with it! Your colorful capsule wardrobe might help you find new combinations you never thought of before!
Whatever colors you have in your colorful capsule wardrobe, and whatever your style is, you will be happier if your clothes match you! I officially give you permission to have a colorful minimalist wardrobe and create a capsule wardrobe (or almost capsule wardrobe) that fits your personal style!
7: Organize Your Colorful Capsule Wardrobe in Your Dream Closet!
Now that you have the perfect wardrobe get it organized with some simple closet solutions! Make it pretty and functional with these sleek and space-saving Shelf Organizing Boxes and these super nice non-slip Velvet Hangers!
For a complete list of my recommended products and resources check out my resource page! It will help you know how to declutter your home and what to use!
If your closet is a disaster zone Closet Simplicity can help! Hone in on your personal style, learn cheap or free organizational hacks, and stop keeping clothes you don't wear!
Build a colorful capsule wardrobe you love!