Decluttering Books is Really Hard -Simple Tips That Work!
When I was a little girl, I had a great babysitter. She always had cool ideas!
We watched her favorite movies, wrote a weekly newspaper, played with the dogs, and made cool art projects.
But the best thing we did was read. She would read her favorite books to me as I sat around or played.
She loved reading and her love of reading was contagious! I've loved reading ever since.
But as any book lover knows, books add up and can take a lot of space. So, unfortunately, I'm sad to tell you, there comes a time for decluttering books.
Yes, I said it. I'm sorry. I know you hate me now. But really, your pile of books might just eat you alive.
I know other people have told you to declutter books but I'm not other people.
Remember, I too am a book lover! In fact, I used to be a librarian. I listen to at least one book a week while I clean houses and I read another book in the evening.
I know the seduction of that wonderful book smell and the dream of having Belle's library.
All of that being said, will you trust me? Will you listen to my advice when I tell you it's time to declutter your books? Are you willing to consider my suggestions on how to do it?
Why Is Decluttering Books Necessary?
I know you are thinking about all your magical solutions for keeping books and thinking that you are just fine. You have books in a plastic drawer under your bed, on a shelf that wraps around your room near your ceiling, or nicely styled or double stacked on some really nice bookshelves. It's fine. You're fine.
But that's not true. You're weighed down and paralyzed by all those books. True, they will take you to 100,000 different wonderful places but they will make sure that moving is a huge pain in the neck! And I mean it! I threw out my neck moving a box of books!
Whether you have the room for your books or not having too many can cripple you from the real fun of reading. When you have too many books you may resist buying new ones thinking you should read some of the others you bought first. Owning all those books might tempt you into rereading books you didn't like the first time or you may give up on finding the one you actually want to reread.
Let's face it. If you don't declutter books once in awhile it could actually kill your love of reading, not to mention all the space they are taking up.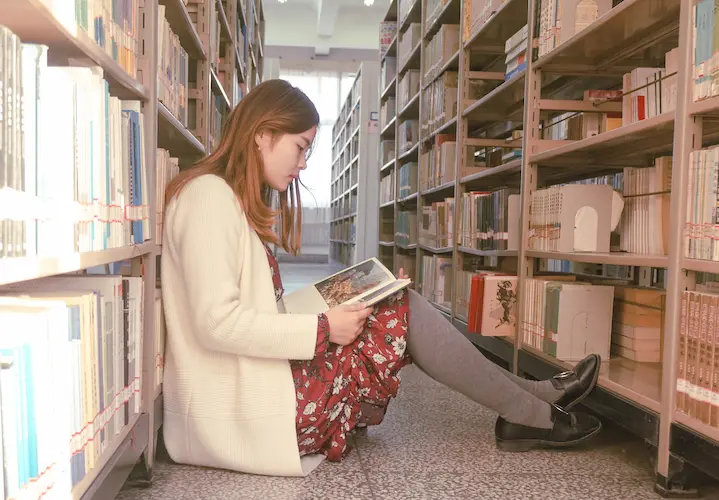 What Kinds Of Books Should You Declutter?
"I love all my books! I can't let go of any of them!"
I know that's what you think but I bet there are some books you have that you don't love. Let's talk about a few categories of books you should declutter so you can see if you have any of them.
Old Textbooks
The first major offenders on your bookshelf are your old textbooks! Seriously! My husband moved to New Mexico from California in his ancient Toyota Camry and guess what he brought a whole box of? Old college textbooks!
You do not need to keep those. They are constantly being updated and outdated. If you decide to learn something new in any given subject you can probably find the information on the internet and if you take another class you will probably need a different textbook. Try to take old textbooks to your college bookstore as soon as possible.
Cookbooks
I love cooking but I never look at cookbooks anymore. I just pull up Pinterest for all my recipe needs. You probably haven't pulled out your cookbooks in a long time either so let them go.
If you have precious family recipes or a really unique cookbook you may want to make an exception.
Coffee Table Books
I had a couple of coffee table books with really beautiful pictures in them. The thing is, I had looked through them many times in the first few years and not at all in the last several years.
Still these were hard books to let go of because they are expensive, high quality, and beautiful. I chose to gift them to different people I knew would be interested in each topic. I was very happy with that choice because it brought joy to someone else.
Self-help Books
Do you have a lot of self-help books? As a librarian, I can tell you they are always very easy to find in the library. It was our biggest section. You may want to keep one or two that REALLY changed your life. (I kept The Life-Changing Magic of Tidying Up) but you should probably let go of the rest.
Aspirational Books
What are aspirational books? They are the kind of high falootin books you wish you would read. Stuff like War and Peace and Tolstoy that make you look smart sitting on your shelf.
But you know what would be really embarrassing? If anyone ever saw them on your shelf and asked you about them. Cause you haven't read them. You just wish you were that type of person.
If these high-brow books really aren't your style be honest with yourself. Let go of your expectations for yourself and the expectations you THINK other people have for you and let go of the books too!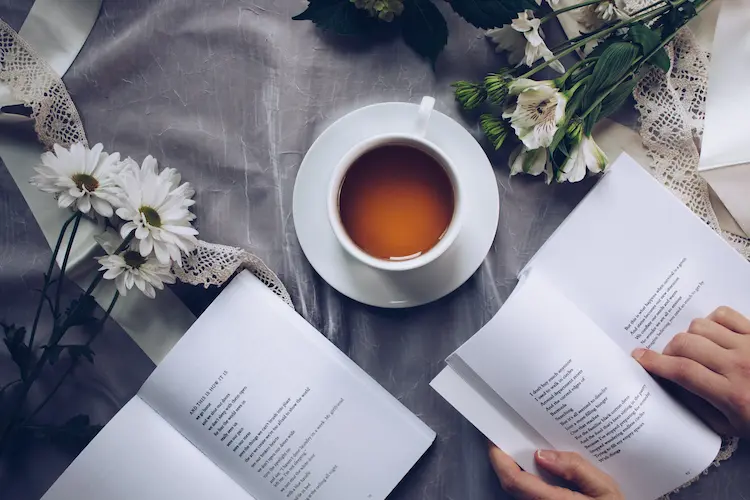 Decluttering Books You Haven't Read
Are you a compulsive book buyer? If so you may have a lot of books that you haven't read yet. Again it's time to be honest. Are these books on your to be read in the next year list? Have you picked them up and put them back on several occasions? If you said yes to one or both of those questions you may just need to cut your losses.
There are no reading rules that say that just because you start a book you have to finish. No one cares if you buy a book and don't want to read it but you. Let it go!
Decluttering Books You Have Read
Now we are getting to the hard part. Do you have a bunch of books you have already read? Are you really going to read them again? I have read a lot of books in my life and I have only reread a small percentage of my all-time favorites.
If a book you have already read is not an all-time favorite your heart will know it the second you look at it. Listen to your heart on this one. If it's wrong you can always find the book at a library or used book store in the future.
Decluttering Books You Love
What about the books you really really really love? You can keep them! You weren't expecting that were you? I still have a few books that I know are hard to find and that I will definitely want to read again.
However, I do have a favorite book series that I am slowly rereading for the third time. I used to have all the paperbacks but I finally took them to the used bookstore when I realized that the last two times I read them I rented them from the online library so I could read them on my kindle. It's just easier for me to read them that way and they are always easy to get.
If you don't like reading on an electronic device or you know a book is hard to get a hold of then by all means keep it if you really love it!
But What Do I Do With The Books?
Decluttering books is hard. Even if you know that you need to declutter books your efforts will be stalled if you don't know what to do with your books. That's because even the most mundane cookbook can feel like an old friend. You just naturally want to find a good home for them.
The good news is, once you realize how much joy can be brought to others by letting go, decluttering books will be a lot easier. Here are a few ways to get your books in the hands of new readers that will love them!
Donate Books:
The easiest thing you can do is donate books! Of course, you can drop them at the thrift store but there are a lot of other places to donate books.
If your books are in decent condition you can also donate them to the library. Nursing homes and assisted living homes love receiving books. So do schools, colleges, and more.
Think about the types of books you have, the types of people who might like them, and the organizations that serve those people. Make a couple of calls and see who wants them!
Sell Books Online:
You can also sell books online. I have sold bags of YA and children's books on Facebook to people with kids. Series of books also sell well on Facebook Marketplace.
If you want to sell more books you may explore selling them on eBay. Another great way to sell books online is through Ziffit! They have an app where you scan your books, get a value, create a shipping label and send them to the company. It's a super easy way to sell lots of books!
Take Books to A Used Book Store:
I can honestly say that I never had tons of books even though I love to read. That's because we have a great used bookstore that gives you credit when you bring in books. Because of that, I would always take books I've finished reading in and get new books. It really helped me keep my selection thin.
If you still like reading paper books find a great used bookstore near you! Most of them give credit when you bring books in.
If you don't like paper books anymore you can still take your books to a used bookstore. I recently did this with my favorite series. I took all of them down to our favorite bookstore and instead of putting the credit in my name I gave it to my best friend, who just happens to be the babysitter I told you about at the beginning!
Give Books Away
The last way to get rid of books is to use them as gifts. If you have friends who love to read this can be so much fun!
I have given books away in tons of different ways. I had been hoarding my favorite kid's books for a long time but then I decide to share the joy with a little girl I know. My lighthouse coffee table book went to our San Diego beach Air Bnb Host. Then I gifted my Audrey Hepburn coffee table biography to my sister-in-law who loves all things vintage. Finally, I let go of my favorite YA series to a teen girl I knew would love it!
I have also received books as gifts. Whether I kept them after I finished reading them or not, these books became part of who I am. They were very meaningful and special to me.
Now think about someone who might like your books. Stop hoarding all the joy and share it!
Decluttering Books Can Free You Up for New Adventures!
Now that you know everything you need to start decluttering books are you excited to take a fresh look at your bookshelves? Are you feeling less pain at the thought of decluttering books you love? I hope so!
Aside from decluttering clothing, decluttering books has been the most freeing thing I have decluttered! It gives me more room, more flexibility to move if I need to, and most of all more time to read. I can honestly say that I read more now than ever because I feel the freedom to keep traveling from one book to the other without any guilt about the ones sitting on my shelf!
Start decluttering books in your home and start enjoying your new adventures!
Do you have any book decluttering tips or even book suggestions for us avid readers? Share them in the comments below!
Need Help Decluttering EVERYTHING Else?

Books are one of the hardest things in your home to declutter so if you ace that you are 5 steps ahead of the rest! A digital declutter can also do you wonders too! But still, decluttering can feel overwhelming and scary.
That's why I created a unique 3 step program to help you know exactly how to declutter your home at a comfortable pace. I will not make you pull everything out all at once. You don't have to get rid of anything you are not ready to let go of. The clutter will not creep back into your life.
With the Fearless Decluttering Program, you will conquer EVERYTHING that has been holding you back so that you find the simple home that's JUST RIGHT for you! Everything you need to know is in the Fearless Decluttering e-book and printable pages. Learn more about Fearless Decluttering now!