Break The Project 333 Rules! Try This Awesome Minimalist Fashion Challenge Your Way
It feels so good! I just changed out my closet and put away the 33 items I have been wearing for the last 3 months! Why did I restrict myself to only 33 items for 3 months? Because I was doing the minimalist challenge Project 333 and the Project 333 rules say you get 33 items for three months! Let me tell you more about how I liked my little experiment!
What Are the Project 333 Rules?
When I started Project 333 I wrote a post about the Project 333 rules and how I planned on finding my perfect wardrobe while STRICTLY following the Project 333 rules.
The Project 333 Rules:

You start by cleaning out your entire closet at 1 time.
You wear only 33 items to wear for 3 months.
This doesn't include underwear, pajamas, or workout clothes you workout in.
It does include jewelry, belts, shoes, and outerwear.
Everything else gets hidden away. Don't worry about getting rid of things yet.
Try to Follow the Project 333 Rules or Tweak Them….
As you can see the Project 333 rules are pretty straightforward. I was really strict with the rules during my first try because I wanted to be able to share with you an honest experience of following Project 333 rules as they were originally created.
Because I did it strictly I could honestly say I learned the ins and out of what it's like to dress like a minimalist.
That being said I will probably be breaking the Project 333 rules in some key areas going forward. Courtney Carver actually encourages this in the last chapter of her book about Project 333 because she knows that we all have different tastes and circumstances.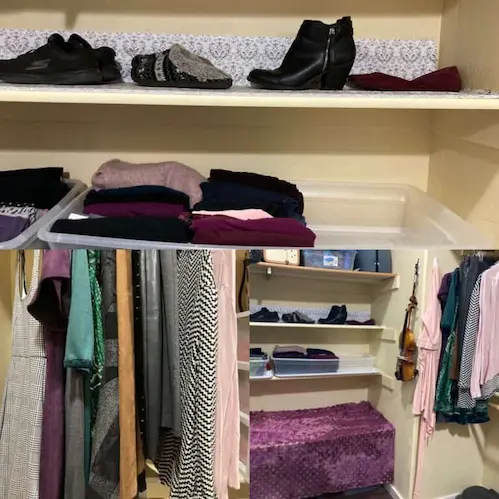 What I Loved About The Project 333 Rules
Let me just start by saying that I really loved my Project 333 experience. I loved the Project 333 rules because they gave me a clear boundary to work within.
When I paired down my closet to just 33 items for January through March it looked like an impossibly small amount of clothing but I was pleasantly surprised. It took me more than a month to even wear a duplicate outfit and I probably could have made it through 2 months if I was a little more creative.
Project 333 made life really easy for me because for any given situation I had a handful of outfits to pick from and nothing else so I was never agonizing about what to wear. I just knew that it was either this or that. It was actually very liberating and it freed up a lot of time and mental energy for other things like writing, exercise, and playing my violin. During the three months, I finally got my writing habit on track!
Another great benefit of following the Project 333 rules and sticking to the chosen items for 3 months is that I got to really understand my personal style better. I was able to decide that I am completely over the skinny jeans movement. Being uncomfortable in my clothes is something I will no longer tolerate.
Finally, this minimalist challenge of having a capsule wardrobe helped me get over the scarcity mentality. You wouldn't think the Project 333 rules would make you feel like you had an abundance but let me explain…
I used to keep everything just in case but now that I realize the abundance that can be found in a minimalist closet that only holds 33 items it will be a lot easier to let go of things and resist purchasing stuff I don't totally love!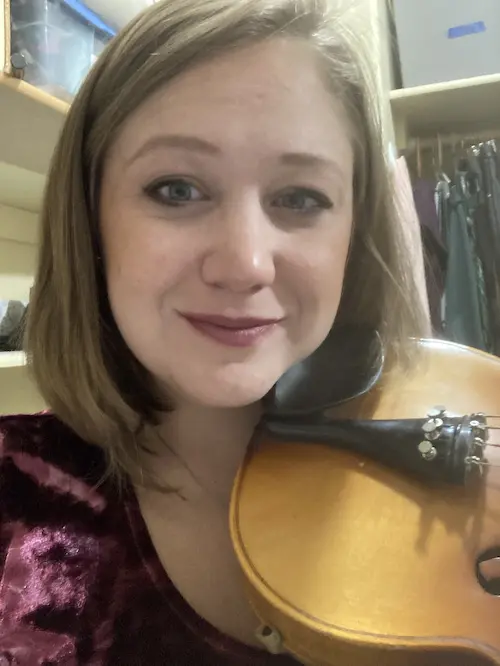 What I Hated About The Project 333 Rules
I gave you the good. Now it's time for the bad and the ugly. Well, it wasn't that bad but I have to be honest that by the last month I was SICK AND TIRED of my clothes.
I wanted some different colors and choices. I was feeling creatively starved by my wardrobe. And yes, I could have come up with more combinations but they would have been a little weird.
To put it simple, following the Project 333 rules was getting old. Kind of like a diet that's working but that doesn't make Pizza any less appealing!
The thing is, I've always been very creative with my wardrobe. I have never been bound by trends or seasons but I love to play with looks from different decades, the boho style, and having lots of colors in my wardrobe. As time passed, I just felt bored. I know that Courtney Carver says that it saves mental energy for other things but I missed being creative with my wardrobe.
That being said, I could totally see how strictly following the Project 333 rules would be the perfect solution for people who do not particularly enjoy being creative with their wardrobe like myself. I could even see it working perfectly for me during busier seasons of my life.
My biggest struggles:
My biggest struggle with the Project 333 rules was that I really really missed my jewelry. I run my own Etsy jewelry business because I love making jewelry and I love wearing it but I only allotted myself three precious slots for 3 jewelry sets (yes that's a bit of a cheat). And every time I looked at the 3 sets I wanted to cry a little because I knew I had so many other perfect options hiding away. That's just me though. For most people, this wouldn't be a big deal.
Lastly, I found that I was not necessarily well equipped for every weather condition as far as shoes and coats went. This is not something intrinsically wrong with the Project 333 rules. It's just a lack of practicality on my part.
I also found myself online shopping a lot more than usual because of my insatiable clothing hunger. Again that might not be a problem for you. Maybe you are a better minimalist than me.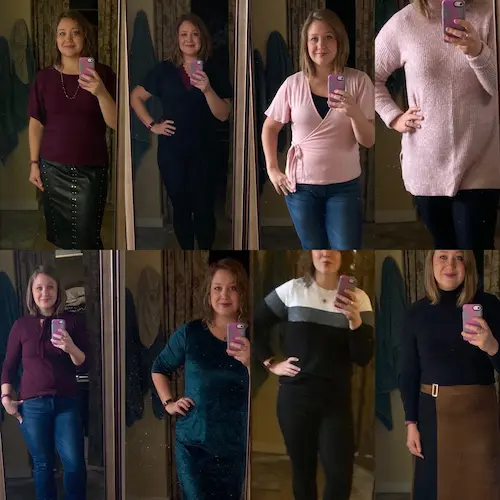 What I Learned From Project 333
Don't get me wrong. I've learned a lot from Project 333 and I'm so happy I tried it! I learned that life really can be simpler when you worry about your style less. And you can actually be more stylish! When you aren't loaded down with lots of crazy clothes but stick to more classic styles it is classier!
Following the Project 333 rules for 3 months also helped me learn to take better care of my clothes. I started air-drying my jeans and sweaters. It also helped me learn that you don't have to wash something until it's actually dirty. If it's not stinky or stained you can probably wear it again. For example, a pair of jeans can definitely be worn for more than one day unless your doing something dirty.
I also found that I worried about how I looked a lot less. Because I didn't have a bunch of options I just put on clothes I loved!
Project 333 definitely helped me regain some time and freedom in my life. For that reason, I'm not giving it up. I'm just altering it a little bit!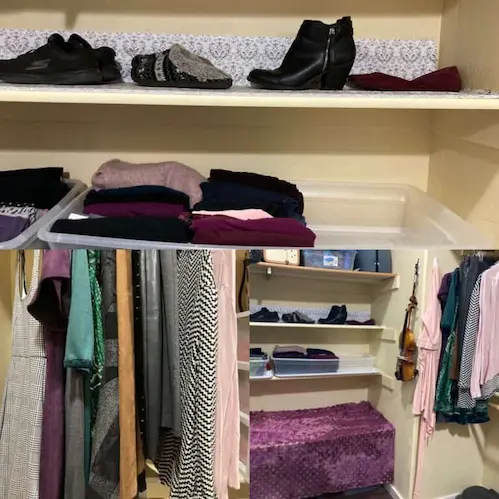 Going Forward I Will Break The Project 333 Rules
I've decided that I will continue doing Project 333 but I'm going to break some of the Project 333 rules!
When I finally got to pull out my other clothes and change out for a Spring capsule wardrobe I decided to go through my clothes and more or less create my capsules for all four seasons right then. I found out that when I split it up like that I don't have a crazy amount of clothes. Then I got rid of some things but I didn't necessarily pair all the way down to 33 items for each season. Not yet, anyway.
Let me explain. In Courtney Carver's book about Project 333 she recommended a documentary called The True Cost. Because I watched it, I don't feel great just throwing away clothes that fit me well. Especially since I still like to wear them. The fashion industry is exploiting people and polluting the planet at an alarming rate. For that reason, I am keeping clothes that I have that still work well for me until they wear out.
I'm breaking the rules for the fun of it…
Another reason I want to break the Project 333 rules isn't near as deep. I found out something about myself. I am a person who loves to be creative with fashion. It's actually an integral part of me I don't want to let go of yet.
I want to keep all my fun and funky handmade jewelry because I have so much fun with it! I'm not going to count my shoes or coats because I don't have a crazy amount of them. I'm also going to allow my dress clothes to be categorized as "uniforms". That means I will count about 12 complete outfits (dress & sweater or skirt & top) as my uniforms. I'm doing that because I use them all the time for my volunteer work which is a very important part of my life.
Aside from breaking those specific Project 333 rules for those specific reasons I'm still going to aim for a count around the number 33. I'm going to keep my closet simple because the benefits I experienced are totally worth it! I know that before long the clothes I am keeping now will wear out. Eventually, I will get down to 33 items for each season!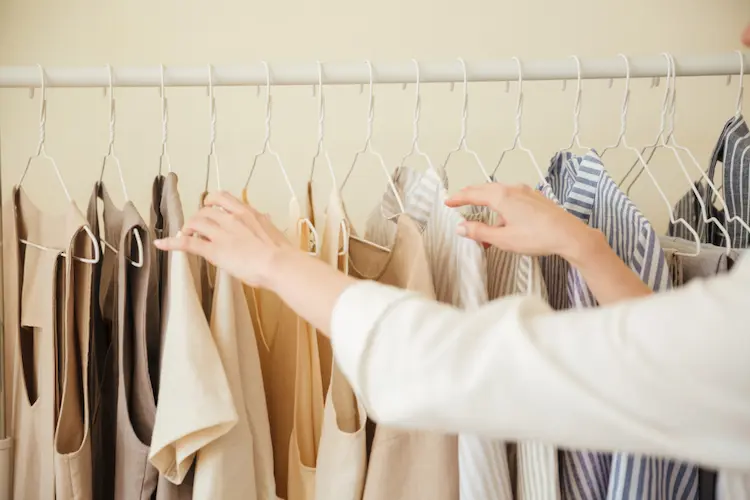 Why I Think You Should Try The Project 333 Rules on Your Terms
So at the end of this 3-month journey with Project 333 what do I have to say to you?, Do I think you should try it?
Definitely!
You should absolutely try Project 333 for yourself! And I would recommend you start strict like I did! You need to buy the Project 333 book and live with 33 items for an entire season. The only way to really see what your personal style is and see how a minimalist wardrobe will save you time and energy is to follow the Project 333 rules strictly at least once! It's a great to find out whether or not it's for you!
It will help you declutter your closet and simplify your schedule! Getting dressed in the morning will be so much easier. Also, you will learn what you love to wear and what you hate. This will help you shop better in the future!
At the end of it, you may find that you like simple classic styles and you can stick to just 33 items per season for the rest of your life. Or you might find out that you need to break the rules!
Whatever you do, just give it a try. I promise it's worth it! And it's a must do for the minimalist lifestyle!
Have you tried Project 333? Would you like to? Have you done another minimalist fashion challenge? Share your thoughts in the comments below!
Do you need help decluttering your closet?
If your closet is a disaster zone Closet Simplicity can help! Hone in on your personal style, learn cheap or free organizational hacks, and stop keeping clothes you don't wear!