5 Steps to a Colorful Wardrobe That Makes You Look Vibrant!
I absolutely to love to wear color and my wardrobe is full vibrant prints and styles! My colorful wardrobe makes me happy and confident!
But I've noticed that a lot of people hesitate to wear color and they end up stuck in neutral, in color and in style.
Others may spread their wings a bit more but still only stick to a couple colors they really love.
Most of us get a little nervous when trying to mix and match colors and prints.
Where are you on the color spectrum? Do you mostly wear black, gray, and other neutral colors? Would you like to learn how to wear more color? Are you interested in building a colorful capsule wardrobe? What colors look good on you? Have you ever heard of color analysis?

Let's dive in and learn how to build a colorful wardrobe that makes you look amazing!
1: What Are Your Favorite Colors to Wear?
If we are going to build a colorful wardrobe we have to start somewhere and I always believe that shopping my closet is the best place to shop!
So your first step as you learn how to wear color is to walk to your closet and see what colors you already have in there. Even if you really like black I bet you have at least 2 or 3 colors included in your wardrobe and odds are you have multiple items in each of those colors.
Once you have found the 2 or 3 colors that were already hiding in your closet name them. For me they would be burgundy, turquoise, and orange. You may have purple, blue and green or something else but I'm sure you have at least a couple favorite colors.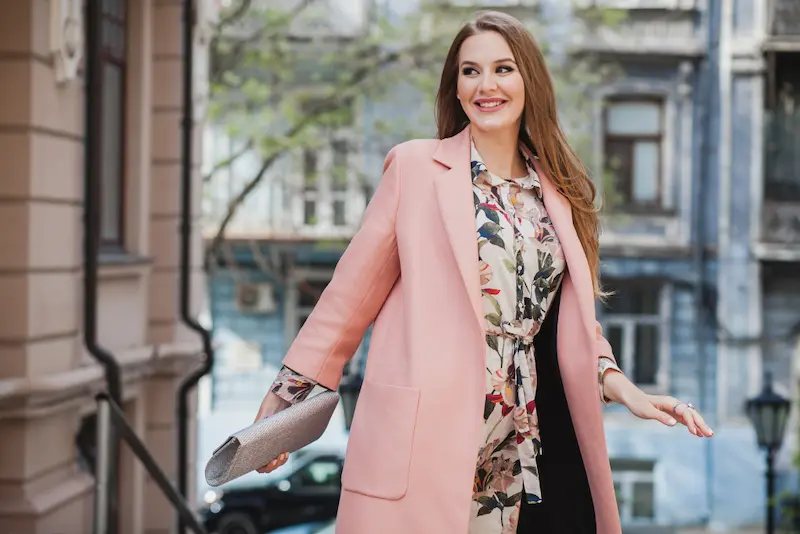 2: What Colors Do You Think You Look Good In?
Now I'm sure there is a reason that you have those colors in your wardrobe. Either you think they look good on you or you just really like those colors.
For example I know that burgundy and related raspberry colors look good on my skin. Turquoise makes my blue green eyes pop. But orange, well it doesn't actually look that great on me. It's just my favorite color.
So stop and think. What colors look good on you? What colors bring out your eyes? Make you look tan? Are there colors that people always compliment you on when you wear them?
You are probably already wearing colors you look good in. But maybe you are also limiting yourself. Perhaps there are more colors you could wear but you just don't know what really suits you.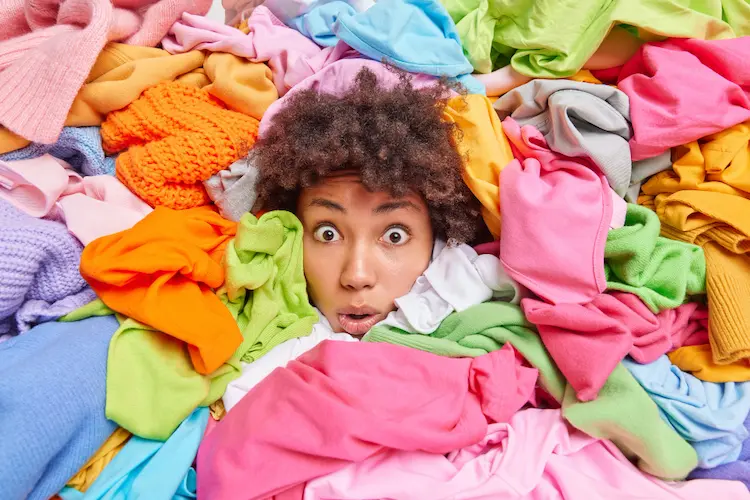 3: Should You Try Color Analysis?
If you want to branch out a big part of learning how to wear more color could be trying color analysis.
What is color analysis?
Color analysis is where you consider your skin tone, hair color, and eye color to see what types of colors really flatter you. When you do color analysis you will consider whether your natural coloring is warm or cool, bright or muted, light or deep and so on.
Some color analysis approaches will classify you by season. For example, if you have a lot of warm tones in your skin and hair you may be a Fall color type. If you have a cooler tones you could fall into Summer or Winter depending on if your overall coloring is light or dark.
There are many ways to find your color palette through color analysis. You can get a personal color analysis through a makeup artist or personal stylist near you. There are lots of people online who are trained to do virtual color analysis. You can even color analyze yourself with the aid of a mirror, a few different colors of fabric, and a few questions.
What is the point of color analysis? It will help you find the right colors for you! By learning more about your own personal coloring you will understand what washes you out and makes your look ill versus what colors really pull out your best features!
My favorite thing about color analysis is it can help you find better ways to wear colors that don't really look that good on you. For example, I don't look great in orange but I do look good in more of the brick red shade so I can shift to wearing that color instead. Or I can wear orange in my outfit but have another more flattering color near my face.
4: Learn How to Wear Color & Create a Colorful Wardrobe
Once you know what colors look good on you it's time to really learn how to wear color.
Part of your hang up when you think of wearing more color may be personal confidence. Perhaps you are a little self conscious about your appearance or don't like standing out and drawing attention. It may feel like wearing color will make you too flashy.
To cure that misconception look around. A lot of people wear color. Our world is full of color. Wearing color won't make you look flamboyant. In fact, wearing lots of black or khaki may actually draw more attention. Start small. Add just a little color to your outfit each day and see how you feel.
Another problem a lot of people have with wearing color is they don't know how to wear more than one color at a time. It may feel confusing when people tell you that you can't wear black and brown or navy at the same time. Maybe combining two bright colors really scares you.
Here's the secret to mixing and matching colors. Look for similar tones instead of colors. For example jewel tones work well with other jewel tones and pastels look great with other pastels. Different shades of the same color can look great together and so can extreme contrasts.
When in doubt look at a color wheel and choose colors that are at direct opposites. You can also search Pinterest for "outfits with a blue shirt" or so on if you need more inspiration.
Now you have learned how to wear color! But you may be wondering how to keep things simple and versatile with a colorful capsule wardrobe. Let's talk about that now.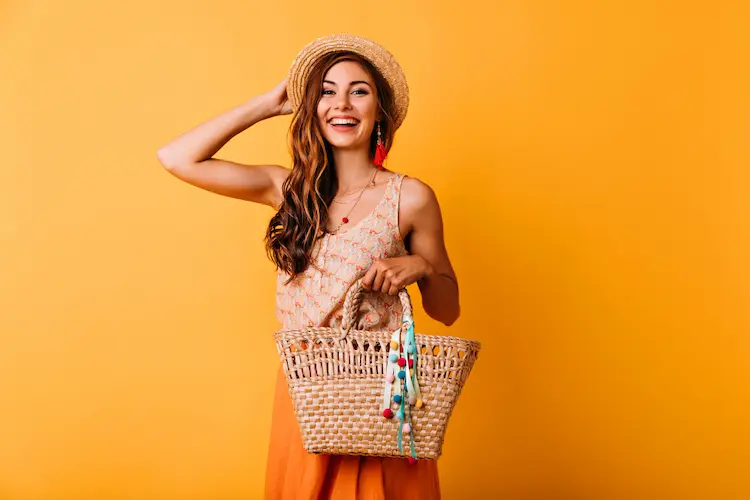 5: Learn How to Mix and Match Clothes You Already Have!
I have been embracing the minimalist lifestyle for over 10 years now and creating a minimalist wardrobe has been my biggest challenge because I LOVE clothes. But you know what hasn't been a challenge? Letting go of color.
Many minimalists avoid having a lot of color in their wardrobe because they feel that it is not versatile but I'm here to tell you that there is nothing further from the truth!
You can absolutely have a colorful minimalist wardrobe if you learn how to mix and match clothes you already have.
Here are some tips to help you make the most of a colorful capsule wardrobe.
Choose only 2-4 colors per season to work with.
Make sure you have some neutral basics especially bottoms to pair with your colorful pieces.
Try sticking to one color tone. (For example I mostly wear jewel tones in the summer and winter, I love muted colors in fall and I wear pastels in spring.)
Don't be afraid to wear more than one color. Similar tones "color block" nicely together.
Wear different colors with different base neutrals. For example I can wear my coral/orange peasant blouse with jeans or with black leggings or with a khaki skirt.
Keep experimenting with new combos!
I promise if you play around enough you will not only learn how to mix and match colors you will enjoy the process! And the best part? You don't have to buy a bunch of new clothes because you know how to mix and match clothes you already have!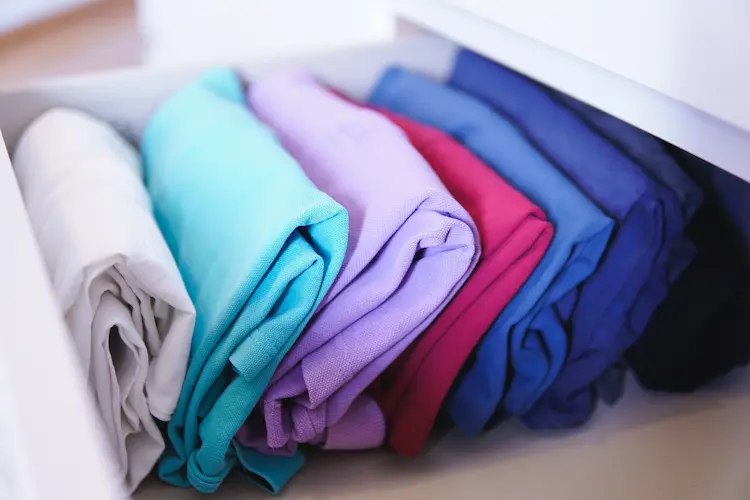 Create a Colorful Wardrobe!
Do you want to clean out your closet and enjoy a colorful capsule wardrobe that looks great on you? Is it time for you to discover your personal style and enjoy a new sense of confidence in what you wear?

I can help! I created a special e-book just for you. In the Closet Simplicity e-book you will find 10 chapters focused on helping you simplify your wardrobe, define your style, organize your closet, and shop better so you can love the clothes you wear and how you feel in them!