Declutter In a Weekend! 3 EASY Steps For A Fast Transformation!
At the end of a long winter, the buds on the trees are blooming and the tulips are popping out of the ground. Springtime is so hopeful and fresh and it's a lovely 50 degrees outside!
I look around my lived-in space and it feels a little bit messy and cluttered. This is what I am going to do. I am going to declutter this weekend!
Come along with me and declutter in a weekend for a fast home transformation you'll love to show off!
No! I absolutely forbid you from getting overwhelmed. It's not as hard as you think. We are going to take this in three simple steps that will make your decluttering project more like a scavenger hunt.
Before Your Declutter In a Weekend, Why Should You?
It can be very hard to find the motivation we need to declutter sometimes but here are some great reasons you should declutter your house in a weekend, especially in the springtime.
A clutter-free home is easier to clean.
Decluttering helps you see what you have so that you don't buy stuff you don't need.
A tidy clutter-free environment reduces stress and increases productivity.
Your home will be ready for company at a moments notice!
You probably bought stuff this winter that replaced old stuff you no longer need.
It's possible you will be able to make some money from your old stuff!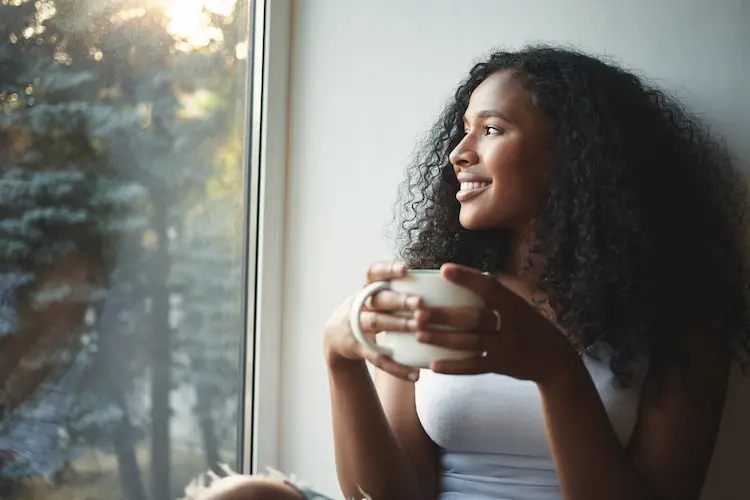 Stay Motivated While You Declutter!
Now that you know why you should declutter your home in a weekend you probably can't wait to get started!
However, if you are going to declutter in a weekend you are going to have to have a bit of focus and some good motivation. Here are some simple ways to keep your energy up!
Open the curtains and let natural light into your home.
Put on some great music!
Get your family involved. Challenge each person to find 10-20 items they can get rid of this weekend!
Set a timer for a short amount of time! See how much you can do in that time.
Take short breaks for snacks and drink water.
Get the ultimate decluttering checklist to guide your way!
Ok, now let's get to work with the first step of your weekend decluttering!
Declutter In a Weekend: Phase 1
This is exciting! You are going to declutter in a weekend and you are going to make a huge difference.
But we are going to start small. The first step of your weekend decluttering project is just looking for what is basically trash.
You might think that you don't have any trash laying around but I have cleaned houses for over 15 years and I promise that you do.
Get a trash bag and give yourself about 30 minutes in each room. Use the decluttering checklist to keep your mind fresh on what you are looking for!
Look for socks without mates, empty bottles, torn-up dog toys, junk mail, and expired food. Do not belabor it. Find things to declutter that are not used and not usable and throw it in the trash! Don't forget to look in the cabinets and drawers!
Work your way through your bathroom, bedroom, closet, office, kitchen, and living room. If you only take 30 minutes or less in each room this part of the project should only take you about 3 hours assuming your kids are decluttering their own rooms.
Remember, you challenged your kids to get rid of 10-20 items. You can reward them with a favorite treat or a little field trip later.
When you have decluttered the JUNK from all of your rooms you get to enjoy the beautiful freedom of letting go. Just throw that junk in the trash! Yes, the trash (or the recycle). No one wants your old undies or your empty shampoo bottles!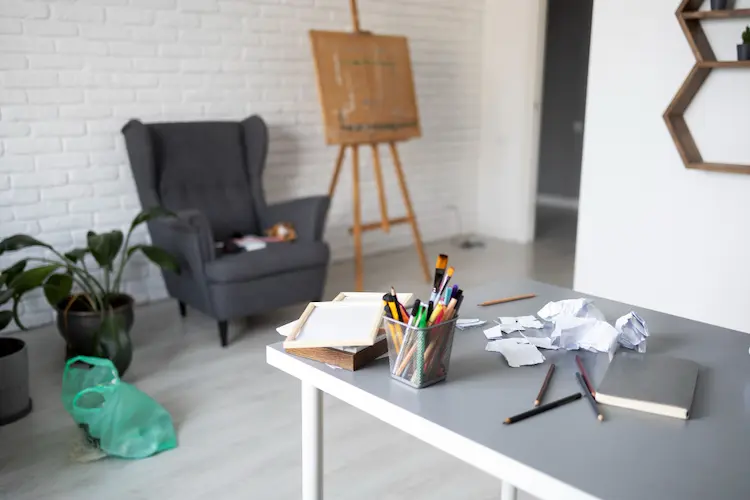 Declutter In a Weekend Phase 2:
Ok, now it's time for a little break! You have made a huge dent in the clutter that made your home look untidy and overwhelming. Look around and feel that change.
Taking this break is key to staying motivated to declutter your house in a weekend. Your home feels lighter and brighter already!
Eat something, drink some water, and start a great playlist.
We are about to get down to the nitty-gritty of your project. But don't worry! We are still going to declutter your home in a weekend and you are not going to regret it.
What is Phase 2? This is the phase of decluttering where you look for things that are not trash but that you know you don't need.
These are the things you make excuses to keep because you feel bad that you spent money on them or you feel bad throwing them away.
No worries. You are not going to throw them away. Get a box this time. Maybe a box for each room if you are feeling ambitious.
For now, just collect the things you want to declutter. We will worry about what to do with them later.
What to Look For:
This is the time to look for VHS tapes, clothes you don't fit in anymore, your old phones and cameras, empty frames, souvenirs, and knick-knacks, books you are done reading, old video games no one plays anymore, and small kitchen appliances you just had to have but never ever use.
Grab your complete decluttering checklist to guide you thru this. It will definitely help!
Yes, this part can be hard. That's why you need to overcome your excuses for keeping stuff.
Just remember, if you haven't used it in a year, you probably won't need it in the future.
Your guilt about letting go of perfectly good items should not prevent you from lightening your load and enjoying all the benefits of a clutter-free home.
Again, don't overthink it. This doesn't have to be the ultimate declutter of your home. We are just trying to make a dent in your home that you can feel.
If you expect perfection you will never be able to declutter in a weekend.
Aim for about 5 items in each room and do not take longer than 15 minutes in each room. Again the rooms you are looking through are your bathroom, closet, bedroom, office, kitchen, and living room. You should be able to complete phase 2 in just an hour and a half!
For a complete list of things to declutter in all three phases grab your free 1-weekend decluttering checklist!
Now Let's Really Declutter In a Weekend with Phase 3:
You did a fantastic job! Look around your home and see how much better it looks. Without looking in the boxes (or the trash) try to name 10 specific items you got rid of.
You may find it hard to do because amazingly enough, those things didn't matter to you until you saw them again, and that's why you let them go.
But you haven't let them go! And that's where we reach the slippery slope of decluttering.
Those boxes of decluttered items are still there, in your garage or your spare room, or smack dab in the middle of the living room. And you're coming up with reasons you need that stuff.
Everyone becomes an inventor when it's time to let go! Maybe you can use it after all!
No, don't do that! You have made the decision. You had done the work. NO TAKE-BACKS! You need to let go of these things that have been forgotten and reclaim your space, time, energy, and even a little bit of money!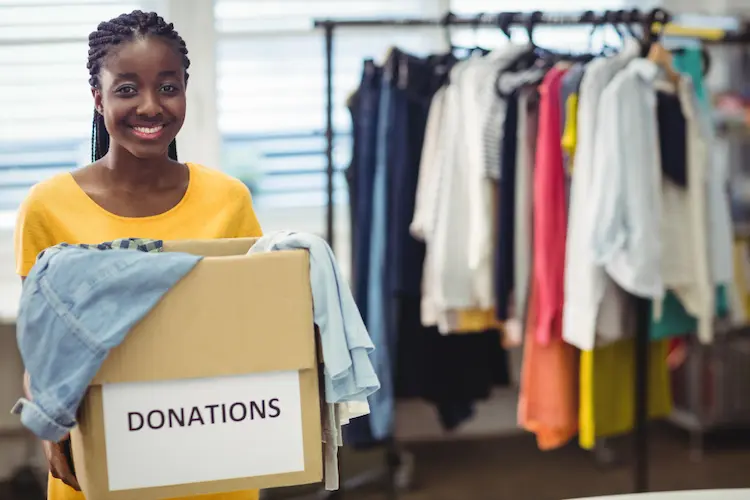 Sell or Donate:
Yes! I said money! Did you know you can turn clutter into cash? That's right, you can easily sell stuff on Facebook Marketplace. And it's an essential step if you want to declutter your house in a weekend!
All you need to do is take some pictures, write a description, and find a buyer. For a step-by-step list of how to do that read this post to find out how I made more than $1,500 selling clutter on Facebook!
When you are looking for things to sell on Facebook I highly recommend that you do not try to sell anything that you wouldn't pay at least $10 for. It's honestly not worth the effort of posting it.
I would also recommend that you do not sell stuff if you would rather get rid of it quickly.
For the items, you do not feel the need to sell, get them into a box or two or 10, and put them in your car and take them down to the thrift shop or an appropriate charity right away!
Remember you are trying to declutter in a weekend. You do not want this stuff sitting around or hanging over your head waiting for a yard sale.
Just let it go! It's amazingly easy once you decide to do it!
You Did It! How Does It Feel To Declutter In a Weekend?
You did the work! You set out to declutter your house in a weekend and now you are ready for a fresh start, a great summer, a visit from your mother-in-law, and more!
Look at your home. Do you feel less overwhelmed? Do you feel like you can breathe? Does it seem like a quick dust and vacuum would be totally easy? Good job!
I want you to enjoy the benefits of your hard work so order some take-out or grab a pizza. Put some dinner music on and dim the lights. Have a movie night.
When you declutter in a weekend it's time to celebrate! End your weekend right. Enjoy your fresh start.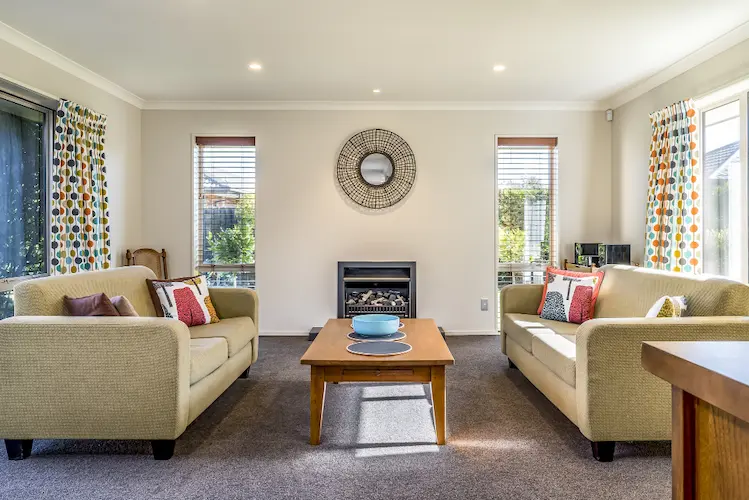 Do You Love How It Feels To Have a Clutter-Free House?
If you are looking around your house at the end of the weekend and you feel amazing about it, I have something extra special for you!
If you want to do a learn how to declutter your home, the ultimate declutter of all declutters, you need the Fearless Decluttering E-Book and Printable Pages!
I created the Fearless Decluttering Program to walk you through the decluttering process at a comfortable pace.
I promise you won't get rid of anything before you are ready! You will not make your house a mess or feel overwhelmed.
But at the end of it, you will have a beautiful clutter-free home!