Too Much Stuff! Not Enough Space! 7 Great Solutions!
The days are full of chores and cleaning and obligations and before you know it it's Monday again. You feel stressed, overwhelmed and exhausted and you look around your house and think "I have too much stuff, not enough space! My life would be better if I had a bigger house!"
I know I can't be wrong here because I felt like that too, once upon a time. But I didn't have money for a bigger place and I was going to be stuck in my small studio apartment for awhile. I was right about the problem. I did have too much stuff, not enough space. But I was wrong about the solution. I didn't need a bigger place!
How Do You Know If You Have Too Much Stuff?
How do you know when you have too much stuff? Maybe you feel like your life is fine just the way it is. But how does having too much stuff affect you? What can you do if you have too much stuff? Why do we accumulate so much stuff?
If you have ever thought you have too much stuff, not enough space, and you need a bigger house the solution may be easier than searching for a new home. You might just need less stuff.
I used to think I needed a bigger home but then I went to another country and saw people living in houses the same size as mine with much bigger families. That's when I realized the problem wasn't the house. That's when I looked at my house and said: "I have too much stuff!"
It was an epiphany! It should have been obvious but our society works hard to make us feel like we never have enough.
There are lots of signs you have too much stuff but you might not notice them. But maybe it's time you did. Having too much clutter can actually control your life and cause you to do things to avoid the problem without fixing it.
Let's find out if you have too much stuff and what you can do about it!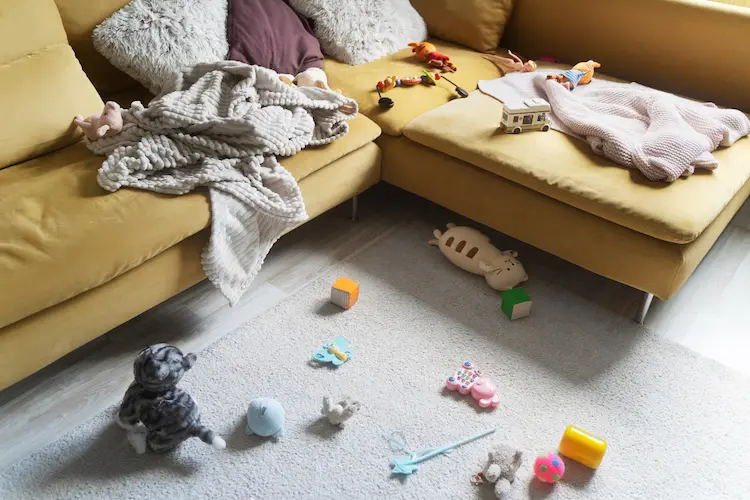 You Have Too Much Stuff if You Can't Find Anything
Have you ever looked for the tv remote or your car keys for more than 2 minutes? If you can't find things that you use often that is a big sign that you have too much stuff!
All that visual clutter in your house is blinding you to things that are sitting right in front of you! You know it's true!
The solution:
Find a home for every item in your house. That way you will know where your keys are and where the remote is. It will save you tons of time.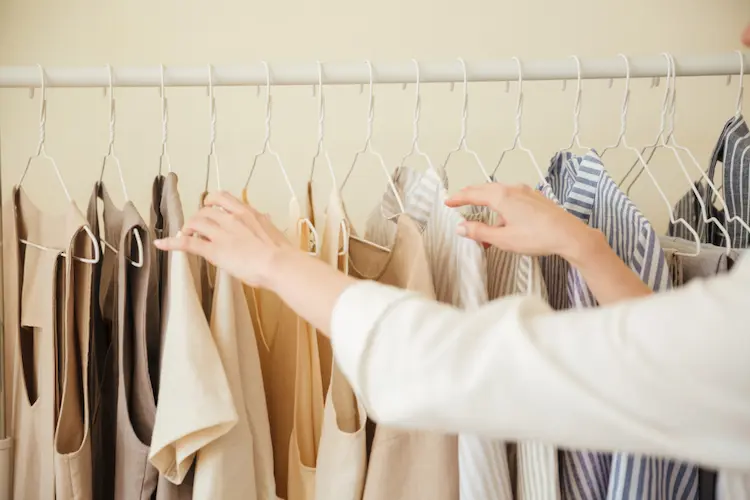 You Have Too Much Stuff If You Can't Decide What to Wear
Do you have a closet full of clothes and nothing to wear? That is because you are keeping clothes that don't fit you, are worn out, aren't your style anymore, or generally don't make you feel fabulous!
The solution:
You need to clean out your closet and get rid of anything that doesn't make you feel great! For more tips read this article about cleaning out your closet like a minimalist.
Your Life is Controlled by Too Much Stuff If You Would Rather Eat Out
If your kitchen is full of cooking tools and your fridge is stocked but you are still calling for take-out you probably have kitchen claustrophobia. If you can't pull out anything without moving something else and you aren't even sure where the pan you need is then you probably have too much stuff in your kitchen!
The solution:
You will need to declutter your kitchen by creating zones. Categorize your tools by whether you use them for cooking, baking, prepping or serving. Let go of unnecessary single-use gadgets and duplicates.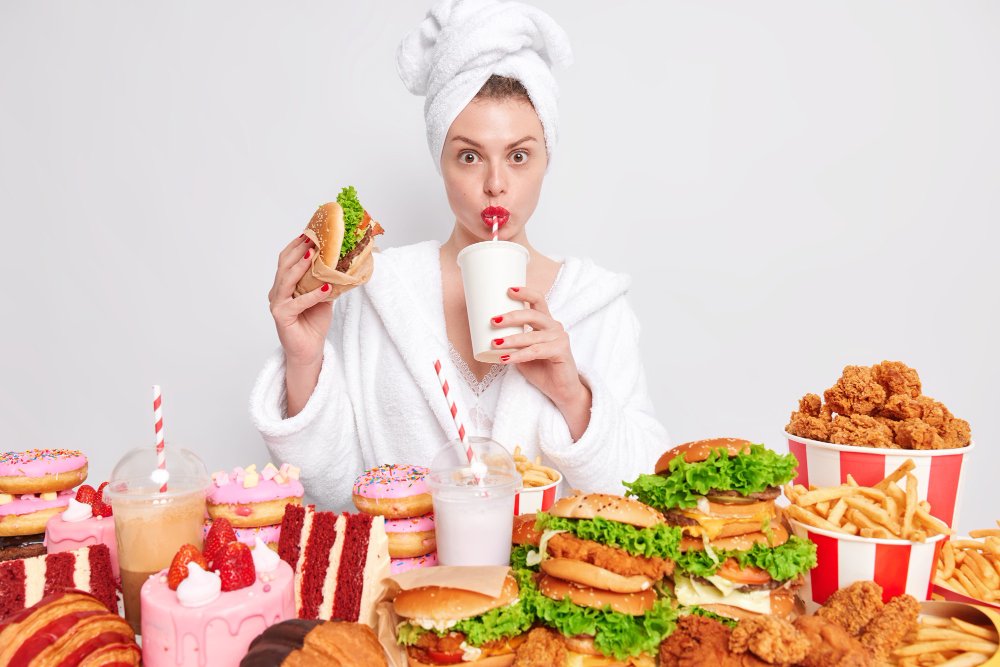 You Have Too Much Stuff if You Bought Duplicates
Have you ever bought something that you absolutely needed and a week or two later found the one you already had? Your life is controlled by too much stuff if you can't even remember what you have. That is a big waste of money, not to mention time and energy.
The solution:
When your home is well organized and you know where things go you won't forget what you have. If your home organization is not working for you check out these easy-to-maintain home organization ideas!
Every Counter is Covered with Stuff
When you look around your house and all your counters are covered with stuff you may think "I have too much stuff, not enough space." But remember the space is not the problem. The stuff is the problem.
You might have too much stuff if you have no space to work! If every counter is covered with stuff it may be because you like to keep things "handy". That means that you are making organization too hard and you don't want to put things away.
The solution:
Store things close to where you need them. Organize them in a way that makes them easy to grab and easy to put away. That will make them "handy" but not in the way!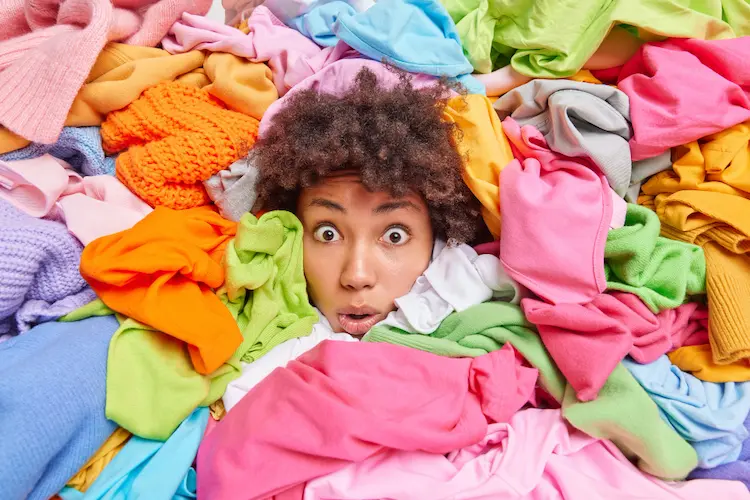 Your Cabinets and Drawers are Bursting
Is it hard to shut your dresser drawers? Do things fall out of your cabinets the moment you open them?
Isn't that frustrating? Odds are there is just too many things inside them! And you probably don't even know what you have in there so you are probably going to end up re-buying stuff you already have.
The solution:
It is time to declutter your home. You need to start really looking through what you own and letting go of stuff you no longer need or use and pairing down on duplicate and triplicate items! Let me help you declutter without getting overwhelmed with my Fearless Decluttering E-book!
You Are Buying More Storage!
Have you ever wanted a bigger home? Did you settle for buying just a few more plastic bins? Are you paying a monthly bill for a storage shed? If you are buying more storage, dreaming of a bigger home, or paying for storage outside of your home then you have too much stuff.
The solution:
It is time to get serious about decluttering your possessions because you will always fill more storage or a bigger home. You need to reverse the pattern or you will continue to fill up whatever space you are in.
When your storage solutions get full don't get more storage solutions. Get rid of excess stuff.
STOP Letting Too Much Stuff Control Your Life! Break Free!
If you have been overwhelmed with too much stuff, now is the time to act!
Let me help you declutter your home and keep it clutter-free!
I have created a unique 3 phase decluttering process to help you address the reason you acquired soooo much stuff and then break free of it! I will help you overcome overwhelm and learn new habits so that the clutter never comes back!
Stop letting too much stuff control your life! Check out my Fearless Decluttering E-book and Printable Pack!
GRAB THE FEARLESS DECLUTTERING E-Book and Printable Pack Here!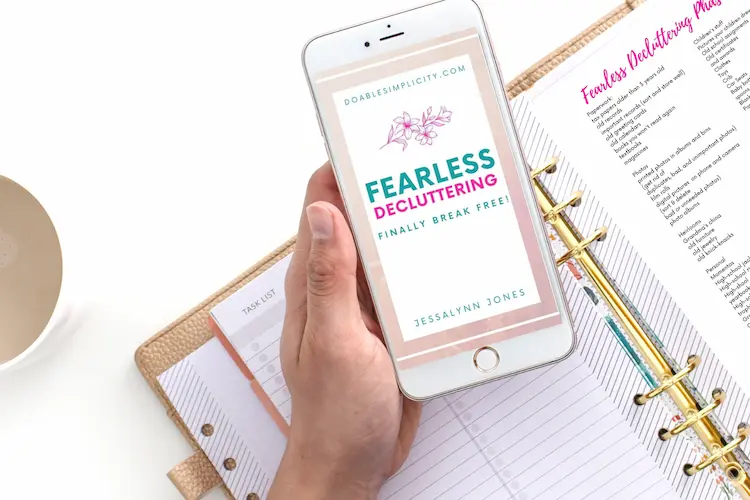 Want to learn more about decluttering?
Read: How Do I Declutter and Organize?
You might also enjoy these articles: