14 Colorful Summer Capsule Wardrobe Ideas for Your Vibrant Minimalist Closet!
It's FINALLY summer! If there ever was a year I was looking forward to the summer this is it! I'm sure summer will be amazing especially with a colorful summer capsule wardrobe that is comfortable and versatile!
This post contains affiliate links which means that when you purchase through those links I receive a small commission at no extra cost to you!
My Colorful Minimalist Summer Capsule Wardrobe PICKS:
You Don't Have To Buy New Stuff To Have a Colorful Summer Capsule Wardrobe!
I love to write these posts for capsule wardrobes each season! (Fall capsule wardrobes are my favorite!) They are just fun to create. But I do not buy new clothes every season and I don't want you to feel like you have to either.
I think that you can probably find similar items in when you shop your closet that you can mix and match.
However, clothes wear out and our bodies change and when you are looking for replacements, that is the best time to figure out what kinds of clothes really work in a versatile way for a smaller wardrobe. That way you can work towards having a better minimalist closet and having only clothes that you love to wear!
Use this post as a way to figure out what you might need to replace as you declutter your closet and what you could consolidate down to.
If you want to buy something through these links that is great too! These summer capsule wardrobe picks are all from Kohl's so they won't break the bank!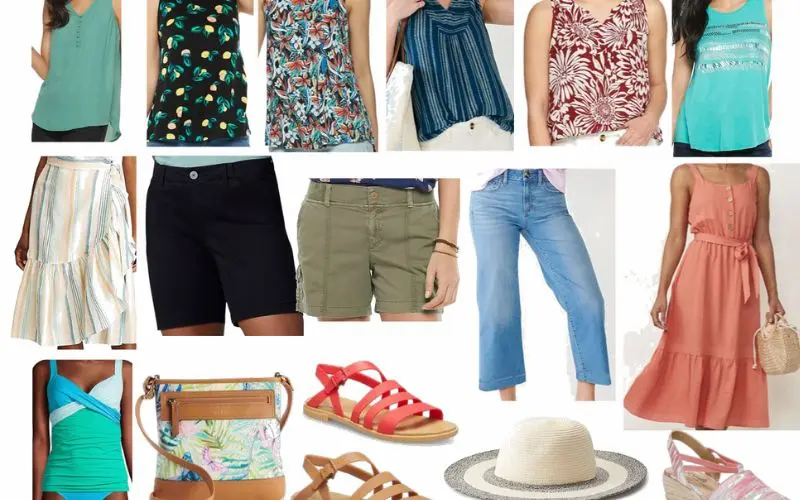 Bottoms for Your Colorful Summer Capsule Wardrobe
Shorts and pants are the hardest things to buy for your minimalist closet because we are all so differently shaped. I have a hard time finding a good fit and I definitely needed to replace my shorts this year.
But I am always working towards a simple wardrobe so I gave it a lot of thought. While I was downsizing my closet, I decided that I could replace the 5 pairs of shorts I have with 3 pairs of shorts, black Chino walking shorts, green cargo shorts, and some denim shorts. I also really liked these cropped jeans for my summer capsule wardrobe!
Cute and Versatile Tops
It's all about tops for me! That's where you can show off your personality and flatter your complexion.
I am not a neutral minimalist. I am a colorful minimalist so I love to infuse my summer capsule closet with as much color as I can.
For summer you will need a couple of casual swing tanks, a couple of flowy light-weight tunic tops, and a sleeveless blouse. I love that all of these have plenty of color choices so pick what fits your style!
The ones I picked were the ones I thought would work well with the bottoms I chose and would flatter me.
I can make over 22 outfits with these tops and the bottoms I chose. That means that even though my summer capsule wardrobe choices are colorful and have patterns they are still super versatile!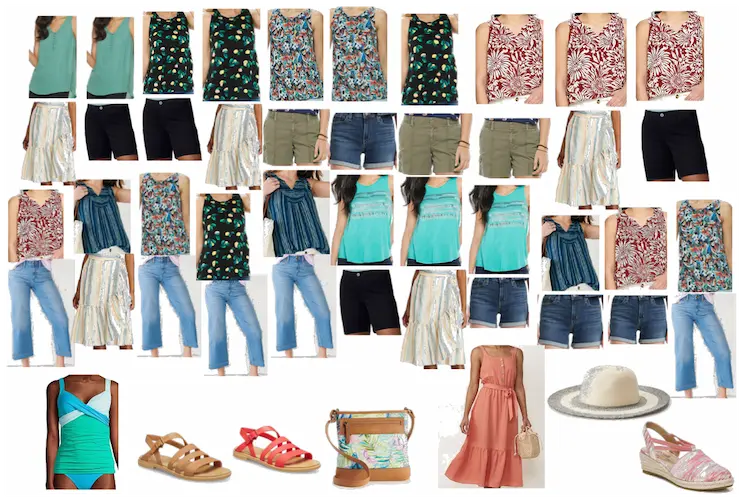 You Need a Dress and a Skirt
Your summer capsule wardrobe should include different types of clothes for different situations.
For that reason it is great to have the choice to get a little more dressed up. Wearing a dress or a skirt can actually be more comfortable than pants sometimes and a lot cooler!
I love this wrap midi-skirt which could be dressed up for a nice event or dressed down to run around town.
This summer dress is a gorgeous and great way to exude easy class without sacrificing color! You should definitely have a nice summer dress in your summer capsule wardrobe!
Shoes:
Summer is about movement and relaxation. As you declutter your wardrobe and build your summer capsule wardrobe be careful not to pick up too many cute but useless shoes.
Your shoes should be comfortable! It can be hard to find cute shoes that give support though.
I never thought I would say this but I'm a big fan of crocs. I don't think I would ever wear their original clog but they make some really cute shoes now and they are so comfortable! This tulum sandle for example is very cute! They last a long time and they are easy to clean!
Also, you might want to pick up these adorable espadrille wedges from Lifestride for your dressier looks! They will look great with the dress or the skirt I mentioned above but would also pair well with the jeans and almost anything in this summer capsule wardrobe!
Accessories:
Last but not least you are going to want some great accessories for your summer capsule wardrobe. I would recommend you have a sunhat and this adorable color block swimsuit for your beach days!
You will also need a purse that matches all your beautiful summer looks. I love cross-body purses so this purse is perfect! And if you are looking for some one-of-a-kind jewelry check out my Etsy jewelry shop Vintage Columbine.
Mix and Match and Choose What Works For You!
I love summer! I love being a colorful minimalist and having a colorful summer capsule wardrobe for summer makes me feel great!
What I love about the things I selected from Khol's for this post is that almost all of them come in multiple colors and patterns so if you don't love the colors and patterns I selected pick the ones that work for you!
Just remember, as you build your summer capsule wardrobe, that if you stick to 3-4 colors and neutral bottoms it will be easier to mix and match your wardrobe! This will help you keep your minimalist closet, well, minimalist!
For awesome styling tips you have got to check out my favorite Instagram styling consultant Natalie! She gives tips that anyone can follow to make their outfits more stylish and flattering! Check her out on Instagram @nfclosetcurator or her blog: www.nfclosetcurator.com
Do you need help decluttering your closet?
If your closet is a disaster zone Closet Simplicity can help! Hone in on your personal style, learn cheap or free organizational hacks, and stop keeping clothes you don't wear!