How to Focus On Online School -8 Great Tips That Work!
I have learned a lot in the last couple of years. I've taken online courses, online seminars, and online classes through zoom.
Online learning is going to make a big impact on our future from online classes for college and virtual learning for school to online courses for just about anything you want to do!
Children will be doing a lot of virtual learning through homeschool or hybrid school environments too.
That being said online learning doesn't come without its challenges. It can be VERY hard to stay focused when your online courses are set in a busy or noisy home!
Here are some tips for taking online classes that will help you learn how to focus on online school! They are guaranteed to set you on the path to success!
As an Amazon Associate this post contains affiliate links which means I get a small commission from purchases made after you click them. This doesn't cost you any extra.
How to Focus On Online School:
It sounds easy enough to learn in the comfort of your own home but the problem is that we usually get in our own way.
These tips for taking online classes are timeless and will apply to you whether you are college student, taking an extracurricular course, or are homeschooling.
Use these simple tips for how to stay focused during online school and you are sure to succeed! More than that, you will enjoy the whole process a lot more!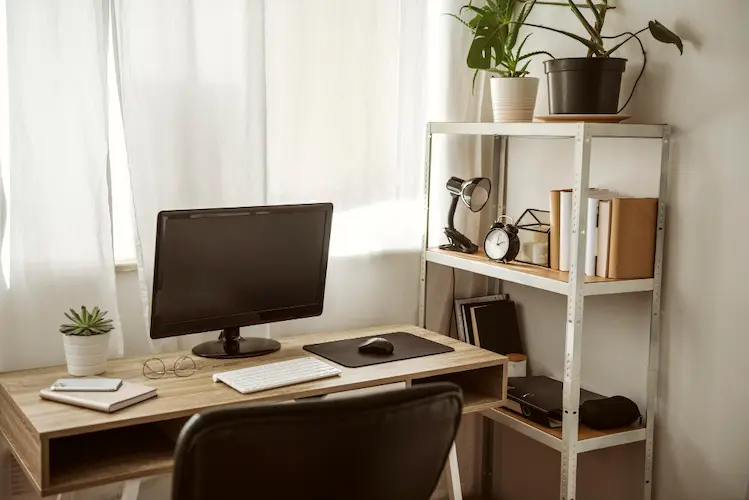 1: Create a Space for Online Learning
When we are talking about tips for taking online classes this may just be the most important.
You need to have a good space to sit and focus, possibly for quite a while.
It is best to have a dedicated space for your learning. If you have room for it having the classic set up of a formal desk and chair is the best way to do it.
If you do not have room for that you can set your laptop on the dining table.
There are few other things that will help you stay organized and prepared to learn. Here is your back to school list for online learning:
2: Make a Schedule
It is very tempting to sleep in and put off learning online if you do not have a specific schedule with your classes or if your classes are later in the day.
But ask yourself, what would your schedule be like if you weren't doing online classes or virtual learning?
You would treat your education like a job so do the same now. If you want to really learn how to focus on online school you are going to have to make a schedule.
Most people are the most alert and productive in the morning so drink your cup of coffee, put some real but comfortable clothes on, and sit down to your desk ready to work. Get right to learning online instead of letting it hang over your head all day.
This may be easier if your online courses are already scheduled out. If they aren't you need to make a schedule and stick to it. Do not put off your online learning just because it's easy to come up with excuses to do other things.
This is one of the most important tips for taking online classes. Treat them like a real class. Show up on time.
Using a planner is a great way to do this. Try this planner from Blue Sky!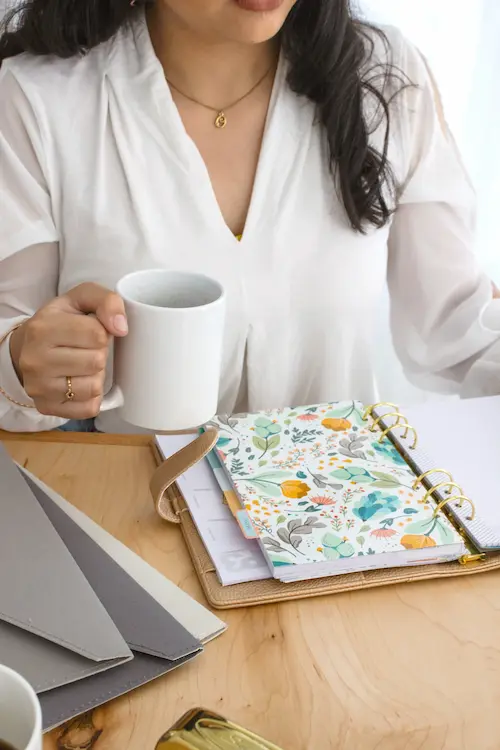 How to Focus on Online School #4: Minimize Distractions
Another important part learning online successfully reducing distractions.
Doing this at home, with kids, dogs, pajamas, laundry, and Instagram can be especially hard. \It's not the normal classroom setting where everyone sees you goofing off so you're going to have to be your own teacher!
When it's time to start learning online it would be best for you to put your workspace in a room you can shut yourself off in.
Also, ask your family to respect that you need to take a course or work on homework during this time. Remind them that if can focus and get it done you can move on to whatever they would like to do faster.
Do not run a tv show or distracting music at the same time.
People say that this kind of background noise helps but studies show that having background noise can make it harder to remember details or to follow complex directions.
Having anything in the background simply is not how to stay focused during online school. It will on sabotage your efforts.
#5 Practice Self Discipline and FOCUS
The hardest part about online learning from home is staying focused.
It can be very easy to just give up and go take a nap or watch a movie. Suddenly your will have an urgent need to play with your dog, go get something to eat or call a friend.
Anything can distract you from your online classes, especially when you are not on live with an instructor.
So the question is how to focus on online school. What will help you do that?
Put Your Phone Away!
The first step is to put your phone and any websites that do not have to do with your education goals aside.
It is so easy to pick up your phone to "research one thing" and find yourself scrolling social media or texting a friend.
Learn to set your phone aside and not look at it until you have finished the task at hand.
Take a Break!
Another way to help yourself focus when doing online learning is to know when it's time to take a short break. If your brain is about to explode it is a good idea to take a small break.
Usually, if you take a short walk or get a small healthy snack you will return to your work refreshed.
Drinking water is also good for your brain!
Don't Multi-Task
One big temptation with online learning is the temptation to multi-task. Just don't.
Sure you can run a load of laundry and do your class but when you leave the room to change the laundry you will think of 5 more things you need to do.
Focus on getting your work done subject by subject. Do other things between subjects, not in the middle of them.
If you leave your desk to do something make sure you get back to your work!
No Procrastinating
Last but not least, as I mentioned before, it can be easy to put your online classes off. But you are reading this article to learn how focus on online learning!
Again I say, you don't want them hanging over your head all day. Don't procrastinate.
Do not think about when the deadline is and put off your work till then. Do the work assigned as soon as you can so that you can do it as well as you can.
When you avoid the urge to procrastinate you will have a lot less stress and produce better work! You will also be more productive overall without that weight of unfinished work on your shoulder.
How to Stay Focused During Online School:
Put your phone away
Take a small break
Don't multi-task.
Focus on one subject at a time.
Do not procrastinate.
#6 Add in an Extra-Curricular
You probably expected all the tips for how to focus on online school so far. But you might be surprised by this one.
While I was home-schooling I learned how to play the violin and sew! It was so rewarding to be working on an enjoyable project as part of my "school day".
There are millions of online classes and courses for skills you may want to develop. You can choose an online class in something fun you would like to learn! Choose a language or an instrument you would like to learn. Use youtube or find an online course.
You could also block out half an hour to an hour for a creative hobby or exercise program that you want to do regularly and improve in.
When you add extra-curricular subjects it helps to break up your day. When you are still learning, but learning something you are excited about, it helps you to stay motivated in every subject.
#7 Think in the Long Term
When you are in a learning environment you have the encouragement of teachers and fellow students to keep you going. At home, it can be hard to stay motivated.
That is why is it important to remember that each tiny step you make today is going to help you make steady progress towards your long-term goal.
Online learning is taking you towards your goal. You are taking these online courses for a reason.
Finishing each assignment is the only way to complete the class and completing the class is the only way to complete your education.
You are not on a hamster wheel (even though it feels like it sometimes), you are on a freeway heading to the place you want to be.
That is why it's so important to learn how to stay focused during online school! It doesn't feel like real life sometimes but it totally is!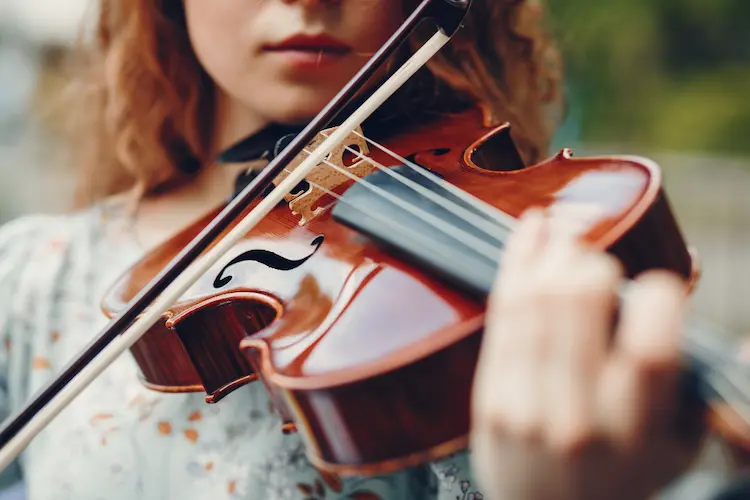 #8 Reward Yourself!
To help you stay motivated to keep learning online reward yourself at the end of a completed project.
For example, when I finish this post, I am going to go sit on the porch and read a book.
What would you like to do when you are finished with your project? Imagine and it keep that image in your mind as you work on your online courses.
Small rewards can help you stay motivated. You can create these rewards out of anything you enjoy doing. Just remember you have to complete the set amount of work before you enjoy your reward.
Ideas for rewards:
Read a book on the porch.
Walk the dog.
Do your favorite exercise.
Get a well-deserved nap.
Watch your favorite show.
Do your favorite creative hobby.
Enjoy time with your family.
Enjoy a beautiful natural spot.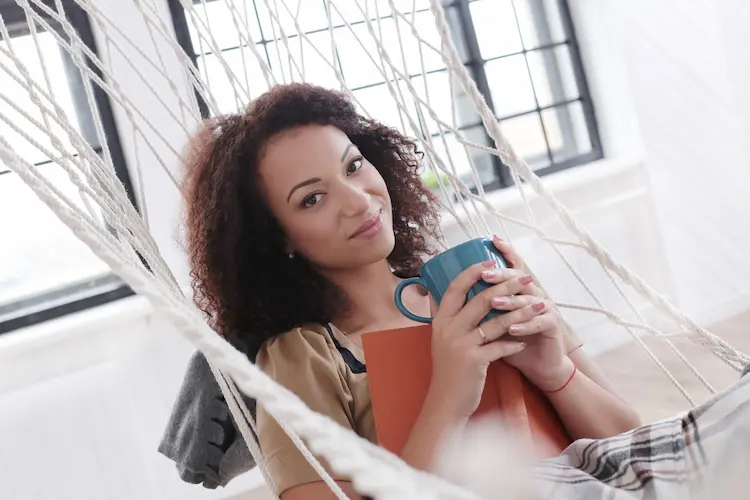 Use These Tips for Taking Online Classes and Benefit!
If you use all of these tips for taking online classes I guarantee it will improve the entire experience! Instead of dreading your online learning, you will start to enjoy it!
Now that you know how to focus on online school, think about all the benefits of learning online.
You are not spending time and money on commuting.
You can wear whatever you like (although I would recommend real clothing to feel more productive).
Lunches, snacks, and coffee are way cheaper!
Your schedule is more flexible.
You can spend all the extra time and money you would have spent on those things with your family.
A snow day won't stop you from getting to class on time!
The list of benefits of learning online goes on and on so remember to focus on the positive!
I know that you can do this! Learning online can be just as good or better if you put the effort into it! Enjoy a happy simple life full of learning!