A Minimalist Packing List to Keep Travel Fun & Simple!
It feels like forever since I've gone anywhere but I am looking forward to a couple of trips this summer.
I love clothes and being dressed appropriately for every occasion is important to me so I didn't always pack like a minimalist.
That changed during my married life. Ever since my husband and I got married we have only had carry-on bags. And I've traveled more as a married person than I ever did single.
I love packing and I usually start weeks in advance because I'm a big nerd. So what's on my minimalist packing list for summer trips?
This post contains affiliate links. As an Amazon Associate, I receive a small commission when you click on these links and purchase something at no extra cost to you.
Why Build a Minimalist Packing List?
You may wonder why you should even try to pack like a minimalist. Maybe you aren't even into the minimalist lifestyle.
After all, if you aren't flying or you get a free checked bag why bother? It's more fun to have all the clothes you dream of wearing on your trip!
I understand how you feel because that's how I used to pack but I learned that it's not as much fun as it sounds to pack loads of stuff the day we tried to rent a vehicle for my husband's family of four and us as a couple.
The vehicle fit 6 people with no problem but all the giant suitcases were another story…Let's just say we felt like 15 clowns in a VW bug and we weren't having nearly as much fun!
When you pack light it gives you more flexibility for your entire trip. You don't have to worry as much about cars, changing hotels or vacation rentals, and whether or not your bags will actually arrive at the other end of your flight.
There are a lot of reasons to pack like a minimalist for your summer trip. And if you have a good idea of what you are going to pack because you have a minimalist packing list it will be easy to have your next big adventure!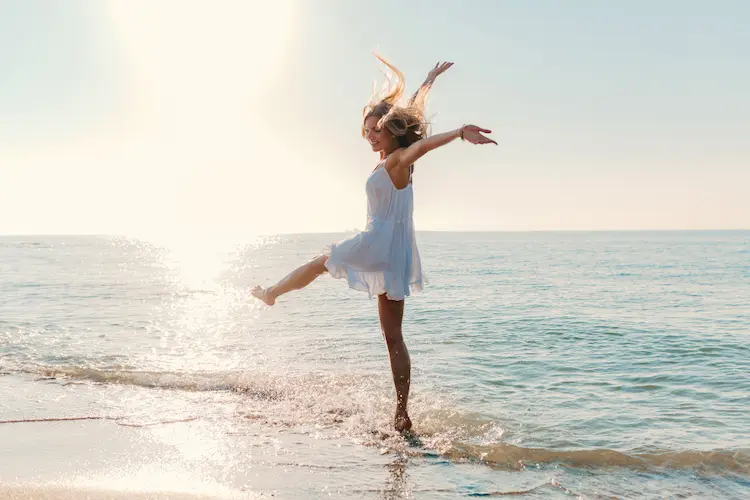 Start Your Minimalist Packing List With Pants and Shorts
Ok so let's get started creating your travel capsule wardrobe!
I know the first thing you want to pack are your cute tops but can be a lot more constructive to start with pants and shorts. That's because you will choose these with a more practical mindset. You will naturally choose bottoms that work for the activities you will be doing on your trip.
I have gone through a lot of different ideas about pants, shorts, capris, skinny jeans and more but I've found my old standbys that are always included on my minimalist packing list for a summer vacation.
First of all, you need a good pair of jeans because they are classic and will last at least two days. Then pack a comfortable pair of black stretch slacks that will serve you really well in the airport and for nicer things like museums you might go to.
Finally, if you are taking a fun summer trip I would recommend a couple of pairs of shorts. I favor green and black shorts because they look nice and casual and are easy to mix and match. If you hate shorts you can replace these with a pair of jeans and another pair of slacks.
For that matter, if your trip is longer you may want to throw in an extra pair of jeans or slacks anyway! I generally figure that each pair of pants will work for two days and match two different blouses. If you can do laundry on your trip that's even better! You can pack really light in that case.
Minimalist Packing List for Summer: Tops
The thing about summer vacations is they are usually pretty casual. You might want to start with a couple of your favorite tank tops. I really like rayon tops because they breathe really well and they look a little more elevated. Casual tanks can be packed for chillin too.
I also think you need one really nice versatile sleeveless blouse you can pair with your black slacks for when you go to a nicer restaurant, a museum, or something else that is nicer. I've been on a few too many trips where I ended up at a nice restaurant embarrassed that I hadn't packed anything dressier.
And don't forget a nice loose long-sleeved blouse in a light fabric like rayon or cotton. Something like that can be a great thing to throw over your tank or wear on it's own when a night breeze comes along, or conversely, you need sun protection.
Pro tip: File fold your clothing in your suitcase! It will be easier to see everything at a glance that way!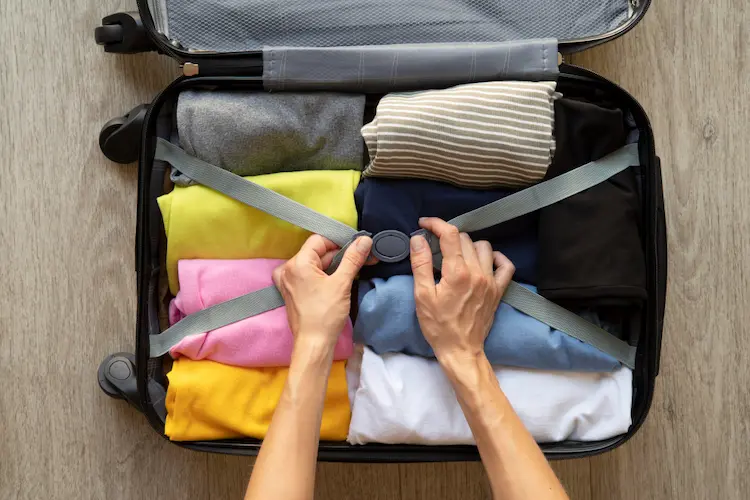 Here's Why A Couple Dresses Should Be On Your Minimalist Packing List
Now you may think that a dress isn't very necessary for your trip but let me tell you why I always include a couple of dresses on my minimalist packing list.
First of all, a nice casual dress is the absolutely most comfortable thing you could ever wear for a long drive. Trust me, my husband's family lives 13 hours away from us and we have to go through the hottest part of southern Arizona to get there.
Second, a couple of nice dresses will help you with any situation where you want to be dressy and cool. For example, I wore a simple day dress the day I was helping set up my brother-in-law's outdoor wedding reception. It was very hot but I was still ready for awkward family photos.
Expert tip: Grab a pair of these slip shorts to make your dress wearing even more comfortable!
Beach Wear For Your Minimalist Packing List
Now we are building a minimalist packing list for summer so I'm desperately hoping for your sake that your summer plans take you to the water! I love a beautiful lake or the wild ocean more than anything and when I'm near water you can hardly get me away from it.
Because of that, I've found a few things that make my beach days easy without adding too much bulk to my packing.
First of all, let's start out in style with an adorable tankini! I love tankinis because they come with all the convenience of a two-piece and the modesty of a one-piece. If you walk into a shop with a tankini and some shorts nobody really notices your wearing a bathing suit right away and you don't have to worry about "beach abs".
The next thing I pack for the beach is one of my favorite travel hacks ever! It all started when we flew to the Dominican Republic in the middle of winter. I used my lightweight scarf getting to the airport and on the plane and then it became my beach wrap when we arrived!
We also grabbed these great travel towels for that trip (which we packed in our carry-on backpacks) and they are still part of our minimalist packing list for every trip since.
Some other things that might come in handy for your beach days are water bags for your cell phones, water shoes, and a roll-up sunhat to protect your face from a nasty burn!
Shoes & Accessories
I'm sure you can pack all of this carry on but now we get to some of the tricky stuff. Your minimalist packing list will still need to include shoes, accessories, and possibly a jacket. Don't worry! I've got perfect solutions for all of it!
When I pack shoes I am seriously minimalist. I usually wear my tennis shoes for the airport cause they are the bulkiest, then I pack really comfy cute sandals for my destination and walking around the hotel. If absolutely necessary (like for a wedding) I pack a pair of heels.
Otherwise, the tennis shoes and the sandals are all I pack. You've already got your water shoes in your beach gear. All shoes that go in the suitcase or backpack are in grocery bags for cleanliness.
What about a purse? This always gets tricky because airports can sometimes count your purse as a carry-on bag. How do you get around that? I like my small crossbody baggalini purse because I can throw it in my backpack at the airport so that I only carry my backpack and my carry-on suitcase on the plane.
As for a coat, if I need one, I pack or wear a lightweight rain jacket over a light cardigan. That gives me warmth and versatility without the bulk! Add your lightweight scarf/pool wrap and you can easily travel from a cold winter to a hot tropical climate.
Last but not least I love my jewelry! I make jewelry for an Etsy shop so I'm not likely to give it up. I just pick exactly what will match my outfits and pack it in ziplock bags in my makeup bag. Don't take valuable jewelry on vacation if you can help it.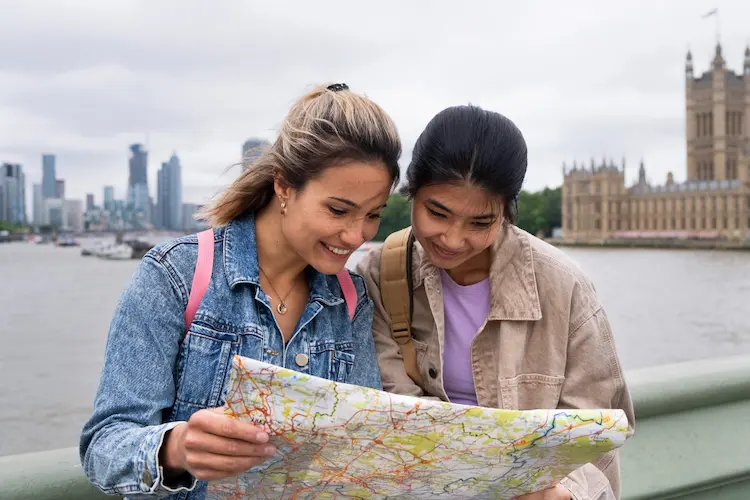 Packing Toiletries Can Be Tricky!
The only thing you have left to worry about is your toiletries! They can be tricky, especially if you are flying.
The best solution, in either case, is to have travel-size toiletries. You can either buy some or get the refillable bottles. You can put those bottles in a large zip lock bag or a CLEAR pencil box which is stiff and will protect them better. Whatever you put it in must be clear if you are going to carry on.
Try to pack your makeup the same way. Only take the basics and put them in a clear container.
Don't forget your sunscreen! It's time to have fun!
Create A Standby Minimalist Packing List!
I hope this helps you pack for your next summer vacation! I have found it very helpful to have a standby minimalist packing list that I can print and check off. You may want to do the same to help your future self get ready for all your big adventures.
When you pack like a minimalist it will take a lot of stress out of travel! It will be easy to change airports, hotels, boats, or whatever. Go out there and enjoy your summer!
Where are you going next? How will you pack light? Please share in the comments below!