This Easy Daily House Cleaning Schedule Takes 30 Minutes or Less!
I clean houses for work. Yes, I'm the maid.
I love my job because I know I am helping people have more time to spend with their families. I'm also giving them back that time to organize and do the things I cannot do.
The only thing I do not like about my job is that when I get home my house is not clean.
It's annoying and overwhelming to have more to clean when you have already cleaned all day. And that's why I have found that there are times when a daily house cleaning schedule makes life a lot easier!
This post contains affiliate links which means I receive a small commission at no extra cost to you when you click on or purchase through these links. As an official Amazon associate links in this article are affiliate which means I receive a small commission from Amazon when you purchase through them.
Cleaning Your WHOLE House Can be Hard!
Do you like to clean your house? Probably not. Do you ever get started and then give up because you got distracted by a bill you needed to pay, a phone call you needed to make, and so on?
Let's face it, when you are cleaning your own house it's easy to give up and do almost ANYTHING else because house cleaning isn't fun or interesting. But it doesn't feel good to get really far behind either.
There is also the fact that when we clean our own house we tend to take an all-or-nothing approach.
Once in a while, our home gets a really really good cleaning but most of the time it gets a spot cleaning here and a half-hearted touch up there. Then we decide that it's good enough and move on.
That's why I like cleaning for other people more than I like cleaning my own home. When I clean for others I am there for one reason and one reason alone. To clean that house. I can't pay their bills, organize their paperwork, write their grocery lists, or pick up their kids. Because I can't get distracted I just clean and I have to clean everything well before I can leave so it all gets done.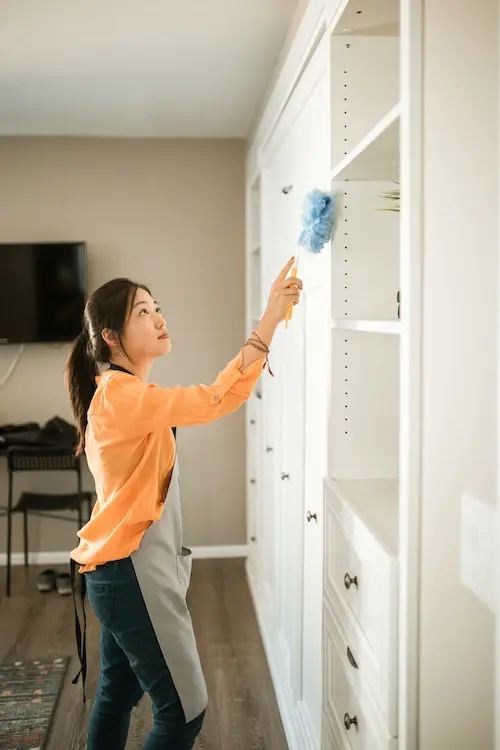 So How Can You Clean House Like the Maid?
It's really not that hard to do my job. Cleaning houses is not rocket science. If anything it requires the unique skill of doing the same things over and over again with mind-numbing regularity. That's why I listen to a lot of books and music when I am cleaning.
What are my special tricks? There aren't many. Here they are:
I move things to one side and clean then I move them to the other side and clean. Then I move them back.
I clean all the "wet stuff" first. Bathrooms, then the kitchen. Or visa versa depending on the house. Different rags and scrubbers of course.
Scrub stuff. There is no magic product besides elbow grease.
I do not organize when I'm cleaning. (I can't organize other people's stuff.)
When dusting I use an extending handle Swiffer. (Dancing is usually involved in dusting.)
I use vinegar to clean glass and chrome.
The floors are last because all the junk from everything else has fallen on them.
Pick up all the rugs and other small items on the floor before you start cleaning the floors.
Wait for the floors to dry before you put it all back. (Pet the dog or sit on the porch.)
The end. Now you know the glamorous tricks of the maid!
But seriously, I love my job because I have worked for some of the nicest families in the entire world!
How Long Does it Take to Clean?
So you may wonder if you could focus on house cleaning and only cleaning like the maid how long would it take?
I have been cleaning for about 16 years now and I've cleaned lots of different houses. I'm not super fast but I keep a good pace.
I can tell you that an average-sized tract home with 2 bathrooms in America will take 2 ½ to 3 hours to clean and a larger home will take 3 ½ to 4 hours to clean. A giant home, well, I haven't cleaned one of those but you can imagine it will take at least another hour just because of floor space!
Now, if you have a day where you are home and you can focus on cleaning for 3 hours I say go for it! You can put on some good music or an audiobook and knock it out! You might even be able to do some laundry at the same time.
But if you are looking for a cleaning schedule for busy family life, a daily house cleaning schedule that will actually get done, then read on!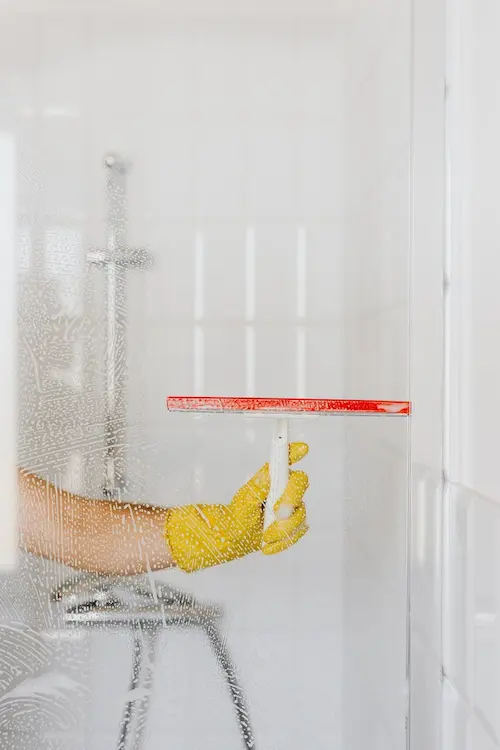 Why Try a Daily House Cleaning Schedule Instead?
Who has 3 hours that they want to use to clean? Do you want to spend every weekend cleaning? I bet you don't and I bet that cleaning feels overwhelming and so you might put it off until it becomes a big awful project.
This is confession time. I'm a cleaning lady and I hate to clean my own house because it's just harder to stay motivated!
That's why I love a daily house cleaning schedule and you might find a daily house cleaning schedule beneficial too! When you use this daily cleaning schedule you are creating a system that will automate the entire cleaning process!
I created this cleaning schedule for working women, for people who have limited energy due to chronic illness, or for people who just get bored quickly when doing house cleaning. This house cleaning schedule for busy family life is so much easier than doing it all at once!

What Should My Daily House Cleaning Schedule Be?
So, if you're going to split up your house cleaning into daily tasks what is a logical way to split it up? What would make the most sense?
Ultimately, your daily cleaning schedule may have to be designed by you to completely fit your life. It might take a little experimentation too. But, as the cleaning lady, here is a recommended daily cleaning schedule I think might work well for most people:
Monday: Bathrooms
Tuesday: Kitchen
Wednesday: Dusting
Thursday: Vacuum Carpets
Friday: Tidying
Saturday: Sweep and Mop Hard Floors
Sunday: Laundry
Why did I put the daily cleaning schedule in that order?
For a few reasons.
Normally we want our homes to look their best on the weekends when we might have company so this schedule makes sure that your house looks tidy and your floors are their cleanest on the weekend.
Also, I think that if you break it up a little bit with an easy dusting day on Wednesday and an easy tidying day on Friday you won't feel as overwhelmed if you fall behind one day. Those tasks could easily piggyback cleaning the kitchen or the hard floors.
Lastly, my laundry day is not actually on Sunday but it's on a day I'm home to shift it as it's ready. Sunday is a day a lot of people are home or only go out for half the day at most and that makes it easier to start a load (before you go out) and then move it and start another (when you get back if needed).
To grab a copy of these cleaning schedules including your deep cleaning schedule and your daily house cleaning schedule fill out the form below.
How Can I Be Prepared for My Daily House Cleaning Schedule
It can be very easy to say that your going to blow off your task for the day so how can you prepare for your daily cleaning schedule so that you succeed? By having the right supplies handy and ready for you. Let me tell you what I like to use to make it easy for you to be prepared.
For multi-surface spray, I make my own solution (Recipe here) or I use Shaklee Concentrate in a reusable bottle.
When scrubbing tough spots I use comet or Shaklee's Cherry Scrub which is my favorite or you can also use Barkeepers Friend!
For glass, mirrors, and chrome I use vinegar and water.
Any toilet bowl cleaner and brush will do. These disposable scrubbers are less gross.
When dusting I like to use an extending handle Swiffer.
For vacuuming, I prefer the Shark Rocket or the Tineco Hero
I love to mop with a Leibman spray as you go mop.
A good scrubby is your best friend!
You may notice that I don't use a lot of chemicals. I really try to avoid it because I am using them so regularly and a lot of them are quite toxic. On rare occasions, bleach is needed, but as I mentioned before the real secret ingredient is elbow grease. You just have to scrub. The good news is, if you keep up with your house, it will become very easy to clean.
How Can I Make Sure I Keep Up With My Daily House Cleaning Schedule?
What happens when you have a super busy day and you don't feel like cleaning the bathrooms? That's ok. Life happens.
This is a cleaning schedule for busy family life. It is meant to serve you not stress you.
The idea behind a daily cleaning schedule is that you know how to break up house cleaning if you need to. Sometimes it's going to be more convenient to clean in just one day or maybe two.
But what can help you stick to your daily cleaning schedule? Here are a few ideas:
Do your task for the day first thing in the morning or as soon as you get home before you settle in for the evening.
Clean your shower when you are showering.
Put your daily cleaning schedule on the fridge.
Ask your family to help with your tasks.
Try not to miss two days in a row so you never get very far behind.
Put some good music or an audiobook on and make it "me-time."
When it's time to fold laundry watch a show, listen to music, or an audiobook.
Don't avoid dusting. It's not that bad when you do it regularly.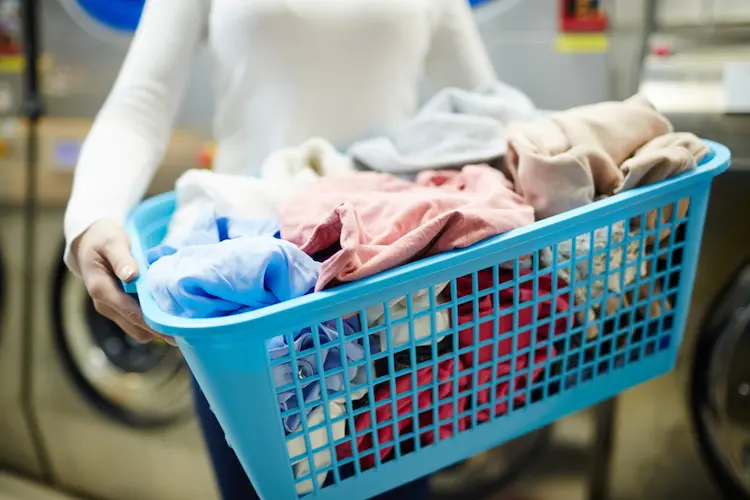 Make Your Daily House Cleaning Schedule Work for You!
It can be really hard to start a new habit like cleaning your house daily but small habits can make a big difference in your life. You can make this a nightly cleaning routine or something you do in the morning.
Once you get used to it, you will love that your house never gets really dirty and cleaning never becomes an overwhelming job!
Do you have to stick to the schedule that I outlined? No! Try it for a little while and if you find that you would rather do laundry on Saturday and tidying before the week starts do that! If you need to change the day you do the bathrooms that's fine! All our schedules are different.
I would recommend that you put the bathrooms on a day that has a little more wiggle room because they are a slightly bigger project. I would also recommend you make it a goal to do all your laundry and fold it on the same day so it's done and not hanging over your head.
Whatever you do, make your daily house cleaning schedule work for you and use minimalist cleaning supplies that make it easier.
Remember this is a cleaning schedule for working women, busy moms, and families on the run. Work it around your life and enjoy a clean and tidy home!
You can even make your spring cleaning a less giant project by splitting up across the months or several days. Grab your schedules for deep cleaning and daily cleaning at the same time by filling out the form above.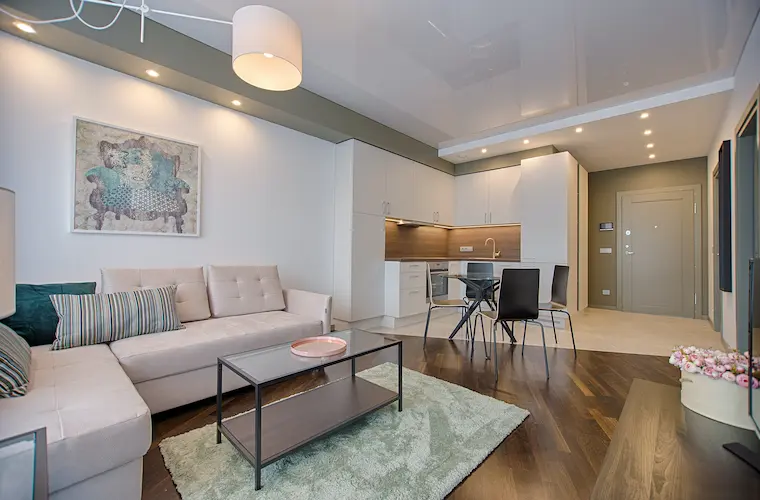 Your Daily House Cleaning Schedule Will Be Easier With Less Clutter!
As a professional cleaning lady for the last 16 years, I have found that it always takes about the same amount to clean a pretty dirty house as a pretty clean house but one thing does make a difference. The more clutter there is to move around the longer it takes to clean.
If you need tips on how to declutter your home I've got the solution for you! I designed the Fearless decluttering E-Book and Printable Pages to take you through a 3 step decluttering process that will help you avoid overwhelm while you declutter your home. You will build your decluttering muscles slowly so that you never get rid of anything before you are ready but you end up with a beautiful, functional home.