Need Something Fun To Do At Home? 14 Great Ideas!
I'm not going to lie. I lived my best life during the Pandemic. I love staying home in my cozy clothes. The Pandemic gave me time to be creative and productive in new ways.
At the same time, even I, got stir crazy at times. When I did, I had to think up something fun to do at home.
These fun activities can fill your days and stay positive if you are ever stuck at home again!
This post contains affiliate links. As an Amazon Associate, I receive a small commission when you purchase through these links at no extra cost to you.
I Can't Find Something Fun To Do At Home….
Staying home can be aggravating, boring, and depressing. It can feel like all the fun is out there and you are stuck.
But if you change your perspective and look at the time you have at as a gift you can find lots of things to do at home that will cheer you up and maybe even make you grow as a person!
Because we all have to stay at home sometimes I want to share this list of things to do at home so that you can have something fun to do at home when you are bored. That way you can love staying home as much as I do!
Something Fun to Do At Home: Binge Watch Something!
Obviously watching TV is the first thing we all probably think of but that doesn't mean it's not a good option! I tend to avoid watching TV during the day but I once in a while it can be really fun to just chill and watch something during the day.
There is nothing as great as binge-watching your favorite shows and movies to while away the hours and make you feel comforted, distracted, and happy. If you were to ask me what I would binge-watch my top choices will always be: Chuck, Bones, Gilmore Girls, Doctor Who, Psych, Downton Abbey, The Office, Parks and Rec, Boy Meets World
I have many more favorite shows I love to watch. What about you? This is a great time to go down memory lane!
Don't forget movies!
You can also use this time to rewatch your favorite movies! There are so many choices you should probably be thankful that you do get to stay home, because after all, how else will you get to see all these great classics again!
My top list would probably go something like this:
Star Wars (That will take a while.)
All the Back to the Future movies.
Princess Bride, You've Got Mail, Wild America, Pride and Prejudice, Bride and Prejudice, Decoy Bride, The Importance of Being Earnest, and soooooo many more! Yes I know, these movies are not high brown or award-winning but I love them anyway! What do you love? Watch your favorite movies and feel nostalgic and comfy!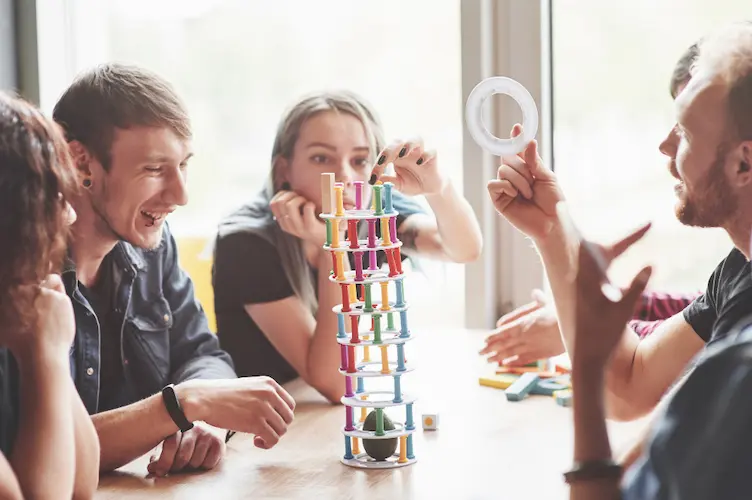 A Board Game is Something Fun To Do At Home!
My husband and I are big BIG board game nerds! We love games so much we have an entire corner of our 400 sq ft apartment dedicated to board games. That collection includes most of the easy classics, a few of the popular party games, lots of strategic and in-depth deck-building games, and several versions of RISK alone! Often times we will play a board game when we have a free evening or afternoon, especially when the weather is lousy.
Here are some games I can definitely recommend to anyone!
And of course, you have classics like RISK and Monopoly with their many versions as well as Scrabble and Pit!
You may be at home but enter a new world through a book!
If you are looking for something fun to do at home one of my favorite things to do is to read a book! When you read a book while you're stuck at home it's great because it takes you to different places and gives you new perspectives through the eyes of amazing characters and wonderful stories!
I am a big fan of using the digital Libary app Libby because you don't have to leave the house and you can get your book any time of day! It is simple to just link your library card to this app and you have access to their digital library which includes audiobooks as well. I love to read on my Kindle Paperwhite so I send most of my books to it. There are so many books that I love and that I could recommend.
What to read…
I am currently reading a young adult series called the Lunar Chronicles because my book buddy suggested them. They are very exciting! It starts with a cyborg Cinderella in New Beijing and as the books continue you meet a spunky Red Riding Hood in France and the ragtag team of fairy tale misfits and heroes grows from there. Needless to say, the nerd in me is entranced.
My favorite series of all time is the Amelia Peabody series by Elizabeth Peters because it is full of everything I love! It's a series of mysteries centered around the turn of the century Egyptian archaeology with a growing family of perfectly imperfect good guys, villains, and everything in between. How I love it!
Some other great books:
The Life-Changing Magic of Tidying-up (of course), The Guernsey Literary and Potato Peel Pie Society, Anything Agatha Christie (Death on the Nile is my favorite), Little Women, Pride and Prejudice, Emma, Tuck Everlasting, Kate Morton books like The Lake House and The Secret Keeper and way too many more to mention!
For the best ever reading advice check out my best friend's Instagram @breezyannreads. She is the most voracious and dedicated reader I know and her taste is impeccable!
Work Out at Home with YouTube:
Let's not let our time at home, avoiding public places like possibly the gym, cause us to get flabby and out of shape. After all, we are doing all of this for our health. So what can you possibly do at home?
YouTube has hundreds, probably thousands of work-out videos! One great resource I have found is Pop-sugar. I love their channel because they put out a huge variety of great work-outs that will legit have you dripping sweat and feeling the burn and most of them are 30 minutes or less!
I particularly love anything related to dance workouts and I have also been on a major Barre kick! Barre is a workout that is based in ballet and focused on small repetitive motions to build long lean muscles. When you look at it, it doesn't look that hard. Once you start doing it, however, you feel it in a big way. I used the OpenFit Xtend Barre Free Trial for 14 days and felt an enormous difference in my posture, my measurements, and my overall strength!
Recently I went ahead and signed up for Beachbody on Demand! Let me tell you, it's an amazing set of programs that are totally worth it!
Maybe these work-outs aren't for you but I guarantee you can find something that is perfect and helps you turn your time at home into a major self-improvement project so go out there and find it! Set a goal and surprise your friends when they see you next time!
Practice practice practice that instrument you haven't touched in years!
I used to play the violin and the mandolin. Sadly my violin has sat in the corner for ages. Every so often I get it out and my fingers remember more than my brain does!
If you have previously played an instrument but never had time to play it this is a great time to refresh your skills. Go get your instrument from where it is sitting in the corner. Now is the time to pick it up! Again I mention that YouTube because it is a great place to learn new skills with your instrument.
Como Se What?! Learn a language!
During the Pandemic, we couldn't travel much but that is already starting to change. Because there is probably somewhere you have always wanted to go, do the research now. You can start working on that language right now because you can give it the time it deserves.
Duolingo is an awesome app to give you an interactive head start! It currently has 35 complete language courses available in English including Spanish, French, Italian, German, Japanese, Mandarin Chinese, Korean, Greek, Arabic, Hindi, and Swahili. Just because we can't travel doesn't mean the world is closed to us! Right now you have lots of time and energy so you might as well learn the language you want to learn! You won't be bored because you will be dreaming of your next big adventure!
I've been learning Spanish and Hindi! Hindi is particularly fun because I never thought I would be able to understand a completely different alphabet and I did! Check it out and see what you can do!
Start a Journal
If you are like me and you have always enjoyed writing but you never took enough time for it, then now is the time to start a new habit of writing. You could start a journal about things you are thankful for, about things that happen in your life, or stories you create, or even your prayers.
One thing that got me writing again and helped me to start thinking about a blog again was this 300 WRITING PROMPTS journal I got from Target. My best friend and I are making it a goal to complete three prompts a week and it has reinvigorated my desire to write!
Play Outside in the Sunshine
I think that the Pandemic encouraged us all to get outside more. You can do things like work a garden, walk, bike ride, etc.
It is good for you to have fresh air where there are not lots of people! If you have a nice yard or a quiet neighborhood don't stay inside.
I enjoyed a wonderful spring sun-tan session and a walk today! Because I took the time to get some sunshine and fresh air, I feel a lot better for it!
A Spa day Is Something Fun To Do At Home!
You might not have been to any special events recently but you never know when you might want to dress up and pamper yourself with some self care just a little for you own self-worth. Take a little time to deep condition your hair, take a good hot bath in Epsom salts, drink a smoothie, do a facial, and paint your nails! I have recently become a big fan of impress nails for a cheap alternative to a pro manicure! They stay on pretty good!
Hobby Time!
Are you still looking for something fun to do at home? Do you have a hobby? I have so many hobbies I can't imagine ever getting bored.
My two top hobbies are sewing and jewelry making. Already, I have made a little dress and a skirt for a little girl I know and fixed a poncho for another friend. I'm planning on making two dresses from fabric my good friend and employer brought me from India! I also can't wait to make some more jewelry for my Etsy Business Vintage Columbine.
What's your hobby?
What are your favorite hobbies? Maybe you like to draw or paint? Perhaps you like woodworking or crocheting.
Whatever it is, get out what you have and make the best of it!
You might think you don't have what you need but you will be surprised that sometimes limited supplies lead to greater creativity and awesome finished pieces!
And of course, you can order craft supplies from Amazon, Etsy, and more! When you are creative you will never run out of things to do at home.
DIY Home Projects You Have Been Waiting to Do
You know you have a project you have been dreaming of doing in your home, whether it is painting that room or paving that patio this is the perfect time to tackle it. If you have the things you need already that's great! Maybe you need some stuff for your project? Plan carefully to make one trip if at all possible.
If you get your whole family involved and throw on some great music a day at home can disappear before you know it and pay you back with a beautified home!
Play video games:
Of course, you can always play video games, even if you are feeling a little sicky. Games like Minecraft and Civilizations are great cause they can make a day at home disappear in a good way! You feel productive and you can do it together with your kids or, in my case, husband! Another idea is to bust out the Wii Fit or the X-box Kinect or even that old DDR mat to get your body moving or you can get back to the good old classics with Mario Cart and Smashbrothers! If you're on your own, you may enjoy Rocket League (my husband's latest addiction) which he plays online with his friends!
Something fun to do at home…Get in touch with old friends!
The Pandemic taught me that loneliness is a choice. I can always reach out. We have Facetime, Facebook, Instagram, Zoom, and more so why not email an old highschool buddy you have lost touch with or Zoom your family in another state? Why not call your grandmother or your aunt and uncle to make sure they are doing well.
There is no reason to let isolation get to you. This is the time to show those you love that you haven't forgotten them and let solidarity and community be a comfort.
Clean, declutter, and organize your life so you're ready to hit the ground running!
I'm a minimalism and organization blogger so you knew I wasn't gonna leave this out! You can read my previous blog posts for great ideas on how to declutter, organize, and clean your home. It's a good idea to take advantage of this time to do these things because it will help you hit the ground running.
However, remember that you can't do it all at once. Take your time and you will make a big difference before you know it!
I have something fun to do at home…
Well, guys! I hate to let you go but I'm realizing now how much I have to do in my own 300-square-foot home.
This time can be an unexpected gift if we shift our perspective. I plan to enjoy a happy simple life for just a little while.
I hope I've helped you to look at this situation we are facing in a new light and I hope that we can all stay well and get through this together!